11 Affordable Alternatives To A Peloton Bike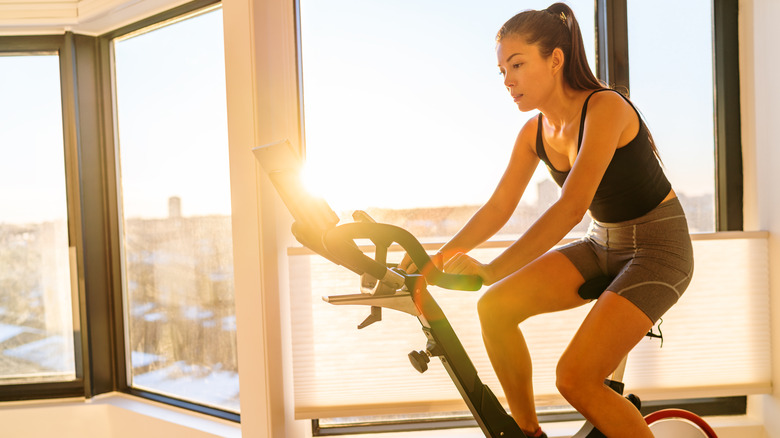 Maridav/Shutterstock
While riding a bicycle in the countryside on a sunny afternoon is one of life's pleasures, time constraints, inclement weather, or the absence of safe bicycle paths nearby can sometimes make getting outside a challenge. Indoor cycling is an excellent alternative. And while it lacks the captivating and ever-changing scenery, experts claim riding an exercise bike indoors can have some significant mental and physical benefits.
"Cycling is a great cardiovascular workout to strengthen the heart, lungs, and muscles," Erin Jalkanen, a Certified Personal Trainer at Ascend Fitness and Spa in Cleveland, told Yahoo!Life. "This in turn also helps to lower blood pressure, improve your sleep, and lower stress levels."
Selecting the right indoor bike for you can be a daunting task, with an endless choice of features and prices varying from the economical foldable machine to the commercial-grade bikes designed for serious athletes.
Peloton has become a leader in the high-end exercise bike sector for its quality construction, durability, a wealth of on-demand workouts, and HD touchscreen that displays spinning classes right in your workout room.
At $39 per month, the Peloton All-Access Membership keeps you inspired by connecting you to live daily classes, innovative and highly developed training programs, skilled instructors, and a community of other Peloton stationary bike riders. Furthermore, the latest auto-follow feature allows your bike resistance to automatically adjust to instructor recommendations during a class.
However, with a base price of around $1,500, Peloton bikes are not cheap. Fortunately, there are more affordable alternatives.
Features to look for in an exercise bike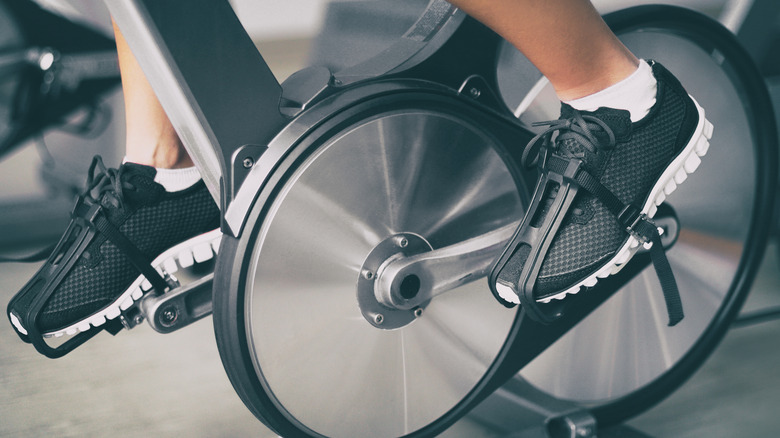 Maridav/Shutterstock
Whether you are a stationary bike beginner or a seasoned veteran, there is a model available to meet your needs and to make your workouts productive, safe, and enjoyable. Several basic features are a must. Look for these features when choosing a stationary bike.
Resistance Levels
An exercise bike with adjustable resistance levels allows you to vary the difficulty according to your daily exercise program and create a more challenging ride at higher levels. The Peloton bike uses high variable magnetic resistance to produce a smooth and quiet ride.
Stability
Check the bike manufacturer's weight limit rating to make sure it will support you and anyone else who plans to use it. While sturdy bikes are safer, they are usually heavier and may require transport wheels to move from one room to another. Lightweight bikes tend to be weaker, and the rider runs the risk of falling off.
Programming
Exercise bike programming allows you to create a custom workout plan, set various resistance levels, track your time, speed, calories burned, and monitor your heart rate.
Comfort
While no one would confuse riding an indoor exercise bike with lounging on a reclining chair, a favorite drink in hand, comfort is a critical feature. An adjustable seat, handlebars, and pedal straps make the bike comfortable. This encourages you to climb up on your bike, stick to your program, and help you make progress toward your fitness goal.
Bowflex VeloCore Bike
The Bowflex VeloCore's unique design that moves from side to side and a large display make this bike a captivating alternative to the Peloton.
Lower and wider than the Peleton, the VeleCore is also heavier than most bikes at 175 pounds. The extra weight gives the bike stability when operating in the "lean" mode and supports riders up to 6'6" tall and weighing up to 325 pounds.
Programming
Bowflex offers the VeloCore with a 16-inch or 22-inch HD touchscreen digital monitor that displays key exercise metrics such as resistance, cadence, time, distance, calories, burn rate, heart rate, and lean rate.
JRNY Experience
The JRNY membership includes an initial fitness assessment, workouts designed specifically for your level and goals, and workout recommendations based on your abilities, time constraints, and preferences. The personalized workouts automatically adjust with time as your conditioning improves, constantly providing a challenge.
JRNY offers over 50 worldwide scenic destinations to match your speed and help incentivize your workout. Many of the workouts incorporate the lean mode.
Although the platform does not offer live classes or competitive features such as leaderboards (like Peloton), a library of on-demand courses keeps you motivated. The system captures your metrics and praises your success as you achieve milestones and personal bests.
The Bowflex VeloCore Bike price is about the same as the Peloton, but the mandatory commitment to a 12-month JRNY training platform, at $19.99 per month, is less than the Peloton All-Access Membership at $39 per month.
ProForm Studio Bike Pro 22
At about half the price of a Peloton, the Studio Bike Pro 22 offers features that make it an attractive alternative exercise bike.
Built with high-quality welded steel and enhanced corrosion resistance for stability and durability, the engineers at ProForm designed the bike to accommodate every shape and size of rider. Made for most rider heights and a weight limit of 250 pounds, the seat and handlebars are adjustable for maximum comfort.
While the Pro 22 is not entirely silent, the smooth and nearly frictionless Proform patented SMR Silent Magnetic Resistance makes adjusting your workout intensity effortless.
The 22-inch rotating HD touchscreen display pivots 180 degrees in both directions, allowing the rider to hop off the bike and participate in yoga, strength, or cross-training during a cardiovascular workout. The Studio Bike Pro 22 is also mobile with front-mounted transport wheels that make moving the bike from room to room or storing it out of the way after a workout a snap.
iFIT Fitness Platform
The iFIT program provides the education, entertainment, and motivation you need to make your training efficient and meaningful, via an unlimited library of live and on-demand studio workouts. Certified personal trainers conduct classes that guide you on worldwide courses automatically adjusting your bike's resistance to simulate riding conditions. The iFIT program also tracks your progress, providing up-to-date stats both during and after a workout.
ProForm includes a 30-Day iFIT Family membership ($39 value) with the purchase of a Studio Bike Pro 22.
NordicTrack Commercial S22i Studio Cycle
NordicTrack competes well with Peloton at the top of the list of high-quality indoor bikes. The company now offers six stationary bikes in its lineup, but the Commercial S22i Studio Cycle compares best to the Peloton Bike and Bike+ models.
Physically, all three bikes have similar specs, with the S22i about 7 inches longer than the Peloton. Each bike features a 22-inch HD touchscreen and built-in speakers. The NordicTrack S22i's touchscreen rotates 360 degrees, making off-bike strength workouts feasible. The Peloton Bike+ also includes a rotating screen.
All three stationary bikes use a magnetic resistance system instead of the more traditional metal flywheels, providing smooth and quiet operation. Both the NordicTrack S22i and Peloton Bike+ offer digitally controlled resistance systems that allow instructors to adjust resistance remotely while participating in their classes.
Training Classes
The NordicTrack subscription service, iFit, offers cycle training classes on par with those of Peloton, and a host of other fitness programs. The package includes cross-training, yoga, strength training, and live on-demand courses that keep you motivated with encouraging instructors and leaderboards to gauge your progress against friendly competitors.
The NordicTrack Commercial S22i Studio Cycle is slightly less expensive than the newer Peloton Bike+ and just a bit more costly than the standard bike model. However, the one-year free enrollment in iFit makes the S22i more attractive than either Peloton models that require a $39 per month subscription fee for the All-Access membership.
Schwinn 270 Recumbent Bike
Schwinn leveraged its years of experience building road and cruiser bicycles to design a full-featured recumbent indoor bike that is easier to balance and creates less strain on the joints than a spinning bike.
Made of carbon steel, the 270 Recumbent Bike weighs only 86.6 pounds (compared to the Peloton at 135 pounds), but it supports most riders with a weight limit of 300 pounds.
The Schwinn lacks Peloton's (and other high-end stationary bikes) interactive touchscreen display, but two blue backlight LCD screens display performance metrics while riding. The bike comes with 25 resistance levels and 29 workout programs to help you raise your heart rate.
Workout Metrics
The Heat Rate Control workout programs monitor the rider's heart rate in beats per minute (BPM) and adjust the workout to maintain the heart rate in a preselected range. The most effective workouts encourage the rider to pedal hard and keep the heart rate up.
While the Schwinn 270 Recumbent Bike lacks many of the state-of-the-art features found on a Peloton bike, it offers a comfortable ride with less joint strain all at about one-third of the Peloton's price, at $649.99.
Echelon Smart Connect EX5
Echelon
The Echelon Smart Connect EX5 is another Peloton alternative with impressive features at about half the price, $999.
Made with a steel frame, the compact EX5 weighs 112 pounds and is easily moved from room to room with the help of front-mounted transport wheels. A heavy 13-kilogram flywheel delivers 32 magnetic resistance levels providing a smooth and quiet ride.
Comfort is a key to motivating you to stick to your exercise program. The EX5 prioritizes this with a fully adjustable competition-style seat and Aero handlebar system. Any size or style of rider can position the seat and handlebars for maximum comfort.
Exercise Programs
The EX5 is a more affordable stationary bike than the Peloton or the top-of-the-line Echelon EX5S because it does not include a built-in touchscreen display or metrics programs.
However, using the smart device mount with Bluetooth connectivity (that flips 180 degrees for off-bike workouts), a tablet or smartphone, and the Echelon Fit app, most riders will find a variety of training programs and workouts to keep them motivated.
Echelon offers several Fit app subscriptions starting at $39.99 per month with a discount for an annual commitment. The FitPass monitors your fitness stats such as speed, distance, and calories burned and provides wireless heart-rate monitoring. Riders can access a variety of live and on-demand virtual workouts, scenic rides, and off-bike workouts such as pilates, yoga, and strength training. The program even provides 24/7 access via email to instructors for personalized workout feedback and recommendations.
Concept2 BikeErg
Well-known for its indoor rowers and cross-country skiing machines, the Concept2 company uses the same technology for its bikes, including the flywheel and performance monitor on its indoor bikes.
The 68-pound aluminum frame provides a lightweight but sturdy platform for riders up to 300 pounds, and caster wheels on the front base make it easy to move after a workout if needed.
The Concept2 BikeErg sells for $990 and uses a 10-level damper air resistance system for smooth and quiet operation. During a workout, a rider can quickly adjust the airflow to the flywheel, which has the same effect as changing gears on an outside bicycle. More air means a heavier gear while less air produces a lighter gear effect. Unique to the exercise bike is the clutched flywheel that spins when the pedals stop (like an outdoor bicycle) for easy intervals and resting periods.
Programs
A battery-powered multi-functional LCD and LED-backlit PM5 performance monitor offers built-in programs including an automatic "Just Ride" mode. The BikeErg includes the Concept2 ErgData app that helps you track your workouts and syncs with the Concept2 Online Logbook. The system stores tracking information and displays stats including times, distance, pace, cadence (rpm) and calories burned.
With both Bluetooth and ANT+ wireless connectivity, the PM5 monitor connects to various heart rate belts, fitness devices, and third-party fitness apps, such as Zwift, helping you stay motivated.
Schwinn IC4 Indoor Cycling Bike
Consistent with all its products, Schwinn builds the IC4 Indoor Cycling Bike with long-lasting quality materials including a smooth and silent belt-driven 40-pound flywheel. Customizable resistance settings (100 micro-adjustable levels) provide a challenge to any rider.
The sturdy IC4 has a maximum weight support capacity of 330 pounds and includes dual link pedals with toe cages to fit most riders. The IC4 comes with a pair of 3-pound dumbbells so you can also develop and tone your upper body during cardiovascular cycling workouts.
Like other high-quality indoor bikes that cost significantly less than the Peloton, the Schwinn IC4 ($999) keeps the price lower by excluding any built-in tech. An LCD shows workout stats, but access to interactive classes requires the use of your tablet or cell phone, conveniently placed in the IC4's device holder.
Bluetooth connectivity allows for linking with various devices, giving you access to interactive spinning classes from a wide range of workout apps. You can experience scenic cycling trails across the globe with the Explore The World app. The Rouvy app will provide all your real-time workout data, and Zwift displays power and heart-rate data. A Bluetooth heart-rate armband provides wireless heart-rate monitoring.
You can even subscribe to the Peloton app, which gives you access to an astonishing variety of cycling as well as general fitness workouts including yoga, strength training, stretching, indoor and outdoor running, walking, meditation, and cardio.
MYX II Exercise Bike
At $1,000 less than a Peloton Bike+, the $1,399 MYX provides similar features with a robust swivel screen, an intuitive interface, and a selection of diverse exercise classes, including bike, floor, cross-training, and recovery categories.
At 134 pounds, the MYX II is a robust machine with a footprint substantially larger than most of its competitors, but it will support a rider up to a weight of 350 pounds. The sturdy 21.5-inch HD touchscreen display swivels and tilts allowing for the display of off-bike workouts that consume even more floor space.
The bike uses a 41-pound flywheel with a six-groove Poly-V belt drive and mechanical friction braking resistance, compared to the Peloton's quiet high variable magnetic resistance system.
Workout Programs
The MYX approach to interactive exercise programs differs from the Peloton method, featuring on-demand personal training classes compared to the competitive leaderboards characteristic of Peloton workouts.
The MYX + Openfit membership at $39 monthly is price-competitive with those of Peloton, Echelon, and NordicTrack, and gives up to 5 people unlimited access to a wide variety of workouts, both on and off the bike. The subscription provides plenty of options for working up a sweat, including new workouts at every level added weekly, world-class trainers, countless total-body workouts, progress tracking, and heart rate monitoring and reporting.
The newer MYX II model now features a built-in cadence sensor that reads pedaling speeds and helps encourage the rider to maintain desired heart rate zones.
Yosuda Indoor Stationary Cycling Bike
While the Yosuda Indoor Stationary Cycling Bike priced in the $300 range is, by no means, a competitor for the Peloton, it is worth considering, especially for the budget-minded buyer or the stationary bike beginner.
The smooth belt-driven, 35-pound flywheel is surprisingly quiet and provides resistance with an adjustable pad controlled by a small red knob mounted on the bike's mainframe. The knob moves a felt pad up and down to increase or decrease the resistance on the flywheel, providing an infinite range of resistance suitable for all fitness levels and workout challenges.
The flexible resistance, Yosuda's excellent stability, and a sturdy steel frame combine to offer the rider any type of workout from a causal spin to hardcore interval training.
Programs
The Yosuda lacks the HD touchscreen monitor found on the Peloton and other "smart" indoor exercise bikes and does not offer the workout classes typical of higher-end competitors. The manually adjusted resistance (instead of magnetic resistance) prohibits the use of programmed workouts that allow automatic control to simulate various terrains and riding challenges.
However, the bike includes a multifunctional LCD that monitors fitness progress by tracking workout time, distance, speed, and calories burned.
As with other basic stationary bikes, a tablet or smartphone and a third-party app can provide riders with hundreds of training programs and workouts to maintain enthusiasm.
Xterra Fitness FB150 Folding Exercise Bike
While the FB150 does not provide most of the smart features provided by the Peloton and other machines, the exercise bike is lightweight and portable. If your workout area is set up in your bedroom or home office with limited space, the FB150 bike might be your best option.
The FB150 is also the best exercise bike priced under $200, making it ideal for the budget-minded rider.
The bike folds to a footprint of 16.75 inches long by 18 inches wide, reaches a height of 45.3 inches, and comes with wheels, making it easy to store in a standard closet or a bedroom corner.
The balanced flywheel provides eight levels of friction-free magnetic resistance for a smooth, quiet, and challenging ride.
For comfort, the FB150 has a large, thick, anatomically designed padded seat that adjusts to seven height positions. The bike accommodates riders between 4'10" and 5'10" with full leg extension. Large multi-grip padded handlebars also make the ride more comfortable.
A small, easy-to-use LCD console displays time, speed, distance, calories, and pulse, and makes your workout more meaningful by monitoring your heart rate with the handlebar-mounted stainless steel pulse sensors.
Sunny Health & Fitness Indoor Cycle Bike
The Sunny Health & Fitness bike is perhaps better suited for beginners looking to start their "spinning" program without investing thousands of dollars. The bike includes no display or fitness classes, but the self-motivated exercise buff will appreciate the sturdy construction and quiet operation.
The stationary bike made with a steel frame weighs 110.8 pounds and supports a rider weighing up to 275 pounds.
The flywheel is heavier than many competitors, at 49 pounds, providing a smoother and quieter ride than most. The manufacturer designed the leather band resistance system to imitate the feel of riding an outdoor road bike. Some users have found the noise level increases with resistance, emitting whooshing sound, but it is never annoying or so loud in makes listening to iPad cycling workout music or instructor difficult.
The seat is adjustable to four settings and a two-way adjustable handlebar makes the exercise bike comfortable to ride.
Fitness Programs
The Sunny Health & Fitness Bike comes without a display monitor or guided fitness programs, meaning it is probably not the best choice for the rider needing an online class or interactive workout session for motivation.
However, riders can still purchase a third-party cycling fitness program subscription for use on a tablet. The Peloton monthly subscription is one option that provides a variety of workout programs conducted by high-energy instructors.