2023 Mercedes-AMG EQE Gives "Electric E-Class" A Potent Upgrade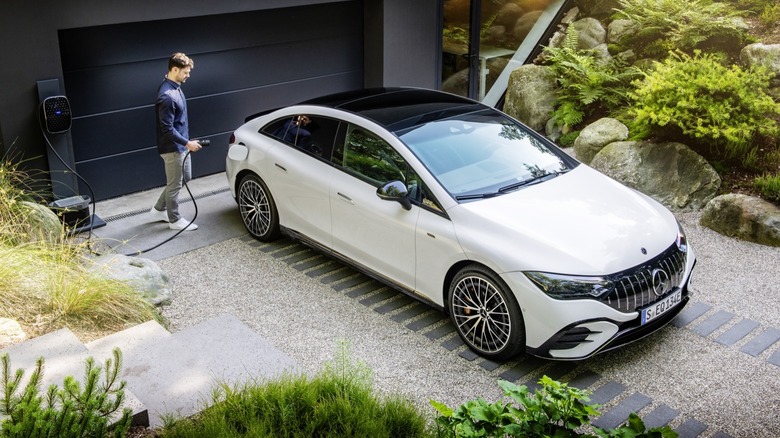 Mercedes-AMG
Mercedes-Benz's new EQE all-electric sedan is getting a performance cousin, with the AMG EQE promising not only more power but a bump in agility, too. Based on the EVA2 architecture, the 2023 Mercedes-AMG EQE will be dual-motor as standard, combining front and rear electric drive for up to 677 horsepower.
Announced back in September 2021, the EQE is effectively Mercedes' vision of an all-electric E-Class. Smaller than the EQS, though with similarly aerodynamic styling, the smooth-bodied sedan will initially be offered in EQE 350 form as a rear-wheel drive model. Mercedes did, however, confirm that 4MATIC all-wheel drive was on the roadmap.
It'll be that configuration that the AMG EQE adopts from the outset, here as AMG Performance 4MATIC+ that can shift torque rapidly between the front and rear axles. As standard, it'll have 701 lb-ft of torque and 617 horsepower, for a 0-60 mph time of 3.4 seconds. Top speed will be 137 mph, AMG says.
The AMG Dynamic Plus package cuts 0-60 to 3.2s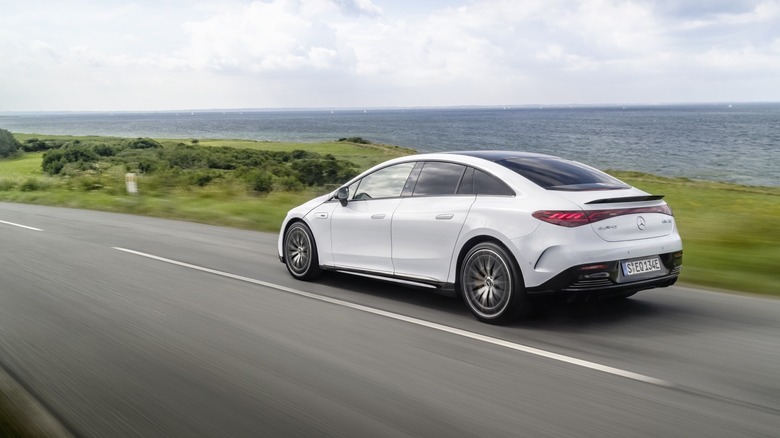 Mercedes-AMG
With the optional AMG Dynamic Plus Package, however, the power numbers will rise. Then, the AMG EQE will offer 677 horsepower and 738 lb-ft of torque: the 0-60 mph time will drop to 3.2 seconds, while the top speed will nudge up to 149 mph.
Either way, AMG is using a specific version of the electric motors, designed for its own performance requirements. The permanently excited synchronous motors (PSM) have adapted windings and laminations, and can support higher currents compared to the standard EQE motors. They also have a special inverter, and the rear motor has a six-phase design which altogether means higher engine speeds and more power during acceleration.
As we've seen other automakers struggle with, however, performance isn't just about big motors. Heat can be a significant headache, particularly if you want to keep using all the power on tap. There, AMG says it has a water lance design which cools down the shaft of the rotor, while the EQE will also get extra cooling systems in the inverter and stator.
170 kW DC fast charging is standard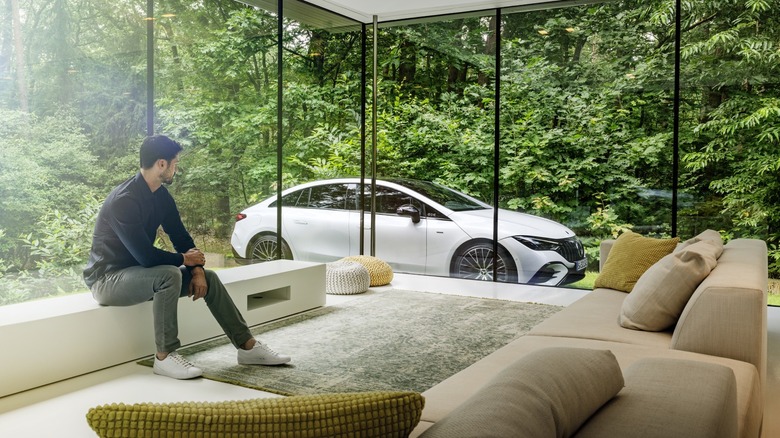 Mercedes-AMG
A 90.6 kWh battery is standard, of 328 volts. It has ten modules in total, with custom management software that can swing between maximizing range in Comfort mode, and performance in Sport and Sport+ modes. AMG has used its own wiring harness, and there's up to 170 kW DC fast charging support. With a suitably-potent public charger, that could mean 112 miles (WLTP cycle) of range added in 15 minutes.
Recuperation power, meanwhile, is even more potent. In fact, the AMG EQE can deliver up to 260 kW back into the battery pack while braking, with three levels of aggression that the driver can adjust. That includes up to one-pedal driving, and an automatic mode which – when the Driver Assistance Package is installed – can use recuperation to control deceleration according to the speed of the traffic ahead.
AMG Ride Control+ air suspension with adaptive adjustable damping borrows tech from the AMG EQS and AMG GT Four-Door Coupe, but with stiffer bearings and reduced bearing clearance for an uptick in road contact. It works with four-link front axle and multilink rear suspension. Two pressure limiting valves mean the damping force can be constantly adjusted, with AMG able to tweak the rebound and compression phases separately. The system can also lower automatically according to speed and drive mode, to boost the aerodynamics.
AMG makes good use of trick steering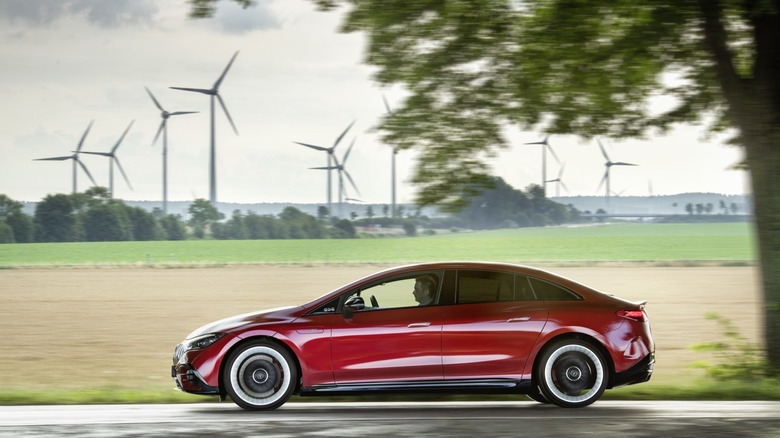 Mercedes-AMG
Rear-axle steering is standard, too, with the rear wheels turning in tandem with those at the front at higher speeds, or counter to them for a tighter turning circle at lower speeds. Settings there, along with factors like steering torque, maximum drive power, and suspension adjustment are all controlled via the AMG Dynamic Select drive mode system. That has five options: Slippery, Comfort, Sport, Sport+, and the driver-customizable Individual setting. Cars with AMG Dynamic Plus also get a Race Start mode.
As for slowing, the standard brake setup uses six-piston front calipers with 16.3-inch discs at the front, and single-piston calipers with 14.9-inch discs at the rear. AMG ceramic brakes are optional, with the bigger discs – expanded to 17.3-inches at the front, not to mention thicker too – requiring the larger 21-inch wheel option.
Outside, there's an AMG-specific black panel grille with chrome vertical struts, Digital Light headlamps, and high-gloss black front bumper and front splitter. Special AMG side sill panels are in matching high-gloss black, and there's a special diffuser in the rear bumper along with a larger rear spoiler. All of the wheel designs have been made with aero in mind; 20-inch wheels are standard.
Inside, the cabin gets an AMG upgrade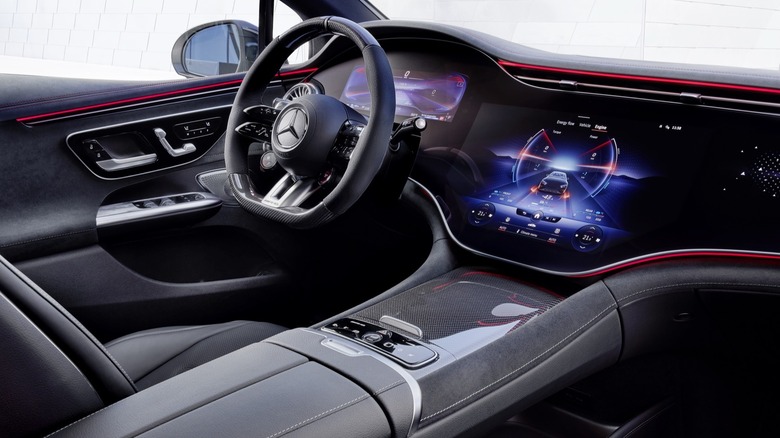 Mercedes-AMG
Inside, AMG seats have MB-Tex with microfiber and red contrast stitching; that matches the instrument panel and beltlines. Nappa leather is optional on the seats and standard on the AMG Performance steering wheel. AMG sports pedals are standard, as is the AMG Drive Unit.
Like with the non-AMG version of the EQE, Mercedes' dashboard-spanning Hyperscreen is an option. Even without it, though, you still get the MBUX infotainment system, and a digital cluster with per-drive-mode graphics. Arguably most controversial will be the soundtrack, with AMG promising multiple sound programs – including Authentic, Performance, Balanced, Sport, and Powerful – which all adjust their tone and musicality depending on how the EV is being driven. As we found with the AMG EQS, you'll either love the end result or hate it.
In Europe, Mercedes is estimating a total range from the 2023 AMG EQE of as much as 322 miles, albeit on the WLTP cycle. We'll find out US-specific numbers on the EPA test cycle closer to the car's arrival in North American dealerships, which AMG says to expect to take place in early 2023. Pricing will be confirmed closer to that point.