Twitch Streamers Have Almost Unlocked All Of Lost Ark's Twitch Drops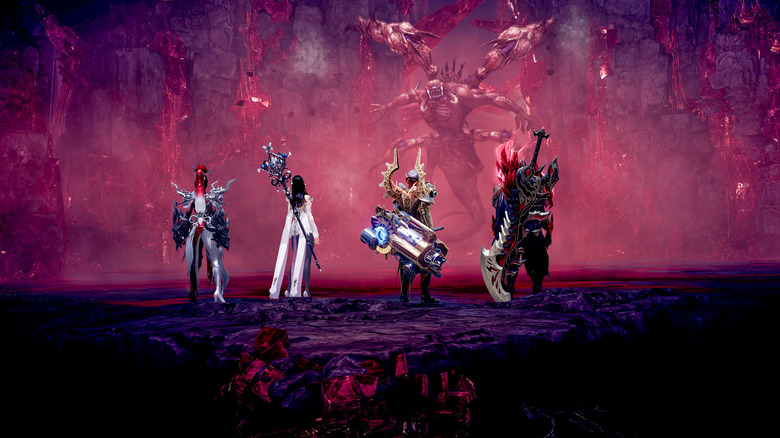 Amazon Games/Smilegate RPG
The Legends of Lost Ark competition is almost over. The community-driven competition began at the launch of "Lost Ark's" early access period February 8, 2022. Since its launch, creators have been working their way towards earning points that go towards a region pool. At different milestones certain Twitch Drops become available for players to acquire. All those players have to do is connect their Twitch account and then watch participating streamers for a certain amount of time.
Heading into the official release of "Lost Ark" on February 11, 2022, streamers had only managed to unlock one of the drops. Now, though, they've managed to unlock the second and third, and are well on their way to unlocking the fourth drop, too. The competition includes three regions, Europe, Latin America, and North America. Of the three, Europe's Elgasia is currently in the lead with 16,200 points. Latin America's Petrania is roughly 2,000 points behind at 14,000 total points earned. Taking up last place is North America's Arkesia with just 13,000 points.
Each region will need to reach a total of 18,000 points in order to unlock all four of the Twitch Drops that "Lost Ark" currently has available. Once unlocked, players in those regions can watch corresponding streamers to acquire the drop for themselves. The developers of "Lost Ark" recently released an update that it would be giving players a free mount and some other goodies, too. This is a perfect time to add some more freebies to your account.
How to get Twitch Drops in Lost Ark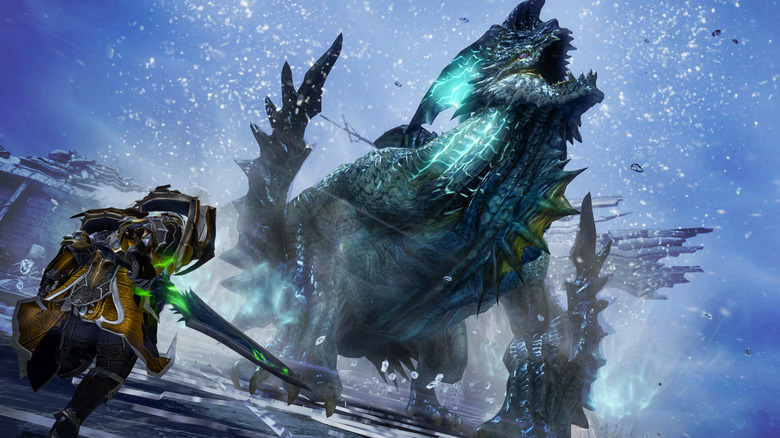 Amazon Games/Smilegate RPG
As we mentioned before, there are currently three Twitch Drops unlocked thanks to the Legends of Lost Ark competition. The available drops include a Battle Item Chest, Arkesia Paper Hat Chest, Helgaia Pet Chest, and a Neugier Gold Mount. Additionally, players can unlock a special Saphia Pet Selection Chest simply by watching a specific channel.
To unlock the Twitch Drops, all users need to do is head to Twitch and log in to their account. Once there, select the account icon in the upper right corner and then scroll down to Drops. Here you should be able to see All Campaigns. If you find the "Lost Ark" entry, it'll ask you to link your account. Follow the on-screen instructions and then you're ready to start earning Twitch Drops for "Lost Ark".
Next, head to a participating channel. A few options for North American users include Anthony_Kongphan, Burkeblack, CohhCarnage, and loads more. Latin American and European users can check the list on the Legends of Lost Ark page for options in their language, too. Once you're watching a live channel that supports drops, you'll need to watch for four hours to claim the drop. Once you've finished one drop, head to another channel that's unlocked the other drop and claim it. Make sure to do it fast, though, as you'll only have until March 1, 2022 to claim all the drops.
The Saphia Pet Drop was previously only available on the Crown channel, but you can now earn it from other streamers with "Lost Ark" drops enabled, too. It's available until March 7, 2022 at 12:00 A.M. PST.