Lost Ark Details New Server Region And Freebies For All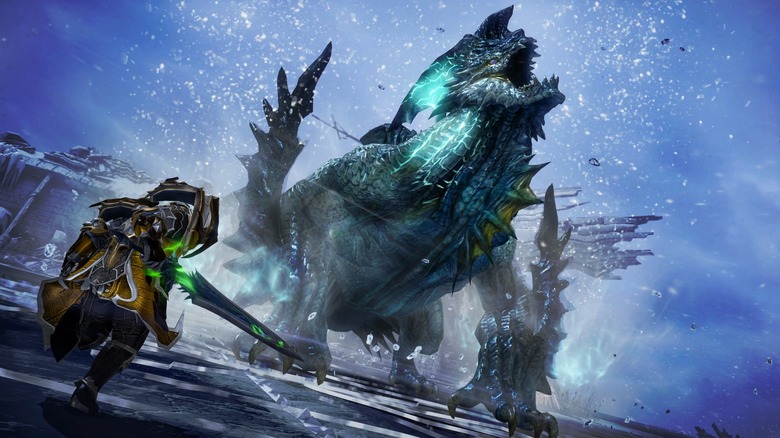 Amazon Games/Smilegate RPG
After a lot of waiting, "Lost Ark" is finally here, but instead of playing, many players out there are having to contend with massively long queue times. Queues, of course, are nothing new for popular MMO launches, but in some cases with "Lost Ark," they've been particularly bad, running thousands of players long and lasting hours on end. Now, Amazon and Smilegate RPG have detailed their plans for fixing these queue issues. It seems that all players are also getting a bunch of freebies too, regardless of whether or not they're in regions impacted by long queue times.
For the most part, the queue issues have been primarily impacting players in Europe. In a blog post to the "Lost Ark" website, Amazon and Smilegate RPG say they will launch a new server region in Europe to alleviate the issues. For the moment, we don't know how many servers that new region – which will be distinct from the Central Europe region – will have, but the hope is that it'll have enough to drastically reduce queue times for many of the servers on Central Europe.
New European server region in the works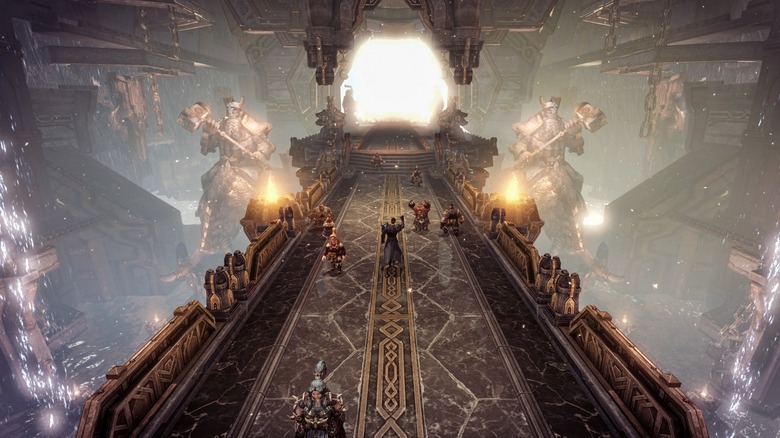 Amazon Games/Smilegate RPG
Amazon also reminds that since this is a new region, those who have already made a character on servers within the Central Europe region won't be able to bring things like their Royal Crystal or Silver balances over with them if they create new characters. While "Lost Ark" does have many cross-server features, pretty much everything is limited by region. With no cross-region play, Amazon and Smilegate say that this new region will "be ideal for players who have not yet created their character or haven't otherwise committed to stay on their existing server."
We don't have a timeline for the launch of this new European region, but hopefully it won't be long before it arrives. In its blog post, Amazon says that launching a new region is the only way to add more capacity in Europe, so both it and Smilegate will be "working 24/7" until the region is ready to go. We're told that we'll get an update on the launch timing of this new region as soon as possible, so now it looks like we're playing the waiting game. 
Freebies for all because of server issues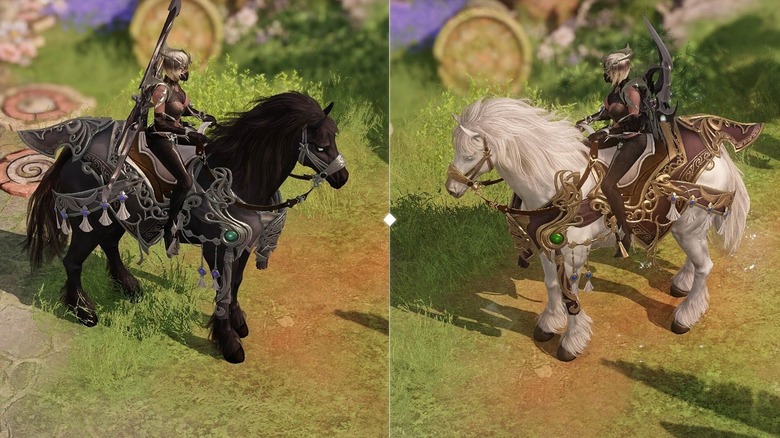 Amazon Games/Smilegate RPG
In that same blog post, Amazon says that it and Smilegate will hand out a "launch celebration gift" to "thank everyone" – presumably for their patience as these server issues get sorted out. It seems everyone will get this gift, but we'll have to wait until the new region is up and running before we receive it. Here's what it will include:
A vehicle selection chest that it will let players choose between the Terpeion or Terpeion of the Shadow mount (pictured above)

Midsummer Night's Dream Instrument Skin Selection Chest

Healing Battle Item Chest x10

Offensive Battle Item Chest x10

Legendary Rapport Selection Chest x3

Week Trade Potions Pack x3

Phoenix Plume x20
That's a fairly beefy welcome pack, and if nothing else, it'll be nice to get a new mount with it. Sadly, no launch date for this new European server region means no date for this pack, but it should be coming soon. Amazon also says that anyone who logs into "Lost Ark" between the pack's launch and March 1st at 11:59 PM PST will be eligible to receive it, so keep in mind that the pack will come with an eligibility cut off. We'll let you know when the two companies reveals more, so stay tuned.