Mercedes-AMG SL Receives The Manhart Black-And-Gold Treatment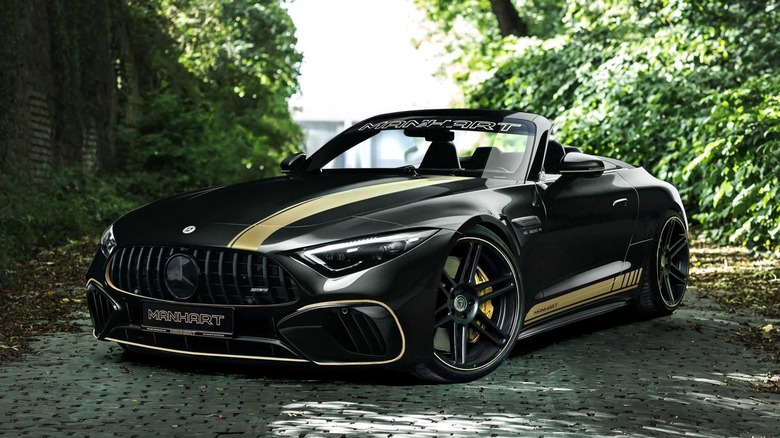 Manhart Performance
We previously thought the Manhart CR 700 wagon was the last to carry a tuned 4.0-liter bi-turbo V8 engine from the iconic German tuning house, but we were wrong. Along comes the Manhart SL 800 R, possibly the most extreme iteration of the all-new 2022 Mercedes-AMG SL. How could we not see this coming?
The newest SL is a car of many firsts for Mercedes-Benz's most iconic nameplate. It rides on an all-new aluminum, steel, magnesium, and carbon-fiber architecture with virtually zero carry-over parts from the previous-gen car. And for the first time in its lineage, the SL now has an all-wheel drivetrain. In addition, it will only come with a folding soft-top roof to save more weight.
The result is a luxury grand-touring sports car that, according to SlashGear test editor Chris Davies, is a return to form for the brand. "Perhaps so, this seventh-generation car does seem to reclaim many of the former glories its direct predecessors drifted from," said Davies. The weight-loss program certainly helps, but what's under the hood is worthy of more attention.
Tuned Twin-Turbo V8 Engine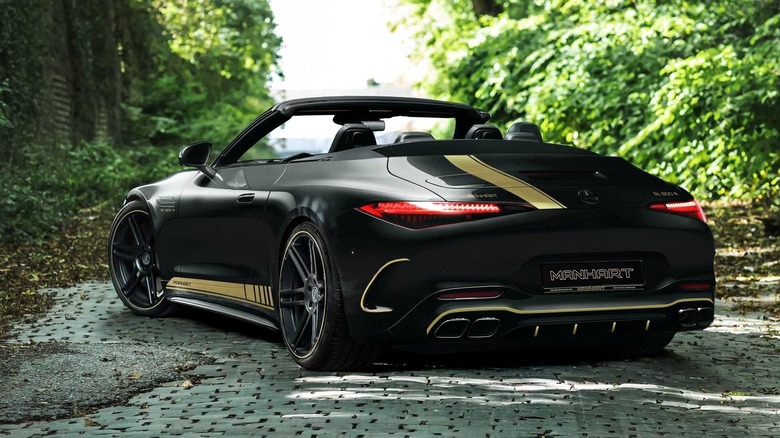 Manhart Performance
The Mercedes-AMG SL is available in SL 55 and SL 63 flavors. Both have a 4.0-liter bi-turbo V8 with 469 horsepower and 577 horsepower, respectively. We reckon the SL 800 R starts with the SL 63, but Manhart didn't specify. However, we know the V8 gets a new carbon fiber air intake, a new intercooler, bigger turbochargers, and a Manhart ECU tune in SL 800 R guise.
Of course, the result is a staggering amount of shove, specifically up to 800 horsepower and 738 pound-feet of torque, 100 more horses than the CR 700. As with all Manhart creations, the SL 800 R has black paint and a generous sprinkling of contrasting gold accents like racing stripes, liveries, and pinstriping on those gorgeous Manhart Concave One wheels.
Manhart has yet to release the performance specs, but we're expecting staggering numbers from an 800-horsepower luxury GT convertible. A stock Mercedes-AMG SL 63 rockets from zero to 60 mph in around 3.5-seconds and has a 196 mph top speed, so we're betting the house Manhart's latest rocket ship will have no trouble breaching 60 mph in record time, especially with all-wheel-drive.
Pricing and other information remain forthcoming, but it's natural to expect a six-figure price tag at this point. If you fancy an SL 800 R, get in touch with Manhart to reserve your build slot.