7.7mm NEC MEDIAS E-04C Android smartphone bests chubby Arc and Galaxy S II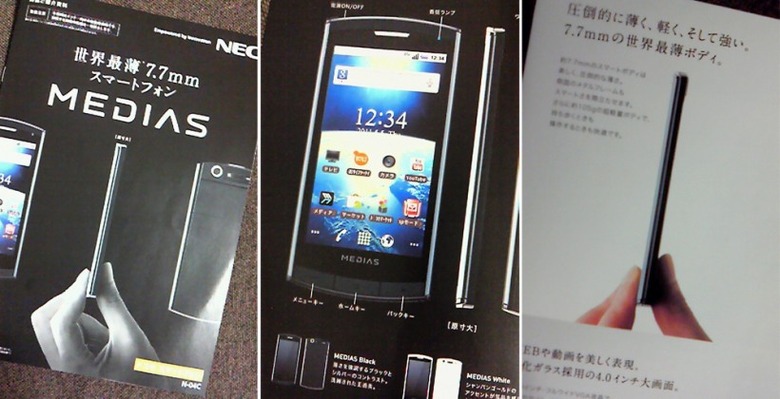 How skinny is too skinny? NEC obviously reckons Android smartphones aren't quite slender enough, since the new NEC MEDIAS E-04C is a waifish 7.7mm at its slimmest point. Packing Android 2.2 Froyo and, according to Draft life with blog, headed to Japanese carrier NTT DoCoMo later this month, the MEDIAS E-04C usurps Samsung's Galaxy S II, a comparatively tubby 8.49mm, and the Sony Ericsson XPERIA Arc, a bloated, corpulent 8.9mm.
Despite all that, the MEDIAS E-04C still manages to squeeze in NFC and a 1-Seg digital TV tuner, along with a 4-inch display. Considering Sony Ericsson told us they'd bypassed NFC in the Arc because it added too much bulk, that's impressive engineering from the NEC team.
Japanese heft-haters will be able to pick up the NEC MEDIAS E-04C from February 24, pricing and full specs yet to be confirmed. International availability is unknown at this stage.
[via Android Community]