67-year old Schwarzenegger recreates iconic Terminator 2 bar scene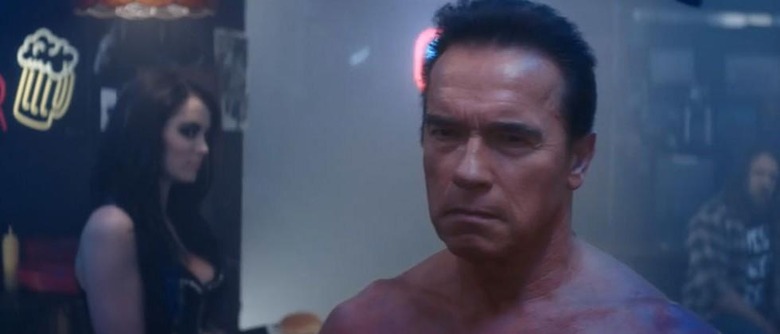 In an effort to promote his special appearance in a wrestling video game (WWE 2K16), Arnold Schwarzenegger has recreated his role as the Terminator from T2: Judgement Day. It is here that he re-enters the biker bar in the nude, demanding of a biker: "I need your clothes, your boots, and your motorcycle." Of course this biker and the rest of the patrons of the bar are all wrestlers – but that's not going to change anything, really. He'll still get the cigar jammed into his chest, and we can assume the rest of the carnage will follow.
Much like Mortal Kombat has captured the hearts of their odd-character-loving players with names like Predator and Jason Vorhees, this expansion for WWE 2K16 will have a fully playable Arnold Schwarzenegger as the Terminator. This is not the first time a game such as this has had an offbeat playable character from left field – but it is the first time they've employed a robot.
This spot also acts as a sort of cross-promotion for the film Terminator Genisys, also out in theaters right this minute. This film also features Schwarzenegger in an alternate reality, also as the original model T-101 series 800 terminator.
According to 2K games, "Schwarzenegger, a longtime WWE fan and WWE Hall of Famer, will expand his relationship with WWE through WWE 2K16 with two playable characters – T-800 from The Terminator and Terminator 2: Judgment Day films." We'll be expecting the metal skeleton to be one of those, at least.