64GB iPhone 4 Prototype Caught On Video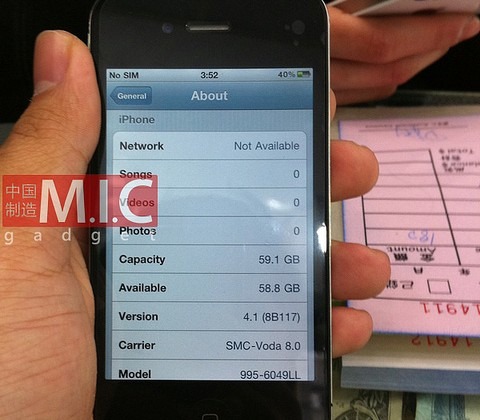 A 64GB iPhone 4 prototype has apparently been spotted in Hong Kong, suggesting Apple is at least considering – or has considered – versions of the fourth-gen smartphone with greater capacity. Currently only 16GB and 32GB versions of the iPhone 4 are on sale; however, MIC Gadget found a grey market vendor who claims a "small quantity" of 64GB devices leaked from Foxconn's Shenzhen facility.
Video demo after the cut
Those devices are described as "engineered prototypes" and the vendor suggested that they're an indication that Apple is about to boost the storage on offer. The prototype apparently matches previously leaked handsets, down to the absence of model and capacity labelling, not having engraved volume buttons, and the missing silver ring around the rear camera lens.
Apple offers 64GB iPod touch and iPad models, but not iPhone 4. With flash memory prices generally moving down, it seems entirely possible that a capacity upgrade could be added without boosting the cost of the handset too significantly; however, Apple is also believed to be looking at cloud storage for multimedia to reduce the reliance on local content.