60beat GamePad Adds Traditional Console Controls To iPad
iPad and iPhone gaming hasn't exactly proved reluctant to take off, but if you've been waiting for a straightforward control pad then the 60beat GamePad might fit the bill. A $49.99 peripheral compatible with the iPhone 4S and iPhone 4, iPad and iPad 2 and the iPod touch 4th-gen, the GamePad hooks up via the headphone socket rather than the docking connector.
That means you can have your iPad or iPhone plugged in to recharge, or hooked up to other peripherals, while you play. 60beat also throw in a headphone splitter cable, so that you can still hear the audio, and the whole thing is battery-free.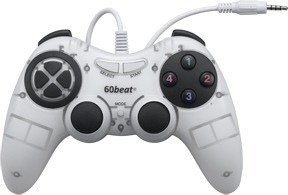 Controls include dual analog joysticks and a regular D-Pad, along with ten actions buttons including two built into the sticks themselves. The biggest limitation today is game compatibility: titles have to be specifically made to support the GamePad. Right now, that's limited to just two titles, but 60beat claims "a full collection" is due in February 2012.
[via CrunchGear]