5 ways the Bollinger B1 is the 21st Century's electric Defender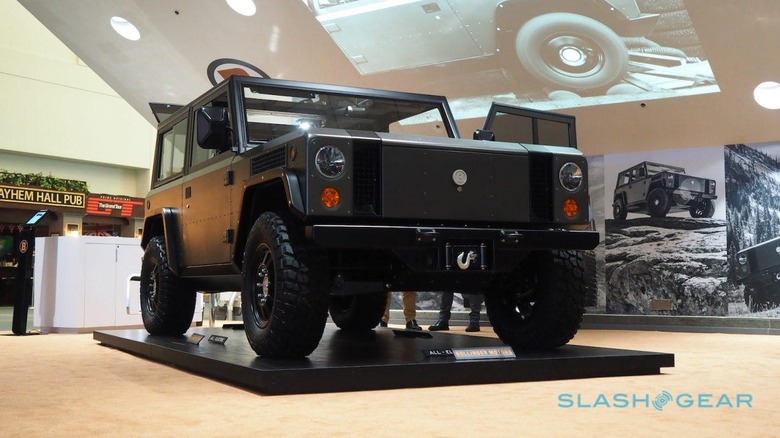 What would the modern Land Rover Defender look like? That's something Jaguar Land Rover is currently working on, but startup Bollinger Motors thinks it has got there already. The Bollinger B1 truck may look like the sort of rugged off-roader that could storm through war zones or conquer farmland, but it's also based on a custom electric platform for zero emissions. We caught up with the intriguing truck at the LA Auto Show 2017 to find out more.
Electric isn't out of place on a utility truck
We already know EVs can be frugal, and they can be fast, but can they be work-ready? Bollinger says yes, absolutely, the the B1 comes configured to deliver. All-wheel drive is standard, as are dual front/rear motors for 360 horsepower and 472 lb-ft of torque.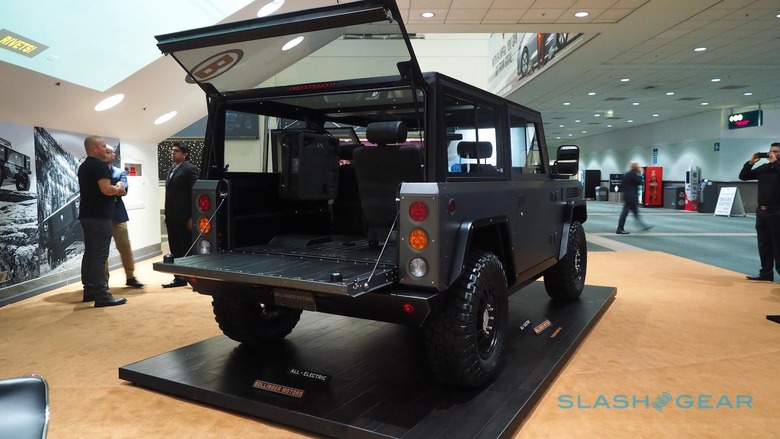 Two battery options will be offered. The 60 kWh pack will deliver around 120 miles of range, Bollinger says, while the 100 kWh pack is good for around 200 miles. They'll recharge on a 220V Level 2 socket in 7-12 hours, depending on battery; however, they're also DC Fast charging compatible. Find a Level 3 charger, and you can be up and running with a full battery in about 90 minutes.
Truck fans will be relieved to see electronic locking differentials front and rear, and 2-speed HI/LO range gearboxes. In LO mode, there's 4x torque multiplication for heavy-duty work (and a 32 mph top speed). The B1 can tow 6,000 pounds and has a 6,000 pound payload capacity; on the front there's a 12,000 pound hydraulic winch, with a 125 foot lead.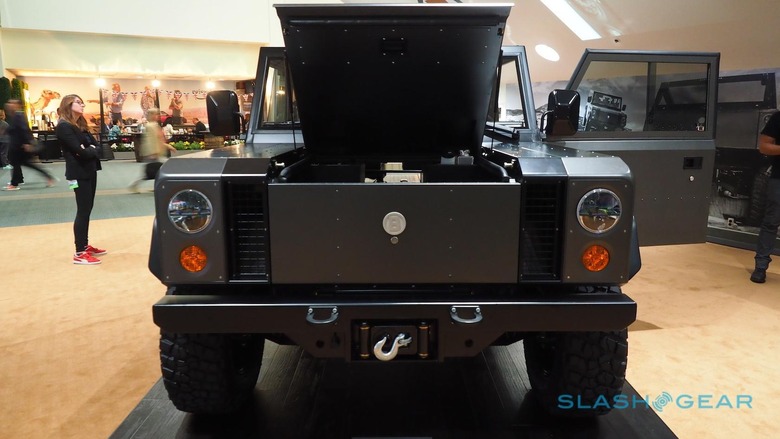 Ground clearance is a healthy 15.5-inches, and the chunky wheels have 10-inches of travel. That's good for a 56-degree approach, 33-degree braver, and 53-degree departure angle.
It makes legitimately clever use of its EV architecture
Traditional gasoline cars have an engine in the front, a cabin for passengers, and then some sort of cargo at the back. Sure, that's not always the case, but it's generally how SUVs are configured. Like other EVs, however, Bollinger's B1 is completely different.
All of the drivetrain components – the battery and motors – are mounted low, effectively underneath the passenger cabin. It means that, while the proportions of the B1 might be classic utility truck, places where you'd usually expect to find mechanical components are simply... empty.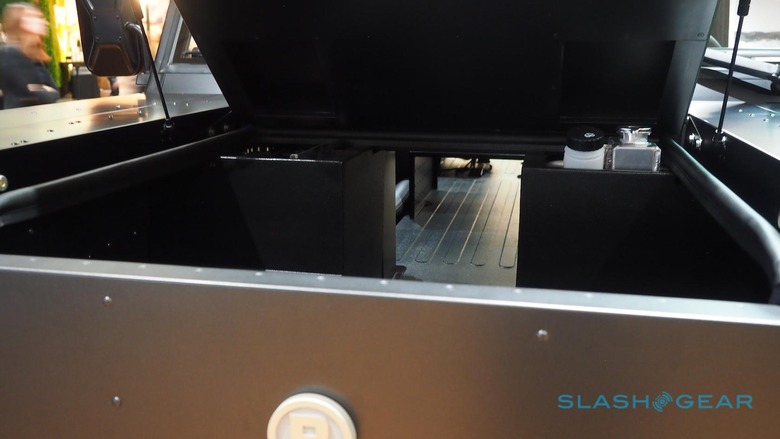 It means Bollinger can not only offer a "frunk" front trunk with 14 cubic feet capacity, but have a pass-through gap that runs completely through it, under the dashboard, and back into the trunk. Stand at the front and – with the various doors and hatches open – you can see all the way through to the rear. That means you could fit up to 24 2x4 boards, in fact.
Because the EV is underneath, the top can be more flexible
As standard, Bollinger offers a standard 3-box truck body. Two doors, a hatchback at the rear, and a covered second-row and cargo space. However, since the tech is underneath, there's more flexibility to how the top can be configured.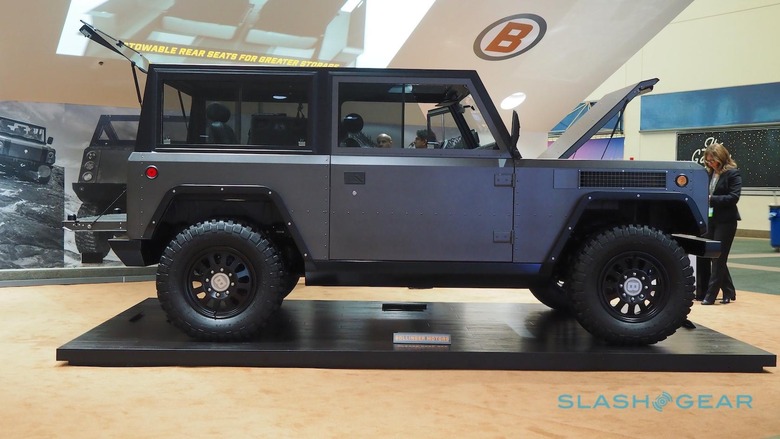 So, if you want a pickup truck, that's possible too. The B1 can be switched to a half-cab, removing the back roof and the upper hatch, along with the second-row seating, and replacing them with a partition behind the driver and front passenger seats.
It proves there's common ground between EV and utility
According to Bollinger, there have been more than 10,000 "expressions of interest" made since the B1 first broke cover earlier this year. What's really notable, though, is the mix of those people. The automaker says that it's seeing interest both from green vehicle fans who would be the traditional audience for an EV, but also from hardcore truck enthusiasts who you might otherwise expect to be apathetic toward alternative powertrains.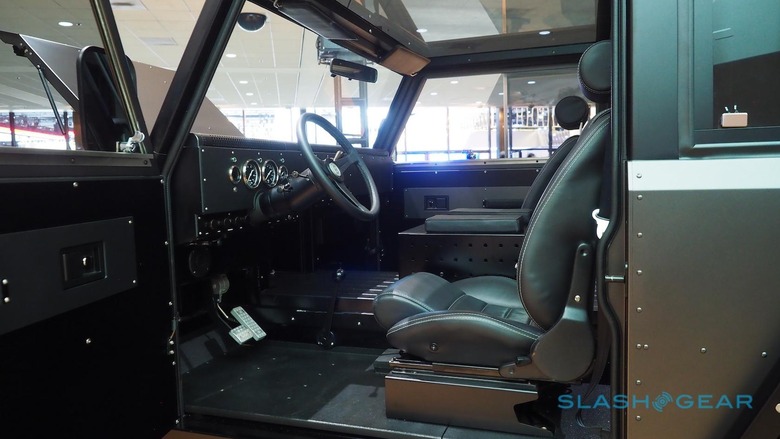 There are still some big questions
There's plenty to like about the B1, but we still have questions. Unfortunately, for the biggest questions the automaker doesn't have answers quite yet. We don't know how much the Bollinger B1 will actually cost, nor when exactly it'll go on sale.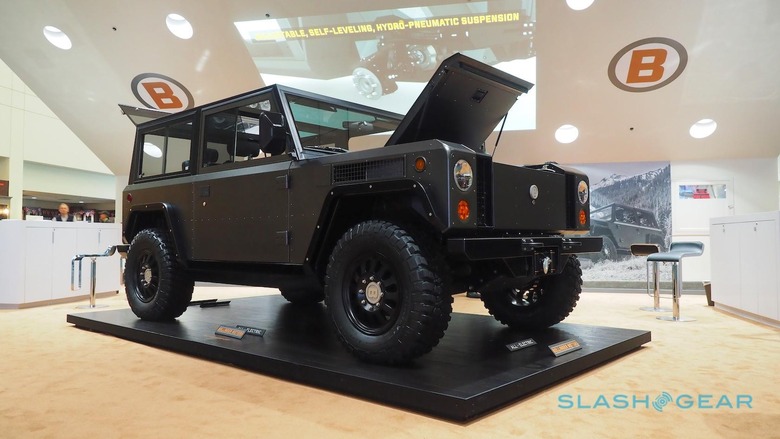 Taking a leaf out of Tesla's book, Bollinger says the next step is to take $1,000 reservations. It'll announce final pricing, and then the goal is to have the first trucks delivered within the next two years. That's ambitious for a completely new platform, but if Bollinger can manage to bring the B1 in under $100k its distinctive looks and design could tap into a cohort of Land Rover Defender fans looking to go a little greener when they're off-road.
MORE Bollinger Motors