5 Things You Need To Know About The 2017 Chevrolet Colorado ZR2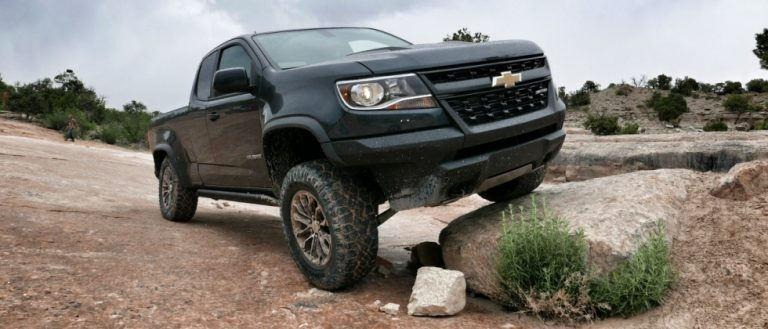 The new 2017 Chevrolet Colorado ZR2 is the first legitimate challenger to the Toyota Tacoma TRD Pro's all-terrain dominance since the latter hit the scene as a 2015 model. While in the past the Nissan Frontier PRO-4X and the Colorado Z71 each upped the ante of what was possible in a mid-size pickup once the pavement disappeared, they were truly competitors to the more modest Tacoma TRD Off-Road, with the TRD Pro representing a higher level of capability.Check out these 5 things you need to know about the Colorado ZR2 and see if it's enough to sway you from choosing Toyota's strong-selling mid-size marvel.
1. Yes, You Really Can Jump It
Rightly or wrongly, the first-generation Ford SVT Raptor did more than any other vehicle to romanticize the notion of a factory pickup you could jump – and safely land – without needing to make substantial modifications to the suspension or frame The 2017 Chevrolet Colorado ZR2 takes that same high-flying attitude and shrinks it down to the mid-size segment, offering a more nimble trail-duster that's willing to soar should you hit a dirt berm or dune at exactly the right speed.
How do I know? I may or may not have spent an afternoon launching the ZR2 off of a table jump on a tight, but fun Baja course Chevy built for us in the mountains of Colorado, until they pried the steering wheel from my white-knuckled hands.
2. It's More High-Tech Than It Seems
The secret to the Chevrolet Colorado ZR2's success is in large part the DSSV suspension technology that sits underneath it. Developed my Multimatic of Formula One (and Ford GT) fame, dynamic suspension spool valve shock (DSSV) absorbers replace shims with spool valves in order to offer a significant increase in control over fluid flow inside the damper. With the ability to tune the shock that much more precisely, even when using an external reservoir design, Chevrolet is able to offer excellent travel without compromising control on a variety of surfaces.
It's tech that's been used in a variety of racing series as well as on a number of street-legal hypercars, and the ZR2 represents the first time it's ever been aimed at the off-road demographic. We did a deep dive on DSSV in the fall of last year that goes into more detail about what makes these shocks so special as compared to traditional mono-tube and twin-tube shim-based designs.
3. On-Road Ride Is Excellent
A pickup with Baja capabilities is all well and good, but what happens when it's time to drive it to work on Monday? Neither the Tacoma TRD Pro, nor the previously-mentioned Ford Raptor are particularly pleasant to wrangle on asphalt, especially if there are any curves or bumps in the road between home and work. The Chevrolet Colorado ZR2, however, is a different story. When driven back-to-back against the stiffly-sprung Colorado Z71 – already an improvement on the Toyota – the ZR2 reveals itself to be far more compliant, a side effect of softer spring rates being possible with the DSSV shocks. It's much more like piloting a comfortable SUV than a pickup on the pavement, and it's one of the few off-road warriors that can make that statement with a straight face.
4. You Can Get Diesel Power
Another exclusive for the Chevrolet Colorado ZR2 is the inclusion of a diesel engine option, something no other off-road vehicle outside of the luxury segment (where you'll find it in a Land Rover showroom) can offer. The ZR2's turbodiesel mill is good for 181 horsepower and 369 lb-ft of torque, with the latter available at below a very low, traction-friendly 2,000 rpm. Combine that with an EPA fuel efficiency rating of 22-mpg city and 30-mpg highway, and even with the price premium you'll pay at ordering time the turbodiesel option is an appealing package.
5. Pricing Keeps The ZR2 Competitive
Speaking of price, how much will the Chevrolet Colorado ZR2 set you back? The ZR2 is positioned as a trim level that's available on four-wheel drive extended cab and crew cab body styles featuring the 3.6-liter V6 engine, which puts the starting ask at $40,000. Step up to the turbodiesel engine and you're looking at an extra $3,500, while the larger crew cab adds another $2,6000.
The most affordable Tacoma TRD Pro will run you just over $40,960, although granted, it's a larger double cab setup (no extended cab model is available). This puts the Colorado ZR2 well within the ballpark of its Toyota rival, while keeping it comfortably below monsters like the larger, and faster Ford F-150 Raptor.