2017 Chevrolet Colorado ZR2 First Drive: Right-size off-roader offers high-tech romp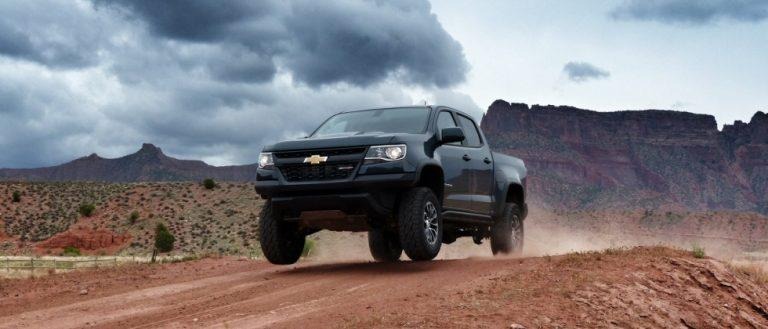 The sun has long since set on the stretch of Colorado 141 that I'm driving, eyes bleary, windshield smeared with grease and cheese from the pizza sitting on that dashboard that I scored in Grand Junction just before the entire city rolled up its streets and shut down for the night. I've been awake since four a.m., a victim of weather and mechanical gremlins forcing me out of the skies not once, but twice today, and sending me down this lonely road far later than planned. 'Detroit Rock City' is playing on the radio as I push Chevy's latest pickup as quickly as I dare through the mountain passes, frantically racing sleep and exhaustion to the warm bed waiting for me while lightning frames the peaks that tower above with shocks of light, when I see it: walking down the opposite shoulder, looking right at me. Is that a damn bear? Yeah, that's a damn bear.
It's an auspicious introduction to the 2017 Chevrolet Colorado ZR2, GM's first foray back into the world of hardcore off-road trucks since largely ceding the mid-size segment to Toyota's Tacoma TRD in the 2000s. This is no 'tire and sticker' package designed to boost your confidence and get you stuck farther away from home than you otherwise might have attempted in a regular 4x4 pickup. Instead, it's a fully-engineered solution to the conundrum of how to build a truck that can balance day-to-day commuting, hauling, and towing with the desire to kick maximum ass once the asphalt disappears – and it took an unlikely partner to make it a reality.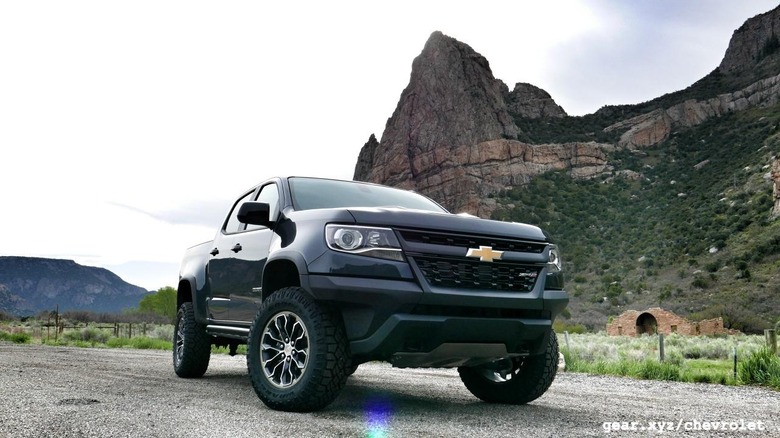 At the crux of what sets the Colorado ZR2 apart from its peers are the dampers that sit at all four corners. It's here that the General looked outside the walls of its own fiefdom and tagged in repeat collaborator Multimatic to provide a serious assist. Multimatic is a name that will be recognizable to fans of high performance race and street cars – the Canadian firm has had a hand in Formula One race cars, the recent Ford GT, and Chevrolet's own Camaro Z28 – but while the expertise is top-shelf, it's never before been pointed at a dusty trail.
Chevrolet assigned the suspension geniuses behind the Z28's Dynamic Suspension's Spool Valve (DSSV) technology the task of adapting these unique shocks to the realities of hardcore off-roading. By using spool valve chambers instead of shims to control fluid flow inside a shock absorber, DSSV shocks are far more precise, and tunable, than their traditional counterparts. We took a deep dive into DSSV last year in a sit-down interview with Multimatic's engineering team, but the main takeaways are better heat resistance, less fluid turbulence inside the shock, and the ability to provide both a composed comportment on the street alongside Baja-level control during high-speed desert running.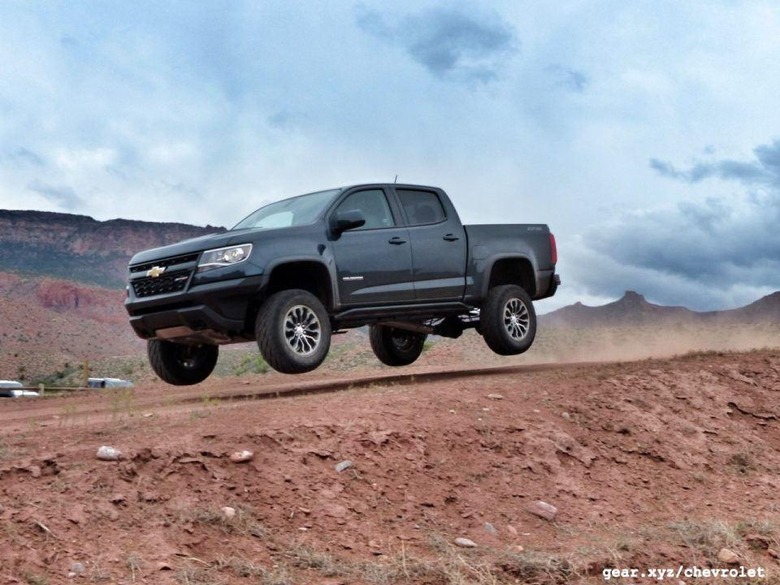 This latter point is key, because no other pickup on the market can make a similar claim. The majority of the external reservoir shocks currently available are great for landing a really sweet jump, but less adept at rounding a paved corner or controlling body movement on a bumpy road – something that was in full evidence during my recent test drive of the steroidal Ford F-150 Raptor. DSSV makes the bold promise to erase the boundary between Trophy Truck and commuter comfort.
Chevrolet is offering the ZR2 bundled with either its 308 horsepower, 3.6-liter V6 or its 2.8-liter turbodiesel four-cylinder, which generates 369 lb-ft of torque. Each of these drivetrains is perfectly adequate, if not 'exciting' – part of me pines for a small block V8 that would combine low-end grunt with high end thrills – and an automatic gearbox is standard with both (six speeds for the diesel, eight for the gas model). You can snag both extended and crew cab models, too, with the four door providing decent room for adult-sized passengers, just as in the standard Colorado.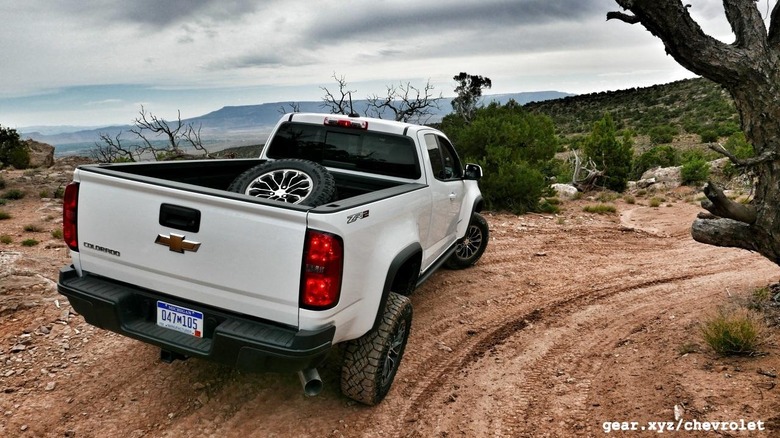 I was eager to stress test the Chevrolet Colorado ZR2's chassis, and the truck's namesake state did not disappoint. A 65 mile drive along highway 141 back-to-back with the less-focused Colorado Z71 off-road package revealed a compliant character in the ZR2 that erased the bounce, buck, and lean of its stiffly-sprung sibling through corners and over rough pavement (not to mention a night-and-day difference in street handling capability as compared to the larger, and bulkier Raptor). A more direct comparison between the Colorado ZR2 and its Toyota Tacoma stalking horse also stressed the fact that the Chevrolet's driving character is far more akin to a crossover than the Tacoma's 'yeah, it's a truck' dynamics.
Still, the ZR2's true sandbox is, well, a sandbox, which meant hitting the rough stuff at Bangs Canyon roughly 10 miles outside of Grand Junction proper. The long, narrow trail would have brooked no full-size rigs, as short wheelbases are required to tackle its tight turns and rocky transitions. In addition to its DSSV magic, the Colorado ZR2 also packs front and rear locking differentials (accessible via buttons located at the bottom of the center stack), as well as low-range four-wheel drive, 31-inch Goodyear Duratrac tires mounted on 17-inch rims, a 3.5-inch wider track (featuring unique control arms) and modest bumpers intended to improve approach and departure angles. You also get rock rails and full underbody armor, which we needed as we scraped and crawled our way through the high desert without any complaint from the pickup.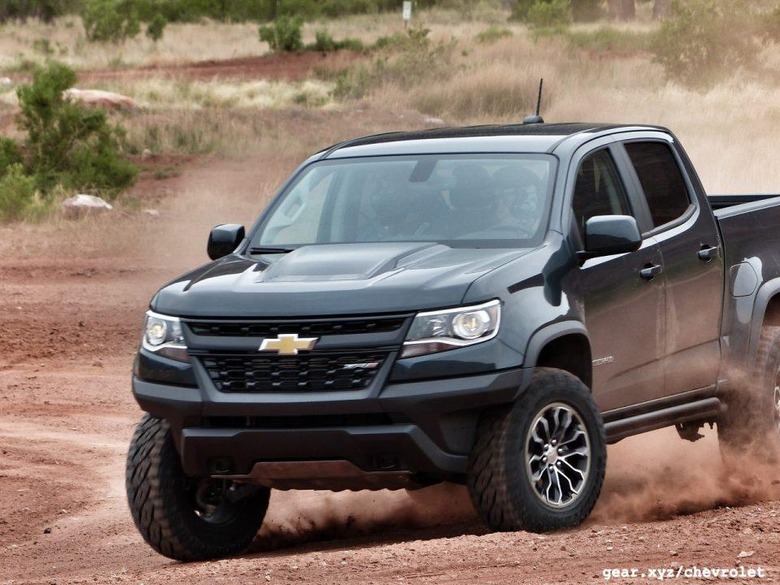 Its trail bonafides firmly established, the Chevrolet had one more trick up its sleeve to push it past the Tacoma TRD Pro it hopes to dethrone: 'Off-Road Mode.' Again, a single button push sharpens the throttle and shift points while backing off electronic traction control and stability control nannies in a bid to free drivers to pursue their desert-driving dreams. Turn off traction control completely – something that requires pulling a control module in the Toyota – and you're on your own against the dunes, and with the Colorado ZR2 in two-wheel drive with the rear differential locked you're free to kick up rooster trails of sand, pivot through banked corners with abandon, and land 50-mph jumps with a minimum of drama (something that I can assure you is much more of an event in the Tacoma).
There's really nothing else like it, and that's something Chevrolet is heavily counting on as it courts off-road customers. We're truly living in a golden age for four-wheeling, what with the Raptor, the Colorado ZR2, the Tacoma TRD Pro, and the Ram Power Wagon each offering dramatically different takes on how to have fun 500 miles from civilization. The ZR2's high-tech investment elevates to another level past the Bro-Dozers that litter the local Arby's parking lot, while simultaneously marrying shirt-and-tie poise with a reasonable form factor that slots it safely into both your driveway and your lifestyle without requiring the use of a step-ladder or Dramamine for trips to the mall. The last time we got a re-designed Tacoma it was precisely because Chevy dropped the all-new Colorado in our laps. After driving the ZR2, I think I can feel another mid-cycle refresh on the verge of sweeping in from across the Pacific.