5 New Downloadable Games Available From Nintendo Today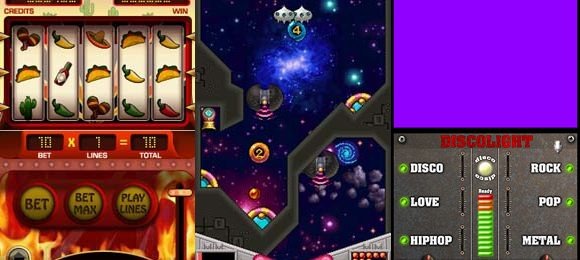 Today Nintendo announces five additions to it's downloadable game collection including WiiWare games "Gods vs Humans" and "Mix Superstar" as well as DSiWare titles "GO Series Pinball Attack!," "Adventure in Vegas: Slot Machine," and "Discolight." These titles were released at 9 AM Pacific time today, and you can expect new titles at both the Nintendo DSi Shop and the Wii Shop Channel every Monday at the same time available for purchase by redeeming Wii Points or Nintendo DSi Points, each of those attainable at the Wii Shop Channel and Nintendo DSi Shop, respectively.
First there's Gods vs Humans, playable by 1 or 2 players, rated E for everyone, costing 1,200 Wii points. Play as gods from mythologies from Scandinavia, Egypt, Rome and Japan, ruling over humans who would obey – those rebels who would defy you, you must crush! But don't kill them, you need the humans to believe in you in order to win. Sixteen gods to be, 4 bosses to beat, 60 levels to play, 16 bonus challenges to meet. Solo or split-screen two-player mode.
Then there's Mix Superstar, playable by 1 player only, rated E for everyone, costing 500 Wii points. Create and mix your own musical masterworks from your Wii system using 1,000+ Dance, Hip Hop and Techno loops using Drum, Bass, Synth, Guitar and voice tracks. Export tracks to your computer or use the WiiConnect24 system to send tracks to your friends or collaborate on mixes. You can use your Logitech USB Microphone and/or Wii Speak accessories and use your Nintendo Wi-Fi Connection Pay & Play service to access additional loop packs from multiple genres.
Third is GO Series Pinball Attack!, playable by one player, rated E for everyone, costing 500 Nintendo DSi points. Being what they call a unique fusion of pinball, exploration, and shooting, this game allows you to go under the sea, inside the earth, through a jungle, and into space, all inside the pinball universe. Use your pinball to fight enemies, nab bonuses and collect power-ups. (This looks to me like a combination of pinball and brick-breaker – a combination that's LONG OVERDUE!)
After that there's Adventure in Vegas: Slot Machine, playable by one player, rated T for teen (because of simulated gambling), costing 200 Nintendo DSi points. This game consists of three playable slot machines: Hawaiian, Pirate Treasure, and Mexican Heat, each of them uniquely themed with music, sounds, and graphics. Number of reels, extra buttons, winning sequences, and custom bets are all included here, just like the real deal machines at any casino. Then there's a feature in which you can trade your money in for a collection of prizes which you can then... you know... look at.
Finally, there's Discolight, playable by one player, not rated, costing 200 Nintendo DSi Points. Turn your Nintendo DSi into a disco rave extravaganza! This isn't so much a game as it is a control panel and lots of flashing lights, turning your handheld into a party animal of flickering colors.
[Via Nintendo]