5-mile WiFi b/g bridge for bargain $318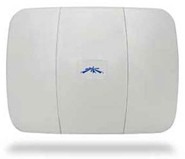 Networking company HD Communcations has announced a low-cost WiFi bridge with up to five miles line-of-sight range.  The HD26200 consists of two high performance Ubiquiti network radios with integrated 17dbi dual polarity antennas, and can bridge WiFi b and g networks.  Best of all is the price: just $318.
Power is via the ethernet connection, rather than a separate supply, which means only a CAT5 cable is necessary to get the HD26200 up and running.  The system is also rated for outdoor use, which is likely to be a necessity unless you're looking to extend a WiFi link down a very long bowling alley.  HD Communications are claiming that its performance exceeds rival systems priced in the thousands.
"Since the introduction of WiFi radios people have tried to push the range of consumer level products by adding external antennas, RF cables, and WiFi amplifiers. The cost of those devices often totaled well over $500 and that was after they had already bought two D-Link or Linksys radios for $75 each.  Now they can have an FCC certified wireless bridge that will work better, look better, is easier to configure, and easier to install for less than $320" Don Davis, President and CEO, HD Communications Corp.
The HD26200 is available now.  HD Communications also have non-line-of-sight products in their range.