$4.6m Lamborghini Veneno debuts before Geneva event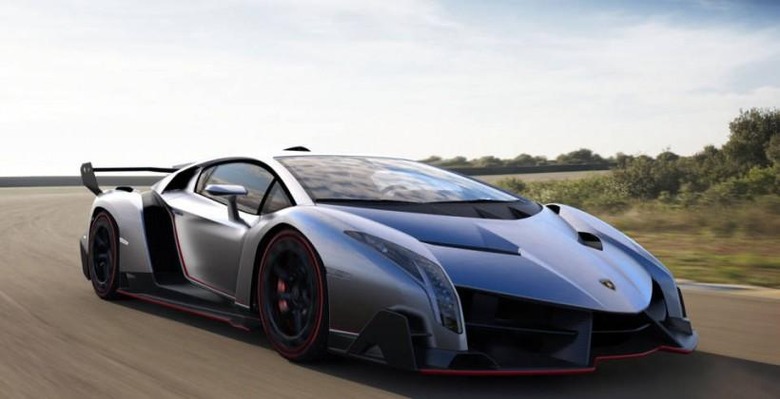 It looks like the Lamborghini Veneno just couldn't wait to be shown off at the Geneva Motor Show event later today. The car has been revealed right before the show is set to take place, and it shows off the beauty of Italian craftsmanship. The Lamborghini Veneno was inspired by and created to mark Lamborghini's 50th anniversary, and it's going to take on the likes of the McLaren P1 and the successor to the Ferrari Enzo.
The Lamborghini Veneno has a price tag of about $4,600,000 or around 3.5 million euros, which is unfortunately way over our budgets (or anyone's budget who isn't in the top 1%). But that's alright, because Lamborghini only made three of these cars and all three have already been sold. Each car will feature one of the colors from the Italian flag (green, white or red) to show off their uniqueness. The Veneno being shown off at the Geneva Motor Show, however, will display all three colors on its door.
The Lamborghini Veneno's design was based off of the Lamborghini Aventador. It sports a 740 horsepower 6.5 liter V12 with a seven-speed single-clutch ISR transmission and all-wheel-drive. The Lamborghini Veneno is reported to have a top speed of 220 miles per hour and will be able to go from 0-62 time in under 3 seconds. The Veneno will also feature a beautiful, all carbon fiber body.
The Veneno is truly a beauty and a beast and will spark envy amongst all of those attending the Geneva Motor Show. The owners of the Lamborghini Veneno, with two of them being located in the United States, will revel in the fact that they will possess a car that's one of a kind. With the Veneno, the Ferrari Enzo, and the McLaren P1 being shown off tonight, the Geneva Motor Show looks like it will be incredible.
[via Road and Track]