3M Ergonomic Wireless Mouse could take your eye out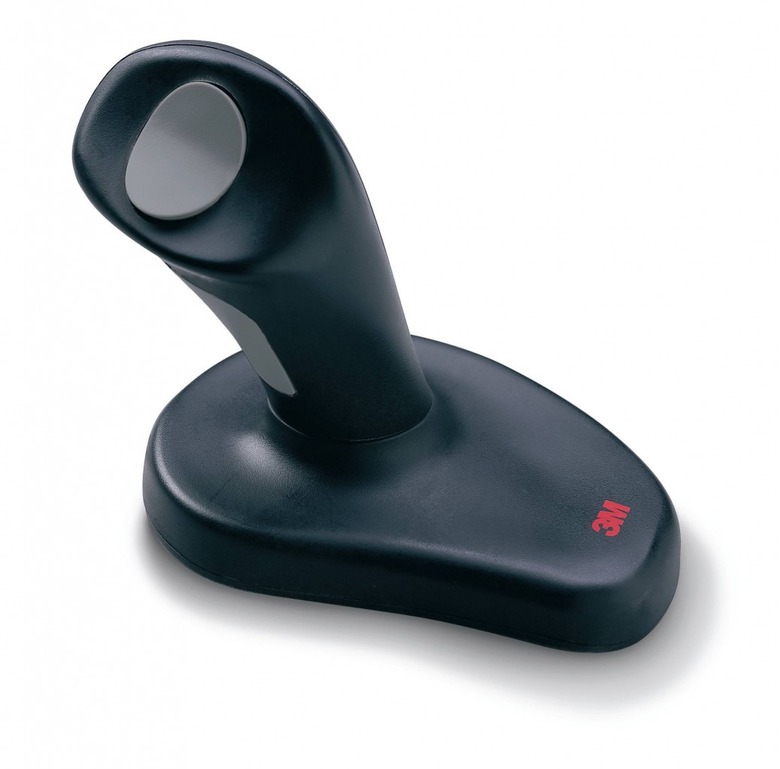 Would we open up an ergonomic-mouse press release if it wasn't a slow Tuesday in the week after CES 2010?  Probably not.  Would we give it a second glance after seeing this surprisingly... phallic example from 3M?  Out of morbid curiosity, perhaps.
Apparently clinically proven to reduce muscle strain, the 3M Ergonomic Mouse is a wireless optical model with the regular keys placed along an upright joystick and topped by a scroll control.  Two sizes are available, to suit different hands, with the larger model standing a full 19cm high.
As this happy model lady shows, it's now not only possible to use a mouse for extended periods without incurring carpal tunnel syndrome or repetitive strain injury, but to do so smiling.  The 3M Ergonomic Mouse is available now, priced at £81.73 ($131) for both the small and large versions; 3M also make a wired USB version for £39.99 ($64).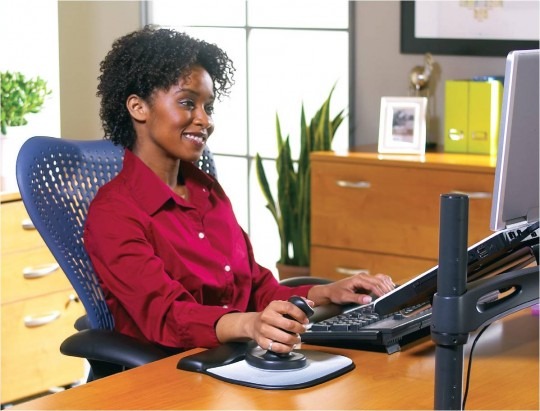 Press Release:
3M Ergonomic Mouse – Helping to Reduce RSI

Clinically proven* to reduce muscle strain, the 3M Ergonomic Wireless Optical Mouse can help reduce the discomfort associated with carpal tunnel syndrome and repetitive strain injury.

Working with computers, particularly for long periods without breaks, is a prime cause of Repetitive Strain Injuries (RSI). A poorly set up workstation or the use of inferior equipment can result in strain on muscles throughout the body. Aches, numbness and tingling in muscles, while working at a computer, could be a sign of RSI. If allowed to become chronic, RSI can cause permanent disability. However, RSI is 100 per cent preventable.

Available to buy online at 3Mselect.co.uk, the 3M Ergonomic Mouse looks just like a joystick. The vertical ergonomic grip, which is unique to the 3M design, encourages the wrist to remain locked, reducing the pressure on the delicate median nerve.

It is held like an old fashioned gaming control but is moved just like a conventional mouse, tracking movement optically. Directed in this fashion means the arm rather than the wrist is used, which helps to prevent RSI and carpal tunnel syndrome. It also enhances comfort by keeping arms and shoulders in a more relaxed, neutral position.

Left click, right click and the scroll button are all included. Positioned on top of the stick, next to the finger rest, they fall naturally to hand after a short while of using.

Visit the website for exercises to ease comfort and advice on desk positioning for optimal comfort http://www.3mselect.co.uk/.

* Clinically proven by: Centre for Ergonomic Research, Miami University and University of Oslo

Technical Details:

· 3M Ergonomic Wireless Optical Mouse is compatible for use with PCs, Laptops and Apple Macs: Microsoft – Windows XP, Vista and later / Apple – MAC OS 10 X v10.4.X, v10.5.X and later

· Optical mouse for smoother, more accurate usage

· Optical mouse with USB/PS2 compatible plug and play

· USB wireless compatible

· For right hand use; available in small/ medium for palms measuring 8.8cm wide or less. Also available in large for a palm width of 8.9cm or more

· Product Dimensions: 14.2 x 15 x 17.3cm ; 341g (small)

· Product Dimensions: 15.9 x 15.9 x 19cm ; 885g (large)

Includes 2 AAA batteries

Price:

RRP from £143.92

Repetitive Strain Injury:

· RSI is a group of injuries affecting the muscles, tendons or nerves

· Symptoms include: pain, swelling, numbness, tingling, burning or cramps

· RSI often occurs in the hands, arms, neck, shoulders and back

· RSI is often caused or aggravated by frequently repeated movements or awkward and static postures, insufficient recovery time and stress

· The repetitive action of typing on a computer can cause painful symptoms in fingers and hands, such as a throbbing pain.

(Source: RSI: rsi.org.uk)

RSI Facts & Figures:

· In 2006 nearly half a million people in the UK suffered from some form of RSI

· The problem is increasing principally through the intensive use of computers and other technology that involves large amounts of keyboarding

· The number of cases of RSI and upper limb musculoskeletal diseases is growing due to increased computer usage in the work environment and the lack of education around ways to prevent these problems

· RSI is by no means confined to keyboard workers but there can be no doubt that the increased prevalence of these painful and sometimes disabling conditions is related to the huge rise in computer use

(Source: RSI: rsi.org.uk)

Economic cost:

· 450,000+ UK workers have upper limb RSI (Source: Chartered Society of Physiotherapy)

· 1 in 50 (half a million) of all workers in the UK have reported an RSI condition (Source: TUC)

· 5.4 million working days were lost in sick leave due to RSI last year (Source: TUC)

· Every day, six people in the UK leave their jobs due to an RSI condition (Source: TUC)

· The cost to UK industry is likely to be between £5 billion and £20 billion annually (Source: estimate based on Buckle and Devereux, 1999)

· Organisations that employ strategies to improve work-place ergonomics have found that musculoskeletal-disorders (resulting in lost work time) were 3 times less likely to occur (Source: Schneider 1998)

· It is estimated that 12.3 million days are lost each year to workplace absence caused by back and upper limb problems (Source: Health and Safety Executive (HSE), 2002)