3G on my Ereader, not my Tablet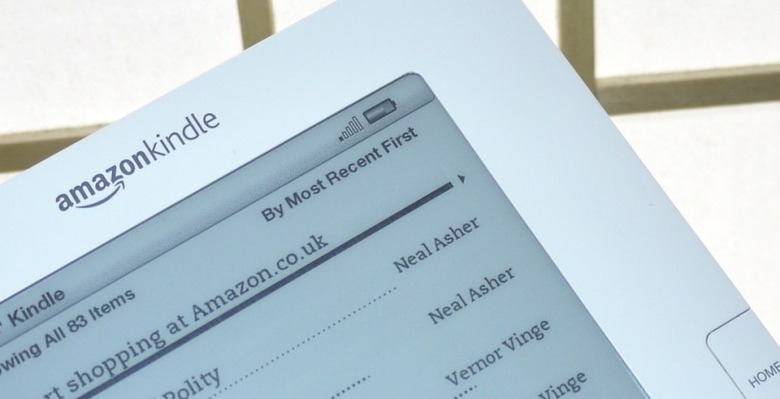 Amazon and B&N are taking pot-shots at each other this week, each competing on whose ereader lasts longest. As ereaders gain in popularity and become more mainstream, too, I'm increasingly asked which model I'd go for and, more often, whether I'd pay extra for those with integrated 3G or save my money and opt for WiFi-only instead. Funnily enough, my stance on 3G ereaders is the complete opposite of my thoughts on 3G tablets.
Last week, I kicked off a new SlashGear poll about tablets with integrated 3G, and wrote about how I personally prefer to tether to my phone rather than have a WWAN connection – and agreement – built in. When it comes to ereaders, though, I wouldn't give up my 3G-equipped Kindle.
One of the advantages of an ereader over traditional books is the fact you can carry such a huge library with you. That's only half of it, though, really: the other part is that you can add to that library while on the move too, with no extra burden to carry. Finish your current ebook? Quickly download a new one, even if you're already in your seat on the plane and waiting for the cabin crew to close the doors.
Obviously that depends on getting a connection. With my 3G Kindle I can power on the WWAN and grab a book most places; okay, I'm dependent on the speed of the network, but even when I'm down to GPRS that's no great hardship when you're thinking in kilobyte terms rather than megabytes. That last-minute plane purchase? I've done that. I bought an ebook from a hotel room in South Korea, where the hotel wanted $23 for each WiFi device online. I've bought ebooks while in the park, enjoying one of London's rare sunny days. Sure, I could've tethered a WiFi ereader to my phone and got online that way, but that's another step or two in a process where the hardest thing should be deciding what book I want to buy.
When it comes down to it, I see a tablet as another type of computer whereas an ereader is an appliance. With computers, we're used to there being limitations and provisos on use: factors that affect the extent of the functionality we can expect at any one time. With an appliance, however, we want convenience and consistency. I don't want to have to hunt down a WiFi hotspot if I decide I need a new book.
There are less obvious benefits to a 3G ereader, too. I've been delayed in airports before now, no free WiFi to be had, and the rudimentary browser on my second-gen Kindle has let me get online, check Twitter, even send emails. It's hardly the most elegant of ways to use the internet (though the WebKit-based browser on the third-gen Kindle is far more refined) but firing off a quick, free email rather than making an expensive international call on your cellphone certainly helps the wallet.
Of course, the big issue is choice: there are quite a few good WiFi ereaders out there, but far fewer 3G models. That's probably down to the inherent cost of providing bundled internet access – it seemingly proved too much for Barnes & Noble after all, and their new NOOK will be WiFi-only, at least at first. Amazon's Kindle or Sony's Reader Daily Edition are basically your choices, though for the moment B&N is still selling the original NOOK 3G.
Yes, you'll pay $50 more for a 3G Kindle instead of a WiFi one. Sony's Reader Daily Edition is a hefty $299.99, and the original 3G NOOK is $169, $50 more than its WiFi counterpart and $30 more than the new WiFi-only NOOK. But that's it – no ongoing 3G fees, no minimum agreement, no having to remember to top-up your prepaid allowance or use the 3G at least once every month or so just to make sure the carrier doesn't deactivate your account.
I'm a geek who loves reading; it's my downtime. That means if I can cut out one of the geeky hurdles to getting on with it, I will. Hotspot hunting is part of the game when you're working, but it's an unnecessary hassle when I just want to curl up with a good ebook.