Kickstarter success 3Doodler proved there was a market for 3D printing without the geek requirement, but can crafting in the third-dimension really be as easy as wielding a hot nib? True, you won't be creating any replacement machine parts, but with a $99.99 price tag that's probably no surprise. We caught up with the $2.3m funding success at ShowStoppers at IFA 2013 to try our hand.
3Doodler is arguably a hot glue gun on steroids, with a fine nib and twin speeds to give a range of control over how quickly the heated plastic is extruded. In the hand, it's a chunky pen with an exposed metal nib, with two buttons near the end and a power switch.
Like a glue gun, you feed in a strip of colored nylon plastic into the end and, as you hit the button, it's pushed through and out of the nib. That nib heats up to around 240 degrees centigrade, mind, so it's no surprise that 3Doodler recommends it for 12 years or above.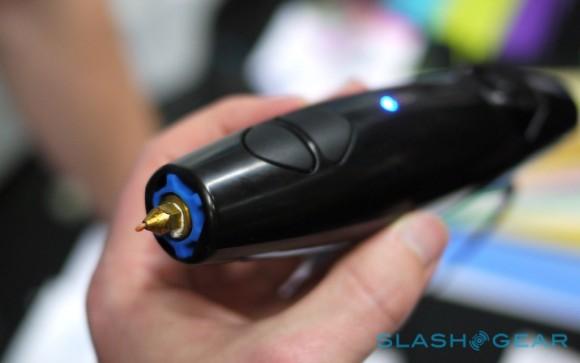 Starting off, you let a few millimeters of plastic feed through, and then anchor it to the paper with a hard press. After that, it's a case of carefully moving the 3Doodler through the air, trailing a string of plastic behind you.
That trail cools quickly, setting in place. It's a case of trial and error as to how quickly you can move and preserve the shape you want – too fast and it tends to slump down, too slow and the plastic rushes out too quickly and pushes your shape back – but with sensible anchoring you can craft unusual shapes with ease.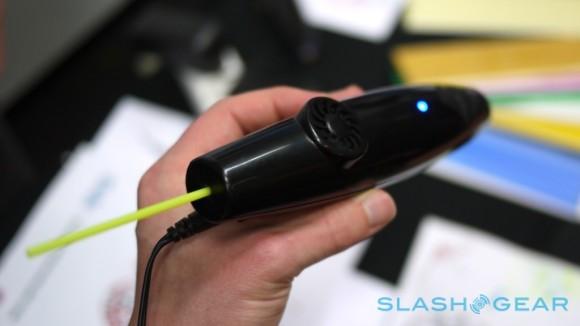 If you're taking things more seriously, you can use a paper template and push out different color plastics onto it, creating either 2D shapes or even stacking up layers to make a 3D model. It takes some patience, but it's certainly entertaining.
3Doodler expects the pen to begin shipping in Q1 2014, with preorders already underway and a fair few Kickstarter backers already committed. As we found, it certainly helps if you have a steady hand and a good imagination, but even without that you can create some interesting key charms, earrings, and more.