3D Systems teams with Hershey's to print chocolate: here's how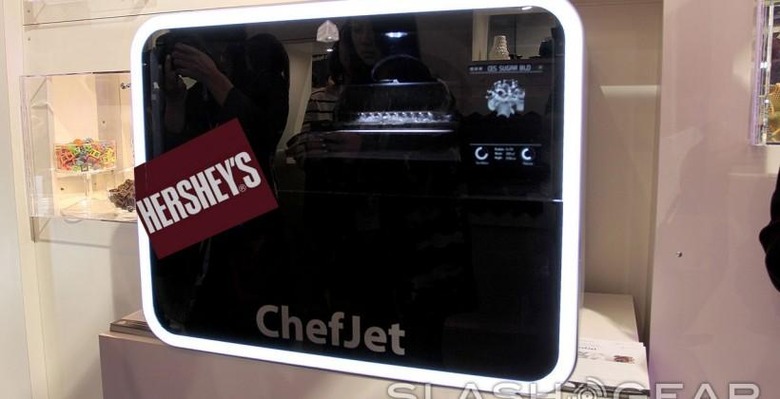 Today the teams at 3D Systems and The Hershey Company have announced that they'll be teaming up to bring their own special blend of 3D-printed chocolates to the universe. Lucky you, SlashGear had a bit of time with the 3D printers they'll be using to make it all happen at CES 2014. While we just saw their usage in the sugar arena, it was clear last week that chocolate was next on the docket!
The announcement today basically just suggests that Hershey's will be working with 3D Systems "to explore and develop innovative opportunities." While that may not mean a whole lot in the short run, we're excited to see where they're able to to.
"...to explore and develop innovative opportunities for using 3D printing technology in creating edible foods, including confectionery treats.

The alliance combines Hershey's world-class food science and manufacturing expertise with 3DS' powerful 3D printing technology and knowhow to deliver new consumer experiences." – 3D Systems
To make it all a bit more interesting, Hershey's Vice President and Chief Research and Development Officer William Papa spoke up on the subject as well. He noted that they'll be innovating in order to develop "relevant, compelling consumer experiences."
Does this mean we'll be seeing 3D-printed chocolate bars in stores in the near future? We certainly hope so. Have a peek at our eyes-on with the food-ready 3D printers we've gotten to get up and personal with so far right here.
This video shows the 3D Systems Chef Jet and Chef Jet Pro in action. As the sugar is printed here with a thin layer of the finest of sugary dust, so too will the chocolate be printed with cocoa powder.
Sound like an enterprising move to you? What would you like to see Hershey's and 3D Systems collaborate to do?