2K Games discounting select iOS games through January 2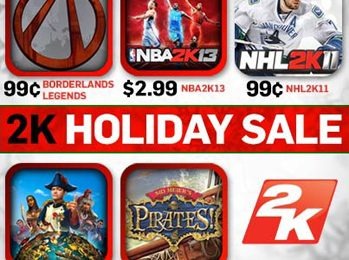 Holiday sales are upon us, folks, and it's not just the big box stores discounting merchandise. Mobile games are also on sale for the holidays, and 2K Games specifically is discounting a select number of iOS games from now until January 2. Titles include Borderlands Legends, Civilization Revolution, NBA 2K13, and more.
Mobile gamers can snag six of the studio's titles for both iPhone and iPad, most of which are under a dollar. Borderlands Legends for both iPhone and iPad is $0.99, as is Civilization Revolution for the iPhone and iPad, Carnival Games Volumes 1 and 2, NHL 2K11, and Sid Meier's Pirates. NBA 2K13 is on sale for $2.99.
Of course, these aren't the only games that are or will be going on sale. We expect more developers and distributing services to put multiple titles on sale during Christmas time, as well as New Years. Recently, Halfbrick Studios put all of their games on sale for one day, including Fruit Ninja and Age of Zombies.
Plus, Steam recently held a huge autumn sale where they discounted a ton of popular games for as much as 75% off at times. We expect Steam to come back with another huge sale sometime over the next couple of weeks to celebrate the festivities, and we guarantee that a lot of gamers are going to receive gift cards for Christmas to spend on some awesome titles that will hopefully be discounted big time.