22Moo GameBone Pro Controller For iPhone And iPod Touch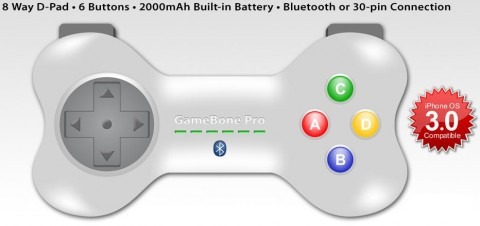 We're not entirely convinced by the name 22Moo, but now that iPhone OS 3.0 supports third-party peripherals we're sure we could find some bag-space for their GameBone Pro controller.  Intended to be used with an iPhone or iPod touch, the GameBone Pro hooks up via Bluetooth or Apple's dock-connector, and has an 8-way D-pad plus six buttons.
There's also a 2,000mAh Li-Ion battery, which not only powers the GameBone Pro's functionality but – if you use the wired connection – can recharge your iPhone or iPod touch, too.  A row of LEDs shows charge status.
The controller also has integrated speakers, a microphone, and a 3.5mm headphone jack.  It's set to hit shelves in mid-September, but we don't know price yet; 22Moo are asking potential customers to suggest what they'd pay for the GameBone Pro, which seems like an obvious way to find your shiny new peripheral now costs fifty cents.