2020 Volvo V60 Cross Country First Drive - The Wagon Agenda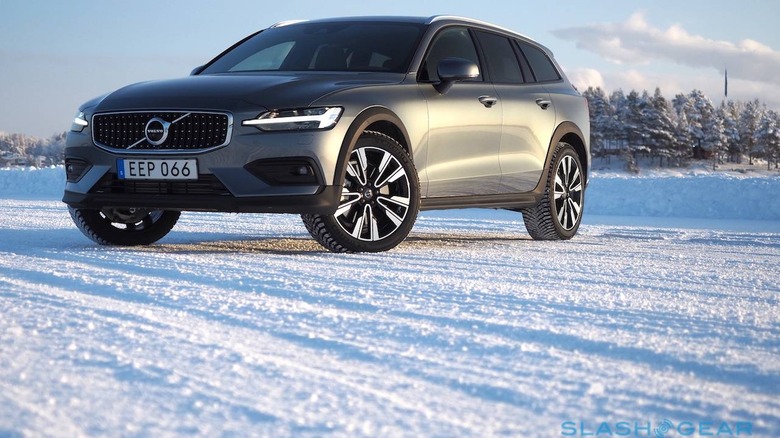 It was while going sideways on a frozen lake in the 2020 Volvo V60 Cross Country that I began to seriously question the wisdom of giving the American customer what they want. For years now, the answer to that question at car dealerships across the US has been "an SUV, please." That may be what they want, but what they actually need is something very different.
Yes, I'm talking about wagons again, and no, I haven't given up on coaxing American drivers out of the SUVs they think they need. Neither has Volvo, for that matter, though the automaker is willing to undertake a little subterfuge in order to get you to take your wagon medicine.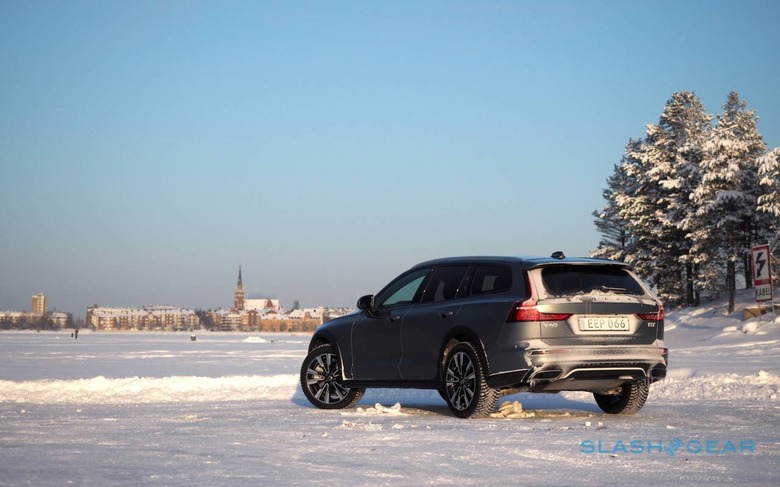 Enter, sneakily, the V60 Cross Country. Occupying the space between the regular V60 wagon and the XC60 SUV, it's a jacked-up tweener, a true crossover. Almost 3-inches more ride height, beefier cladding, and a generally more imposing aesthetic than the standard V60 so as to placate those who want their daily driver to also be a suit of armor.
Just the one 2020 V60 Cross Country
Volvo doesn't have unreasonable expectations for the cars, though it is a little more ambitious than before. Despite initial expectations, the V60 Cross Country won't in fact be a special-order item in the US. Like the V60, it will be stocked on dealer lots in the US, a sly duo hoping to sway some would-be SUV shoppers.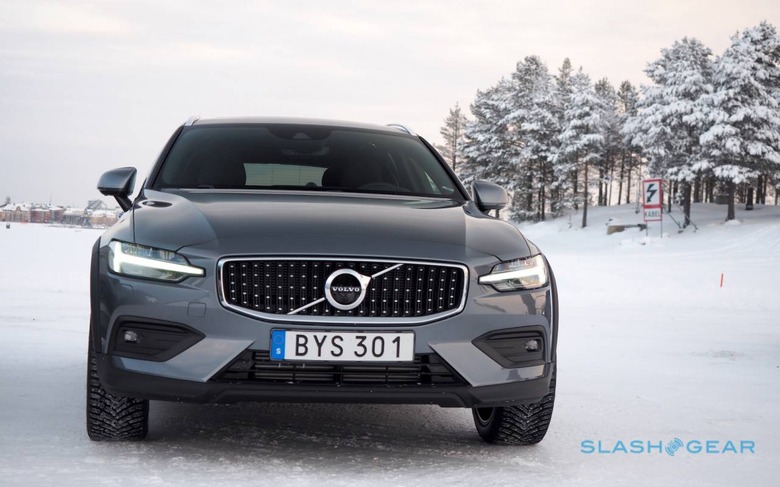 All the same, the automaker will be keeping things fairly simple rather than overwhelming with choice. There'll be just one 2020 V60 Cross Country trim, and a single engine option. That's Volvo's T5, a turbocharged 2.0-liter four-cylinder with 250 horsepower and 258 lb-ft of torque that arrives from 1,800 rpm. All-wheel drive is standard, using a BorgWarner system, as is an 8-speed automatic transmission.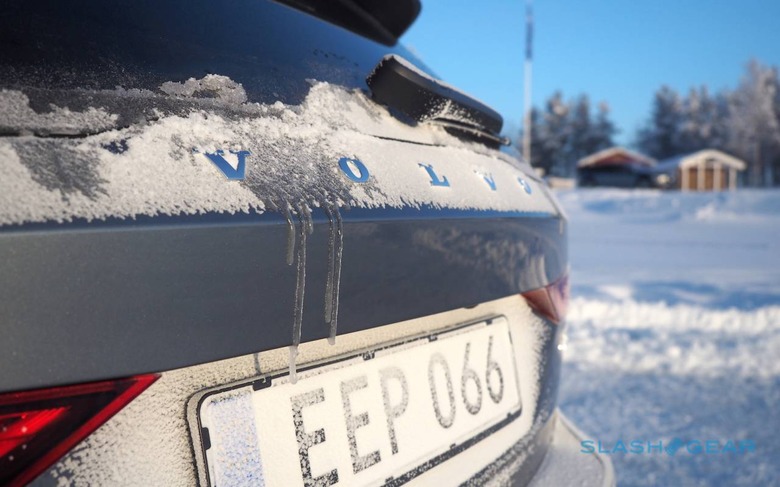 It's not an overpowered drivetrain, though neither is the V60 Cross Country T5 slow. 0-60 mph arrives in 6.8 seconds; the top speed is 143 mph. I'd not have argued with the T6 – its addition of supercharging nudges power up to 316 hp and torque up to 295 lb-ft – though having driven the V60 T8 Plug-In Hybrid I'm not terribly disappointed it won't be offered in the US in Cross Country form.
Cross Country on ice
To explain why, you have to go back to that sideways ice action. Volvo had supplied not only the V60 Cross Country T5 AWD, but a handsome V60 T8 to experiment with on its frozen lake in northern Sweden it had invited me out to. In theory the hybrid – which applies its gas-derived grunt to the front wheels and electric force to the rear, with no mechanical link between the two – should out-power and out-perform the turbo-4.
The reality, though, is that the electrification is a little too binary for you to fully appreciate that extra heaping of hybrid help. The T5 AWD splits its power up to 50/50 front to rear, judiciously squirting torque to the back axle in a way that's progressive and predictable (not to mention fun, as the sideways direction implies). The T8's rear power, in contrast, seems to wade in at the flick of a switch: there's the unsettling feeling that you're losing grip, and then the electric drive kicks in with a jolt.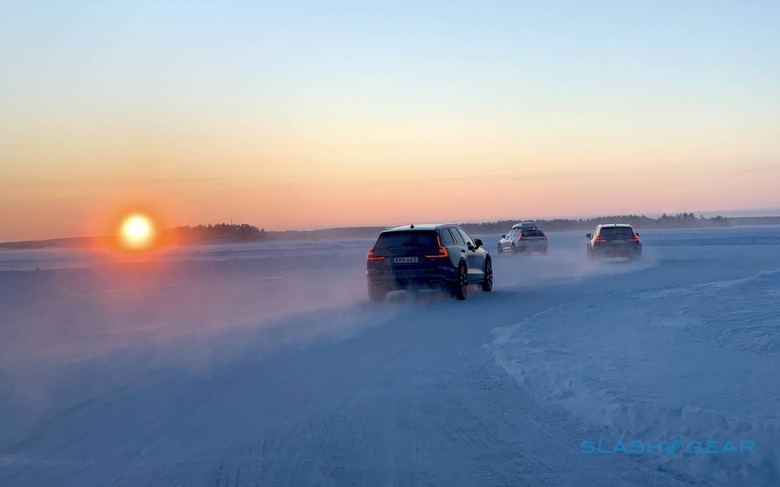 Out on public roads, with plentiful snowdrifts and no shortage of black ice, the V60 Cross Country T5's sure-footedness was even more appreciated. Volvo had slapped on a set of Michelin X-Ice North snow tires, complete with studs; in the US, there'll be a more traditional set of standard rubber. It should ride a little softer than the V60, too, Volvo having dialed down the spring rates by 8-percent to soak up more obstinate bumps. We'll need American roads, wheels, and rubber before making a final judgement.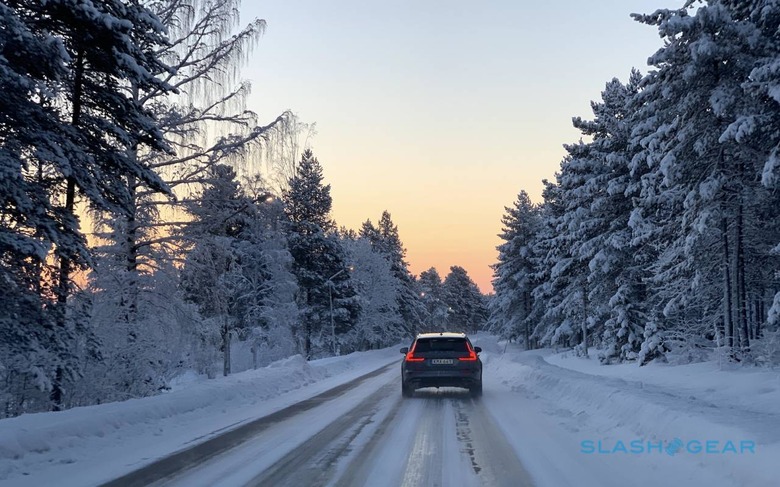 The other big change over the V60 is the Cross Country's AWD drive mode. It primarily adds Hill Descent Control, which automatically starts when you begin to descend a steep incline at low speed. While it won't steer you around obstacles it does handle smooth braking and acceleration, and does so with quiet efficiency.
Cabin fever
If you've ever bemoaned your heated steering wheel's inability to boil your fingers like spoiled little hotdogs, the V60 Cross Country's roasting rim should set you right. The three levels of heating crank up to frankly uncomfortable temperatures, while the heated seats are similarly toasty. It's a sign of how seriously Volvo's cabin design sweats – in some cases quite literally – the small stuff.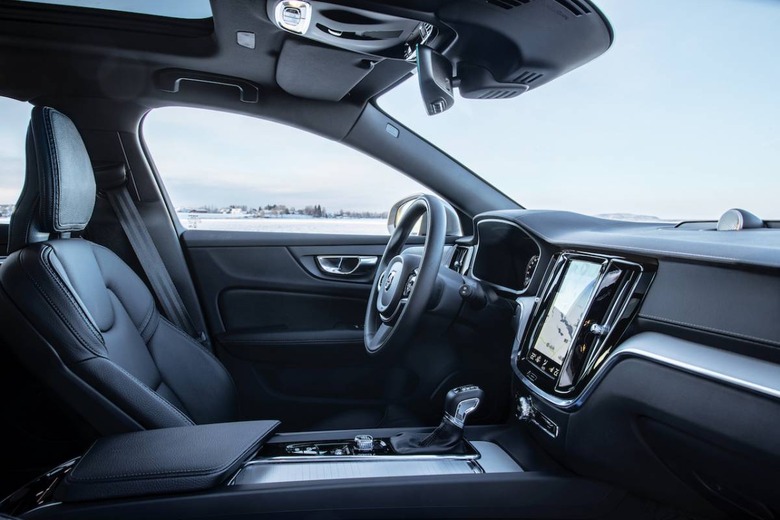 Those who have sat in a recent Volvo back to the XC90 will find it a familiar place. Big 9-inch Sensus touchscreen in the center console flanked with elegant metal trim; sturdy but comfortable leather wrapped around superbly supportive seats; and an attention to detail on the touch-points that has rightly earned the automaker acclaim. It feels special, but without the feeling that the Swedes are slavishly aping what Audi and Mercedes are doing.
Volvo's Sensus infotainment system is getting a shiny new upgrade soon, which will hopefully speed it up some, but even in this current form there are still advantages over rival platforms. The ability to have Apple CarPlay or Android Auto occupy a window rather than take over the whole screen, for instance, is something most other systems could still learn from, as is the fact that support for each is standard. Sensus is also where you control the various active safety features.
They fall under the umbrella of Volvo City Safety, and include things like forward collision assistance that helps with the brakes and steering if a crash into a vehicle, cyclist, pedestrian, or a large animal is likely. Run-off Road Mitigation and Run-off Road Protection respectively help you stay out of the ditch or at least cushion your impact if you do end up there.
Happily I didn't encounter a moose to challenge the braking assistance, and nor would Volvo permit me access to the 790 pound rubber replica it uses to test its cars. However I can confirm that the automatically-tightening seatbelts – designed to hold you in place if the car thinks you're about to lose control – will indeed fire into action when you're in ESC Sport mode and kicking the rear end out on the ice. They go from "gentle embrace" to "furious Swedish nanny insists you stay in your chair" with startling rapidity.
The allure of the unusual
Nobody is saying wagons don't sell in the US. It's just that, in relation to SUVs and crossovers, they sell in vanishingly small numbers. That's despite something like the 2020 V60 Cross Country actually offering – at 23.2 cubic feet – a little more trunk space than its XC60 SUV sibling with the rear seats up, not to mention a more rewarding experience behind the wheel thanks to a lower center of gravity and a smudge less weight.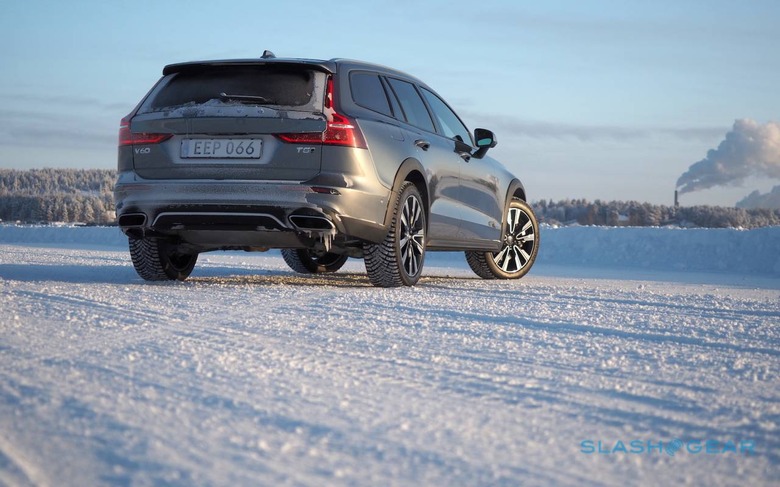 The reality is that it's not pragmatism driving the decision – otherwise Audi buyers would be flocking to the excellent A4 Allroad, the Volvo's natural competitor in the US, rather than making the Q5 the best-seller – but the emotional response. So, in my quest to get you out of an SUV and into a wagon instead, I have to argue on the basis of how I think the 2020 V60 Cross Country might make you feel.
Rarity may be the strongest lure: the fact that it's very, very unlikely you'll bump into another Cross Country driver. That it's an undeniably handsome and beautifully made car, too, in a way that's distinctive from German visions of luxury. If you want all that with a relatively affordable price tag, while Volvo hasn't confirmed how much the Cross Country will cost yet, I'm expecting it to start below $45k and thus undercut the Audi.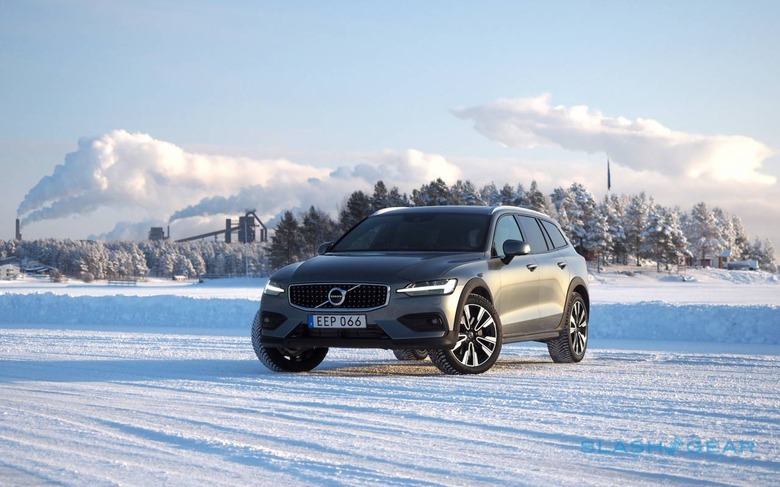 When US sales of the 2020 V60 Cross Country begin this quarter, and deliveries in July or thereabouts, we'll find out quite how many American drivers are willing to open their garages, wallets, and hearts to some Swedish exotica. The wagon has already had its reinvention. Now, it's time for the rest of us to catch up.