2020 Porsche Macan GTS returns with more power on tap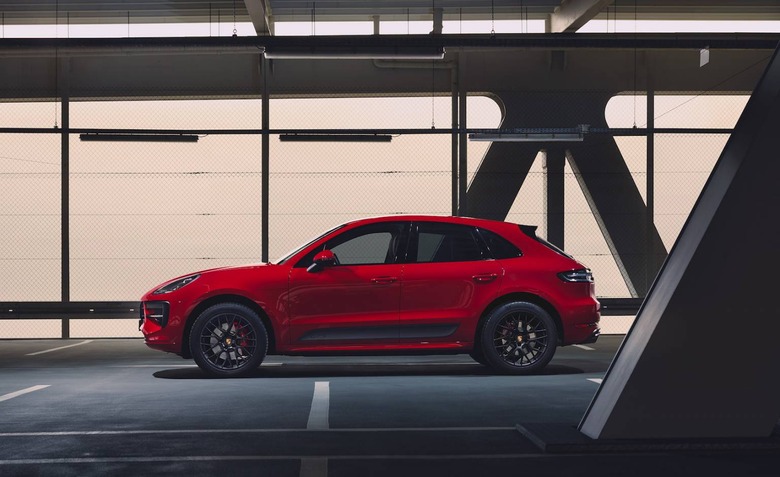 Porsche's crossover SUV is getting a performance bump, with the 2020 Macan GTS adding the Gran Turismo Sport badge for the first time. Promising 375 horsepower – up 15 hp from the old model – the Macan GTS now does 0-60 mph in as little as 4.5 seconds.
That's not bad at all for an SUV, though you'll need the Sport Chrono package in order to hit that time. Without it, you're looking at a still-impressive 4.7 seconds to do the 60 mph dash.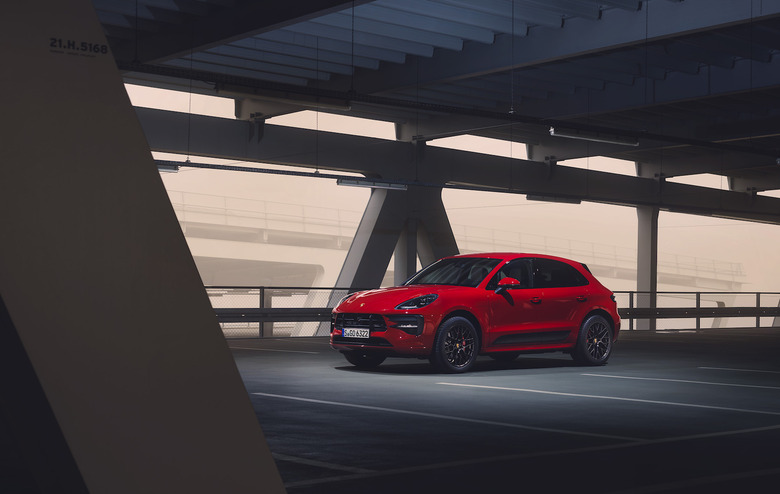 It's courtesy of a 2.9-liter twin-turbo V6 engine, which places its turbochargers in the center of the "V" for more responsive action and a cut in lag. Torque is up as well as horsepower, with 14 lb-ft more taking the total to 383 lb-ft. That kicks in at 1,750 rpm and keeps on going until 5,000 rpm.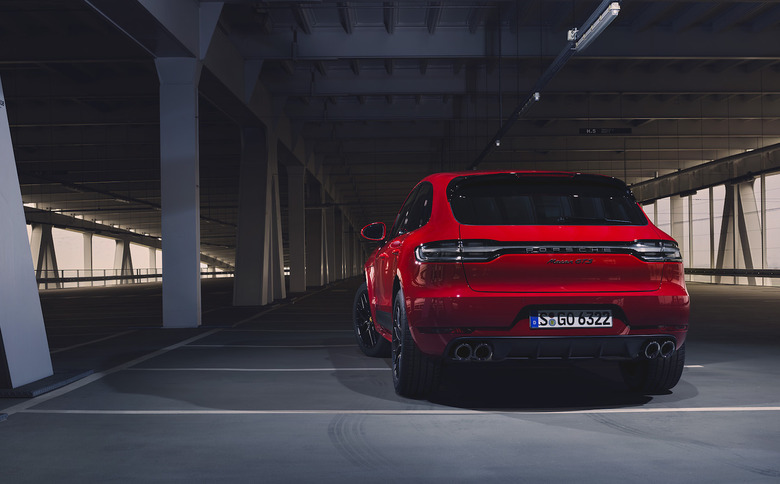 Porsche pairs the V6 with its PDK dual-clutch transmission; top speed is 162 mph. Adaptive air suspension has been included as standard on the Macan GTS, capable of lowing the SUV up to 10 mm. Cast iron brakes – measuring in at 360 x 36 millimeters at the front, and 330 x 22 millimeters at the rear – are standard, their red calipers lurking behind the 20-inch RS Spyder Design wheels which are finished in Satin Black.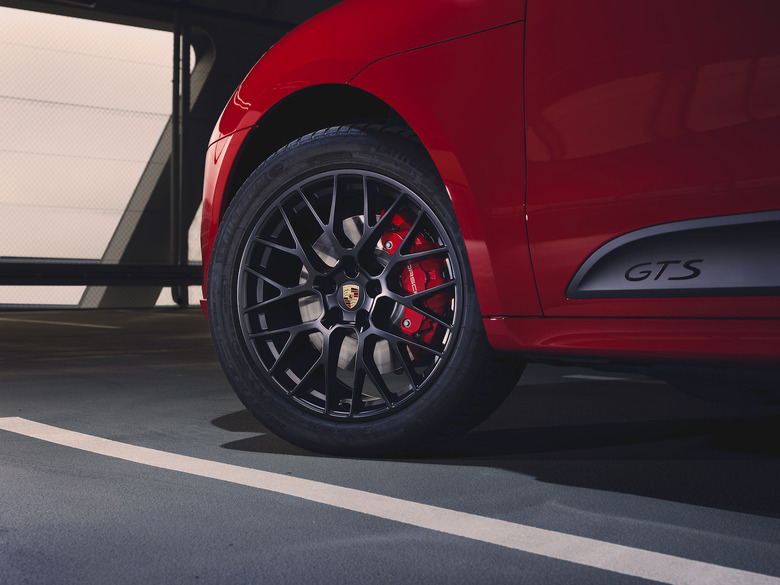 However, Porsche is also offering two other brake options. First off, there's the Porsche Surface Coated Brake (PSCB) with tungsten carbide coating; they measure in at 390 x 38 millimeters at the front and 356 x 28 millimeters at the rear. Even more aggressive should be the Porsche Ceramic Composite Brakes (PCCB), at 396 x 38 millimeters at the front and 370 x 30 millimeters at the rear.
The Sport Exhaust system is standard, and Porsche says it has been fettled to suit the Macan GTS. Even if you can't hear it, you should be able to see something is unusual about the crossover. There's a Sport Design package as standard – with new front, rear, and side skirt finishes – along with the black trim familiar from other GTS cars. Porsche Dynamic Light System headlamps, along with three-dimension rear lights are also standard. PDLS Plus black headlamps are optional.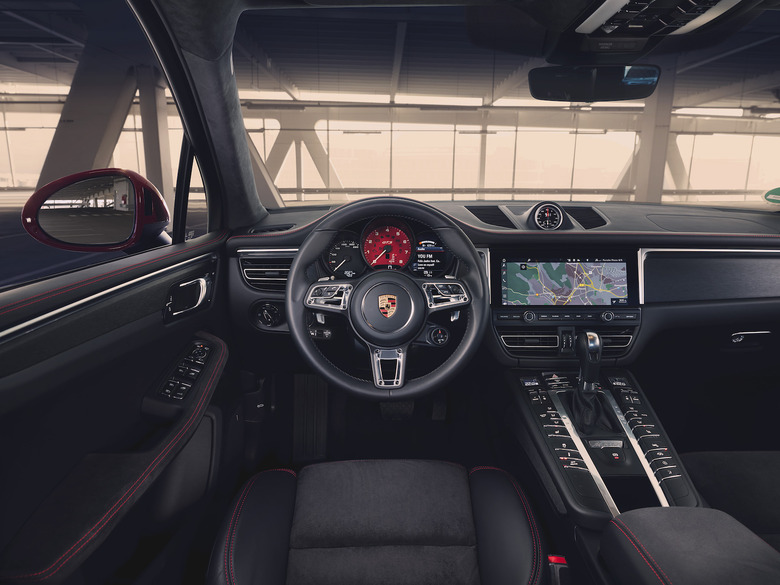 Inside, Alcantara appears on the seat center panels, the center console armrests, and the door panels. Brushed aluminum is used, too, and there's a smooth leather rim to the standard-fit sports steering wheel. More of the same appears on the sports seats, which have eight-way adjustment and oversized side bolsters.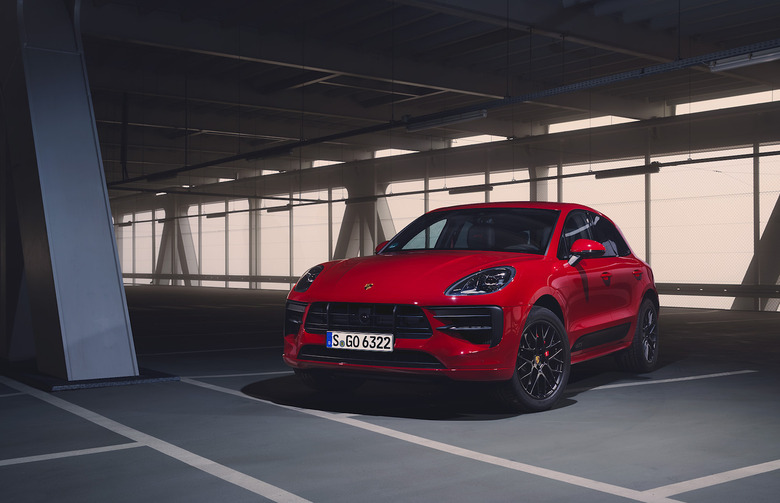 Optional is the GTS interior package, with either Carmine Red or Chalk Stitching to the leather, and more Alcantara. Bose Surround Sound can be had, and there's optional wireless phone charging. Park Assist including Surround View, a heated windshield, and an ionizer for the HVAC system are also available.
Porsche says the 2020 Macan GTS should arrive in US dealerships come Summer 2020. Pricing will kick off at $71,300 (plus $1,350 destination).