2020 Nissan GT-R Nismo Gets GT-R GT3 Race Car Tidbits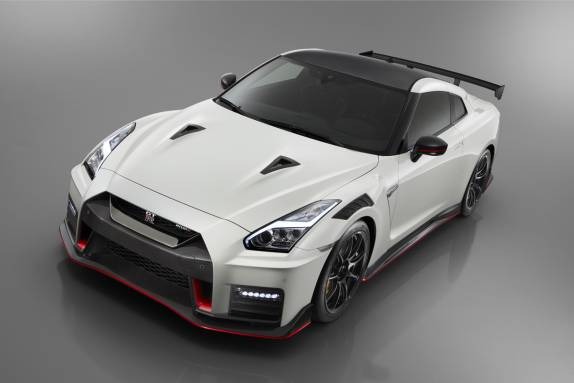 Nissan has announced its sports car lineup for 2020 that includes the Z car and the high-end GT-R. The highest performance version of the GT-R for 2020 will be the GT-R Nismo, and the vehicle has some race car upgrades at tuning improvements to increase its performance for 2020.
One of the things that Nissan did to improve the performance of the car was to shed weight by using lots of carbon fiber parts. The front and rear bumpers, front fenders, hood, roof, side sill covers, trunk, and rear spoiler are all carbon fiber. Nissan says that those components not only improve downforce and increase aerodynamics; they also have a total weight savings of 23 pounds.
That weight saving is on top of the nearly 44 pounds that came from other new and upgraded components. The slick carbon fiber front fenders are like those of the GT3 GT-R racing car with scalloped vents to funnel hot air from the engine bay and provide downforce to the front tires. The car rolls on 20-inch RAYS forged aluminum wheels.
Those wheels are wrapped in newly designed Dunlop tires with wider tread and fewer grooves to increase the contact patch by 11%. The engine is Nissan's 3.8L V6 twin-turbo unit with each engine built by a single technician. The Nismo uses a turbocharger design that is directly from the GT3 racer. It features a modified turbine with fewer blades.
The turbo design improves the acceleration response by 20% without losing horsepower. Power goes to the road via a 6-speed dual clutch transmission and all-wheel drive. Nissan fits a revised titanium exhaust system to the engine. The V6 makes 600hp, and 481 lb-ft of torque; pricing is unannounced.