2020 Mustang Shelby GT500 is a 700+ horsepower supercar-killer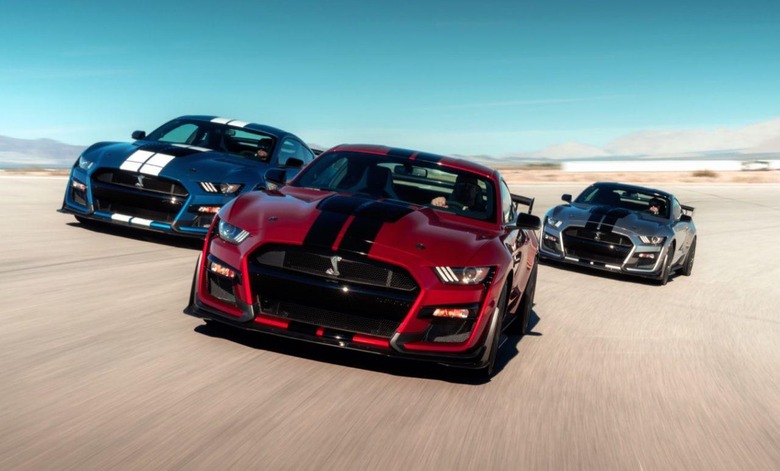 The 2020 Mustang Shelby GT500 is the most powerful street-legal Ford ever, and if that's not enough to turn your head we're not sure what is. Packing more than 700 horsepower as it roars its way into the Detroit Auto Show 2019 today, the supercharged coupe is expected to deliver a mid-three-second 0-60 mph time.
That comes courtesy of a supercharged 5.2-liter V8 engine, which Ford says it's expecting to deliver more than 700 hp. If you're keeping count, that comfortably exceeds the Ford GT supercar, which comes in with "only" 647 horsepower.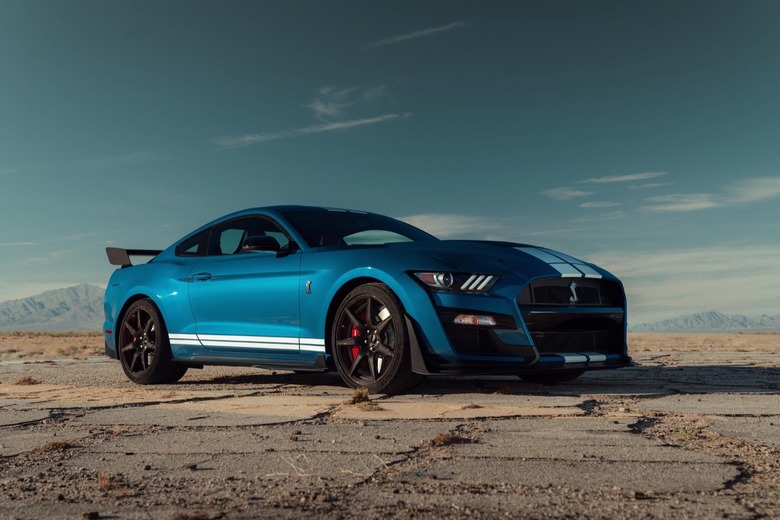 The engine is built by hand out of aluminum alloy, but that's only the start of things. A 2.65-liter roots-type supercharger has been inverted to fit into the V8 engine valley, not to mention lower the center of gravity. Wire-arc cylinder liners and high-flow aluminum cylinder heads, along with larger forged connecting rods have been borrowed from the Shelby GT350.
A TREMEC 7-speed dual-clutch transmission is standard – capable of shifts in under 100ms – with normal, weather, sport, drag, and track modes. Line-lock and launch control are included, too. Ford is predicting a sub-11-second quarter-mile.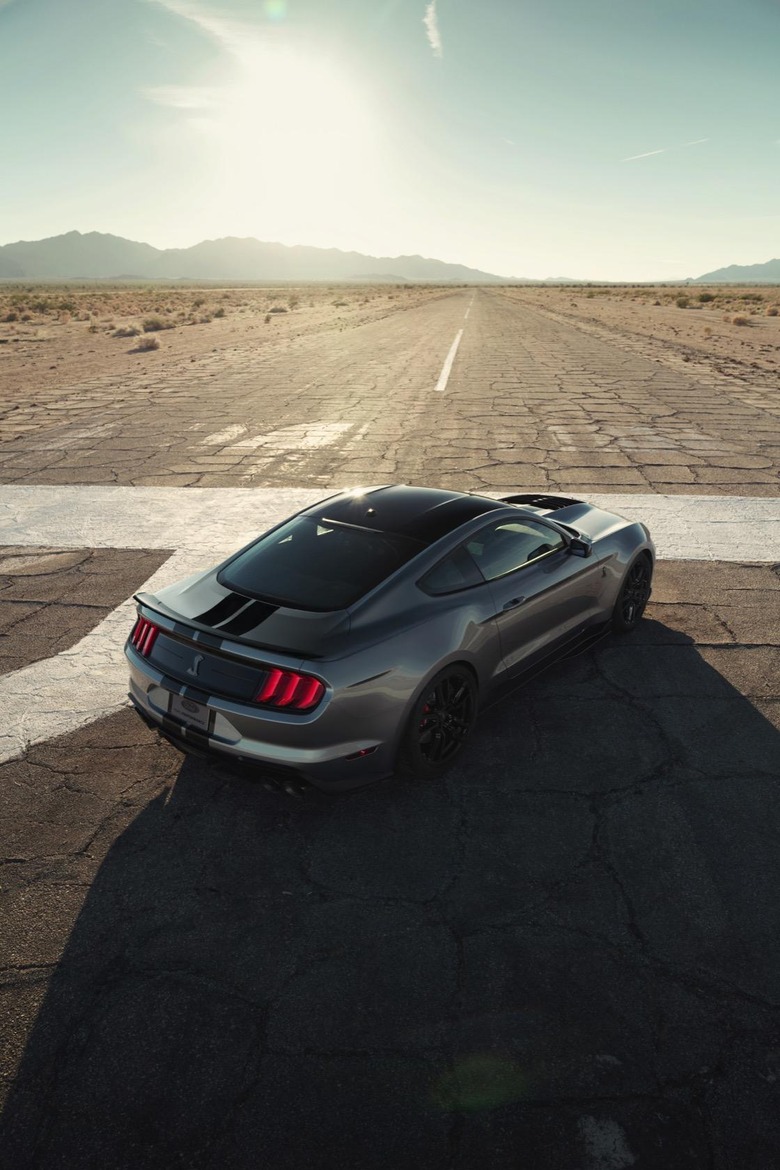 Power and a fast gearbox aren't enough on their own, of course. So, the 2020 Mustang Shelby GT500 gets revised suspension geometry, a new electronic power steering unit, and lighter-weight front and rear coil springs. MagneRide suspension is standard, as are 16.5-inch two-piece brake rotor and Brembo six-piston calipers. Swept area is up 20-percent over the Shelby GT350's brakes, and they deliver more than 30-percent of additional thermal mass in the front corners.
Custom Michelin Pilot Sport 4S tires – and even more aggressive Pilot Sport Cup 2 tires – are on offer. Which you get will depend on which of Ford's pair of handling packages you opt for. The regular Handling Package keeps the Pilot Sport 4S rubber and adds adjustable strut top mounts and a spoiler with a Gurney flap.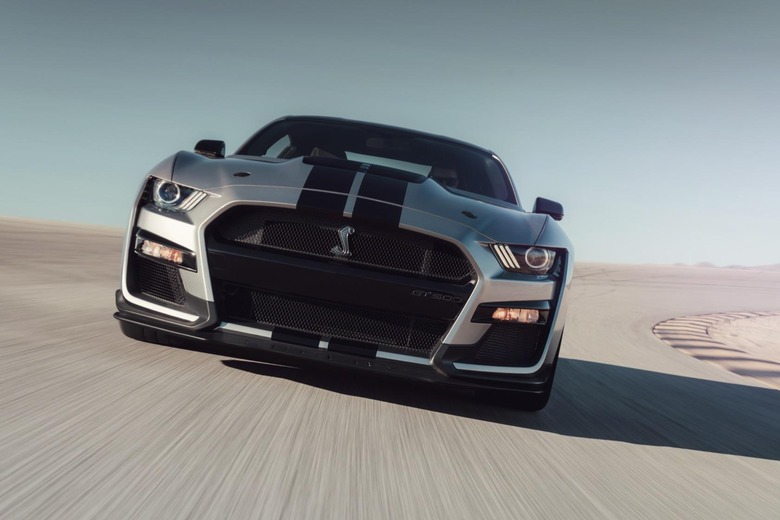 The Carbon Fiber Track Package, meanwhile, gets exposed 20-inch carbon fiber wheels with 11.5-inch rear wheel wells. They're shod with the Pilot Sport Cup 2 rubber. An adjustable, exposed carbon fiber GT4 track wing and splitter wickers with integrated dive plane are also included, while the rear seat is removed to keep weight down.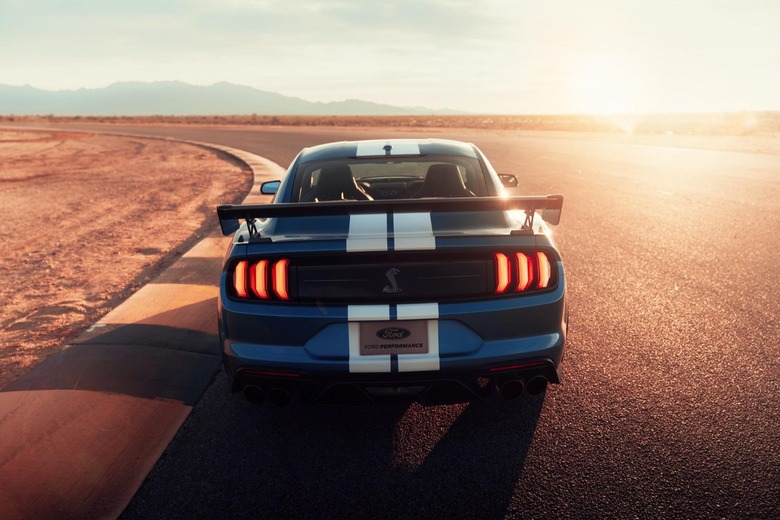 Outside, there's a new double front grille opening, which not only looks good but delivers 50-percent more cooling than the usual fascia. Ford says it looked to jet fighters for its inspiration, and certainly the wider front fenders and GT500-specific 20x11-inch wheels at the front, and up to 20.11.5-inch wheels at the rear, look the part. A standard new rear spoiler and updated composite in the rear diffuser help with heat, the automaker says.
Six heat exchangers have somehow been accommodated, and there's a 31x28-inch louvered hood vent with a removable aluminum rain tray. Ford will offer three new colors for 2020, too: Red Hot, Twister Orange, and Iconic Silver. Painted stripes will be optional.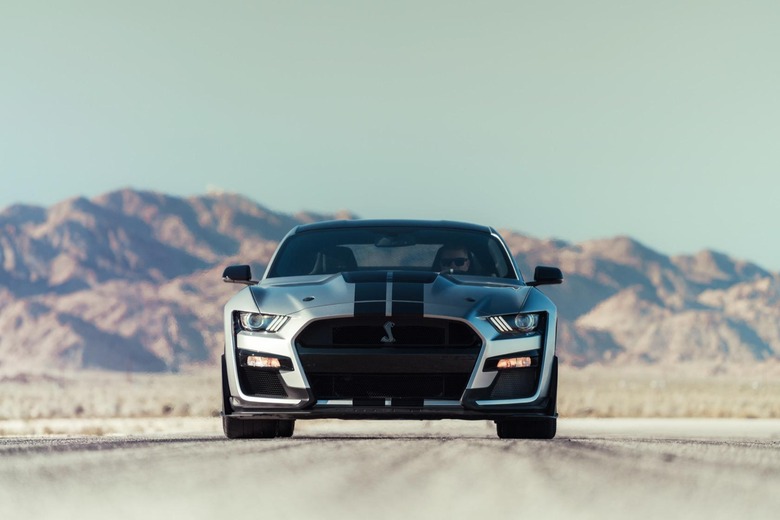 Inside, there's a new cabin with optional carbon fiber instrument panel trim, and new door panel inserts in Dark Slate Miko suede with accent stitching. Recaro racing seats – with harness pass-through slots – are optional, as are power-adjustable seats with Miko suede inserts. The Mustang's 12-inch digital instrumentation is standard, as is an 8-inch SYNC 3 infotainment touchscreen. A 12-speaker B&O Play audio system is optional.
All in all, it's a Mustang like no other. Ford says the 2020 Mustang Shelby GT500 should arrive this fall, with pricing to be confirmed closer to release.