2020 Mercedes-Benz GLB First Drive Review: 3-row SUV is compact not compromised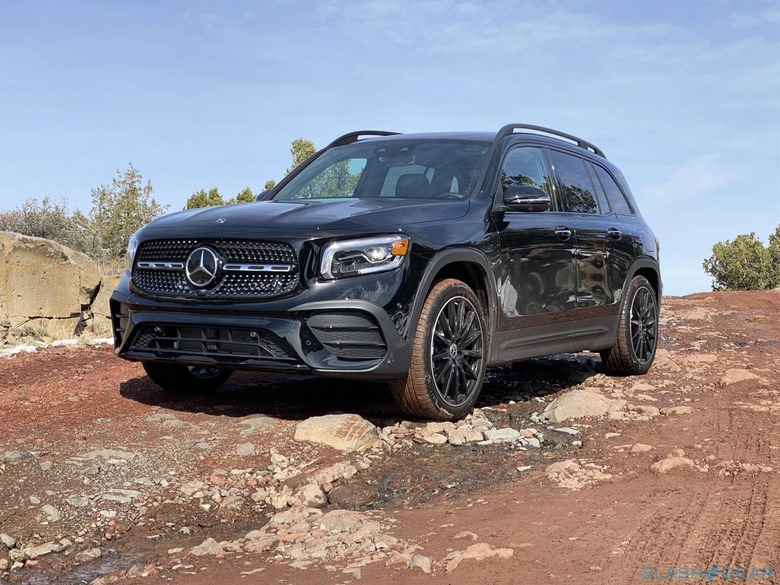 Even before the arrival of Mercedes-Benz's all-new compact 2020 GLB SUV, the German automaker has a full eight sport utility vehicles for the US market. The GLB takes it to nine SUVs in total, which is more than what I was expecting before I double-checked to compensate for my aging memory. That's a whole lot of options if you want a luxury truck, and a very broad range when it comes to size and abilities: the GLB happens to be the seventh car to utilize Mercedes' new compact car platform, the same architecture as found under the A-Class and CLA coupe.
The new GLB is intended to slot nicely between the GLA – itself due for a refresh next year – and the GLC SUV. To my mind, though, the GLB is for those who want a small SUV with the retro-inspired looks of the magnificent G-Class – all without leaving you bankrupt.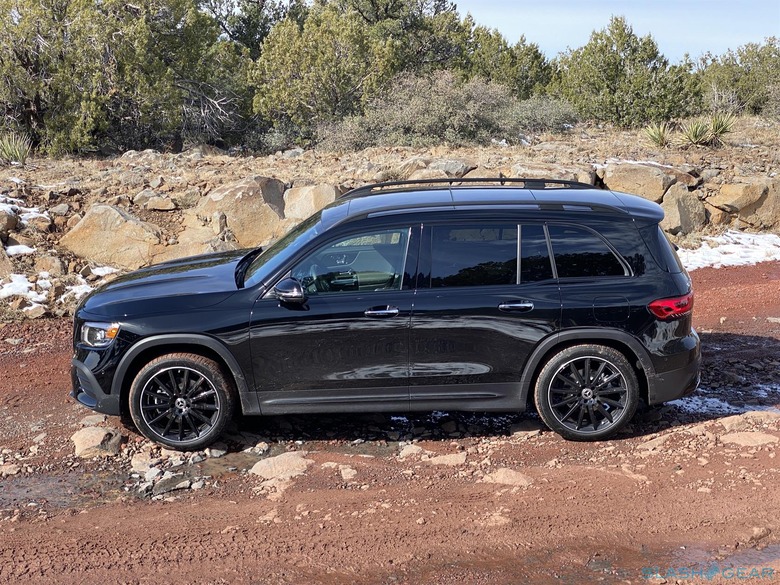 Whereas the GLA and GLC (like many other crossovers and SUVs) all feature sweeping rooflines, the GLB is the exact opposite. Instead you're getting a baby G-Class, only without the $120k price tag, and that's all for the better. For starters, I'm an old school kind of guy, and I like my SUVs to look precisely like the Defenders and Land Cruisers of the past. And by that, I'm referring to a conventional two-box shape to give the vehicle an upright and butch proportion. "The GLB really expands our portfolio here," said Rob Moran, Director of Communications for Mercedes-Benz USA. "But I think what's significant about this car is not only does it have three rows of seats, but it also has that traditional two-box SUV look to it."
Rarely do I get excited about a new SUV. Unless the thing is packing some nifty tech or perhaps a ridiculously powerful engine, I'm a firm believer that sport utility vehicles have reached a saturation point. There's only so much power and tech you can cram into what is really a family box on wheels, but the GLB made me feel differently. Finally, here's a small SUV worth considering that wasn't given a coupe-like profile, and it's a breath of fresh air. It's like the sensation of seeing the Suzuki Jimny – which Suzuki still refuses to bring to America – after getting watery eyes from looking at Honda CR-Vs all day long.
Unlike the Jimny, the GLB doesn't eschew practicality in favor of style and off-road prowess. A full 5-inches longer than the GLA, it's still 1.7-inches shorter than the GLC; unlike both of those SUVs, which are each proper five-seaters, the GLB has the option for seven-seat flexibility. "If you look at the interior room, the GLB actually has the most front headroom of all our entry cars," Bernie Glaser, Head of Product Management at Mercedes-Benz USA, points out. "In the GLB, you get exactly 41-inches of headroom in the front to give a very spacious impression. And the wheelbase is 111-inches, and that's the longest wheelbase of any of our compact cars as we call them."
With that long wheelbase comes more rear legroom, a larger cargo area, and a more compliant ride. In fact, rear legroom in the GLC is at 38-inches, which is quite impressive for a small SUV. Should you need more, the sliding second-row seat can either push backward or forward by six inches to accommodate either longer legs or cargo. All that said, space in the $850 optional third row remains at a moderate premium: Mercedes suggests it's roomy enough to accommodate adults up to 5'6 tall, but I'd really think of it more for children, wiry teenagers, or your pet dogs.
Should you manage to fit actual humans in the back, they can enjoy their drinks and charge their smartphones courtesy of standard cupholders and USB-C charging ports. Indeed, Mercedes-Benz is preaching the benefits of practicality in the new GLB SUV, highlighted by the flexible seating configuration and roomy cargo space in the back. With the rear seats in the normal position, the GLB has 20 cubic-feet of cargo room. But if you fold the second-row seats down, you have more than 62 cubic feet of room to carry larger items like mountain bikes, skis, and enough sporting equipment to last an entire season. The GLB also comes with a power liftgate as standard, to ease the frustration of loading and unloading heavier stuff.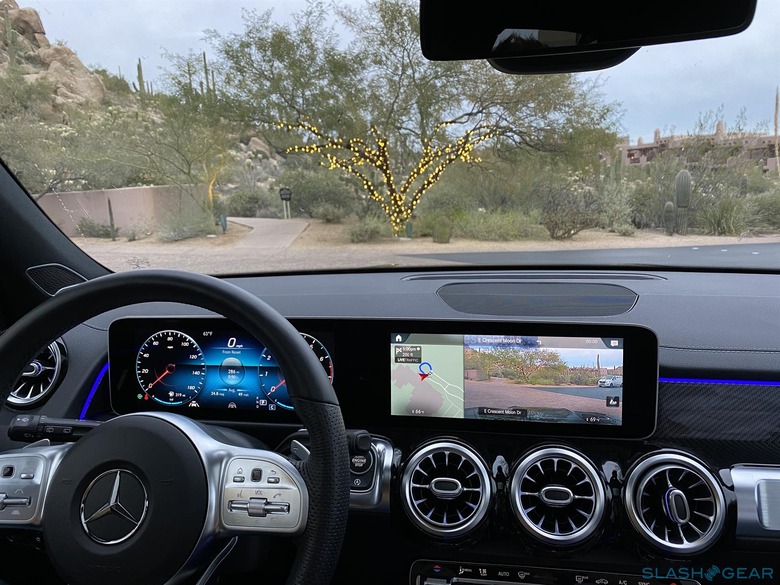 Only time will tell but, from the look of it, the new Mercedes-Benz GLB will have established itself as a small, mildly rugged, and eminently practical compact SUV. It also gets an impressive list of standard features, including the latest version of MBUX with voice control, a 7-inch digital instrument cluster and a 7-inch center touchscreen display, LED headlights, 18-inch wheels with all-season run-flat tires, dual-zone climate control, and a leather steering wheel with paddle shifters and touch control buttons.
The 2020 Mercedes-Benz GLB is offered in two trim levels, both of which start at below $39k. The front-wheel drive GLB 250 starts at $36,600 (excluding $995 destination and delivery charges) while the all-wheel drive GLB 250 4MATIC with AWD starts at $38,600. Both use a sprightly 2.0-liter turbocharged inline four-cylinder engine, producing 221 horsepower and 258 lb-ft of torque.
Most important, peak torque is accessible from 1,800 all the way to 4,000 rpm, which gives the smaller gas motor the sensation of a torque-rich diesel. That'll have to make up for the fact that the US won't be getting a diesel GLB anytime soon. Most buyers, I suspect, won't notice or care that from a dead stop it's not terribly zippy: once you get it going, it feels much faster. 0 to 60 mph arrives in 6.9 seconds.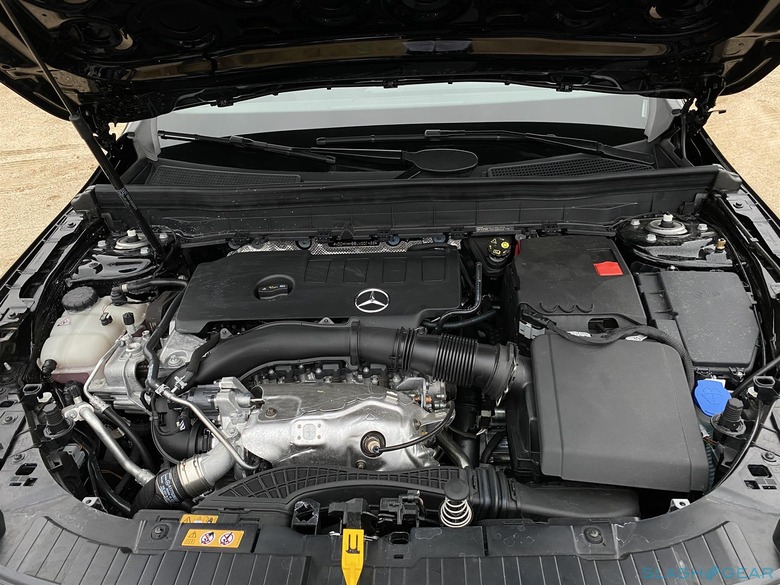 Standard on both front- and all-wheel drive models is an eight-speed dual-clutch automatic transmission. That does a great job of executing fast and sportier shifts without the excessive jerkiness and hesitation at lower speeds, a common complaint against the older seven-speed unit. The steering is properly weighted although it still borders on the lighter side of the spectrum; again, I can't see the target audience complaining. Of particular note is the weighting of the pedals, delivering S-Class levels of feel, while the ride comfort is comparable to an A-Class albeit with more wind noise courtesy of that delicious boxy style.
In short, the 2020 Mercedes-Benz GLB is more than worthy of brandishing the three-pointed star logo. It manages to offer higher doses of comfort, practicality, luxury, and driving engagement befitting of a true Mercedes. Being a modern Merc, meanwhile, the GLB is littered with the latest in driver assistance technology including active distance assist with route-based speed adaptation, active steering assist, and active lane change assist among many others. Just remember to budget $2,250 more for the Driver Assistance Package.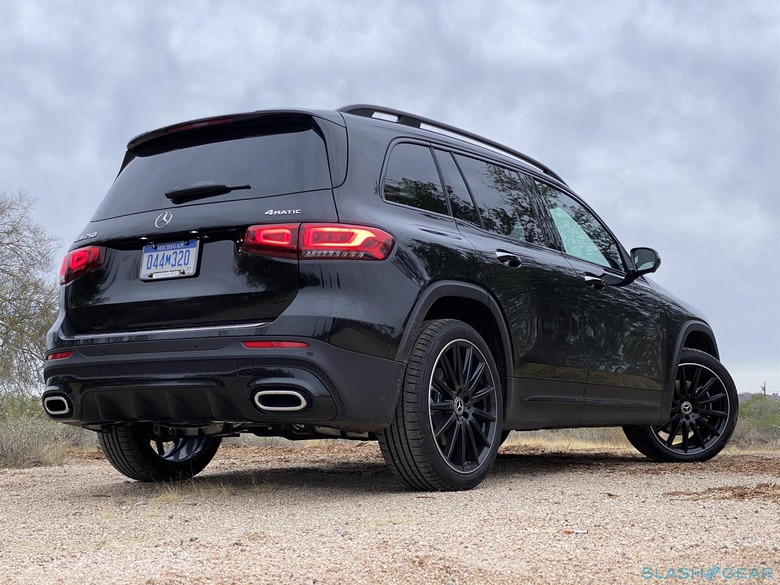 Even with that in mind, the GLB is surprisingly good value, especially considering we're living in a world where a Honda CR-V in Touring spec starts at around $34,000 and a Mazda CX-5 Signature starts at under $37,000. "Part of our strategy with the CLA five years ago was to get folks that were not going to consider a Mercedes to buy a Mercedes vehicle," comms director Moran explains. "When the CLA came out about 70-percent of customers were brand new to Mercedes, so they were defecting from non-luxury brands. Since then, we're proud to report that 65-percent of those folks that did have a CLA came back and purchased another Mercedes."
As strategies go, then, the GLB is clearly working. More importantly, the gateway SUV to Mercedes ownership doesn't look, feel, or drive like a compromise.