2020 Lincoln Corsair First Drive: Upending your crossover preconceptions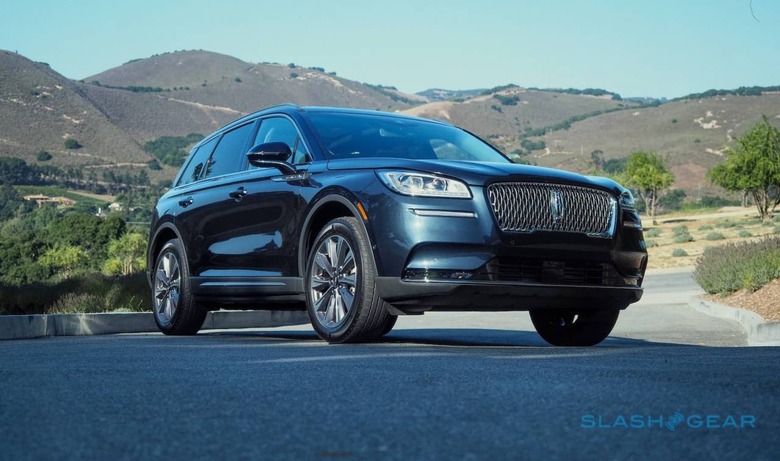 The Navigator and Aviator have a baby brother, but while the 2020 Lincoln Corsair may be smaller on the asphalt, it arrives with an outsized personality. Replacing the dreary, forgettable MKC is, on paper, straightforward. Doing so in a way that doesn't dilute the work Lincoln has done to position itself the flag-bearer of New American Luxury, in a fierce premium crossover segment, well that's quite another thing.
Lincoln's nearly-brash aesthetic is an appealingly memorable one, and it suits the Corsair well. At the front, it gives the SUV a splash of chromed glamour borrowed from larger cars like the Aviator and the Navigator, combined with bulging surfaces cut through with deep crease-lines. It looks, at first glance, larger than it actually is.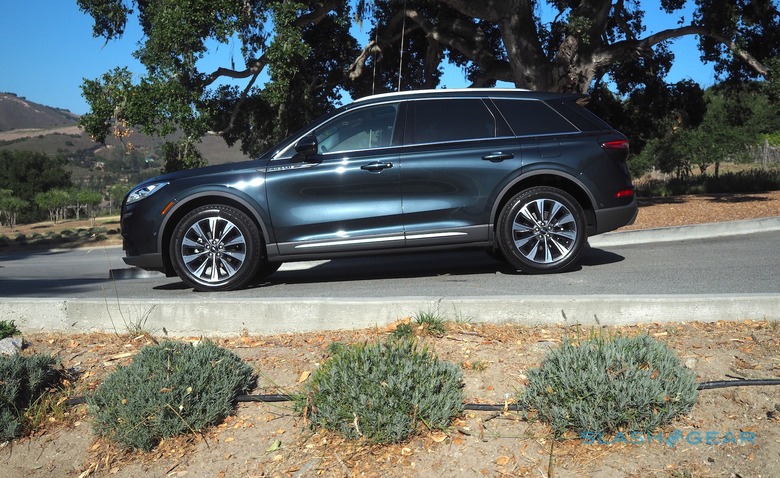 In reality, the Corsair is shorter than the Acura RDX and the Lexus NX, not to mention lower. Based on Ford's Escape platform, its wheelbase falls somewhere in-between the two. At the rear, mind, it's another SUV that comes to mind: there's something distinctly Porsche Cayenne-esque about the taillamps.
As standard, the 2020 Corsair gets a 2.0-liter turbocharged 4-cylinder, with 250 horsepower and 280 lb-ft of torque, paired with an 8-speed automatic transmission. All-wheel drive is a $2,200 option, Lincoln's system able to disconnect the rear wheels and leave the Corsair front-wheel drive only for fuel economy benefits when the extra traction isn't required.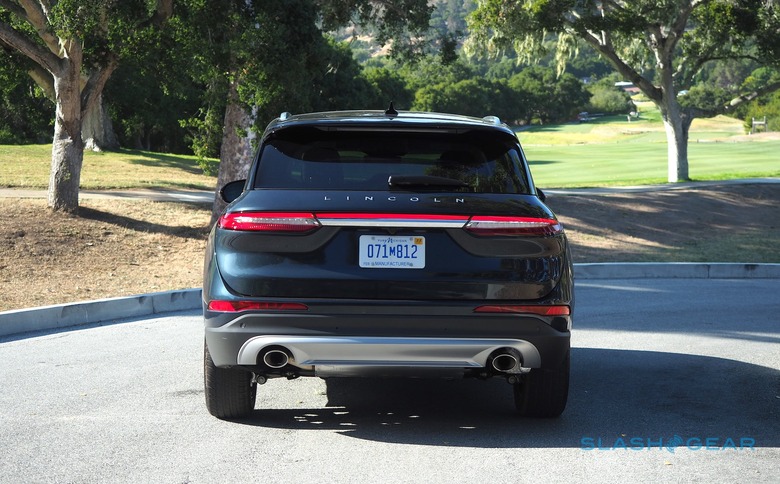 An outlier in the segment, Lincoln offers a 2.3-liter turbocharged 4-cylinder engine as a $1,140 upgrade on the Corsair. That bumps the numbers up to 295 horsepower and 310 lb-ft of torque, keeps the same transmission, and comes with AWD as standard. Both engines have five drive modes – normal, conserve, excite, slippery, and deep – which adjust steering, engine response, transmission shifts, and other settings.
Small SUV, big ideas
Compared to its predecessor, more flexible interior space is one of the key improvements. That's most notable in the second-row, where the Corsair offers sliding seating. There's a full six inches of adjustment fore and aft, and Lincoln offers both a 60/40 fold-flat and a split-bench option.
It allows the Corsair to boast more second-row legroom than both the Acura and the Lexus – or, indeed, larger SUVs from the segment above. Rear seats up, there's 27.6 cubic feet of cargo space; enough for four golf bags or four large suitcases. Drop the seats down, and that expands to 57.6 cubic feet. A hands-free liftgate is optional.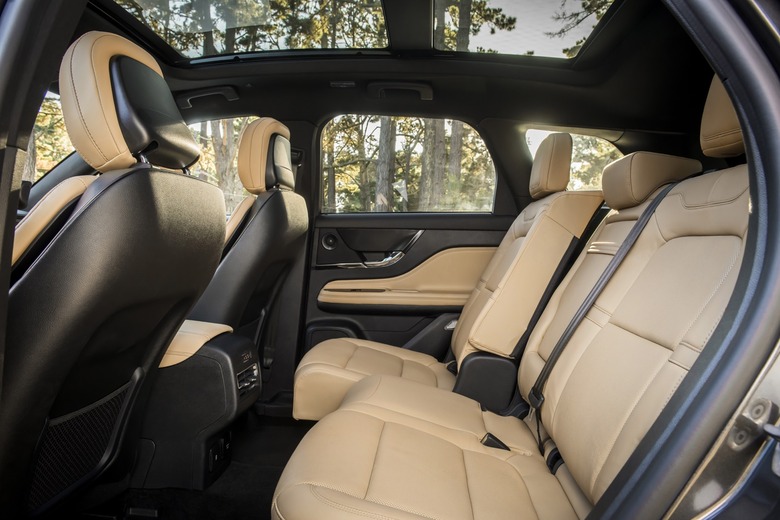 Admittedly, with someone tall in the front and the rear bench pushed all the way forward, all those legroom boasts start to fade from memory. The sliding mechanism is about more than just cargo flexibility, however. It'll also make fitting things like child car seats – and then installing a child into them – much more straightforward than with the old car.
Lincoln's other big obsession with the 2020 Corsair is Phone as a Key. Basically, your iOS or Android device becomes another key fob with which you can do keyless entry and push-button start. You can control multiple Lincoln cars from the same app, and – in a somewhat complex process involving tapping the touchscreen, the brake pedal, and the start button in different combinations, like Fred Astaire dancing only with his fingers as well as his feet, and assuming he drove a Lincoln – create a valet passcode so that you don't need to entrust them with both your Corsair and your iPhone too.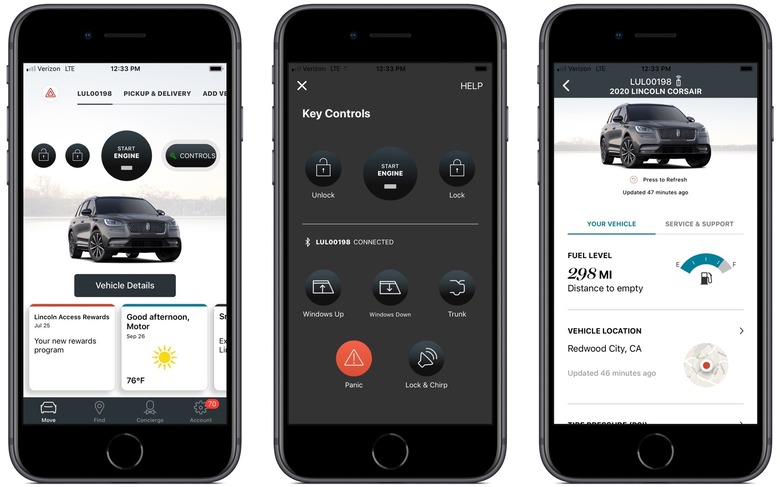 2020 Corsair on the road
Having tried both the 2.0 and 2.3-liter engines, I'd say the more potent one is nice but hardly necessary. Yes, you notice its extra power when accelerating hard, but the standard engine isn't lacking. With a mixture of highway and smaller roads to ply, neither powertrain came up short.
There's no air suspension, but check the $700 Adaptive Suspension option and you might not guess that. Lincoln has used a rear integral bush suspension system for the first time, and it contributes to a smoother ride of a much larger SUV. Indeed, if the three-row Aviator surprised by how small it felt from behind the wheel, the Corsair flips that around: from the inside, you'd swear you were in something from the category above.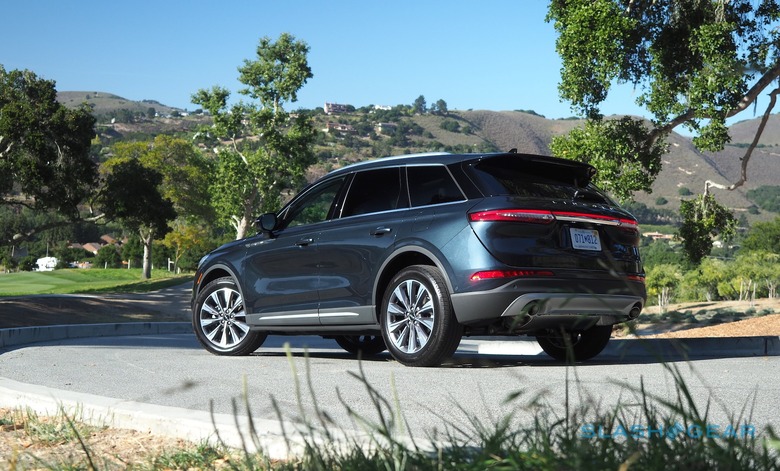 It wouldn't be my choice for sportier driving, but it feels a grown-up, confident ride. Cabin noise is particularly low, Lincoln having used acoustically laminated glass in both the windshield and front side windows, a dual-wall dashboard, and active noise cancelation. As a result you hardly hear the engine, unless you bury the accelerator, and even in the Corsair's sportier "excite" mode the 4-cylinder is muted.
Options like 24-way "Perfect Position" seats double-down on that focus on cosseting, not quite as adjustable as their Navigator and Continental counterparts, but still providing niceties like independently adjustable left and right thigh support. Their massage feature could help distract you from the $1,100 price tag.
Corsair Reserve trim gets a 14-speaker Revel Premium Audio system, which takes full advantage of the hushed cabin, along with a panoramic sunroof with power shade, the hands-free liftgate, and ambient lighting. Lincoln Co-Pilot360 Plus is a $3,050 option, adding adaptive cruise control with lane-centering, evasive steering assistance and reverse brake assist, and Active Park Assist Plus. Even without it, the Corsair gets pre-collision assist with automatic emergency braking, blind spot detection with cross-traffic alert, lane-keeping, reversing camera, and auto high-beam lights.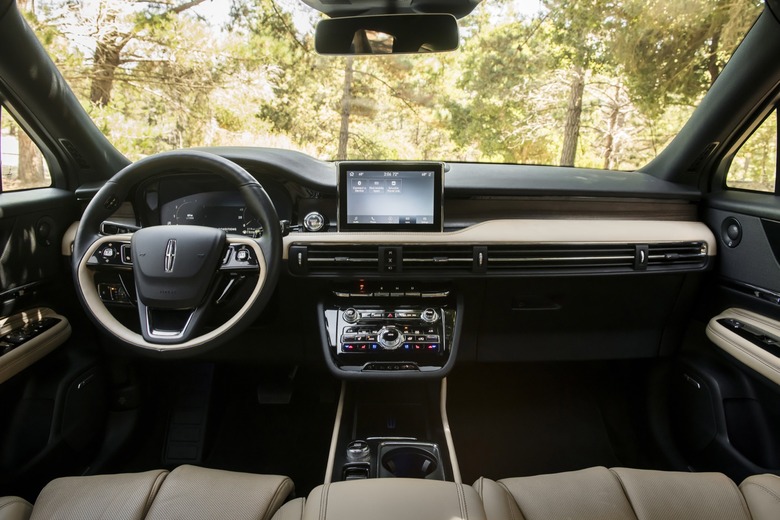 Much of the that is controlled by what Lincoln calls its Vision Steering Wheel, with two joysticks and two rows of tab keys. What each of those do is context-based: different labels light up through the piano black. A wireless charging pad in the front center console is an option.
As for how often you'll need to fill the gas tank, Lincoln quotes 22 mpg in the city, 29 mpg on the highway, and 25 mpg combined for the front-wheel drive 2.0-liter. The AWD version drops a point from its city and combined ratings. The 2.3-liter clocks in a 21 mpg in the city, 28 mpg on the highway, and 24 mpg combined. Both engines are rated to tow up to 3,000 pounds.
Lincoln's to-do list is getting shorter
It feels like we're a long way from the days where Lincoln's cars felt every bit of a rebadged Ford. One of the key elements of the 2020 Corsair – like the Aviator and Navigator before it – is how distinct it feels compared to Ford product. That's not to say there isn't still room for improvement.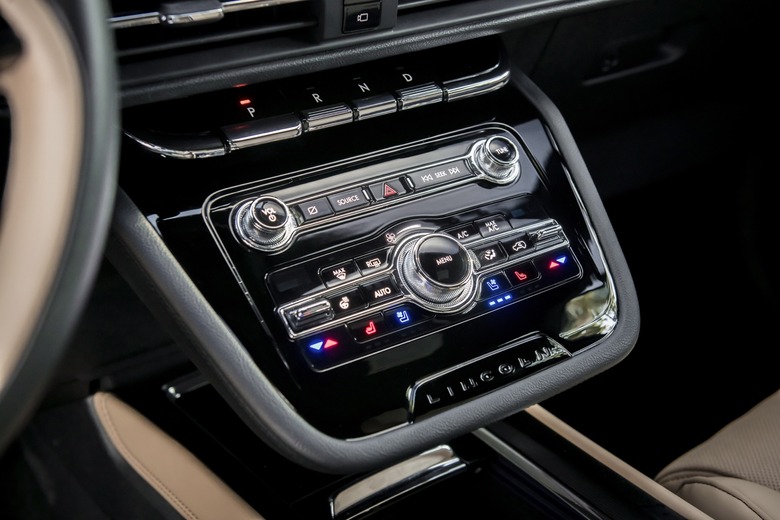 Lincoln's organ tab transmission selector is carried over from the larger SUVs, and it still feels underwhelming in use. Indeed the Corsair could use an upgrade in its key touch-points in general. The gear buttons feel plasticky, as does the center console switchgear. Knobs that look like polished metal feel, when you twiddle them, like the chromed plastic they actually are.
Changing details like that would undoubtedly have cost implications, but it would also leave the Corsair feeling like a much more premium car. There are signs of design elegance all around the cabin – the graphics on the optional 12.3-inch driver display, part of the $,2750 Technology Package, for example, and the layout of the expansive head-up display, a $1,700 option – but not everything has been so blessed.
The Sync 3-based center infotainment screen is a particular culprit, clearly just re-skinned Ford technology, and not especially matching the rest of the UX with it. Though the 8-inch touchscreen isn't small, things like the weirdly fussy navigation interface – which clutters the map with so many dialog boxes, you're left with a thin sliver of the actual road – squander its real-estate.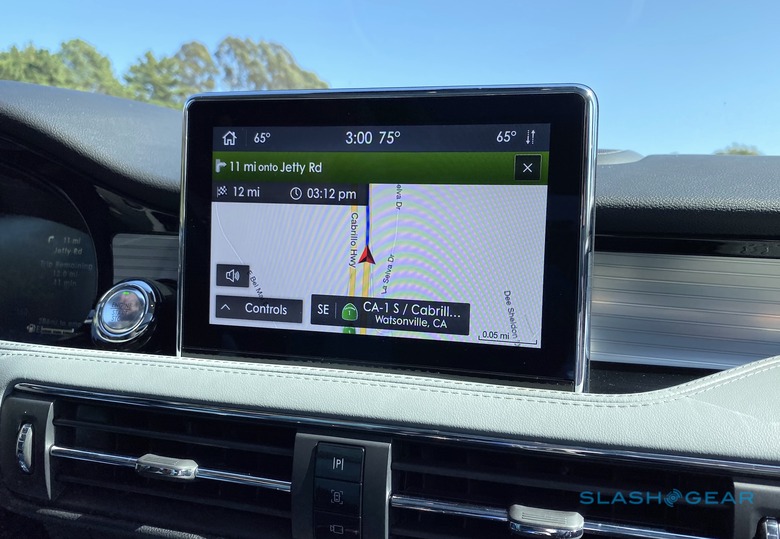 The final thing to bear in mind is price. The 2020 Corsair starts aggressively, at $36,940 (including $995 destination) for the Standard FWD model. A Reserve FWD clocks in from $43,625. Climb the trim tree, however, and things start to get expensive. A Corsair Reserve II – with the 2.3-liter engine, AWD, adaptive suspension, the Technology Package, head-up display, and 24-way seats – lands at $56,115.
That's Porsche Macan territory, and while the Lincoln may in many ways be more flexible than the German crossover, I suspect the badge alone will sway many. Better, then, to stick to the cheaper end of the Corsair line-up. "American luxury" perhaps works most compellingly when it's relatively affordable, too.
2020 Lincoln Corsair Verdict
Lincoln's reinvention can't be considered a fluke at this point. The Navigator opened our eyes to a new interpretation of luxury, a baton that the Aviator then plucked up and ran with. Now, the 2020 Corsair demonstrates that unapologetic personality needn't be the preserve solely of big SUVs.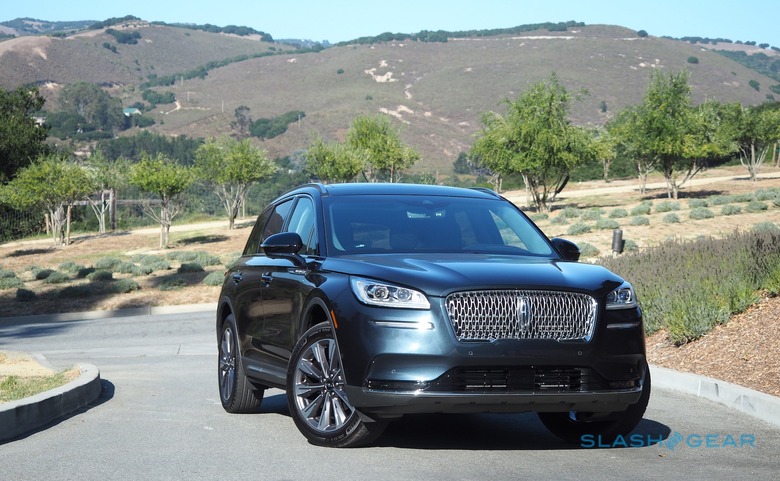 Importantly, though, the new Corsair is unexpectedly well-rounded. Yes, the style will probably be what lures potential drivers into the dealership, but its on-road performance and cabin flexibility deliver just as strongly. Even without the adaptive suspension, Lincoln's engineers have coaxed superlative road manners from the Corsair.
In short, you don't feel like you're in a dinky crossover playing dress-up, and – more vital still – neither do you feel like you're in a chromed Ford Escape. Lincoln has demonstrated it can build the right product. Now, it just needs drivers to look beyond their badge preconceptions and discover the improvements.