2020 Lamborghini Huracan EVO First Drive: A reminder of what matters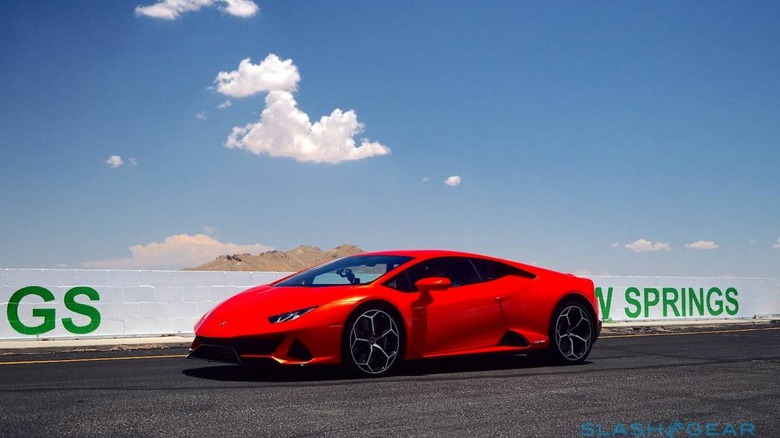 Supercar top speed is a boring number. There, I said it. Of all the metrics to judge a performance vehicle by, none get quite so much attention as just how fast it will go, and none have so little relevance in everyday life as the biggest digit the speedometer can display. As the 2020 Lamborghini Huracán EVO is so eager to show you, it's how well a car corners that you should really care about.
Cornering – and doing so fast, precisely, and without introducing the side of your $261,274 aluminum, carbon fiber, and composite supercar to the concrete walls of a track – separates the master engineers from the amateurs. A trim 0-60 mph time is fun, sure, but even drag racers will concede that sometimes turning the wheel has its benefits.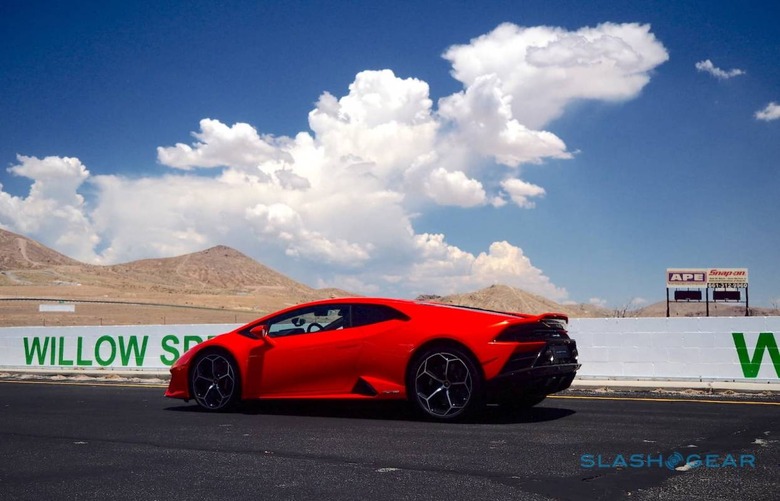 Don't get me wrong, Lamborghini hasn't left the Huracán EVO lacking when it comes to straight line performance. Its naturally-aspirated 5.2-liter V10 pumps out 640 horsepower and 442 lb-ft of torque. 0-62 mph takes 2.9 seconds. Top speed is in excess of 202 miles per hour.
They're impressive numbers, though I'd argue they're mainly of use if you're playing Top Trumps. Lamborghini's cars have always been fast, but in recent years the automaker has been putting just as much effort – if not more – into how well they handle. All those horses won't do you much good if they can't effectively reach the asphalt, after all.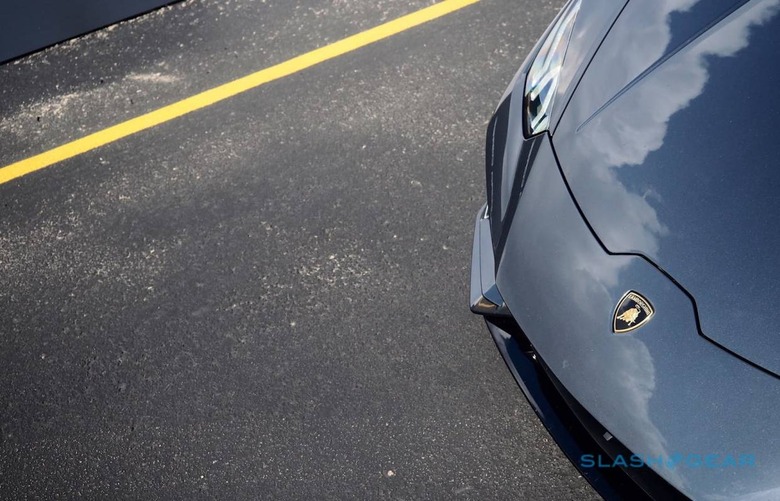 Intriguingly, while the Huracán Performante demonstrated one of Lamborghini's aerodynamic endeavors, the Huracán EVO takes a completely different route. The Performante looks like a track car, its vast fixed rear wing using a fiendishly clever air ducting system to dramatically shift downforce across the car. Parked up next to it, the EVO could almost be described as subtle.
The aero is far more discreet. There's a front splitter with an integrated suspended wing, along with a compact suspended rear spoiler. Vents at the front bumpers help clean up the airflow around the wheels and the side of the car, and there's a new rear diffuser for better balancing the downforce.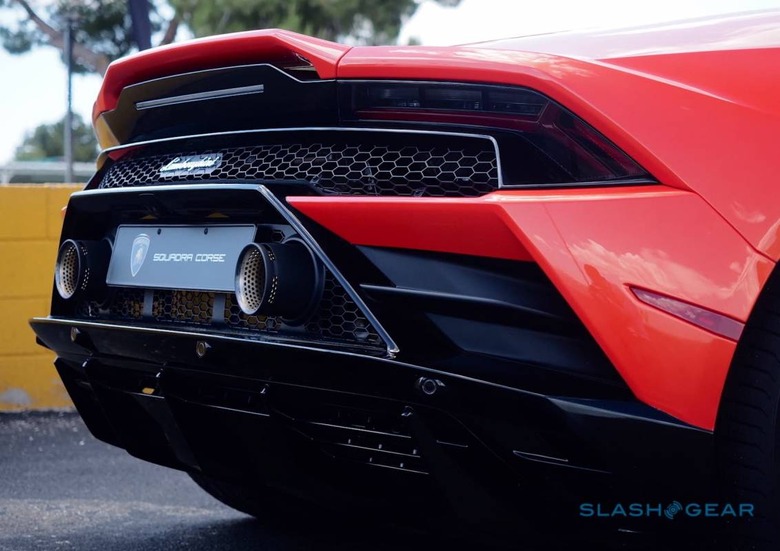 It doesn't sound like much, but it works. The EVO delivers seven times the downforce as 2014's Huracán LP 610-4, along with six times the aerodynamic efficiency.
The Huracán EVO debuts two key Lamborghini "firsts" as well. One is all-wheel steering, the rear wheels turning – either contrary to the front, at low speeds; or in tandem with them, at higher speeds – to improve handling and stability. It also makes the EVO a little easier to maneuver when at a more pedestrian pace, which anyone who has tried to park one of the automakers' vehicles will appreciate.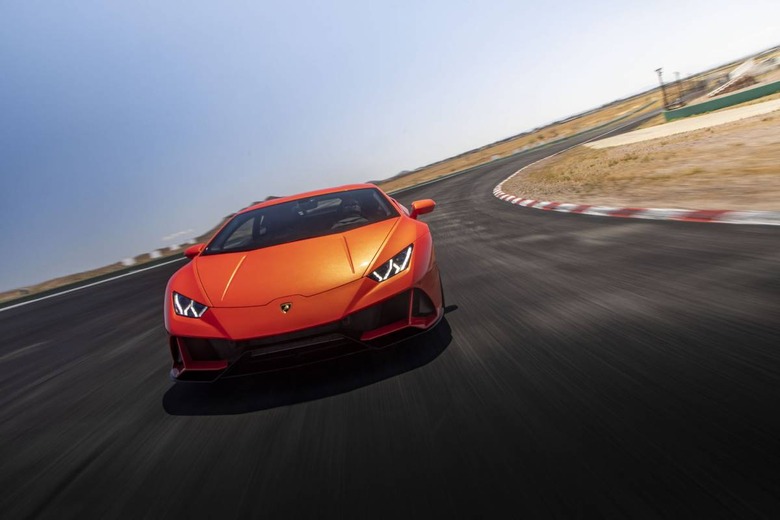 It's joined by the LDVI, or the "Lamborghini Dinamica Veicolo Integrata," effectively the super-brain of the supercar. Tapping into sensors woven through the steering, 7-speed dual-clutch transmission, accelerator and brakes, the MagneRide electromagnetic suspension, and tracking yaw, pitch, roll, and tire grip, it attempts to not just react to how the car is driving, but proactively adjust the EVO's various settings for the best possible results.
Southern California's Willow Springs International Raceway was to be the test for that particular promise, Lamborghini inviting us out to pit the EVO against an unusual course. Its 2.5 miles of track were seeming designed by someone with ambitions of being a rollercoaster designer, perhaps, or maybe a log flume. With the heat flirting with the triple-digits, kept at bay by the Huracán EVO's unexpectedly effective HVAC, the biggest risk of spray comes from a stressed driver momentarily losing bladder control in some of the more challenging blind corners.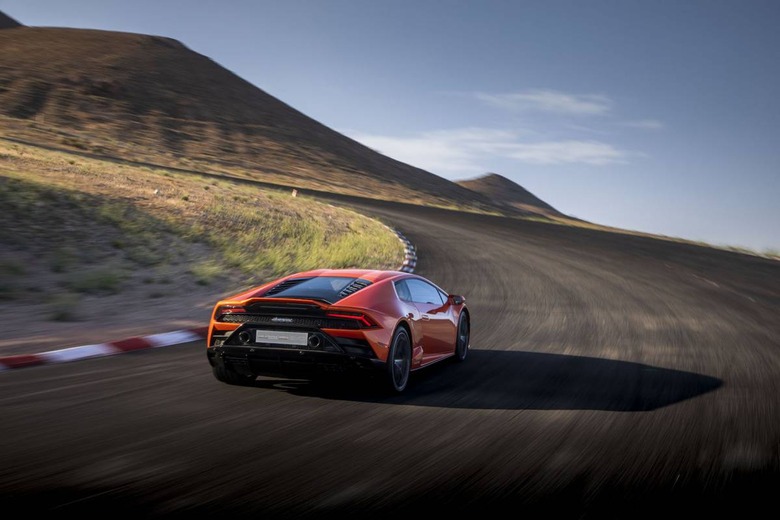 I did not, you'll be relieved to hear, dampen the EVO's Alcantara-wrapped sports seats. Instead I got a rapid lesson in just how clever LDVI is. As with earlier Huracán, you have a choice of three drive modes in Lamborghini's ANIMA system: Strada for the street; Sport for rear-biased silliness; and Corsa for an injection of Germanic efficiency among the Italian roar and gurgle and the best possible lap times.
Corsa mode still sounds great – there's nothing quite like a natural V10 howling right behind your head – but it demands focus. Gear changes are your responsibility, the rev limit arriving disconcertingly rapidly. You have to trust the car, and LDVI, too, lest you find yourself fighting against it.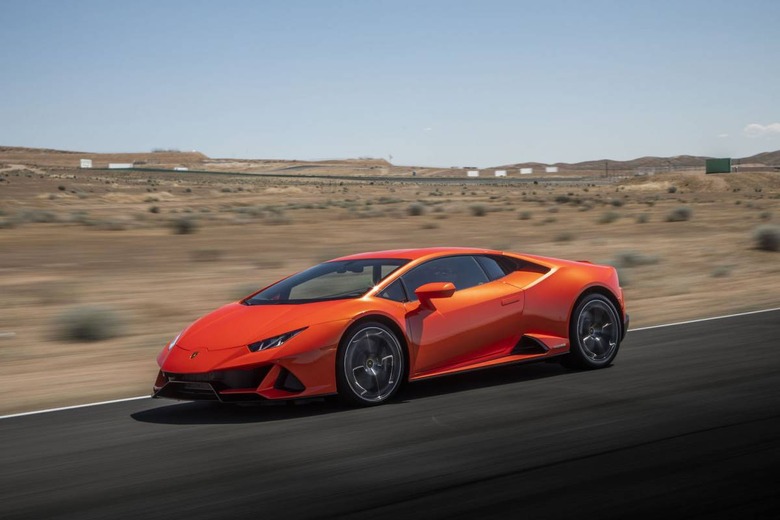 The EVO turns fast and sharp, the combination of the all-wheel steering and new brake-based torque vectoring being judiciously applied by Lamborghini's onboard smarts. Somehow the numerous little corrections and nudges a less-than-pro driver usually needs to do get ironed out along the way, the car acting like a speed-obsessed valet. You can't tune out, and nor would you want to, but it allows you to play with the dynamics rather than be taunted by them.
Where the Huracán EVO sits in contrast to the Huracán Performante was my biggest question. I'm a huge fan of the latter's ALA active aero system, almost ethereal in the way it sticks you to the asphalt and pivots you around corners. I found myself missing that deft purity, in among the EVO's capable complexity.
I suspect the Huracán EVO is the more user-friendly of the two cars, not least because of its new – and vastly improved – infotainment system. An 8.4-inch touchscreen takes pride of place in the center console, and you get Apple CarPlay and, optionally, a telemetry system with dual cameras to record your track day fun. It'll also show a real-time report on just what the LDVI is doing, but I opted to keep my eyes on the course instead.
There's a fear – and not necessarily an unfounded one – that when cars gain in technical talents, they lose a little of their soul along the way. Build a supercomputer on wheels to make the cornering better, the suspension more agile, and give the dynamics more finesse, and you risk that odd paradox that it's the flaws which add character, not the polish.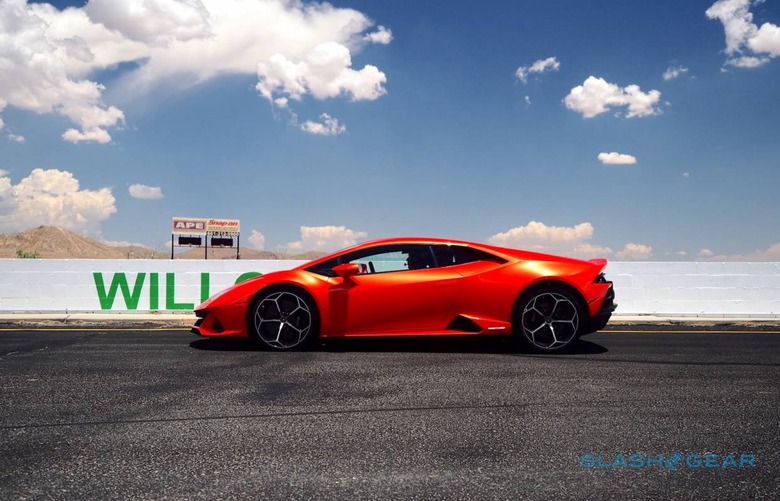 The Lamborghini Huracán EVO doesn't fall foul of that, even if the automaker promises it's "remarkably easy to drive" in a way that will likely have purists horrified. This first outing for LDVI will undoubtedly be refined over time, paring back the faint trace of computer-knows-best, and proving that even as usability – and complexity – rise, we can still have cars that are more than just a Lamborghini in name alone.
You feel that confidence when you turn the wheel and, defying the odds and maybe a little of physics too, the 2020 Huracán EVO blasts you around a corner you had no right to expect to nail. You feel it when the LDVI by turns rescues you and encourages you. Anybody can go fast in a straight line, after all: it's the twists that make life interesting.