Charmingly brash, the 2020 Jeep Gladiator is just what it needs to be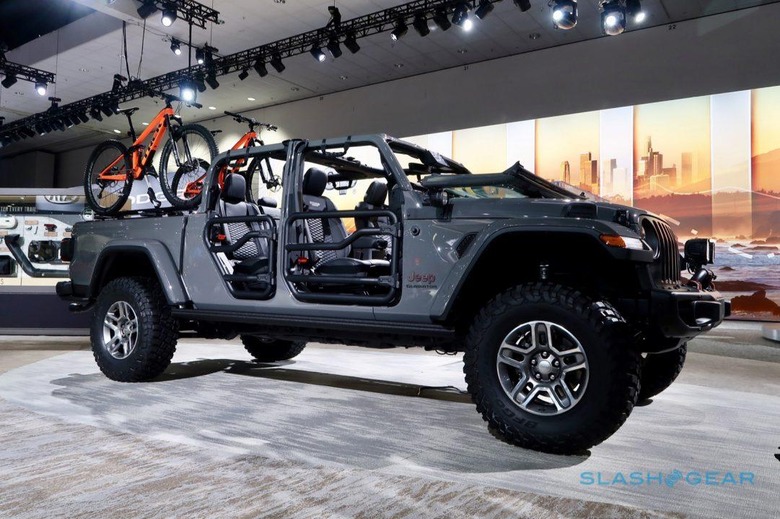 Brash, unmistakable, and borderline excessive, if there's one thing you can't accuse the 2020 Jeep Gladiator of being it's lacking in confidence. The brand new pickup may have only just emerged from under the sheets at the LA Auto Show 2018, but already it's shaping up to deliver 90-percent of the charming madness of a Hummer only with a fraction of the frustration.
A sizable chunk of the appeal is how unapologetic the Gladiator is. From the ridiculous name to the removable stamped doors, open-top options, and squared-off styling, this is no coy nod at retro. Instead, Jeep took the boxy Wrangler and then grafted a five foot bed on the back.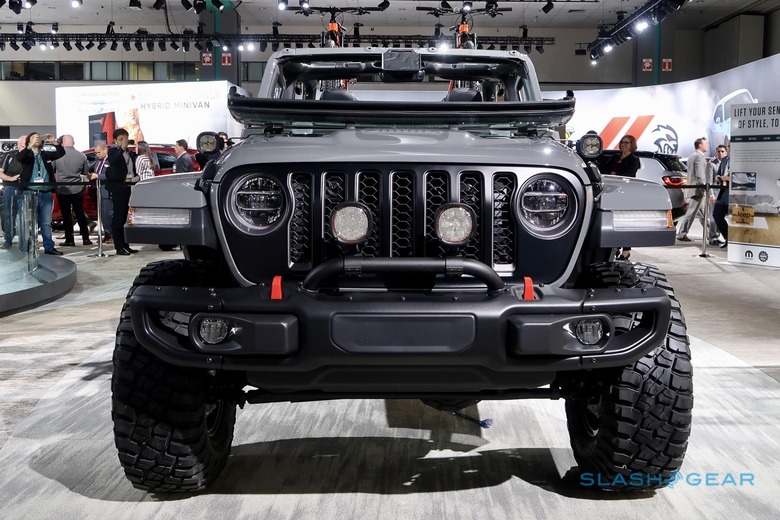 It's not quite that simple, of course. The body-on-frame architecture has extra steel cross-members to reinforce the load floor, and the whole thing is 31-inches longer than the Wrangler. More than 19-inches of that goes into the extended wheelbase. The Gladiator boasts up to 7,650 pounds of towing capacity, and up to 1,600 pounds of payload capacity.
Jeep is keeping it straightforward with the drivetrains. The 3.6-liter Pentastar V6 gas engine will arrive first, offering 285 horsepower and 260 lb-ft of torque. Unexpectedly, it'll be offered with a six-speed manual transmission as standard; the eight-speed automatic will be an option.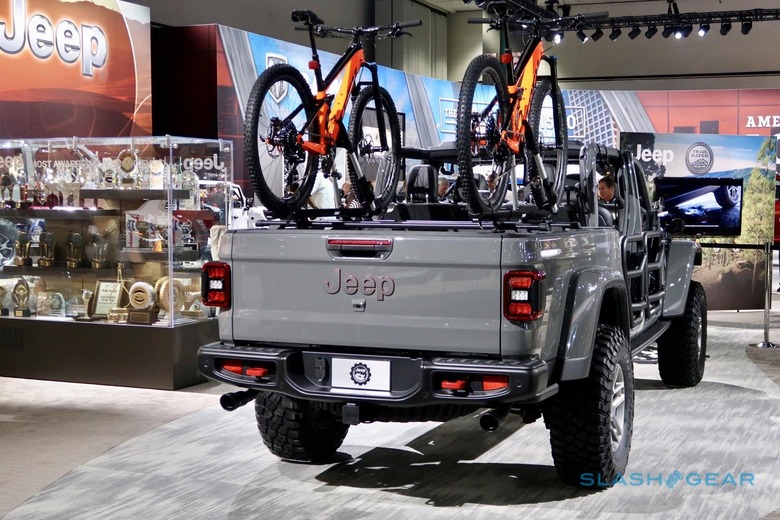 Come 2020, meanwhile, there'll be a second engine, a 3.0-liter EcoDiesel V6. That'll pack slightly less horsepower, at 260 hp, but dramatically more torque, at 442 lb-ft. Unfortunately you won't get the manual option with it, the automatic transmission being fitted as standard.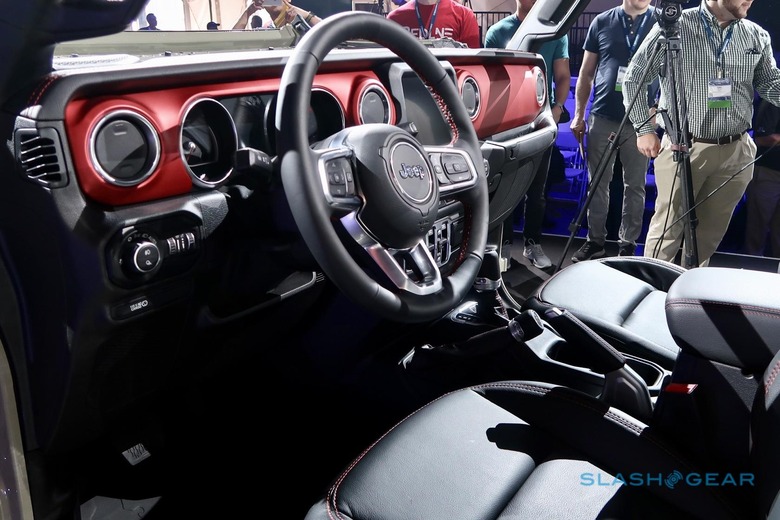 The other choice comes down to the 4x4. The 2020 Gladiator Sport and Overland will get a Command-Trac 4x4 system, with a two-speed transfer case with a 2.72:1 low-range gear ratio, plus heavy-duty third-generation Dana 44 front and rear axles with a 3.73 rear axle ratio. A Track-Look limited-slip diff will be optional.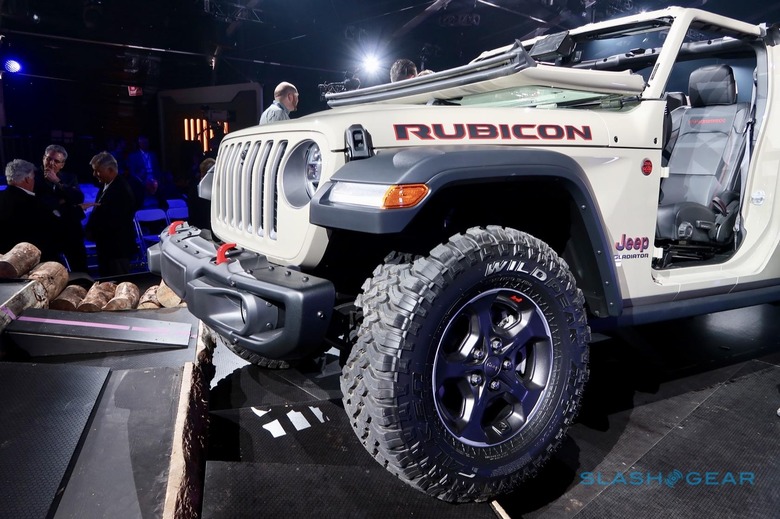 Opt for the 2020 Gladiator Rubicon, however, and you'll get a Rock-Trac 4×4 system with heavy-duty third-gen Dana 44 front and rear axles with a "4LO" ratio of 4:1. A 4.10 front and rear axle ratio is standard, along with the Tru-Lok locking differentials. The Rubicon gets 33-inch tires as standard, too.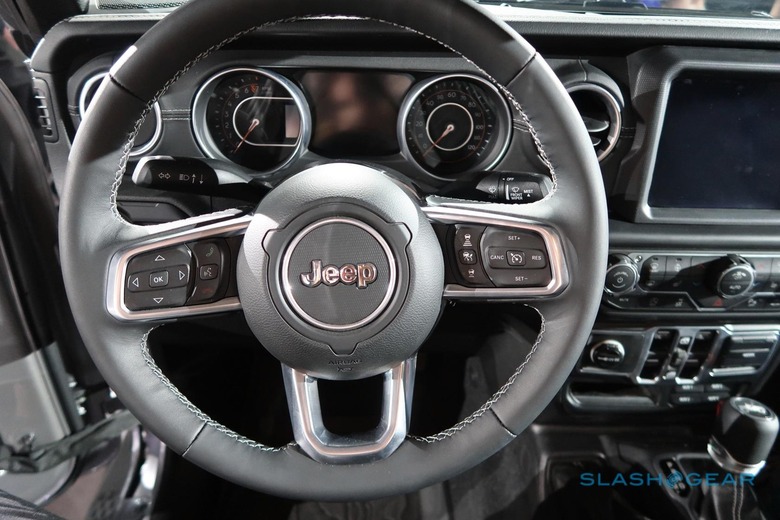 Inside, the charm continues with a pleasingly rugged cabin. Jeep has stressed the small stuff, too, with features like a weatherproof starter button and all the oversized switchgear you might want while you're wearing gloves. Body-color trim helps blur the line between the interior and exterior, something the open-top options certainly help with.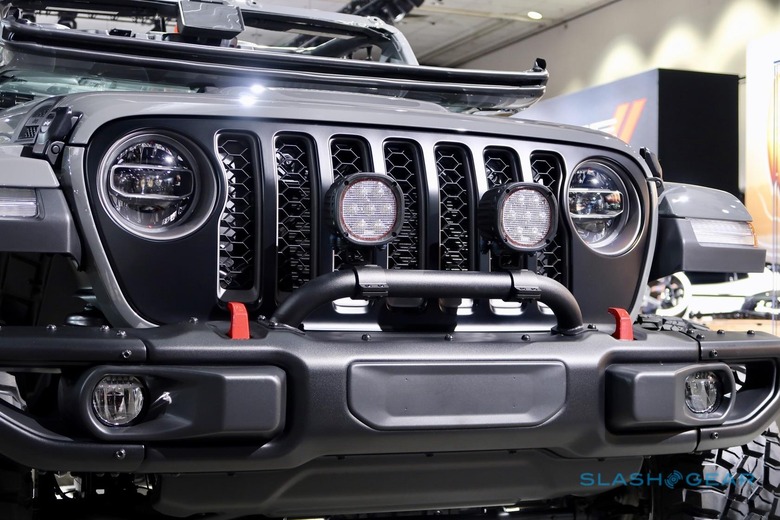 You could certainly accuse the 2020 Gladiator of being melodramatic in how eagerly it embraces its pickup identity. Then again, that's pretty much exactly what people have been clamoring for over the past two decades. If Jeep hadn't cranked things up to the max, it would've been at the least a missed opportunity, and at its worst a damp squib.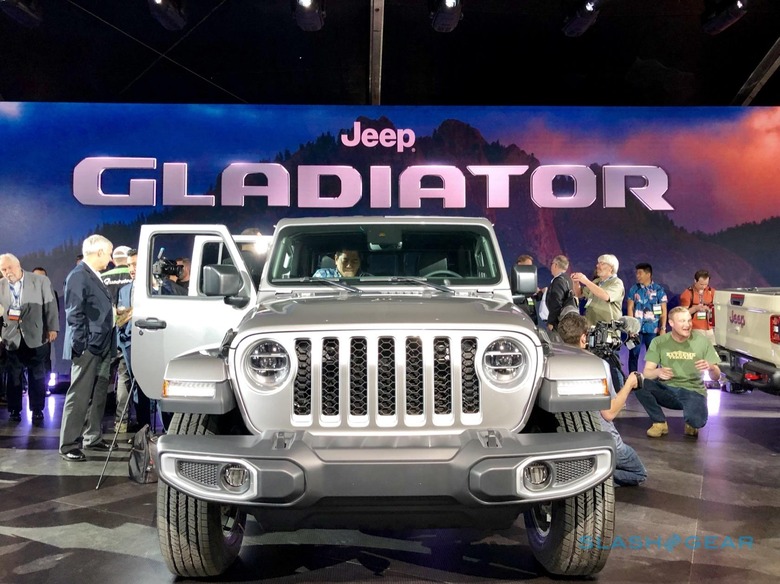 Instead, we get brash charm and a truck that borders on being a guilty-pleasure. Expect them to rocket off the dealership forecourts when the 2020 Jeep Gladiator goes on sale in Q2 2019. Pricing will be confirmed closer to that point.