We Can't Stop Staring At The 2020 Ford Explorer's Weird Touchscreen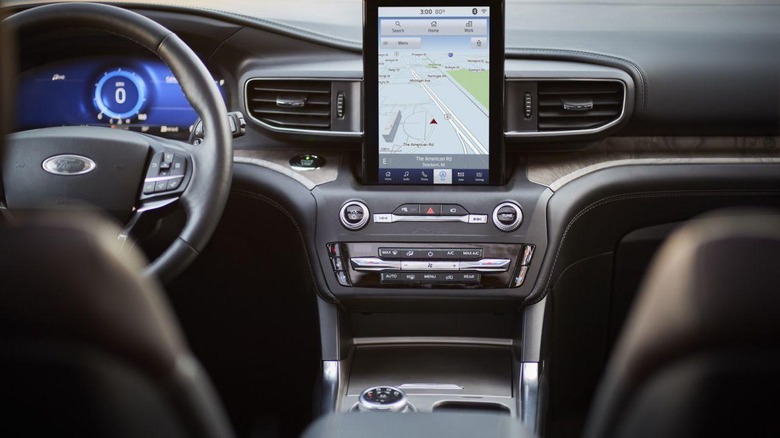 Ford's 2020 Explorer may be more stylish, more powerful, tow more, and have more safety tech, but we can't stop looking at the unusual touchscreen on its dashboard. The all-new SUV – the latest iteration of the "world's most popular," Ford is keen to remind us – was revealed on Wednesday in Detroit, and it marks a significant upgrade in cabin technology.
It's fair to say that's an area the old Explorer felt behind in. The fifth generation Explorer debuted in 2011, and even with a few refreshes along the way, its dashboard design was feeling fairly jaded. SYNC 3, Ford's infotainment platform, was looking fairly cramped on the standard 8-inch touchscreen sunk into the center console.
Come the 2020 Explorer, though, and things are a lot more interesting. Admittedly, the standard infotainment system is still SYNC 3 on an 8-inch touchscreen, but Ford isn't focusing on that. Instead it would much rather show you its new portrait-mounted touchscreen display.
That measures in at a far healthier 10.1-inches, and is perched atop the center stack. It looks, at first glance, as though someone has propped an iPad up there, and indeed Ford says it should feel more like that in everyday use. It uses a capacitive touchscreen with a glass cover, more akin to a smartphone or tablet to your fingertips, along with an updated version of SYNC 3.
For instance, you'll be able to have your navigation interface occupy the whole display for the most straightforward directions, or alternatively split that layout so as to see audio information at the same time. With its higher position on the dashboard it should be easier to glance across and see the next turn or the current track without having to take your eyes completely off the road, something we found could be an issue with the current Explorer's infotainment screen placement. Ford also has an optional 12.3-inch driver instrumentation display, which replaces the analog gages with a fully digital layout.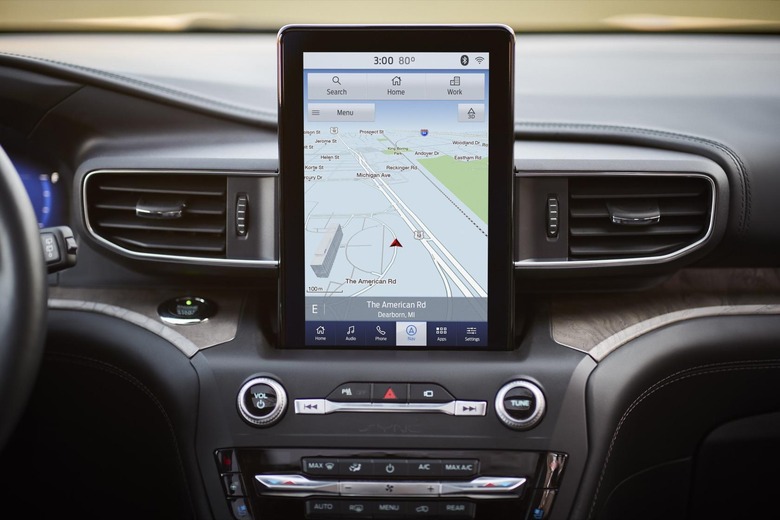 Obviously, Ford isn't the first to try the portrait orientation touchscreen. Tesla's Model S prompted a few dropped jaws back when the EV launched, after the electric automaker opted to replace almost all of the physical controls in the dashboard with a huge touchscreen instead. Indeed, the only remaining buttons in that center console are those safety regulators demand must be present.
Volvo too has opted for the portrait touch approach. The second-generation XC90 SUV, when it launched in 2014, debuted the automaker's Sensus infotainment system, which also replaces much of the interface with a tall touchscreen. Volvo's system is notable for how well it accommodates things like third-party smartphone projection interfaces such as Apple CarPlay and Android Auto while still showing its own native controls at the same time – as shown below – rather than forcing drivers to switch between them on-screen.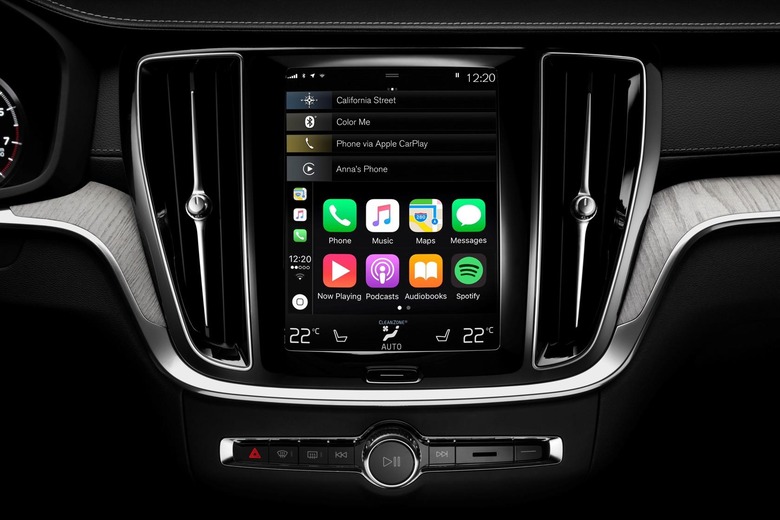 Though Ford may not be the first, its new 10.1-inch SYNC 3 system may well be the most attainable. Pricing for the option hasn't been confirmed at this stage, but we're expecting the 2020 Explorer to kick off at around $33k.
Similarly unclear is how the updated SYNC 3 will handle things like Apple CarPlay and Android Auto. Both the standard and the upgraded infotainment systems will support both Apple and Google's smartphone projection interfaces, but we don't know if the 10.1-inch display will do a Volvo-style split-screen layout. That would certainly make better use of the space.
The new touchscreen finds itself at home in a cabin where technology has generally improved across the board. 4G LTE with WiFi hotspot support will be standard, as will be FordPass Connect, offering remote control over security, engine start, location, and diagnostics from a smartphone. Options will include a wireless charging pad for your phone, a 14-speaker, 980 watt B&O audio system, more USB charging ports – including USB-C – and even more power outlets.
We'll find out quite how well all that works when the 2020 Ford Explorer arrives at dealerships. That's expected to start in the summer of 2019.