2019 Porsche Cayenne and Cayenne S get official with up to 440 hp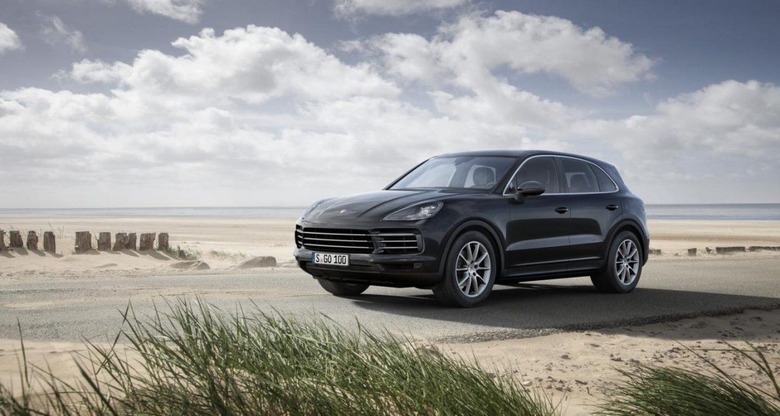 A few days back we talked about the leaked images of the 2019 Porsche Cayenne SUV that had leaked. A few days after that leak, Porsche has gone official with the new third generation Cayenne and Cayenne S SUVs. Porsche says that only the Cayenne and Cayenne S will be available at launch with the normal Cayenne using a 3.0L single-turbo V6 making 340 hp and 332 lb-ft of torque.
The hotter Cayenne S SUV has a 2.9L twin-turbo V6 that makes 440 hp and 406 lb-ft of torque. That makes for much better performance for the S model. Porsche has made its Porsche Traction Management AWD standard across the Cayenne line and both models used the 8-speed Tiptronic S transmission.
Porsche says that it has pulled out the stops to make performance on-road better than ever for the 2019 Cayenne. Buyers can choose optional rear-axle steering for improved agility and stability. Cayenne modes are also available with Porsche Surface Coated Brakes for better stopping power and reduced brake wear.
Performance is impressive for a larger SUV with the Cayenne making the run to 60 mph from a standstill in 5.9 second or 5.6 seconds with the optional Sport Chrono package. The base Cayenne can run the quarter mile in 14.4 seconds or 14.2 second with Sport Chrono. The Cayenne S is able to sprint to 60 mph in 4.9 seconds, 4.6 seconds with Sport Chrono. It will run the quarter mile in 13.3 seconds standard, or 13.2 seconds with the Sport Chrono package.
The drivetrain of both models has driver selectable modes for different surfaces including modes for mild off-roading with mud, gravel, sand, and rock settings. The Porsche Surface Coated Brakes are a world-first.
Porsche says, "Porsche Surface Coated Brake (PSCB) technology is the latest example of Porsche assuming a pioneering role in developing high performance brakes. This world-first is available as an option for all Cayenne models and consists of a cast-iron disc with a tungsten-carbide coating. The finish increases friction values while reducing wear and brake dust. The brakes – which are exclusive to Porsche – will take on a visually impressive glossy appearance complemented by white painted calipers. The PSCB system is only available in combination with 20-inch and 21-inch wheels. The Porsche Carbon Ceramic Brakes (PCCB) remain the top system available.
The 2019 Cayenne and Cayenne S are available to order with Cayenne starting at $65,700 and Cayenne S starting at $82,900 excluding delivery. The 2019 Cayenne will land with dealers in mid-2018.