2019 Mercedes-AMG GT S Roadster is a tempting tweener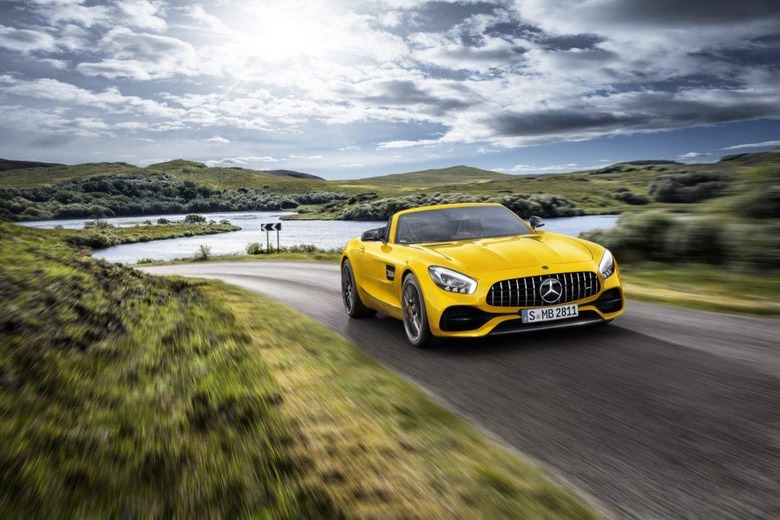 Mercedes-AMG's family of potent AMG GT cars is gaining a new member, with the 2019 AMG GT S Roadster offering a third droptop version to better hear the V8. Expected to arrive in the US late this year, the new car is expected to do 0-60 mph in 3.7 seconds, balancing the affordability of the entry-level Roadster and the performance of the flagship in the process.
It'll keep running on to an estimated top speed of 192 mph, Mercedes-AMG says. That's courtesy of a handmade AMG 4.0-liter V8 biturbo engine, which musters 515 horsepower and 494 lb-ft. of torque. The latter arrives from as low as 1,900 rpm, and continues up to 5,000 rpm.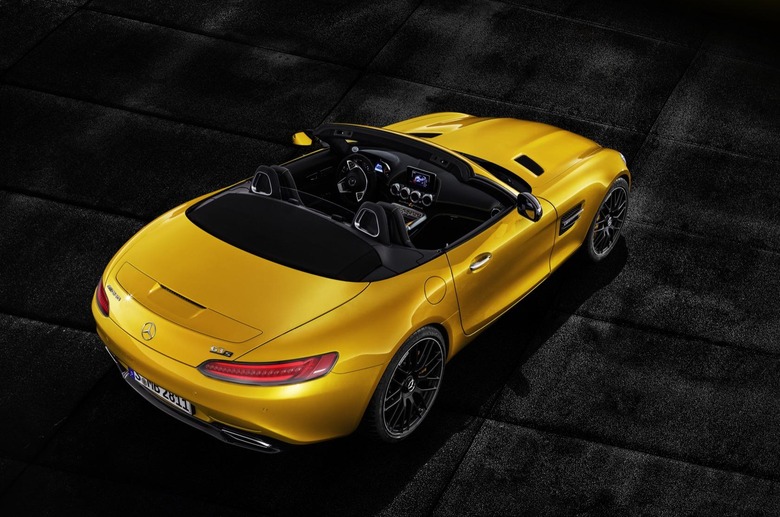 It's paired with a seven-speed AMG SPEEDSHIFT DCT dual clutch transmission. AMG RIDE CONTROL sports suspension with an Adaptive Damping System is also standard, along with an electronically-controlled rear axle locking differential.
As a result, it slots in-between the existing AMG GT Roadster and the AMG GT C Roadster. It has more horsepower and torque than the former, and grabs the fancier suspension of the latter. However, the AMG GT S Roadster doesn't get the rear axle steering, though there are five drive modes – with Race added – as opposed to the entry-level car's four.
Some of the more popular features are carried over, too. The "M" manual transmission mode is included, locking the gearbox to the paddle-shifters. Beefier composite brakes are also standard, with 6-piston fixed calipers at the front and single-piston fixed calipers at the rear. They're finished in red, with AMG lettering.
Ceramic composite brakes are offered as an option – you get AMG Carbon Ceramic lettering to show people you dug deeper into your wallet – with AMG promising they're not only more effective but less susceptible to fade over extended use. They also tip the scales at around 40-percent less than the conventional brakes.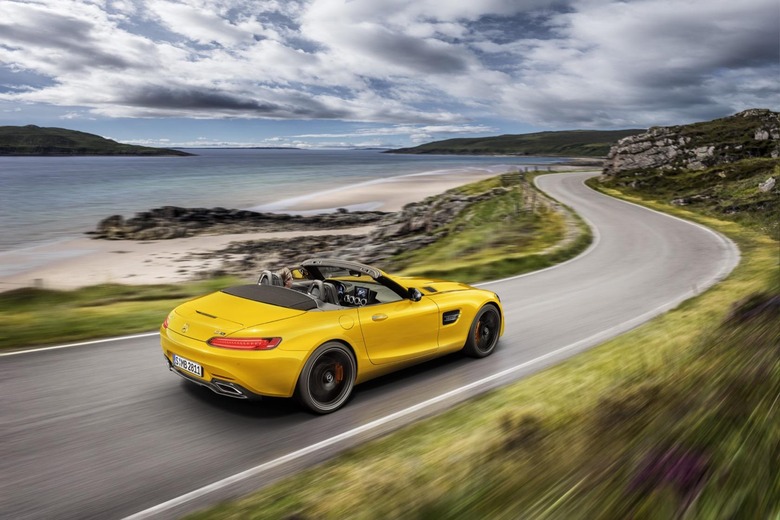 The soft top is a triple-layer fabric supported by a magnesium, steel, and aluminum frame. It gets an integrated aluminum cross-member for extra rollover protection. LED headlamps are standard, as are 19-inch wheels at the front and 20-inches at the rear.
Inside, MB-Tex manmade leather and DINAMICA microfiber seats are standard, though Mercedes has a wide range of leather and microfiber to choose from if you prefer. As standard, the AMG GT S Roadster gets the AMG Silver Chrome trim package, but a piano-black version, matte silver fiber-glass, carbon-fiber, and matte carbon-fiber are all optional. AMG Performance seats are standard, with AIRSCARF neck heating courtesy of vents in the headrest.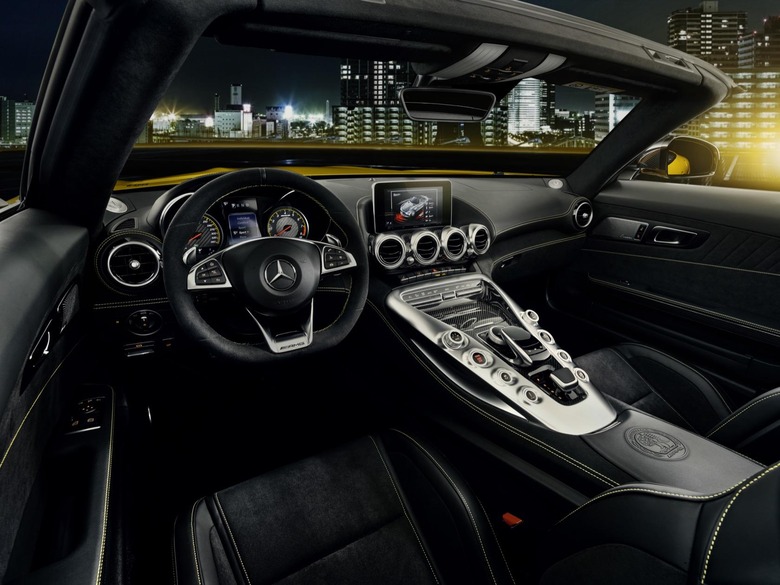 Check off the AMG DYNAMIC PLUS package option, meanwhile, and you get an AMG Performance steering wheel in microfiber, dynamic engine and transmission mounts, and a different sport suspension profile. There's also a wider peak horsepower band in the "M" and "Race" drive modes, stretched to 6,000-6,500 rpm.
In all, it brings the AMG GT family to twelve, including the upcoming AMG GT 4-Door Coupe. Pricing for the new roadster will be confirmed closer to availability.