2019 Mazda3 hatchback and sedan raise style and tech stakes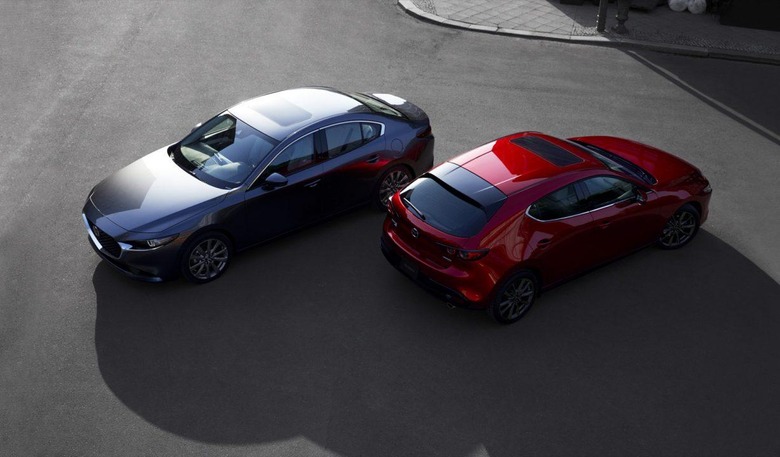 The new 2019 Mazda3 is here, and Mazda's curvaceous compact car now promises more upscale design, refined driving, and comfort inside. Revealed this week at the LA Auto Show 2018, the new Mazda3 may not come in an EV or full hybrid form, but the automaker insists that its new Skyactiv-X engine technology will have far better implications for transportation.
It's an important car for Mazda. Since its debut in 2003, over six million Mazda3 have been sold worldwide, in fact. Reflecting that, this new version is the first in the automaker's line-up to adopt the new interpretation of Mazda's Kodo design language, itself part of a push to take the range more upmarket.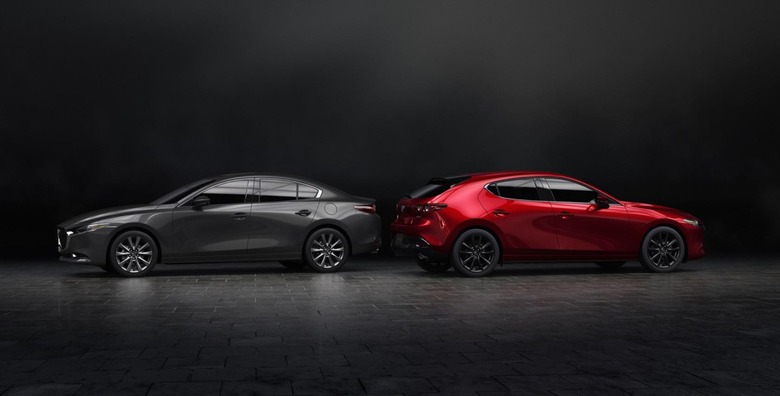 Nothing is being left to chance, therefore. Mazda has two distinct interpretations of the Mazda3, one a hatchback and the other a sedan. Although they might share a name, the automaker insists, the two body styles are cars with very different personalities.
The Mazda3 hatchback, the automaker says, is for "free spirits" who want maximum flexibility. More conservative, perhaps, is the Mazda3 sedan. That has been extended in length from what you'd expect from a C-segment car, for a more elegant vehicle overall.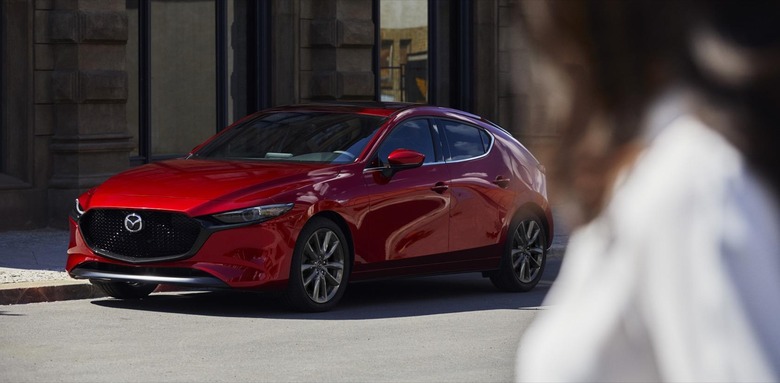 This new Kodo "Soul of Motion" design language means a more solid aesthetic, with sleek curves rather than sharp lines. The exterior lighting is new, the headlamps and tail lamps pared back to the bare essentials. There's also a new color for the hatchback, Polymetal Gray, designed to combine metal with plastic-esque glossy smoothness.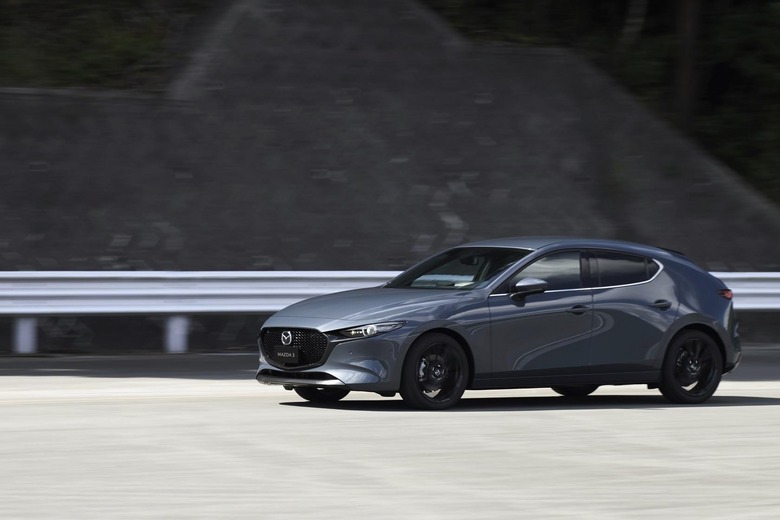 Inside, the "less is more" mantra continues. Extraneous detailing to the center console has been dropped in favor of sleekly combined controls, with plastics and other surfaces given a leather-style grain. Rather than regular piano black plastic, sections of the dashboard use two-layer molding to first lay down a laser-engraved black layer and then a clear layer on top. The hatchback can be had in an exclusive Burgundy red leather.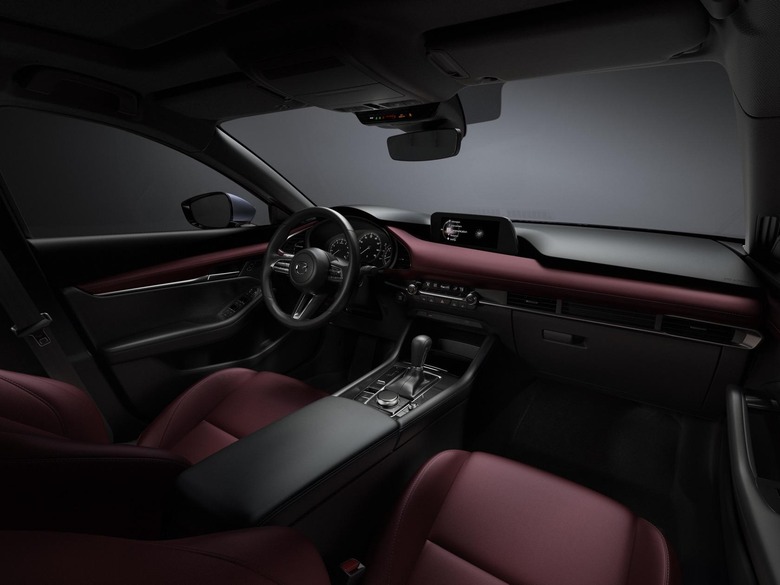 It all promises to be more comfortable to drive, too. The telescopic steering wheel has an addition 10mm of movement at either extreme, while front seat cushion tilt adjustment is now standard. The gear shifter is forward and mounted higher, as is the commander control; the armrest can be made longer as a result.
An 8.8-inch display sits atop the dashboard, with an 8-speaker audio system as standard. A 12-speaker Bose system is an upgrade.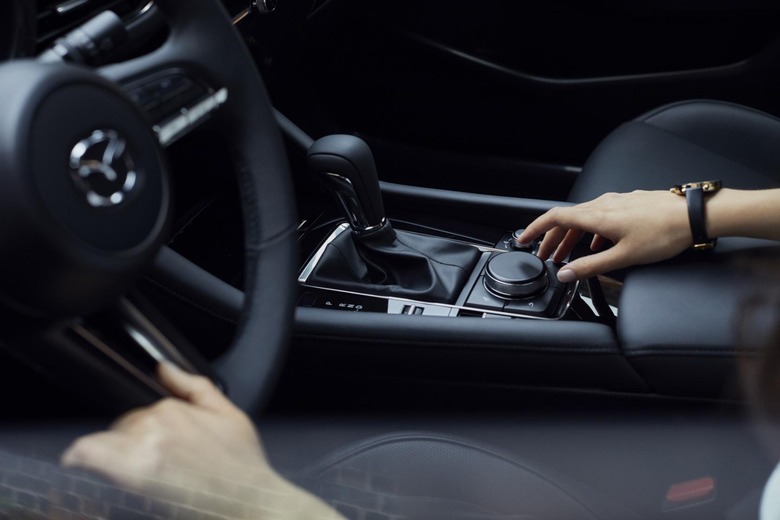 Three gas engines will be joined by a diesel engine. There are 1.5-, 2.0-, and 2.5-liter Skyactiv-G gas engines, and a Skyactive D 1.8-liter diesel. A new Skyactiv-X engine will debut on the Mazda3, using compression ignition to make for 20- to 30-percent better efficiency than gas engines, but with diesel-style torque. Actual power and economy figures for all of the drivetrains will be confirmed closer to launch.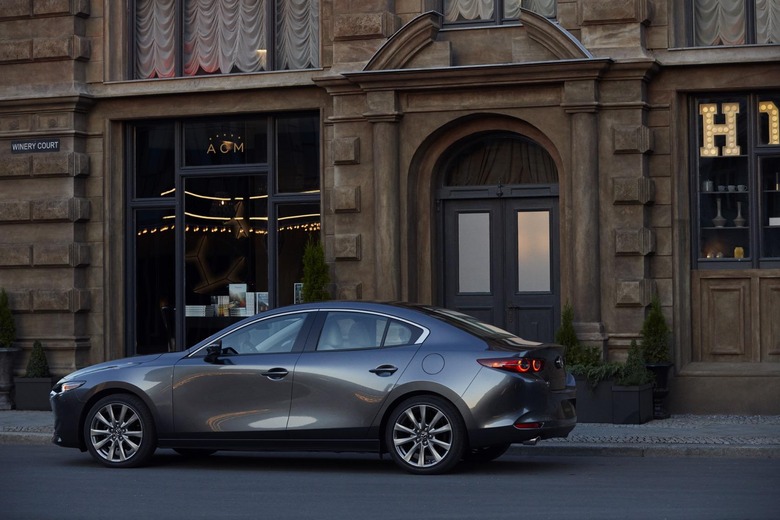 Both a 6-speed manual and a 6-speed automatic transmission will be offered. Mazda i-Activ AWD will also be available, as will i-Activsense driver monitoring that uses infrared cameras and LEDs to track driver attention and how tired they are based on eyelid movement. Front cross traffic alert is also available, as is adaptive cruise control.
Pricing for the 2019 Mazda3 is yet to be confirmed. It'll arrive in the US in early 2019.