2019 Maserati Levante Trofeo first look: V8 gives SUV serious pace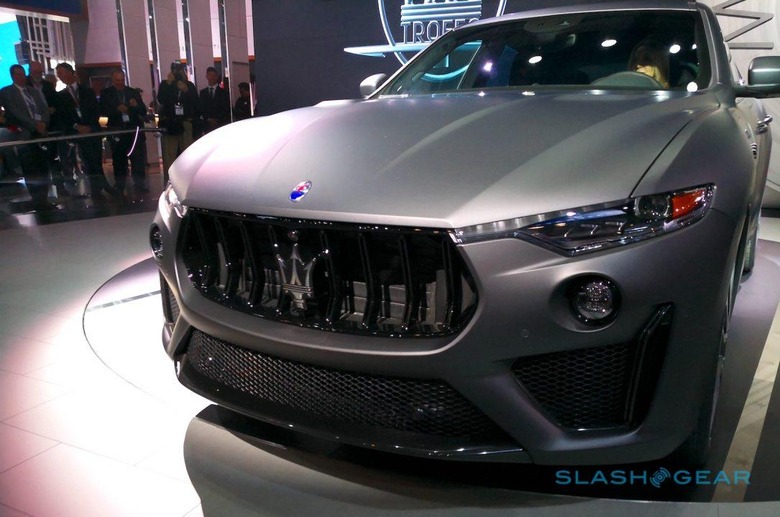 Maserati's first SUV was hardly a slowpoke, but the twin-turbo V6 is getting two more cylinders with the new 2019 Levante Trofeo V8. Taking its rightful place at the top of the Levante pile, the 3.8-liter twin-turbo V8 brings a hefty 590 horsepower and 538 lb-ft. of torque to the party.
Considering the V6 could offer 424 horsepower at most, that's a big step up for the all-wheel drive SUV. Maserati says it's enough for a 0-62 mph time of just 3.9 seconds, and a top speed in excess of 186 mph if you find a sufficiently long, straight stretch. Indeed, it's one of the most powerful engines that the automaker has ever used, and like Maserati's other gas engines it's made for them by Ferrari.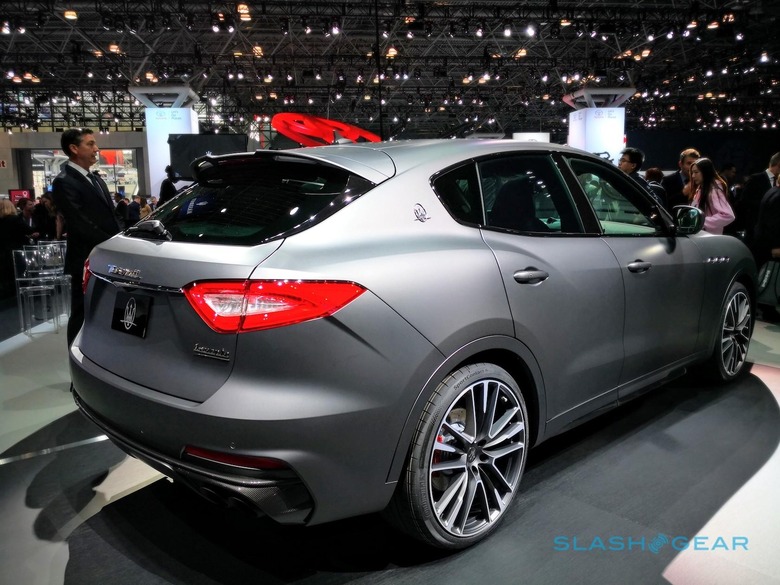 Peak torque arrives between 2,250 and 5,000 rpm, while maximum horsepower is unlocked at 6,250 rpm. Maserati has paired it with a new drive mode, with the existing Normal, I.C.E., Sport, and Off Road options joined by a Corsa mode. That's even sportier, with the promise of better engine response and wider-opened exhaust valves during acceleration.
Corsa mode also sees the gearshifts snicking faster, and the air suspension automatically drops down to improve handling. Maserati's Skyhook damping system is retuned for a sportier feel, and there's custom all-wheel drive settings along with new mapping for the traction control and other electronic stability systems. Finally, Corsa mode also gets a Launch Control option.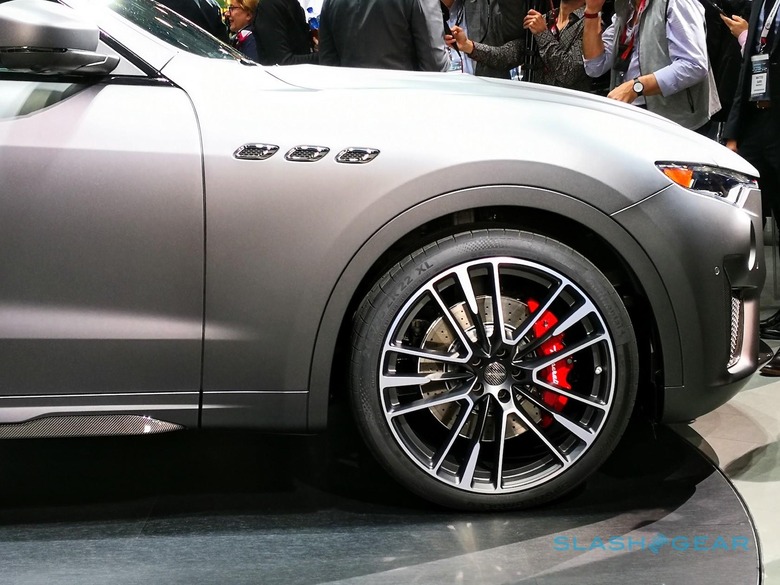 Maserati has borrowed the Integrated Vehicle Control (IVC) system from its other models and fitted it to the Levante Trofeo, a first for the SUV. That promises greater stability from the outset, rather than relying on electronic safeguards to rescue mishaps. New brakes, meanwhile, require just over 113 feet to bring the SUV down from 62 mph to a standstill.
How well that all works, we'll have to wait to see. However, what we do know from the 2019 Levante Trofeo's New York International Auto Show debut is that it certainly looks the part. The external changes are mainly lower down on the body, with a new lower front fascia and rear bumper. Side air intakes are more aggressive, with aerodynamic wings added, and there are carbon fiber side bezel blades and a carbon fiber splitter.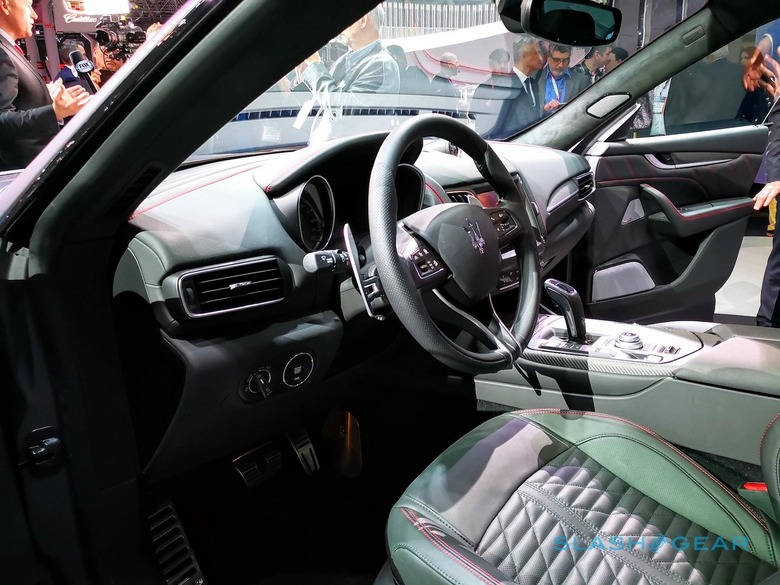 At the rear, there's a new carbon fiber horizontal element which Maserati says is intended to visually widen the car. A body-color lower extractor wraps around the four oval exhaust tips. 22-inch forged aluminum wheels are available in both polished and matte finishes, and there are Full Matrix LED headlamps as standard.
Inside, the sports seats can be finished in black, red, or tan, and each have "Trofeo" stitched into their headrests. There's a new matte carbon fiber trim for the dashboard, along with the paddle shifters. Maserati has changed the instrument cluster graphics for the Trofeo, too, and there's a different analog clock and unique badging for the floor matts. The 17-speaker, 1,280 watt Bowers & Wilkins surround sound system, an option on the V6 Levante models, is standard on the 2019 Levante Trofeo.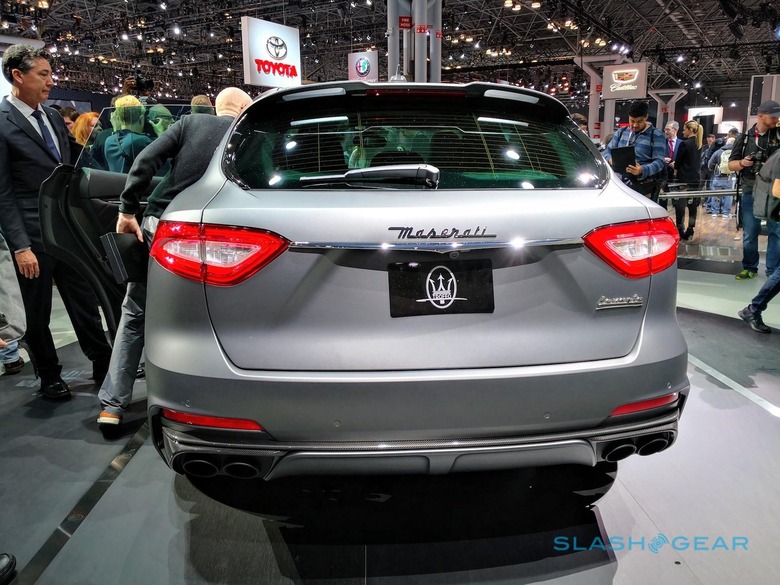 Production kicks off this summer, beginning with a limited-edition Levante Trofeo launch edition. That has matte Grigio Lava paint and matching, matte-finish wheels, plus red brake calipers. Inside, there's black leather with blue or yellow stitching, and Maserati will finish the SUV with a serialized launch edition badge on the dashboard which includes the customer's name. Pricing for that, and the regular 2019 Levante Trofeo, is yet to be announced.