2019 Lexus UX crossover gives new hybrid an urban edge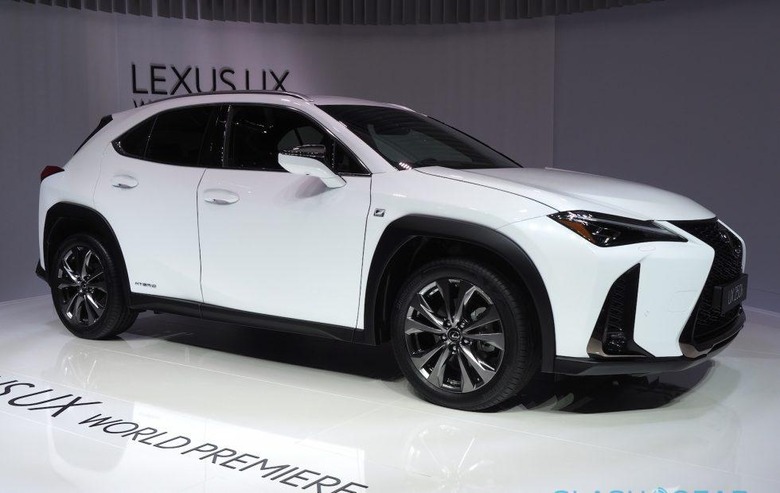 Drivers can't get enough of crossovers, and Lexus isn't going to disappoint them, with the 2019 Lexus UX making its debut at the Geneva Motor Show 2018 today. The automaker's first compact luxury crossover, it's the smallest model in the Lexus SUV line-up, slotting in beneath the NX with a surprisingly small footprint.
It's actually the first Lexus to be built on the new GA-C "Global Architecture – Compact" platform, and the automaker says that comes with some big advantages. For a start, it promises to be more engaging to drive than many crossovers manage, with a lower center of gravity and more rigid structure.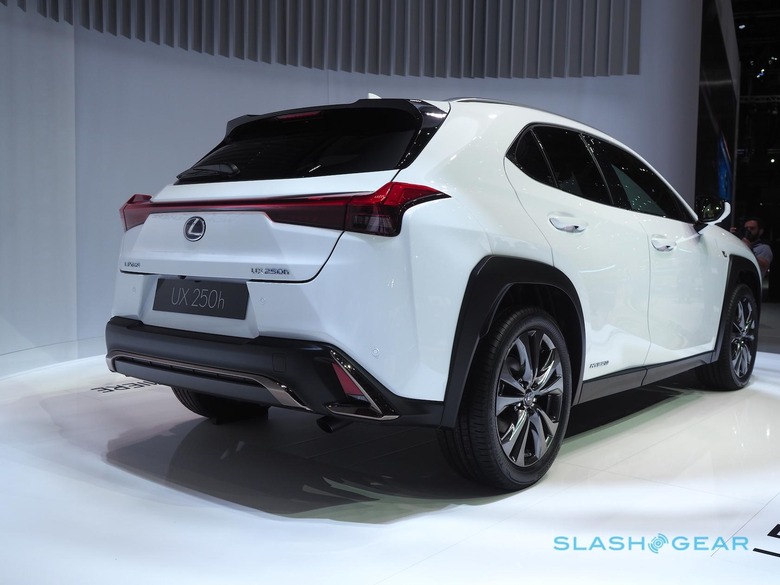 With its 177-inch length – almost 104 inches of which is wheelbase – it should be easier to maneuver in cities, too. Indeed, Lexus says the 2019 UX has a 34-foot turning circle, which bests the rest of the crossovers in its compact class. The style, however, disguises the size.
Lexus is calling it "Urban Explorer" and it basically means plenty of crease lines and unusual angles. The front and rear fenders have bold, oversized fenders, while the spindle grille gets a new, block-shape mesh pattern. That gives it a more three-dimensional appearance depending on the angle at which you view it, Lexus suggests.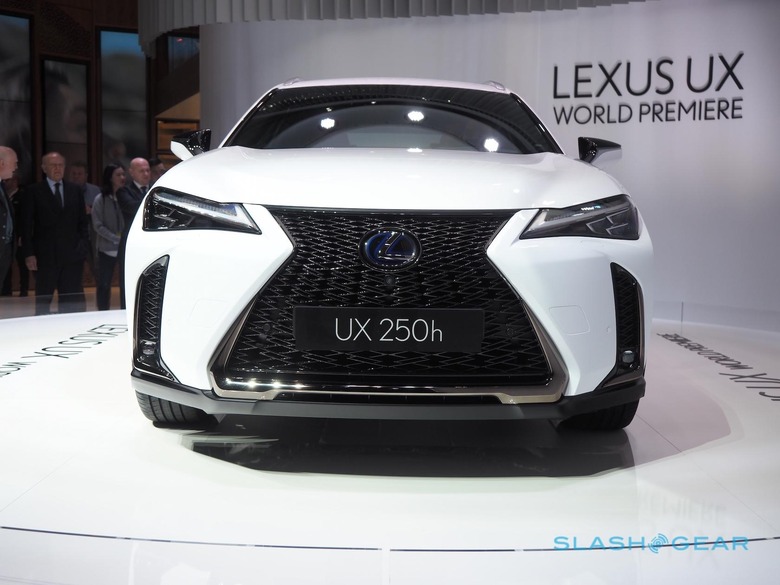 Daytime running lights are arranged in an arrowhead shape, while at the rear there are full-width tail-lamps which comprise 120 LEDs. They taper toward the center, with the bar just 3mm thick at its narrowest point. 17- and 18-inch wheels will be available, including a special, aerodynamically-modeled 17-inch set which cool the brakes by pulling in air like turbines.
Inside, it's a familiar cabin for anybody who has been inside the NX or RX lately. The upper dashboard has been extended, rising up so that it looks as though it extends beyond the windshield. Meanwhile the A-pillars have been slimmed down for improved visibility.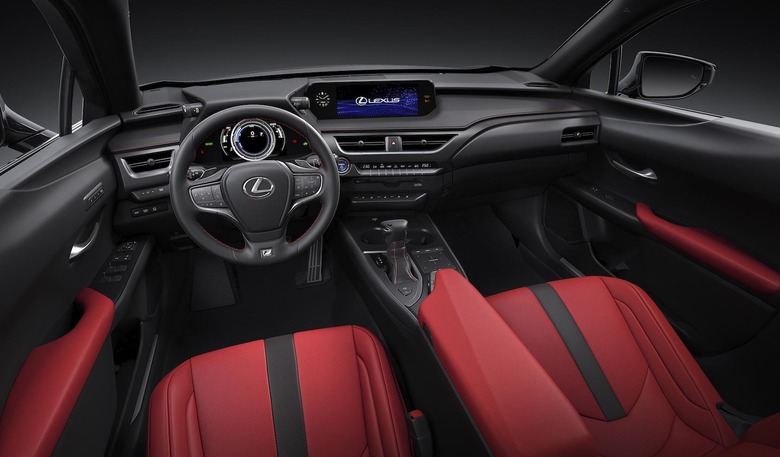 Lexus' seats have been specially designed so that they make entry and egress more straightforward despite the ride height. The usual cabin controls have been reorganized to focus on the driver, too: the audio switches have been integrated into a palm rest in the center console, for example. The vent controls have been streamlined, integrating both airflow direction and volume; more unusual still, they're illuminated wirelessly, using electromagnetic resonance coils that leave the assemblies looking like they're floating.
Lexus has two interior finishes, one a Japanese quilting-inspired leather with perforations. Two different grain patterns for the dash trim are joined by four colors. One new trim is inspired by Japanese paper grain, which Lexus says is made with a slush-molding process. Leather grain, as in the LC coupe and LS sedan, is also available.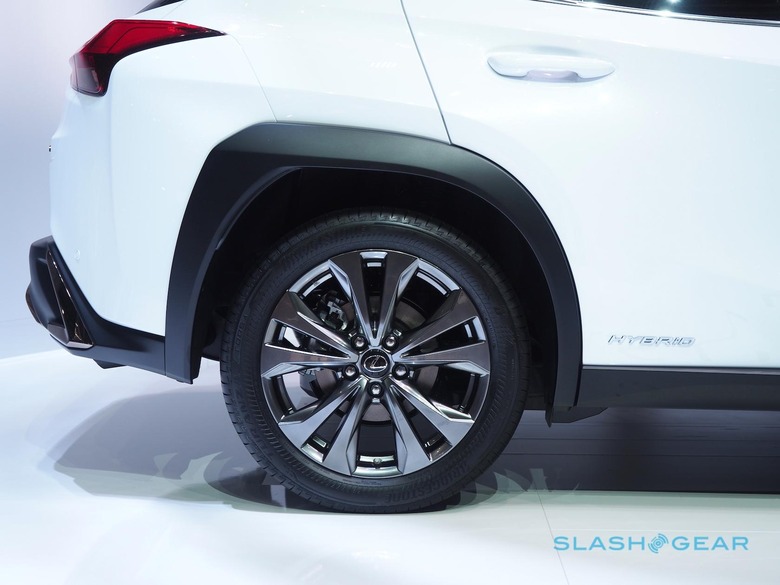 Two engines will be available. The 2019 UX 200 gets a new, 2.0-liter inline four-cylinder with 168 horsepower, paired with a Direct Shift-CVT that adds a gearset specifically to make the UX feel perkier from a standstill. The 2019 UX 250h, meanwhile, is Lexus' new hybrid drive, with an expected 176 horsepower.
It still uses NiMH batteries, eschewing the Li-Ion many rivals have embraced, but mounts them lower underneath the rear seat to maximize cabin and cargo space. Predictive Efficient Drive promises to analyze driver habits and – in combination with the expected road and traffic conditions ahead – decide how best to charge and discharge the battery. The more the UX 250h is driven, Lexus says, the better it will get at optimizing fuel consumption.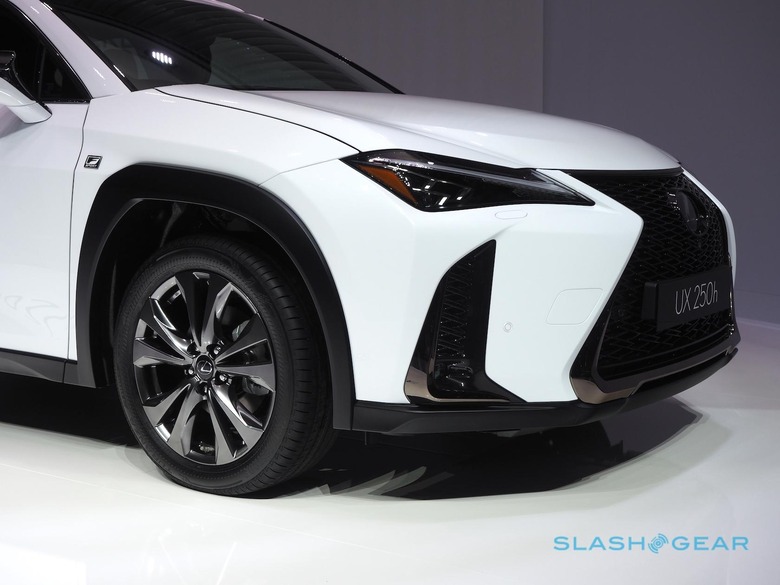 Meanwhile, Predictive Deceleration Support uses the same driver behavior tracking to predict when the car will slow or stop. If you're nearing that point, and release the accelerator, the UX 250h will automatically increase its regenerative braking, up to around 1,000 feet ahead of the vehicle. Finally, Predictive State of Charge kicks in on downhill roads and in congested traffic. It can look ahead up to around six miles when a navigation route has been programmed.
The UX 250h also gets E-Four all-wheel drive, with an electric motor on the rear axle providing drive there. The UX automatically shifts power forward and back depending on traction; it can push traction to the rear wheels if there's a loss of grip by 80-percent, at speeds up to 43 mph.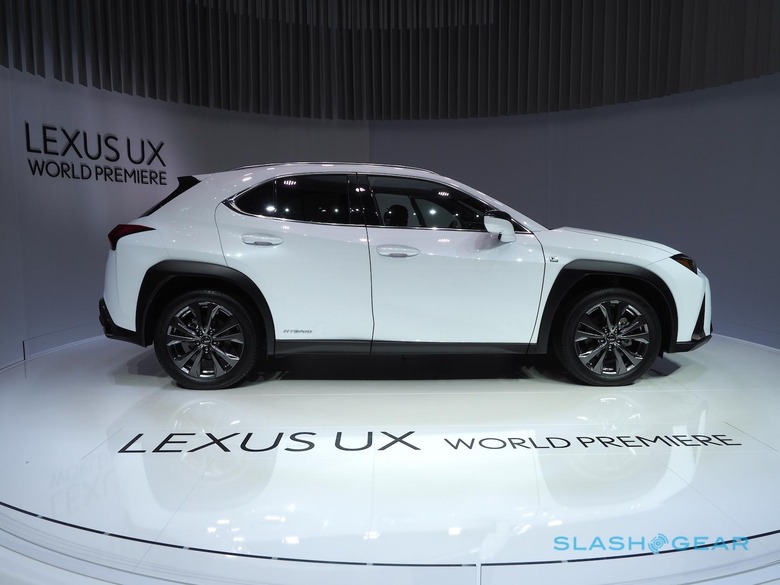 Both models will be offered in F SPORT variants, with suspension tuning and rear performance dampers. A UX-tailored version of Lexus's Adaptive Variable Suspension system, borrowed from the LC coupe, can be added too. That increases damping force in corners to minimize roll, while dialing it back on straight roads for better ride quality.
F SPORT cars also get a mesh grille, large fog light bezels with chrome detailing, and exclusive rear bumpers. They also add special 18-inch wheels and jet-black front and rear trim. Inside, there are sports seats in the front and moving instrumentation gages from the LFA. An F SPORT steering wheel, leather wrapped like the gear shift knob, and 8-inch color display are also included. Active Sound Control adds a fake upshift and downshift soundtrack to the CVT, for better or worse.
Lexus says the 2019 UX 200 and 2019 UX 250h will go on sale in the US in December 2018. Pricing will be announced closer to that point.