2019 Lexus ES: 5 Things You Should Know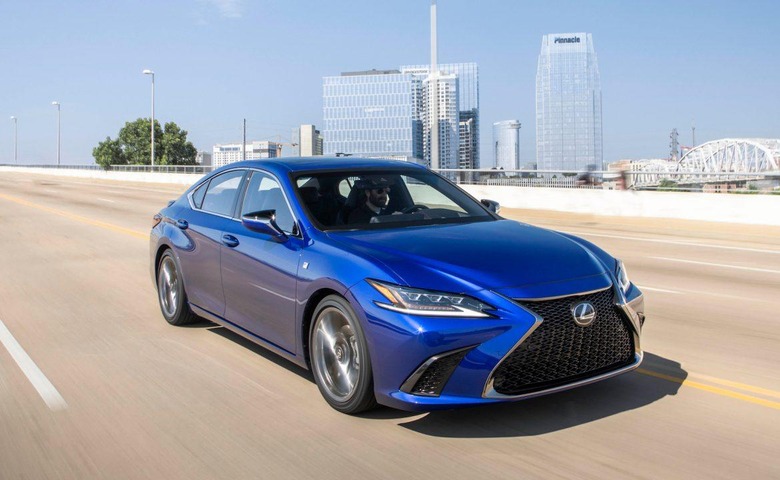 Luxury sedans may not be considered "sexy," but the 2019 Lexus ES would like to shake that perception up when it goes on sale this fall. Now in its seventh generation, the new four-door sheds the stuffy attitude of its predecessor in favor of more performance, more power, and more technology, all wrapped up in a brand new design.
The 2019 ES finally looks memorable
Even the most devoted Lexus fan would probably agree that the ES has been one of the least-memorable of the automaker's models. That's despite it actually being the best selling Lexus sedan in the US. For the 2019 ES, Lexus is making sure you won't ignore it.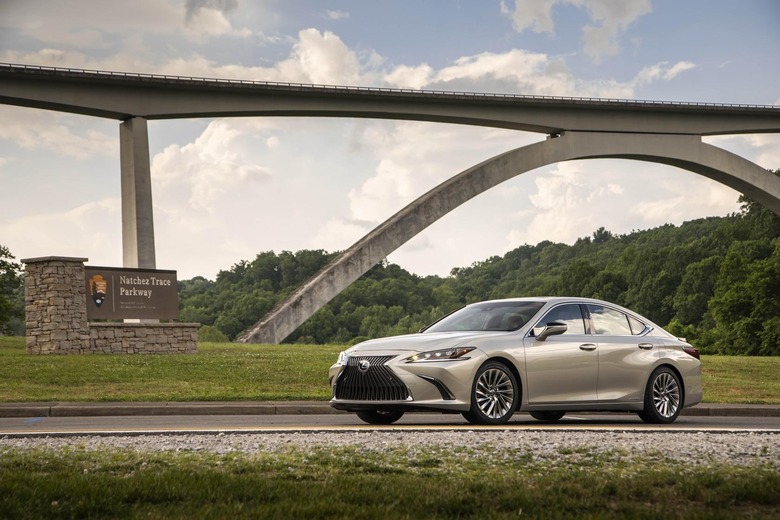 Outside, that means a more striking design. Gone is the retiring, fairly conservative aesthetic of the sixth-generation ES, with the seventh-gen car embracing the "provocative elegance" of Lexus' current design language. Not everybody is going to like it, no, but the satin plated trim and vertical grille pattern are certainly more interesting than anything the old car offered.
Standard LED projector beam headlamps can be swapped for optional triple-beam headlights with three LED projectors. Either way you get L-shaped daytime running lights. More LEDs are at the rear. In-between, there's a sharper slant to the C-pillar and a less fussy shoulder line, while Lexus will have 17- and 18-inch wheels to choose from.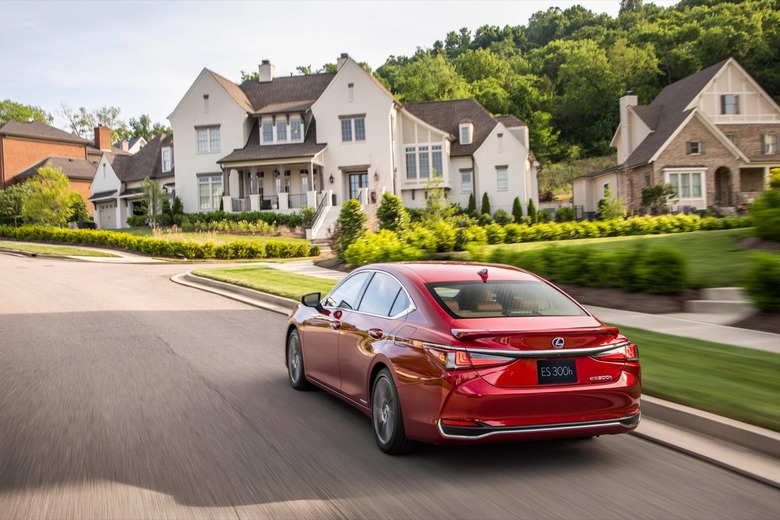 The biggest changes are under the sheet-metal
Lexus isn't kidding when it says the 2019 ES is all-new. Gone is the platform of the old car, with a brand new Global Architecture-K (GA-K) in its place. It leaves the new ES 2.6-inches longer, 1.8-inches wider, an a fraction of an inch lower than before, but adds 2-inches more to the wheelbase. That means extra space inside.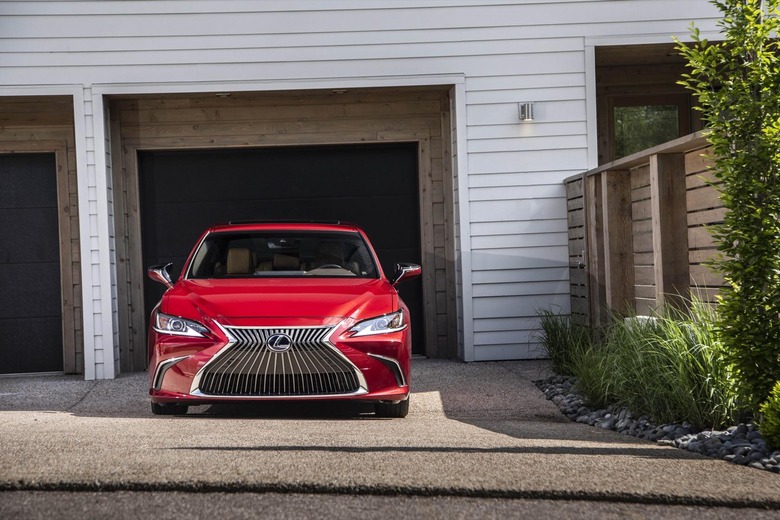 Front-wheel drive is standard, and Lexus has used more high-strength steel and laser screw welds than in the old car. It's also more than doubled the amount of adhesive, and significantly boosted the sound deadening insulation. That's all in the name of reducing flex and cutting cabin noise.
There's an ES F SPORT for the first time
Lexus' F SPORT range has been increasingly important in its line-up over the past few years. With sharper, bolder styling and more responsive suspension and handling, the F SPORT cars may not have more power than their regular brethren, but they can be a whole lot more fun to drive. Problem is, until now the ES hasn't been so blessed.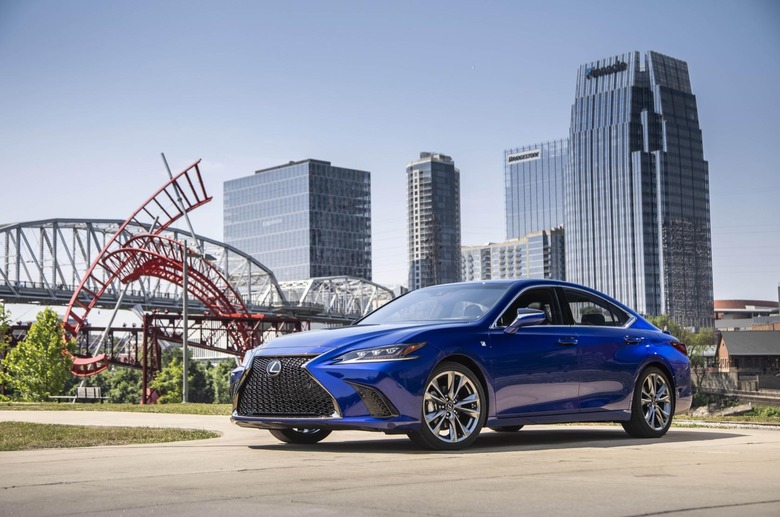 That's all changing with the 2019 Lexus ES. For the first time, there's an ES F SPORT, and it's a handsome beast indeed. Borrowing the grille design from the Lexus LS, with an eye-catching L-themed mesh, along with exaggerated vents, the front is far more purposeful – and memorable – than any previous ES. At the rear, meanwhile, there's a trunk lid spoiler. LC-inspired 19-inch wheels are part of the package, too.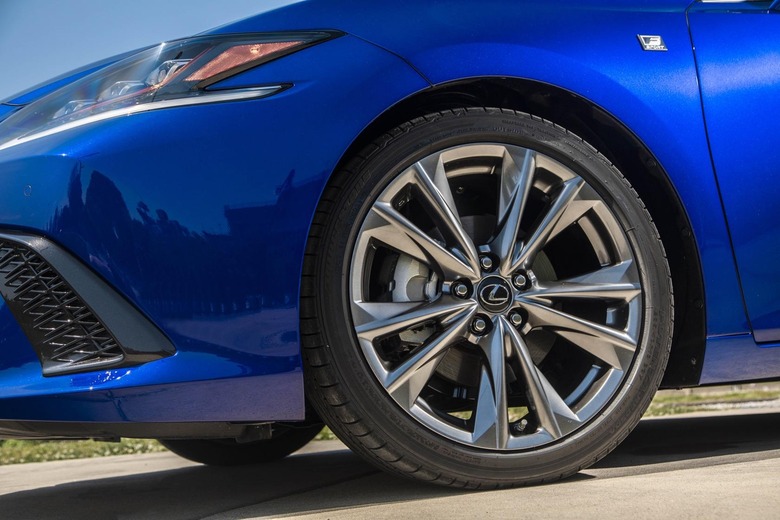 Meanwhile, Adaptive Variable Suspension replaces the standard Dynamic Control Shocks with adjustable dampers. They have 650 levels of adjustment, automatically changed based on things like g loading, speed, steering angle, and yaw rate. Sport S and Sport S+ modes adapt throttle, transmission, and steering settings, as well as the damper reactions.
There are two engines on offer: one is a hybrid
The 2019 ES 350 gets a 3.5-liter V6 engine, which Lexus has polished to nudge the redline up from 6,200 rpm to 6,600 rpm. Maximum power is 302 hp, while torque is 267 lb-ft: that's up 34 hp and 19 lb-ft respectively. It's paired with an 8-speed automatic, with two more ratios than the old ES, which Lexus says boosts both refinement and economy. Indeed, the ES 350 is rated for 22 mpg in the city, 33 mpg on the highway, and 26 mpg combined.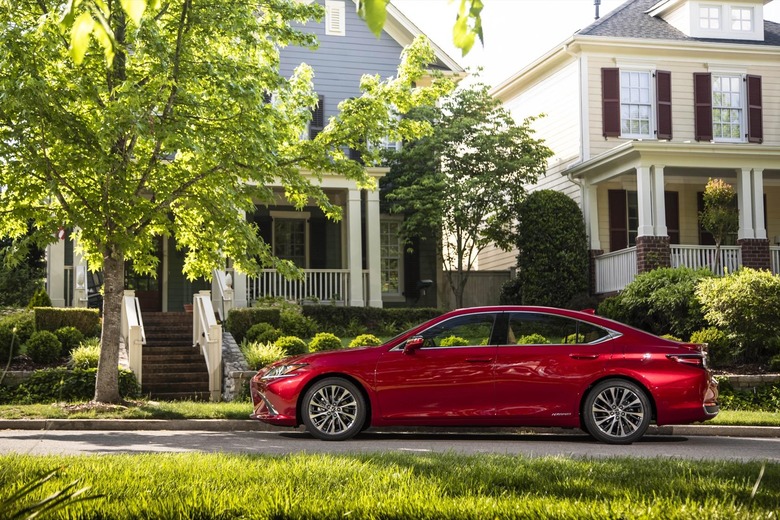 If you want even better numbers, though, you'll want to look to the 2019 ES 300h. That packs Lexus' fourth-generation hybrid drive, a 2.5-liter four-cylinder gas engine paired with an electric motor and a hybrid transaxle. Lexus says you can expect 215 horsepower, which is fairly conservative, but an estimated 44 mpg combined fuel economy.
The hybrid changes more than just frugality, though. Compared to the old ES, the battery has been moved from the trunk to under the rear seats: that improves both cargo capacity and front/rear weight distribution. There's a new Auto Slide Control system, too, which allows the ES 300h to coast in ECO mode when you lift off the accelerator.
The technology finally gets an upgrade
The 2019 ES' cabin takes more inspiration from the LC and LS, with a combination analog-digital driver display – with a moving center ring on the F SPORT – and an optional color head-up display. A choice of 8-inch or 12.3-inch infotainment screens are on offer, controlled from Lexus' touchpad in the center console. There's now CarPlay support, initially only with the larger display, but eventually coming to the smaller screen from October.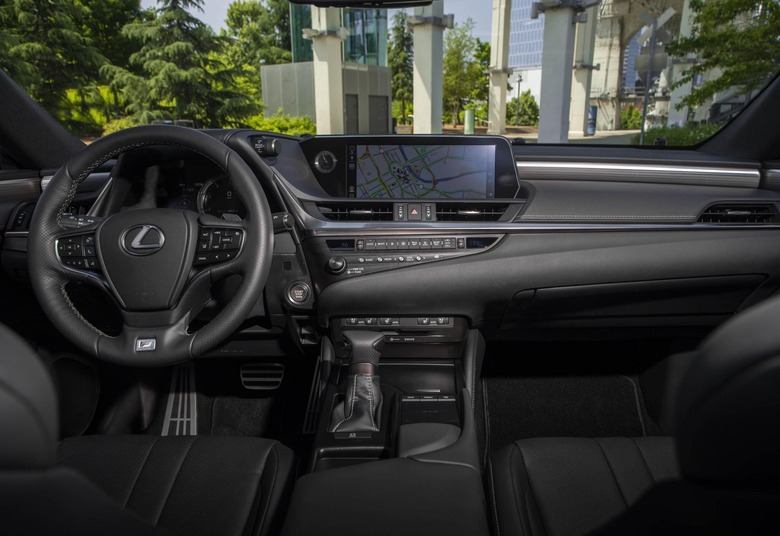 There's Amazon Alexa integration too, while all ES get a 10-speaker audio system and WiFi with Verizon LTE as standard. A 17-speaker Mark Levinson audio system with 1,800 watts is optional, as is navigation. In some places, Lexus has literally raided the parts bins of its more expensive models: the new ES' steering wheel, for example, is taken directly from the LS sedan.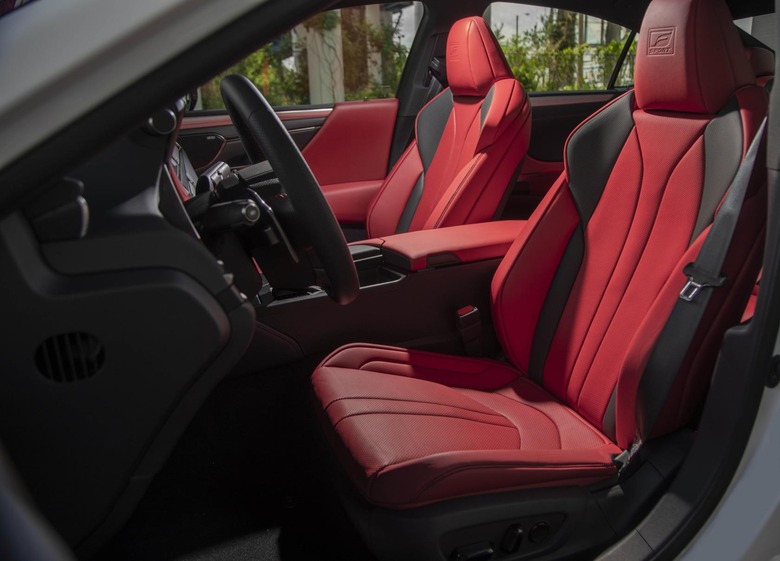 As for active safety tech, Lexus Safety System+ 2.0 is standard across the line-up. That includes a pre-collision system that can detect vehicles, pedestrians, and cyclists, and lane departure assistance that can help nudge you back in line. Lane Tracing Assistance keeps you in the center of the lane, and can track the car in front to help do that when the adaptive cruise control is active.