2019 Hyundai Santa Fe revealed as more memorable SUV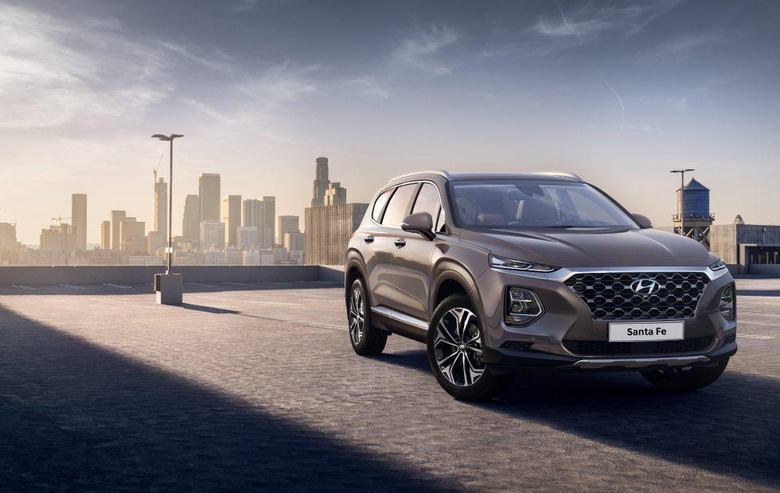 Hyundai has taken the wraps off the 2019 Santa Fe, with a bolder, more memorable look for the crossover SUV. Headed into its fourth generation, the new Santa Fe promises more technology and a more stylish dashboard, while picking up exterior cues from the Hyundai NEXO fuel-cell vehicle.
It's fair to say the current Santa Fe, though generally well received, isn't going to rank especially highly on lists of great SUV design. Hyundai seems intent on changing that with the 2019 update, or at least making it stand out more on the road. That means a puckered trapezoidal grille, with an unusual oversized mesh design and a sweeping chrome trim.
That trim underscores the squinting lamps, which have been split into what Hyundai is calling "twin headlights." The automaker has split the front lighting into two sections, with a narrow set at the leading edge of the hood, along with a larger set underneath in the front wings. It gives the 2019 Santa Fe a more aggressive look altogether.
It's also strongly reminiscent of some other cars from the South Korean automaker we've seen of late. The new NEXO shares similar cues, though it's hydrogen powered while the Santa Fe will use more traditional fuels. The upcoming Hyundai Kona small crossover, meanwhile, also leans into this more dramatic look.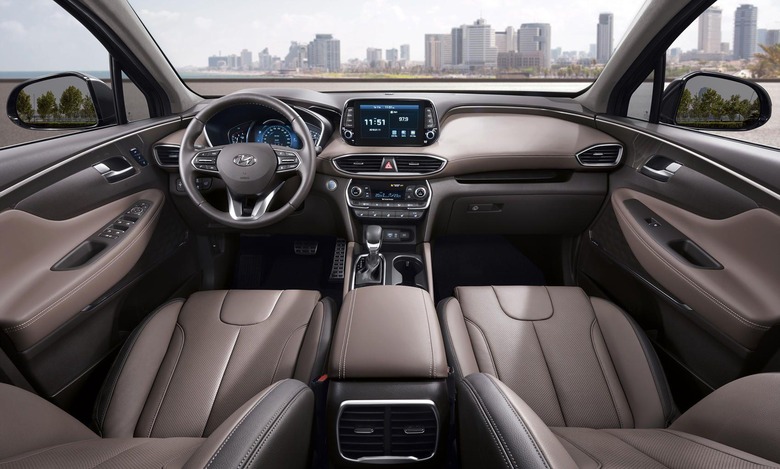 Inside, the dashboard looks to be completely new. The center console has been resculpted, and the infotainment screen floats atop it. There's also what looks to be a large digital display in the center of the driver's instrumentation. Hyundai has resisted the lure of going all-touchscreen, however, and there are still plenty of physical controls for commonly-accessed things like the HVAC system.
Technology gets a boost in the 2019 model year, too. There's Apple CarPlay and MirrorLink support, native voice recognition, and wireless charging for your phone. Forward collision warnings and lane-departure warnings and assistance are to be offered, too, along with frontal collision warning and other driver-assistance tech. Expect at least some of these to be cost options, mind.
Though the US engine line-up hasn't been confirmed, we do know what the 2019 Santa Fe will be offered with in its home market at least. There'll be a single gas engine, a 2.0-liter, and two diesels, 2.0-liters and 2.2-liters. All three will be matched to an eight-speed automatic as standard. An electronic four-wheel drive system that Hyundai is calling HTRAC is also offered, with various drive modes.
We'd expect the gas engine to make it to US shores, but the diesels likely won't. Similarly uncertain at this point is whether this is the replacement for the five-seater known as the Santa Fe Sport in America, or the six/seven-seater referred to just as the Santa Fe. Either way, the same styling is likely to be translated across both models.
We'll see the 2019 Santa Fe make its full debut at the Geneva Motor Show in just a few weeks time. As for when it might actually go on sale in the US, that's also unannounced, but we'll presumably hear more details on American pricing and availability come the New York Auto Show 2018.