2019 Honda Passport First Drive: 5-seat SUV with off-road style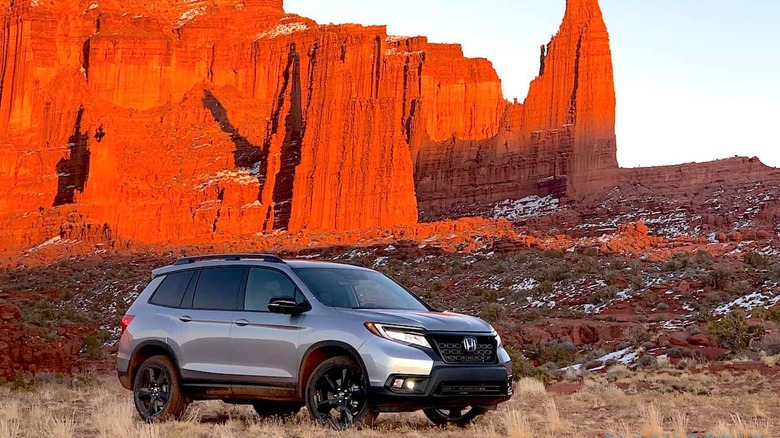 Few cars fill their niche quite so completely as the 2019 Honda Passport. Riding high on record US passenger car sales, Honda's attention has turned to the growing midsize SUV category where the pickings are rich if you get the packaging right, but fierce competition leaves little margin for error. Go big, go bold, or go home.
The Passport is no "four-door sports coupe-sedan crossover" designed to squeeze a few thousand extra sales out of the minute gray-area between existing models. Slotting in-between the smaller, less powerful CR-V, and the larger, three-row Pilot, this newest SUV is designed to staunch a leak in Honda's customer base. Around 35,000 buyers per year defect from the automaker, looking for a two-row, five-seat midsize SUV.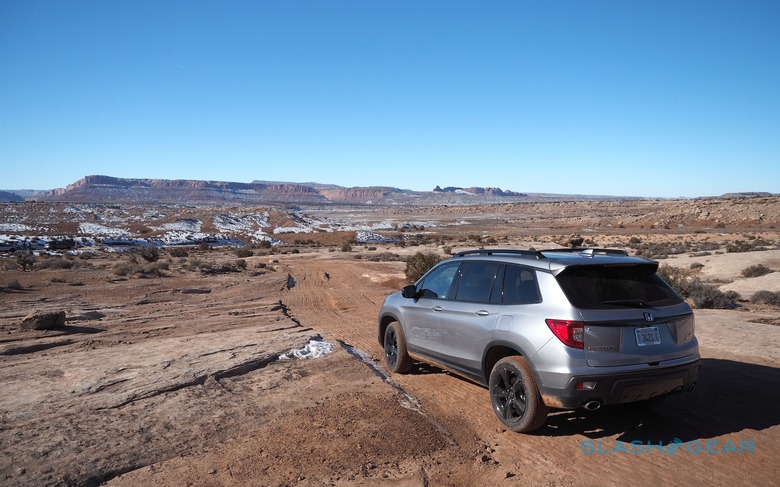 Now, they have a Honda to choose instead.
It's been an astonishing fifteen years since the automaker had a car in this segment, and it's fair to say that things have changed plenty in that time. SUVs are now expected to be refined, to drive like the sedans whose sales they've cannibalized so effectively, to offer imaginative storage along with the comfort and safety technology families demand. At the same time, though, they can't be boring, or remind us too much of – whisper it – minivans, even if that's really how we use them.
To avoid such accusations, the 2019 Passport goes butch. Based on the same platform as the Pilot, it's 6.2-inches shorter and almost an inch higher in its ride height. A wider track and wider tires give the SUV a broader, more planted stance, while bigger approach, breakover, and departure angles – 21.4-, 17.3-, and 27.7-degrees respectively – give the Passport more flexibility off-road.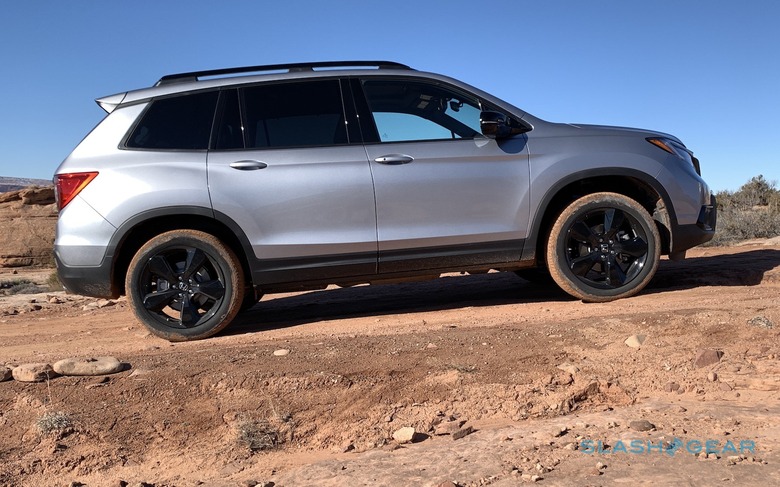 It looks tougher than the Pilot, too. Beefier and more purposeful. 20-inch wheels are standard regardless of trim, framed with black cladding that extends to the lower fascia front and rear. The front-end styling is distinct, too, with bold LED headlamps in a sizable black grille. Up-close, the chainlink-styled mesh looks a little plasticky, but from across the mountain plains the whole effect leaves the Passport as though wearing sports goggles.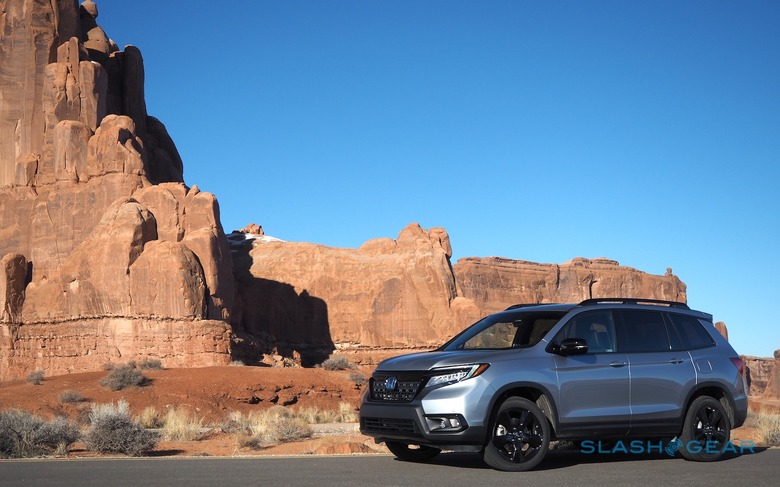 Or, more likely, viewed across the parking lot. Honda says it built the SUV for adventurers and off-roaders, but the reality is that the furthest most drivers will get into the rough is jumping a curb or towing a horse box down a muddy path. Handily, then, the Passport is built for just such eventualities.
There's a front-wheel drive version, but Honda glosses over that: it was conspicuous by its absence on our drive. Instead the automaker would much rather talk about the Passport AWD, which pairs a 3.5-liter V6 engine with i-VTM4 all-wheel drive and a 9-speed automatic transmission. A 5,000 pound tow rating matches the 4Runner, comfortably out-drags the Edge and Blazer, and is only bested by the Grand Cherokee V6.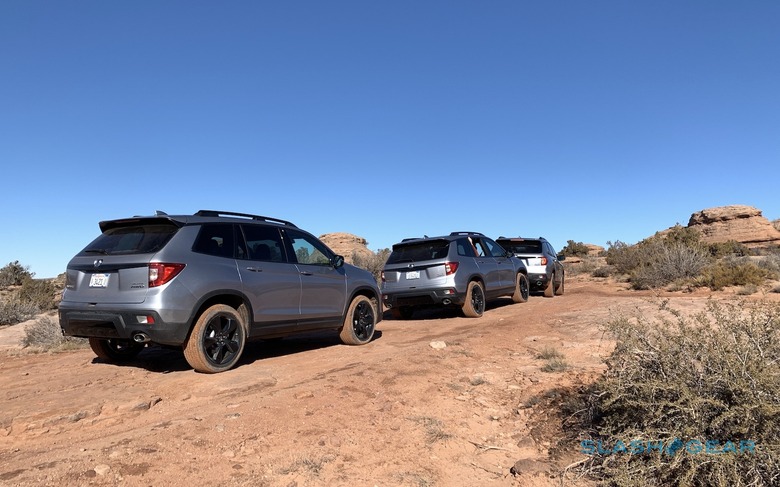 The AWD system offers torque vectoring: true torque vectoring, that is, not the brake-based system most rivals use, which saps overall power in the name of directing it to the wheel with most traction. Instead, the Passport can push up to 70-percent of its power to the rear wheels, and then up to 100-percent of that power to either side. The exact proportions depend on drive mode – AWD cars get Snow, Sand, and Mud options, along with Normal and Sport – and where the grip is.
Honda's test route was no Baja rally, but certainly more than most Passport owners would consider tackling. Mud, snow, rocks and gravel, and some packed sand in varying combinations, along with twisting inclines that saw us balanced on three wheels at times. 280 horsepower and 262 lb-ft of torque were more than sufficient, particularly when the track surface got skittish and the Passport's rear end could be provoked into some entertaining – but readily controlled – sliding.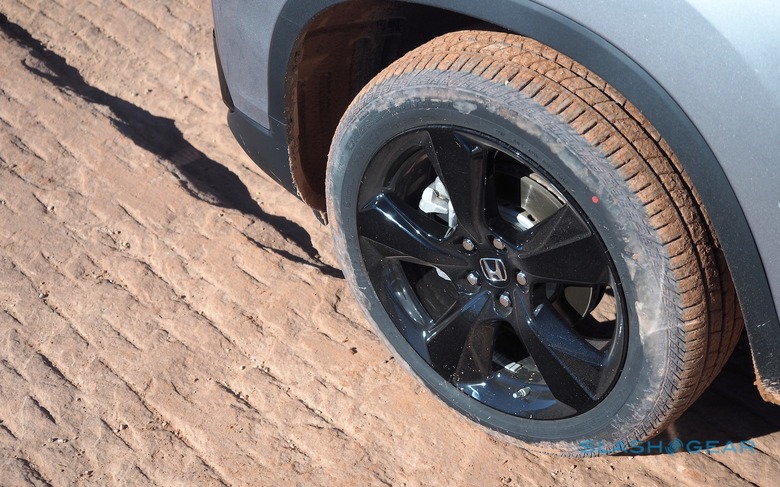 On the road, though, things are far more Pilot-like. The Passport is quiet, its cabin spacious front and rear. Honda quotes 19 mpg in the city, 24 mpg on the highway, and 21 mpg combined for the AWD model; settle for the 2WD and those numbers climb to 20/25/22 respectively. The brake pedal has been tweaked over the 3-row SUV, for what Honda says should be a more responsive feel, though it's still on the soft side. Better is the quicker ratio for the steering.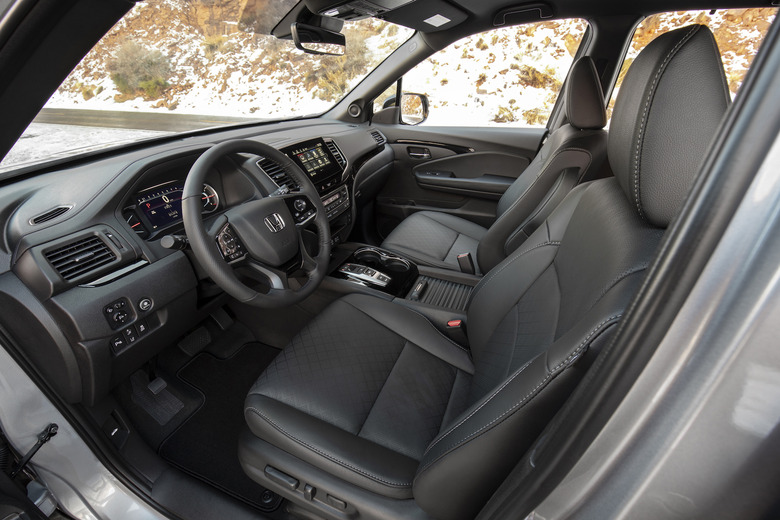 Honda's cabin is well designed and the touch-points punch above the sticker price. Tri-zone climate control, a power-adjustable driver's seat, and smart entry and start are standard across the range; all but the entry-level Sport trim gets a large touchscreen infotainment system with Apple CarPlay and Android Auto. Leather trim is standard on the EX-L and above; the Touring adds navigation, ambient lighting, heated rear seats, parking sensors, and a power tailgate. In the top Elite trim there are ventilated front seats, a heated steering wheel, wireless phone charging, and AWD as standard.
Better still, Honda Sensing is included on every trim, including the base Passport Sport 2WD from $33,035 (including destination). Honda's package of collision mitigation braking, lane keeping assistance, lane departure warnings with road departure mitigation, and adaptive cruise control won't cost you any more to add, and the automaker is expecting them to help the SUV get a 5-star NHTSA NCAP rating and the coveted IIHS Top Safety Pick. EX-L trim and above get blind-spot warnings, too.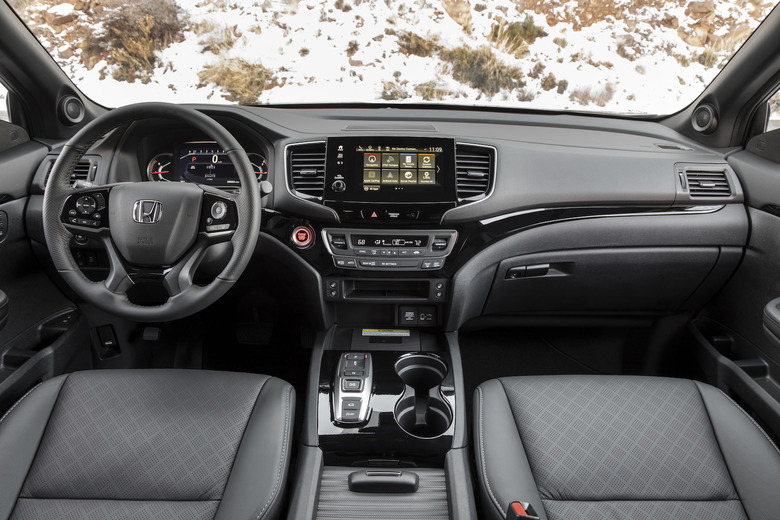 With safety such a bright spot, then, it's a shame that the whole cabin is needlessly dark and sober. The seats are offered in black or gray, while the dashboard is monolithic in its slabs of black in various textures. I wish Honda had reconsidered the gloss black plastic – it's a magnet for dust and fingerprints – and borrowed some of the lighter, open-pore wood it used to such good effect in the Clarity recently. The tiny sunroof, included on EX-L trim and above, is an odd throwback to a decade ago when panoramic glass roofs were still rare.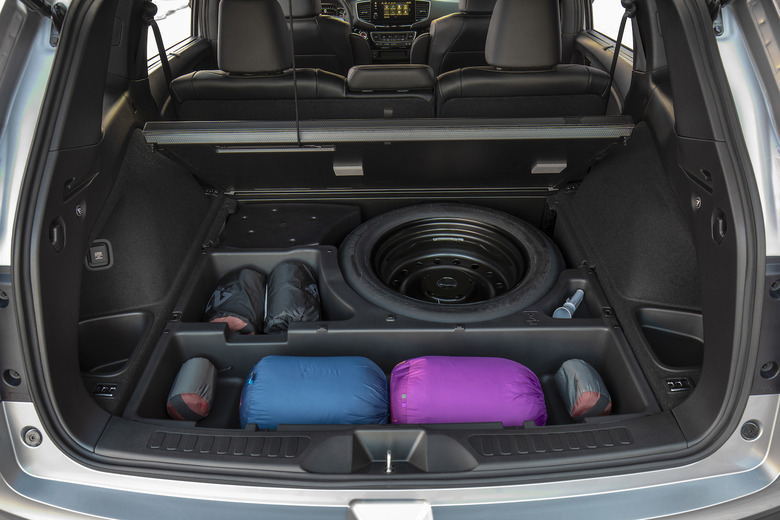 Perhaps Honda's designers were too busy thinking about storage, somewhere the Passport really does shine. There's 41.2 cubic feet of space in the trunk, rising to almost 78 cu.ft if you drop the 60/40 split rear seats with the convenient push-button release. Lift the trunk floor, meanwhile, and courtesy of some spare wheel repositioning there's a useful 2.5 cu.ft more space, divided between two removable plastic bins. Never mind a passport: you'll probably need a map to remember where all of your stuff ended up stowed in all the SUV's bins, nooks, and cubbies.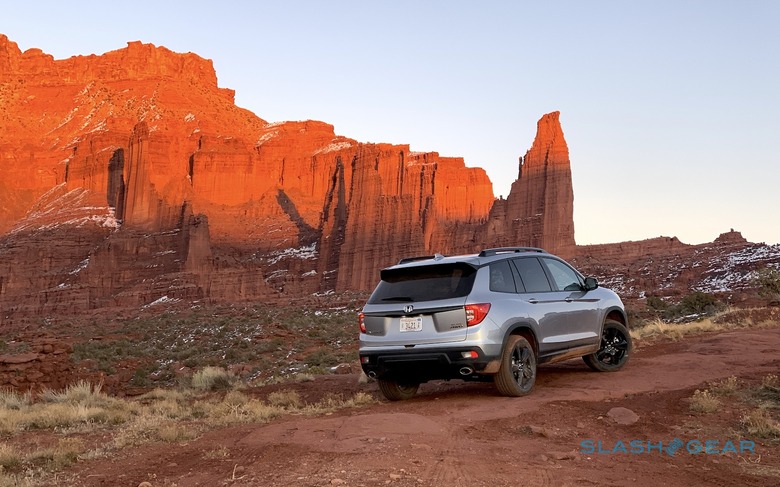 Practicality really is the key here, and while the Passport may look tougher and more rugged than the average Honda, the engineers and designers made sure it didn't fall too far from the family tree. That's only a good thing, really, as is the competitive pricing. The 2019 Passport EX-L starts at $37,455 (2WD) or $39,355 (AWD) with destination; the Touring is $40,325 (2WD) or $42,225 (AWD); the single Passport Elite AWD trim is $44,725.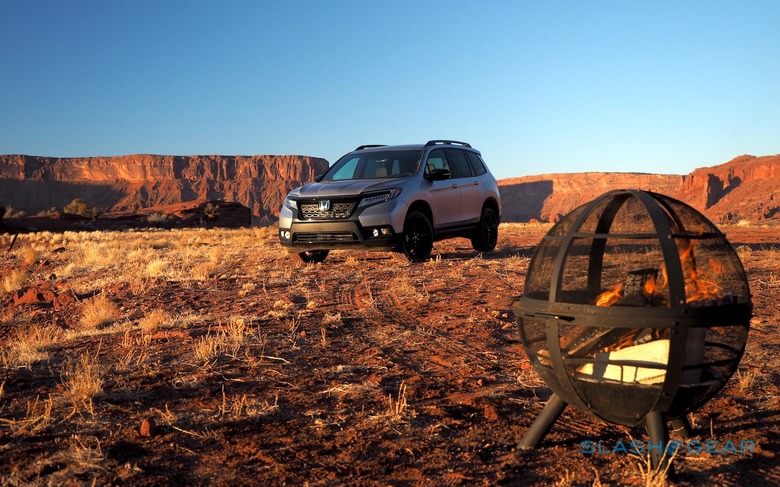 Honda needed a 5-seat mid-CUV. It could've taken the easy route, dropped the third row from the Pilot, and called it a day. Instead, the 2019 Passport stands apart from its bigger brother, a little more dynamic and a little more aggressive, though without sacrificing on practicality or safety. It's hard to imagine that not being a winning combination when the Passport arrives at dealerships from February 4, 2019.