2019 Honda Insight first drive: 55mpg without the hybrid hype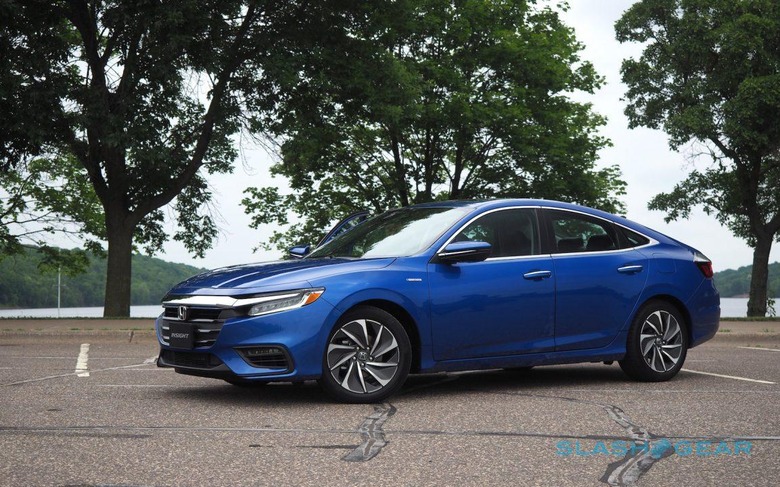 Sometimes you just have to grow up and, when it comes to hybrid cars, you'll struggle to find a better example of that than the 2019 Honda Insight. The third generation of vehicle to bear the Insight name, Honda's latest gas-electric option consciously avoids an ostentatious display of its green credentials, in favor of something that uses hybrid tech as a means to an end instead.
The car may have grown up, but the pricing hasn't. The entry-level 2019 Insight LX starts at $22,830 (plus $895 destination), while the Insight EX is from $24,060. The 2019 Insight Touring is $28,090. They're competitive prices, and not just for a hybrid in this category.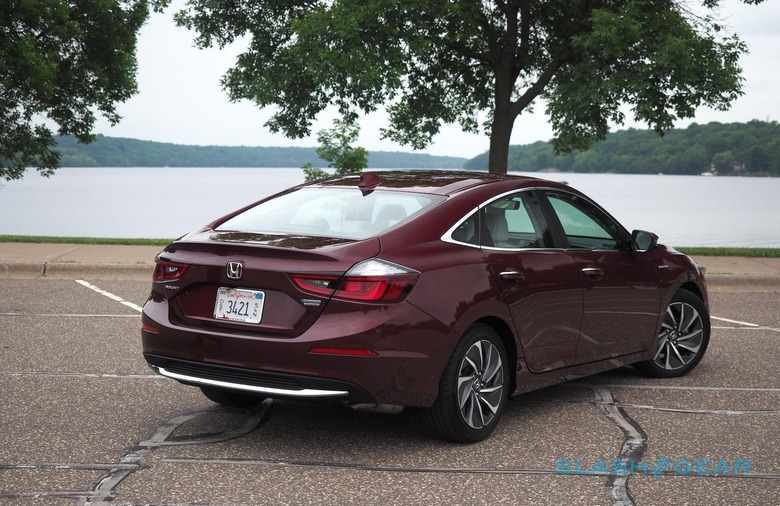 That's also a reminder that, while the auto industry overall may not see sedans as especially fashionable right now, for Honda it's a different story. While its automaker counterparts may be enchanted by crossovers and SUVs, compact sedans are Honda's third-largest segment in the US. Indeed, it's on track to sell 680,000 such cars this year alone.
Though the shape may be traditional, Honda's vision for propulsion is anything but. Having committed to having two-thirds of its global auto sales – both cars and light trucks – being electrified in some way by 2030, it needs to coax more drivers into hybrids and, eventually, all-electric cars. That's where the 2019 Insight comes in.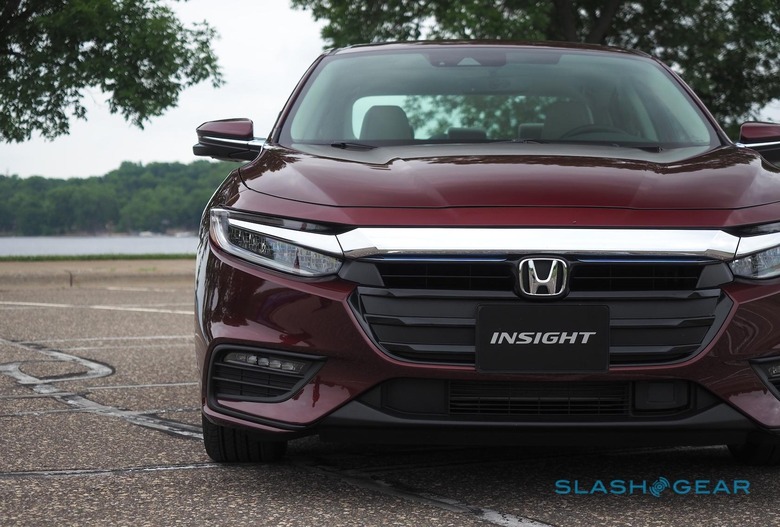 It doesn't look like a hybrid, and that's intentional. Honda would be fine if you forgot it was gas-electric altogether. Heck, even the "Hybrid" badges on the sides are only held on with glue: a few minutes with a hairdryer and you could probably pluck them off.
That's a long way from the original Insight in 1999, when America's first hybrid did 70 mpg and looked like a competitor in Wacky Races. That car wore its electrification on its sleeve; the new Insight just looks like a striking compact four-door. It's a sedan that just so happens to get great economy.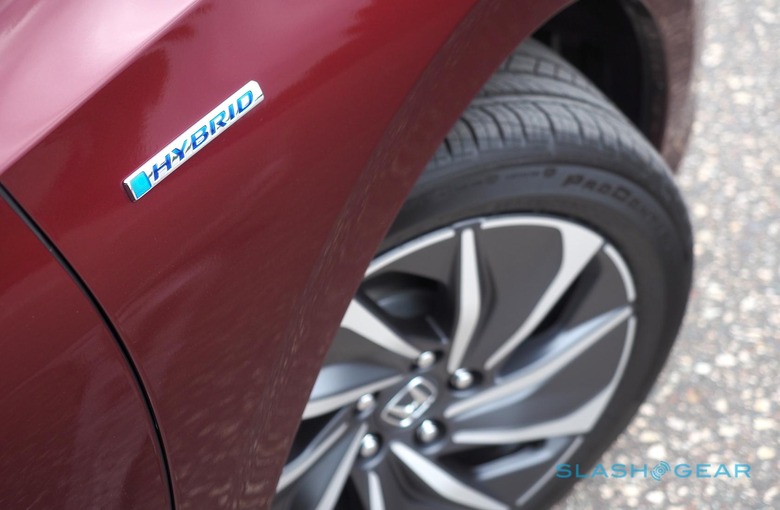 55 mpg alone wouldn't be enough, however. Most drivers, Honda readily admits, don't buy a car based on just fuel economy. Instead the new Insight needed to stand apart on its own merits. Take advantage of what made the tenth generation Civic such a success, but borrow liberally from more expensive cars in Honda's line-up.
On the outside, that means a three-box shape where most rival hybrids – think Toyota Prius and Hyundai Ioniq Blue – are hatchbacks. The Insight uses the Civic's platform as its foundation, but all the exterior sheet metal, bar the roof skin and rear quarter panel, are new. Exaggerated fenders and full-width elements front and rear like the striking chrome bar across the grille help emphasize its stance.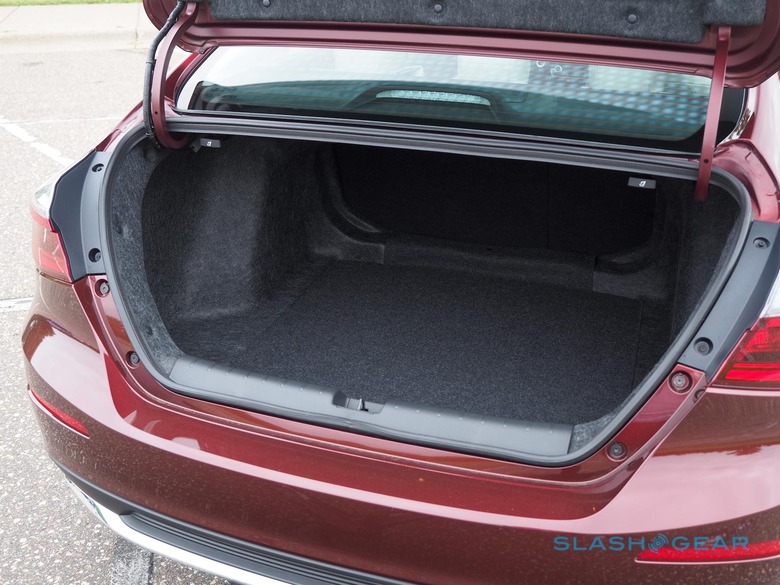 At almost 184 inches long and almost 72 inches wide it's still a fairly small car, but it doesn't look that way. Honda's detailing is a cut above, too: the full LED lighting front and rear, for example. The packaging is clever, too. By putting the battery – or, as Honda calls it, the "Intelligent Power Unit," or IPU – under the rear seats, it leaves the Insight with the same 15.1 cubic feet of trunk space as a Civic gets, along with a 60/40 split rear seat on higher trims.
That's courtesy of Honda's 2-Motor Hybrid System, now in its third generation, and specifically the fact that the battery pack is physically smaller than before. Where Honda used a 2.0-liter gas engine in the Accord Hybrid, the Insight gets a 1.5-liter gas engine. Both rely on the Atkinson cycle for greater efficiency, and the Insight's has an incredible 40.5-percent thermal efficiency.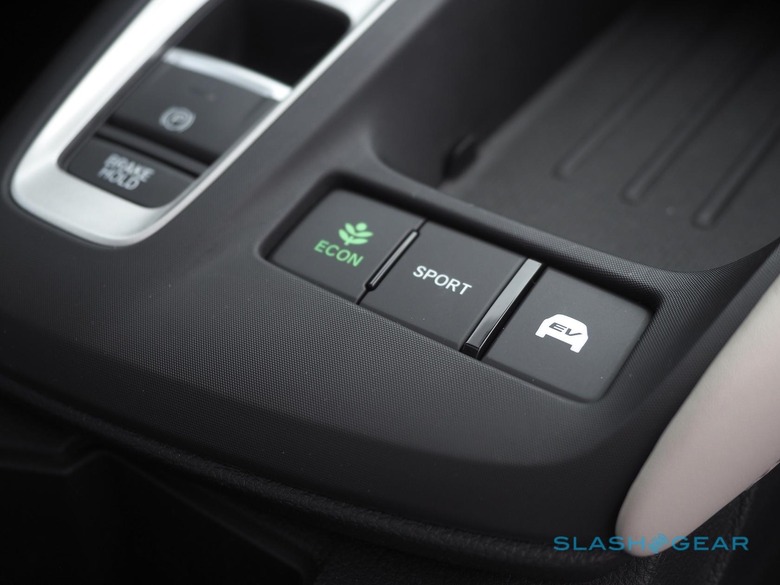 It's a fairly complex drivetrain as hybrids go, though little of that is presented to the driver. In EV mode, the lock-up clutch connecting the gas engine to the wheels disconnects, and the battery drives the electric motor. When the gas engine kicks in, it can both drive the electric motor as a generator, or directly recouple with the wheels and spin them directly.
This isn't really a car designed for all-electric driving, at least not for any meaningful distance. There's an EV mode button which, in theory, locks the Insight into battery power alone, but you're looking at about a mile of driving like that at most. That's assuming you can keep EV mode from deactivating, too: push the gas pedal more than a fraction, and the rest of the powertrain kicks back in.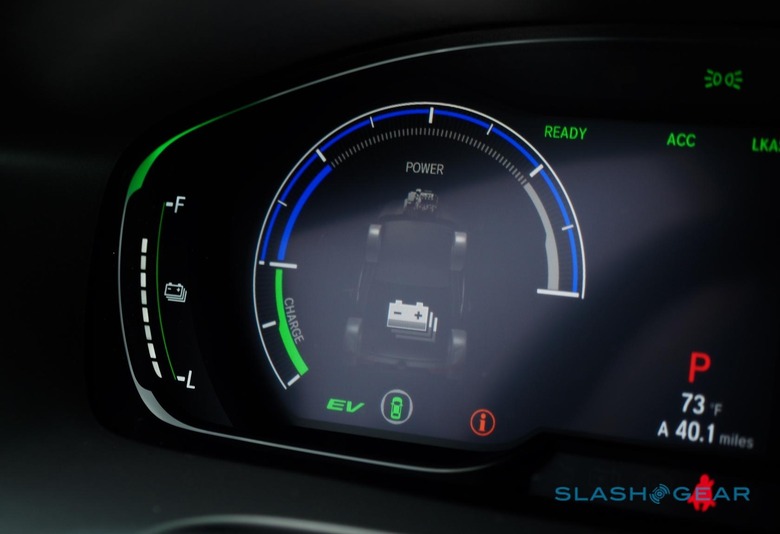 If you want completely zero-emission driving, Honda points out, you'll go for a plug-in hybrid or something along those lines. The Insight is all about economy without really having to think about it. In the Normal drive mode, the 151 horsepower and 197 lb-ft of torque are plenty for everyday puttering. The low-friction tires spoil the fun when the corners get more twisty, and in Sport mode there's a somewhat frenetic note to the Continuously Variable Transmission (CVT) that doesn't really match your pace.
The sudden glut of torque when you first pull away that other hybrids offer – I'm looking at you, Prius – is absent in the Insight, too, with Honda arguing that it doesn't need to give the fake impression of power when it's got the strongest drivetrain in the class. If you're a fan of that instant perkiness you'll miss it, though it leaves the Insight feeling much more like a traditional gasoline car. In contrast, cruising in the Prius was noisier, whereas the Insight did a much better job at mimicking its more refined Accord sibling.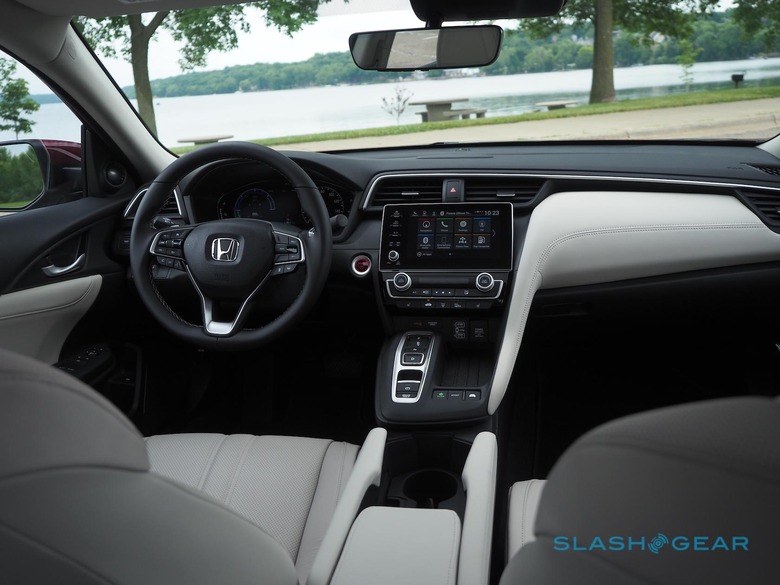 I far prefer Honda's cabin to Toyota's, too. The automaker showed with the Clarity that it could make a top-notch interior in what's still an affordable car, and that refinement has translated down the range into the 2019 Insight.
Soft-touch materials abound, along with real stitching on the dashboard and door trim. The entry-level LX makes do with a 5-inch display and a six speaker audio system, but you really want at least the EX with its 8-inch Display Audio infotainment system and eight speakers. That grabs the newest software from the Odyssey and Accord, with Android Auto and Apple CarPlay support. On the Touring trim you get two extra speakers plus HondaLink, with a 4G LTE hotspot and remote app control, in addition to leather trim, heated front seats, and dual-zone climate control.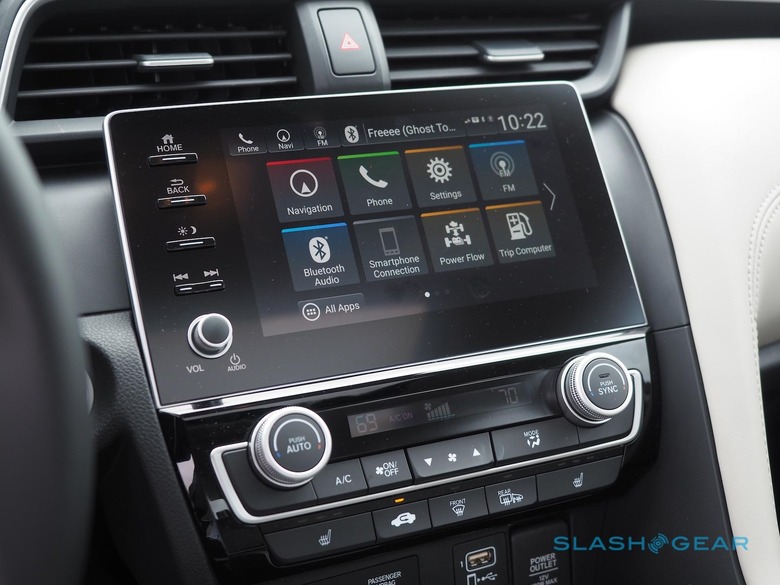 Everything is laid out intuitively, with physical buttons for the HVAC – and an actual knob for the volume, praise be – along with easily-accessed USB ports. There's a neat little tray for your phone, sized to fit up to an iPhone 8 Plus; Qi wireless charging is an option. The analog speedo sits alongside a 7-inch color display that can show navigation instructions, what's driving the wheels at any point in time, or trip information.
The clicky, shiny buttons from the Civic's steering wheel have been supplanted by a far more premium-feeling set of controls. Behind the wheel are paddles, but not for changing gears. Instead, they control power regen on the fly, allowing you to adjust how aggressively the Insight tops up the battery – and in the process how rapidly you slow down – when you lift your foot off the gas. Neat, but it resets to the default when you next hit the accelerator, which seems odd to me. I far prefer Chevrolet's pull-to-regen paddle system on the Volt and Bolt EV.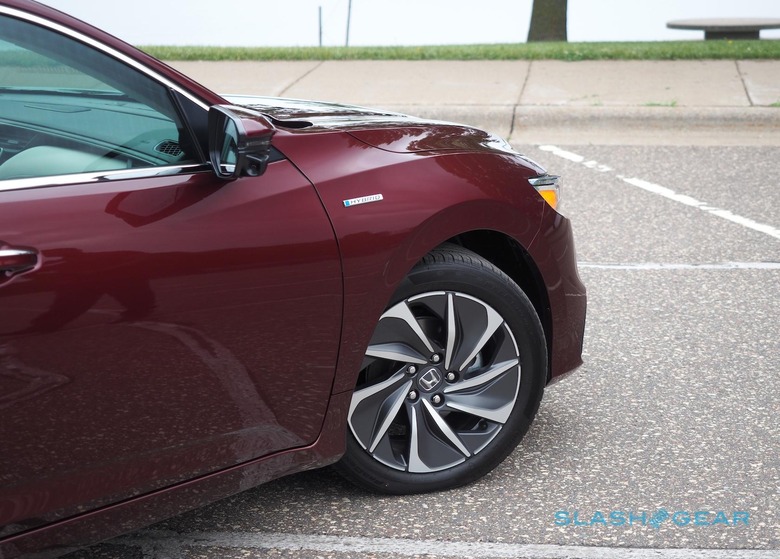 Honda Sensing, the automaker's suite of driver assistance technologies, comes standard across every Insight. That includes adaptive cruise control, lane-keeping assistance and road-departure mitigation, collision mitigation braking, and traffic sign recognition. Oddly, though, there's no blind spot monitoring and no option to add it. Instead, you get LaneWatch – which beams a live video from the right side mirror to the dashboard display when you indicate – on the EX and Touring trims. It's useful, but I'd much prefer regular blind spot warnings.
They're small blips on what's otherwise an impressively well-rounded compact sedan. The Insight's 55 mpg in the city, 49 mpg on the highway, and 52 mpg combined in LX and EX form, or 51 mpg in the city, 45 mpg on the highway, and 48 mpg combined for the Touring, may be the EPA numbers, but they're also oddly achievable. Honda may not quite have the best economy numbers in the Insight's class, but there's less hair-shirt suffering involved in actually achieving them.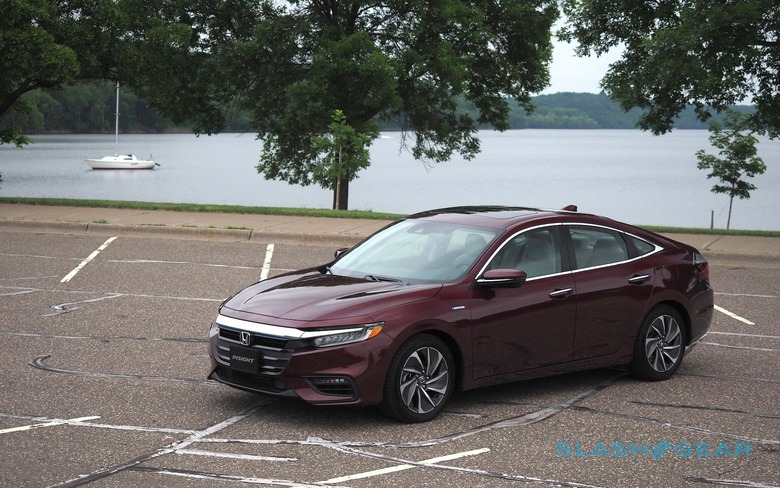 That's also part of the answer to one of the most common questions after the 2019 Insight was first revealed: "why make another hybrid?" Turns out, we're thinking about this all the wrong way; asking why another car needs to be electrified, whereas Honda is asking why even more of its models can't benefit from batteries in some form.
Just as the automaker isn't playing up the Insight's hybrid nature, neither is the intended audience meant to be existing green converts. Think instead potential Civic buyers wanting more better economy and a all-round classier experience, only without the size or price tag of an Accord Hybrid. On that front the 2019 Insight succeeds admirably, with just enough of the quirk to earn it the name-badge.