2019 Corvette ZR1 pricing announced with 755hp ZR1 Convertible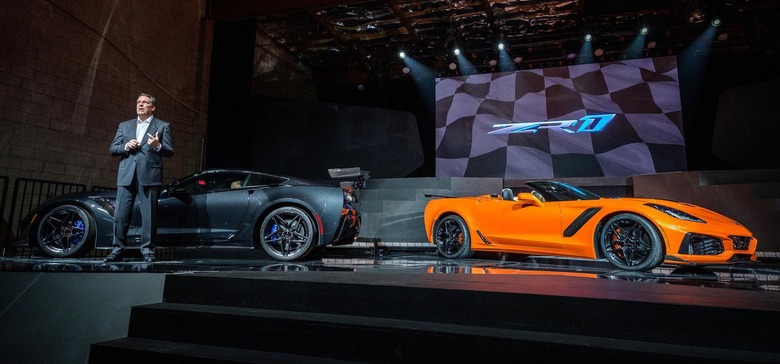 How much will 755 horsepower of all-American Corvette madness set you back? Now we know, with Chevrolet slapping a price tag on the new Corvette ZR1, and giving it a shiny new, topless sibling in the shape of the similarly-ridiculously-powerful Corvette ZR1 Convertible.
Chevy pulled the wraps off the Corvette ZR1 earlier in November, and it's quite the car. A new LT5 supercharged engine comes in at 6.2-liters, and will be exclusive to the ZR1 Coupe and ZR1 Convertible. It packs a body-slamming 715 lb-ft. of torque, and introduces a brand new dual-fuel-injection system never before seen on a GM vehicle.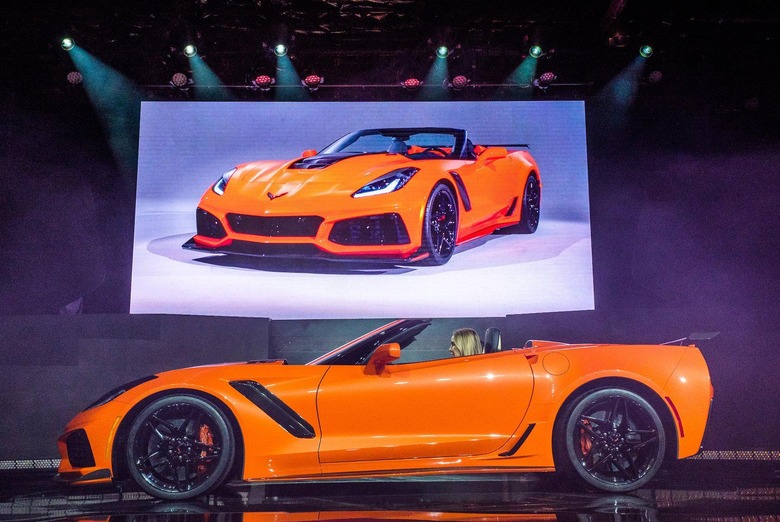 The result is 212 mph, according to Chevrolet's figures, for the ZR1 Coupe. 0-60 mph comes in under 3.0 seconds, with final numbers still to come. The quarter mile arrives somewhere in the "high 10-second range" the automaker teases.
Our big question – indeed, everybody's big question – after hearing all these figures was simple: just how much could Chevrolet justify charging for a Corvette. Now, we know.
The 2019 Corvette ZR1 Coupe will start from $119,995, including destination, with a seven-speed manual transmission. A paddle-shift eight-speed automatic – required if you want to hit the speediest 0-60 time – will be an option. It'll come as standard with the Low Wing package, with which the maximum top speed is possible.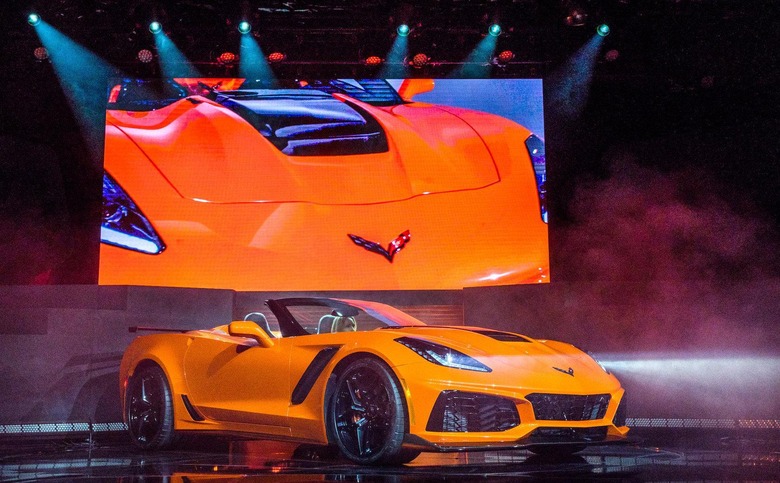 However, $2,995 gets you the ZTK Performance Package. That includes the adjustable High Wing for added downforce on the track. It also throws in Michelin Pilot Sport Cup 2 tires, special tuning for the chassis and Magnetic Ride Control that's standard on the car, and a new front splitter with carbon-fiber end caps. It's all about extra grip though, even if the top speed is slightly lower than with the Low Wing, Chevy promises it'll still exceed 200 mph.
As for the new 2019 Corvette ZRT Convertible, that'll start at $123,995, also including destination. It has the same engine and aero package options; indeed, the only real difference is the folding top and the repositioned seat-belt mounts. It's a fabric roof, power-operated at speeds up to 30 mph, or lowered remotely from the key fob.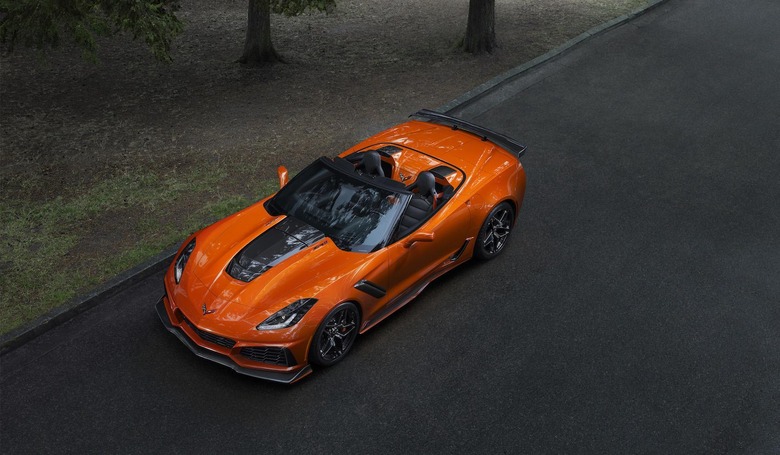 Since you might be wondering, added weight is under 60 pounds between the Coupe and the Convertible. That's mostly down to the folding roof mechanism, since Chevrolet says it designed the car in general to accommodate both body styles so it didn't need to factor in extra stiffening. Top speed is still in excess of 200 mph.
MORE 5 facts about Chevy's new ZR1 supercar
Both will have a particularly distinctive voice. Chevrolet has used a new exhaust system, which it says the most aggressive-sounding of any production Corvette. It has four sound levels – Stealth, Tour, Sport, and Track – ranging from "not quite neighbor infuriating" through to "full on track-day howl".
The ZR1 is set to arrive in Chevy dealerships in the spring of 2018.