2019 BMW Z4 sDrive30i Review: The surprising benefits of restraint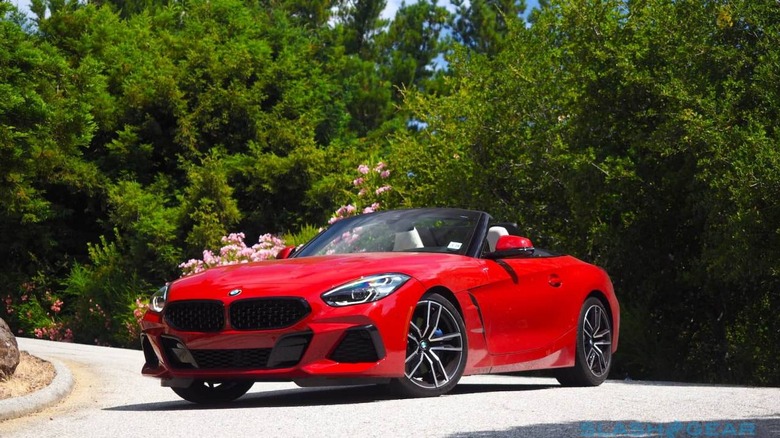 EDITORS' RATING: 8/10
A bright red German sports convertible may not be the most obvious example of why restraint is in vogue right now, but the 2019 BMW Z4 sDrive30i would like to challenge your conceptions on excess. The entry-level roadster in BMW's line-up, its $50k price tag comes courtesy of a 2.0-liter engine rather than the six-cylinder you might think you need.
It's easy to get carried away when you're playing spec sheet bingo. The Z4 sDrive30i's 2.0-liter TwinPower Turbo inline-6 makes 255 horsepower and 295 lb-ft of torque. It'll do 0-60 mph in 5.2 second, and has a top speed of 155 mph.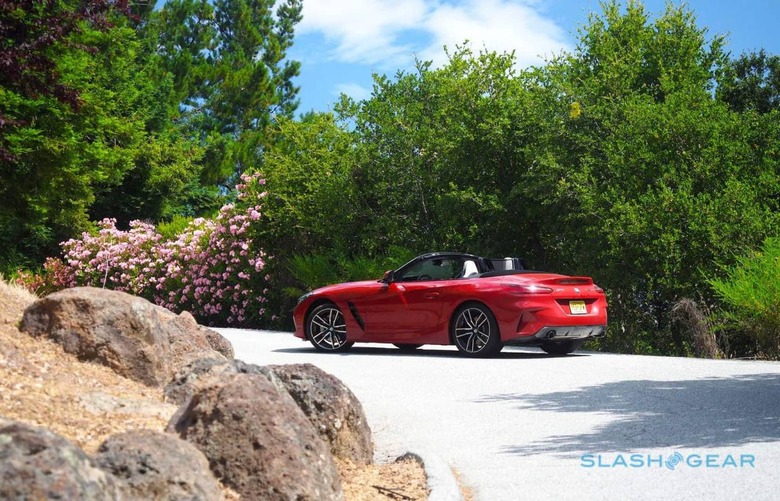 The 2019 Z4 M40i, however, packs 382 hp from its 3.0-liter twin-turbocharged inline-6, and 368 lb-ft of torque. It trims the 0-60 dash to 3.9 seconds. On paper, and on messageboards across the land, the M40i is The Best and the humble sDrive30i is A Total Loser, Duh. Open your checkbook and make the obvious decision.
Except no, put your checkbook away, or at least sit on it until I've had a chance to whisper sweet four-cylinder nothings into your ear. There are some excellent reasons why you might want to pick the cheaper Z4 intentionally, rather than simply because it's cheaper.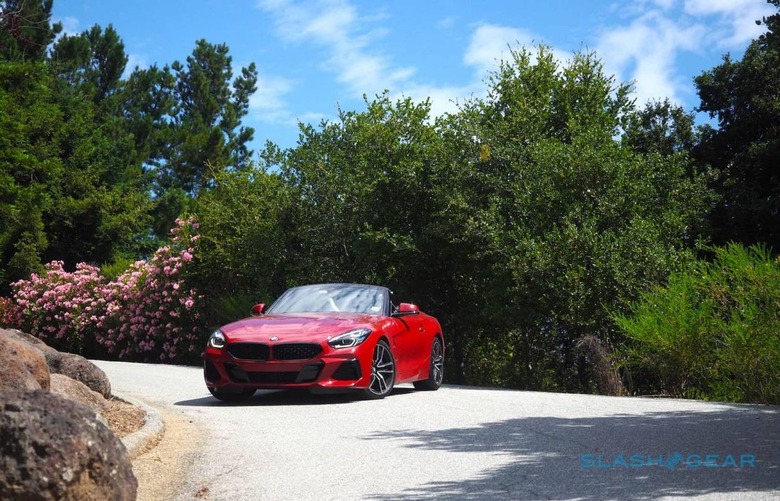 For a start the four-cylinder is lighter, cutting 156 pounds from the front of the rear-wheel drive car. Peak torque may be lower than in the M40i, but it arrives sooner – from 1,500 rpm versus 1,850 rpm – and the band is wider. At 5,000 rpm, peak horsepower arrives 500 rpm sooner, too.
The result is a car that feels punchy and eager, helped by an eight-speed dual-clutch automatic transmission that isn't slow to drop a gear or two and keep the engine in its sweet spot. Sport and Sport+ mode bubble and fizz with just the right soundtrack, the Z4 spritely and neatly balanced. BMW put in the time to ensure a 50:50 weight balance, but it's the perfect heft of the steering wheel and the communication through the 19-inch wheels that you notice day to day.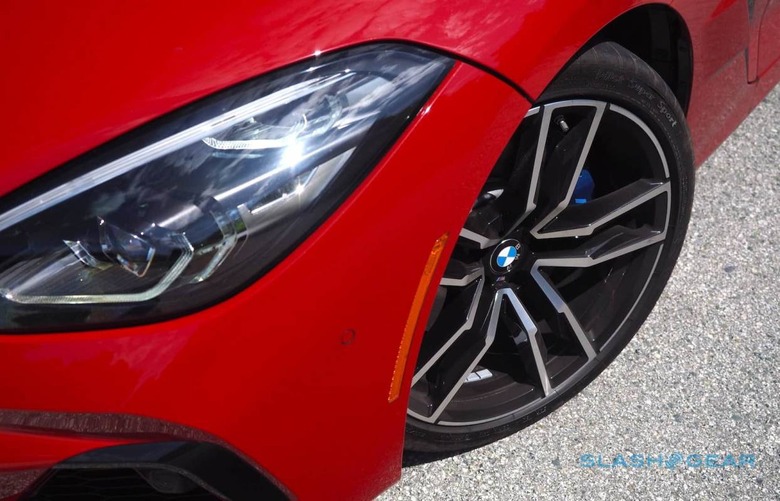 That's not to say it can't chomp through the miles as an easy everyday droptop, too. The Z4 sits happily in Adaptive mode, not quite as squishy as Comfort but without the sometimes frenetic urgency of the Sport modes. A dip of the right pedal is enough to have you zipping ahead for overtaking or to make the most of a gap in traffic, without either deafening you or forcing you to wait for the engine to catch up.
Inside, the Z4 isn't exactly spacious, but the compact cabin is nicely laid out. The seats are comfortable and supportive, while the metal and plastics on the dashboard are strikingly similar to what you'd be touching in a far more expensive 8 Series.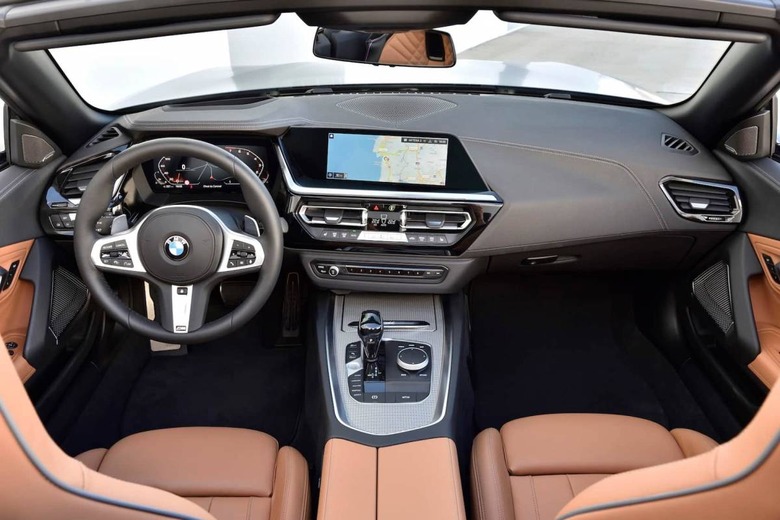 BMW's iDrive 7 infotainment system combines a 12.3-inch digital instrumentation cluster with a 10.25-inch touchscreen atop the center console. The Z4 strikes a welcome balance between having enough dedicated controls to be easily accessed while you're on the move – I like having individual buttons for each drive mode, for example, rather than having to cycle through them with a single button – without feeling too cluttered. There's a large iDrive controller dial in the transmission tunnel, but the touchscreen is so close at hand that it's much easier to reach out and tap or swipe that.
The $49,700 starting price is aggressive, though the $995 destination does nudge it past the $50k mark, and as always BMW's options list can quickly send things spiraling. With the $2,950 M Sport package, $1,600 Premium Package, $2,500 Executive Package, and $2,450 Track Handling Package on this particular review car, as well as the $550 paint, $600 wheels, $700 Adaptive M Suspension, and a few other add-ons, you're looking at $63,845 in total.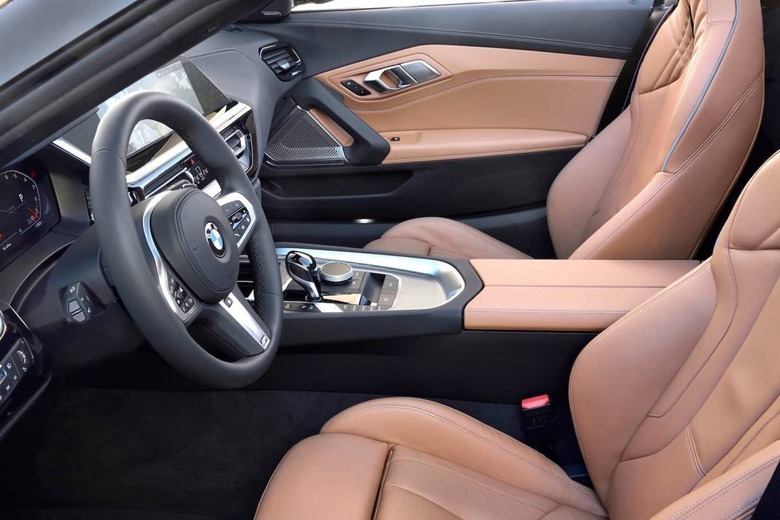 That's notable, because the Z4 sDrive M40i with its 3.0-liter inline-6 starts at $63,700 before destination. Of course, step up to the larger engine and you find yourself on a new treadmill of options and extras.
Were it my money, and seeing as we're on this new abstinence kick, you and I, I'd be sparing in my selections. I'd keep the Adaptive M Suspension and the Track Handling Package, for how nicely they massage the dynamics of the car, and then decide whether I felt I deserved the Premium Package. That includes heated front seats, a head-up display, and wireless charging, all of which I used on a daily basis. Wireless CarPlay, for instance, only really makes sense when you also have wireless phone charging too.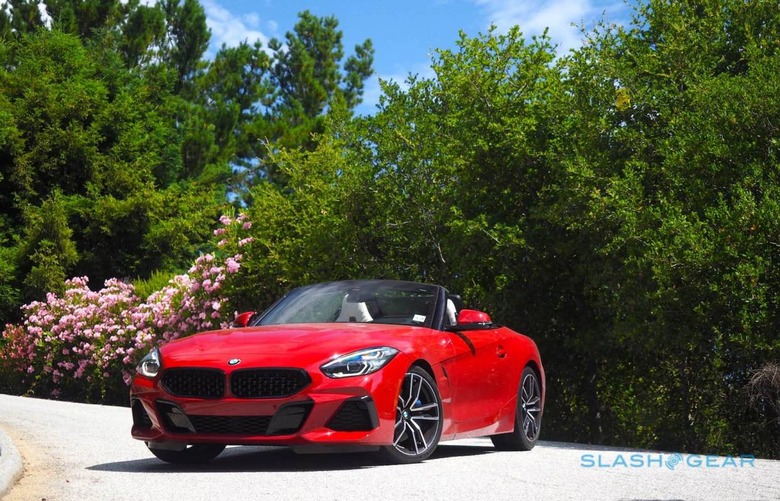 That would bring the Z4 to $55,445 including destination. If you really want to throw a wrench in the works, you might want to consider cross-shopping with the 2020 Toyota Supra. That comes with a version of BMW's 3.0-liter twin-turbo, so has more power than the Z4 sDrive30i, and starts from $50,920. You don't get the convertible roof, which peels the top off the BMW in around 30 seconds, but the trunk is more spacious. Still, I suspect Toyota's design is more controversial than that of the Z4.
Look, don't get me wrong. The Z4 M40i is a great car, and I'll seldom argue with more horses under the hood. What the 2019 BMW X4 sDrive30i proves is that there's more than one route to engaging, entertaining motoring. If only all austerity drives were so fun.