2019 Audi Q3 USA-spec first drive: Loyalty pledge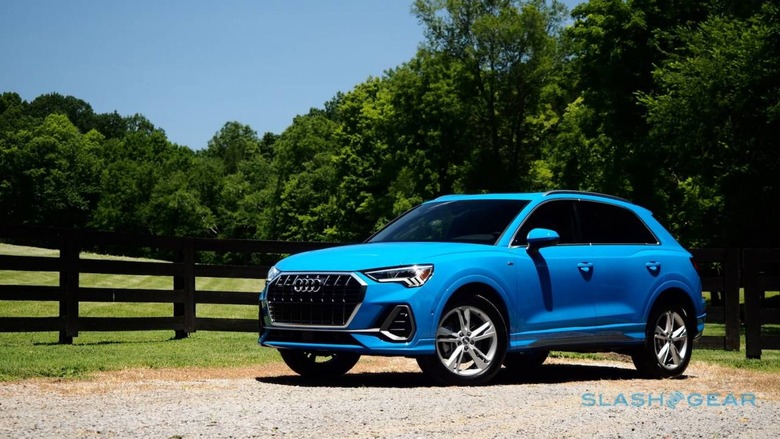 Audi's strategy with the 2019 Q3 SUV may be simple, but it's playing the long game. Give owners a taste of that sweet four-rings goodness, get them hooked, and then turn them into lifelong Audi fans. The compact luxury crossover category represents rich pickings, too, if you can get those first impressions just right.
Not only is it the fastest growing major premium segment, but buyers picking up an entry premium SUV overwhelmingly come from non-premium vehicles. They've got plenty to choose from, too, with BMW, Mercedes, Lexus, and others all eyeing a new generation of drivers and hoping to make them brand-loyalists. To succeed you need a small SUV that's not just good, but excellent.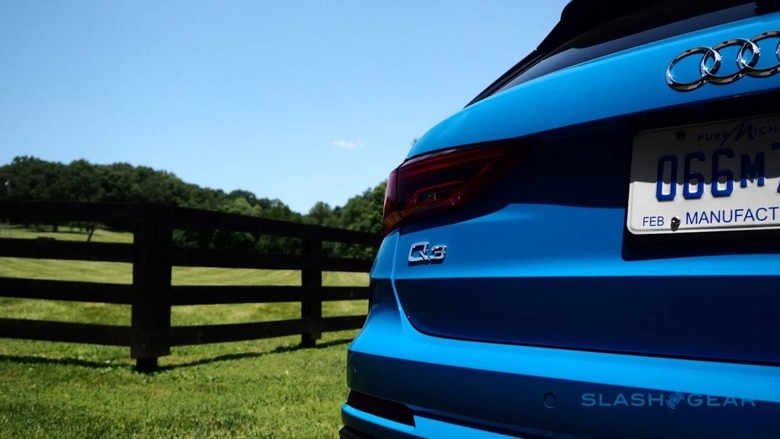 It's fair to say that the old Q3 couldn't really be described that way. Too small, too staid, not flexible enough in the cabin or in the trunk, and lagging in driving refinement and comfort, it was also looking pretty drab when it came to technology in comparison to the rest of Audi's line-up. That simply wasn't good enough and so, eleven long months after we drove the new Q3 in European-spec, its US-bound cousin has arrived to right those wrongs.
Pricing is aggressive. The 2019 Q3 Quattro Premium starts at $34,700 (plus $995 destination) with 18-inch wheels, while the 2019 Q3 S line Quattro Premium starts at $36,000 (plus destination). The latter comes with 19-inch wheels as standard and an S line exterior package, with 20-inch alloys and a Sport interior package optional.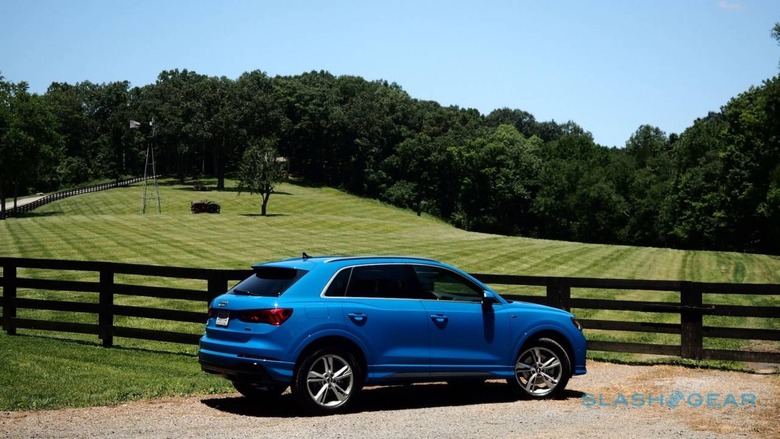 It's a handsome SUV, larger in all respects than its predecessor, while Audi's oversized detailing like the sizable "Singleframe" grille leaves the Q3 looking even more akin to the Q5 in overall scale. The most important growth is in the length, where the vast majority of the 3.8-inch increase has gone into the wheelbase. It pays particular dividends for rear seat space, where legroom is up along with more head and shoulder space.
Compared to the outgoing Q3, the 2019 update is crisper and a little more memorable. It also looks more serious and premium than the segment might suggest. There's even a hint of Bentley Bentayga from the rear three-quarters, at least to my eyes, with Audi's beefy Quattro-highlighting fenders leaving the Q3 pleasingly muscular.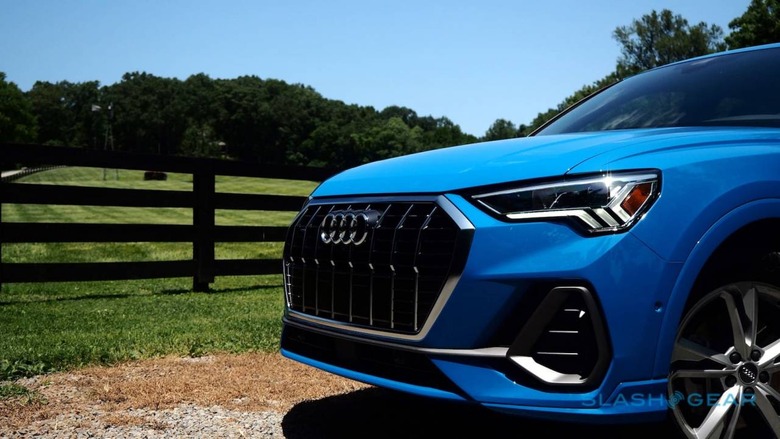 Under the hood is a familiar engine, Audi's 2.0-liter TFSI turbo with 228 horsepower and 258 lb-ft of torque. With 28 hp and 51 lb-ft more than the old model, 0-60 mph arrives 1.2 seconds faster, at 7.0 seconds, while Audi says you should get 19 mpg in the city and 27 mpg on the highway. More important, I'd say, is that Quattro all-wheel drive is standard: BMW, Mercedes, and Volvo will charge you as much as $3k extra for that on their rival compact crossovers.
Perkier it may be, but the 2019 Q3 won't confuse anybody into thinking it's a sporting car. Unlike the 7-speed S tronic that the European version of the Q3 gets, the US skips the dual-clutch transmission in favor of an 8-speed automatic with a torque converter. Like the steel suspension it's been dialed in to suit American tastes, but I'm hoping Audi's engineers have time for some last-minute tweaks as jerky downshifting spoils what would otherwise be a great long-distance road trip car in Comfort mode.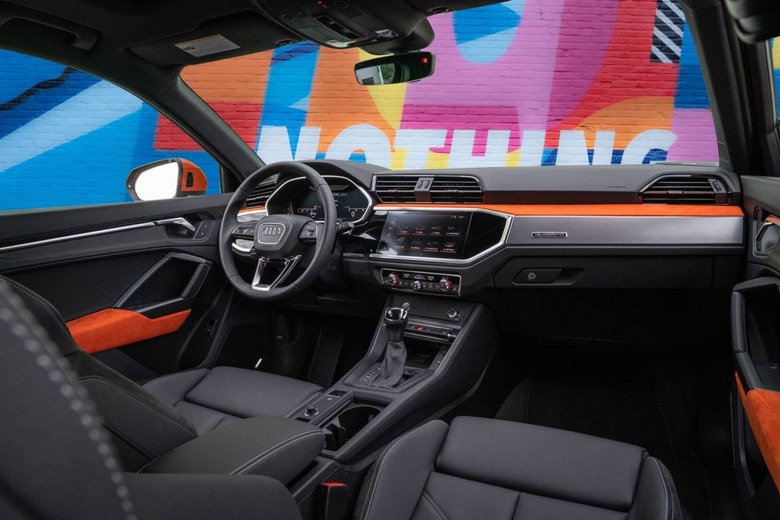 There's no air suspension option, and not even adaptive dampers despite the Euro-spec car offering them, and that leaves Dynamic mode a little underwhelming. Shifts are more aggressive, and the steering feels a little tighter, but the Q3's soft ride doesn't really encourage you to push hard. Just to really hammer home what we're missing out on, Audi says it has no plans to bring the RS Q3 to the US either, or the Q3 Sportback.
It's a shame, but I suspect the improvements made to this new Q3 will more than outweigh that sense of loss. The cabin is a massive step forward, both in terms of design and in practicality.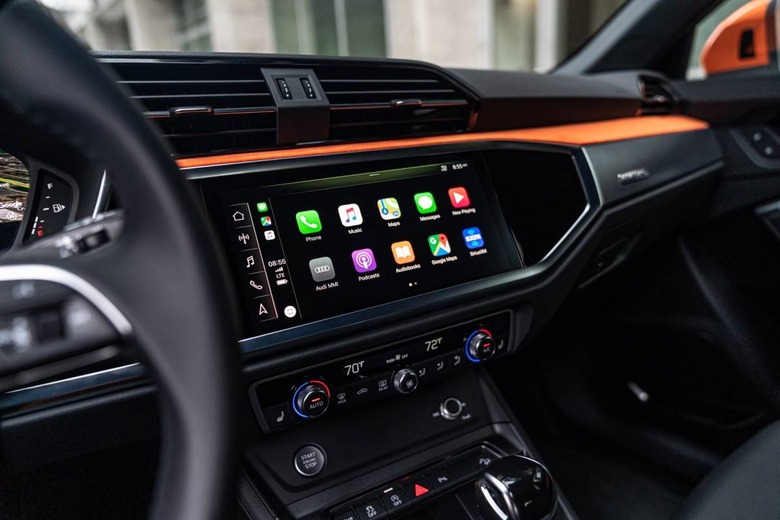 Up front, the dashboard gets a single touchscreen version of Audi's latest – and excellent – infotainment system, MMI touch response. An 8.8-inch touchscreen is standard, with a 10.25-inch digital instrument cluster that swaps analog dials for fixed digital versions. Available as an upgrade is a 10.1-inch touchscreen with handwriting recognition and navigation, along with the 12.3-inch Audi virtual cockpit for the driver.
Apple CarPlay and Android Auto are standard, with wireless CarPlay an option. That also comes with a special "phone box" in the center console, which can wirelessly charge your phone and allow it to tap into the better antenna on the Q3's roof. You can also have a Bang & Olufsen 3D audio system, and a $500 Sport interior package which adds S line sport seats with contrast stitching, paddle shifters on the steering wheel, and brushed aluminum inlays. Consider me surprised, too, that the bright orange Alcantara inlay option – which for $150 replaces chunks of dashboard and door trim with eye-searing faux-suede – is being offered in the US.
The improvements as you go further back are just as good. The second row is far more adult-friendly, with the bench sliding front and back by up to 5.9-inches, and you can set the backrest at seven different angles. It'll fold on a 40/20/40 split, too, and Audi has used the Q3's extra width to offer not only door pocket storage but cubbies built into the sides of the rear seats, too.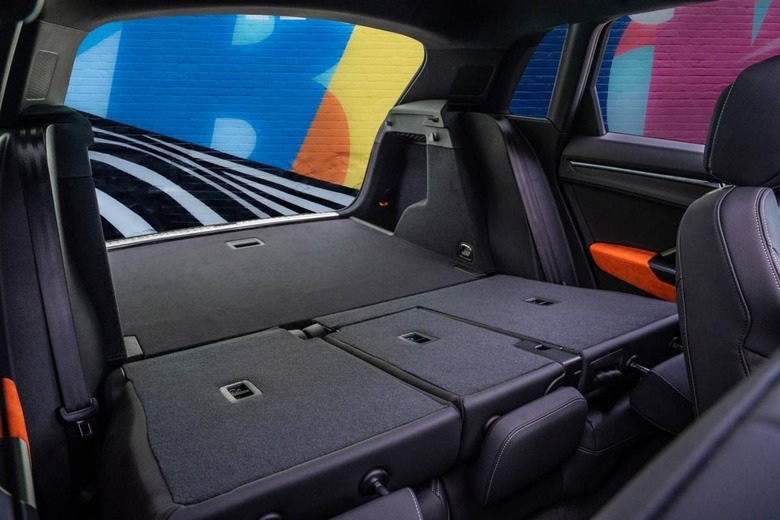 In the trunk, there's now 18.7 cubic feet of space with the rear seats up, or 48 cubic-feet with them down. An adjustable load floor can be fitted at two different heights, depending on what you're trying to transport, and Audi has cleverly made sure that there's a place to stow the cargo cover if you need to temporarily remove that. Individually they're small changes, but together they make for a far more practical, user-friendly SUV.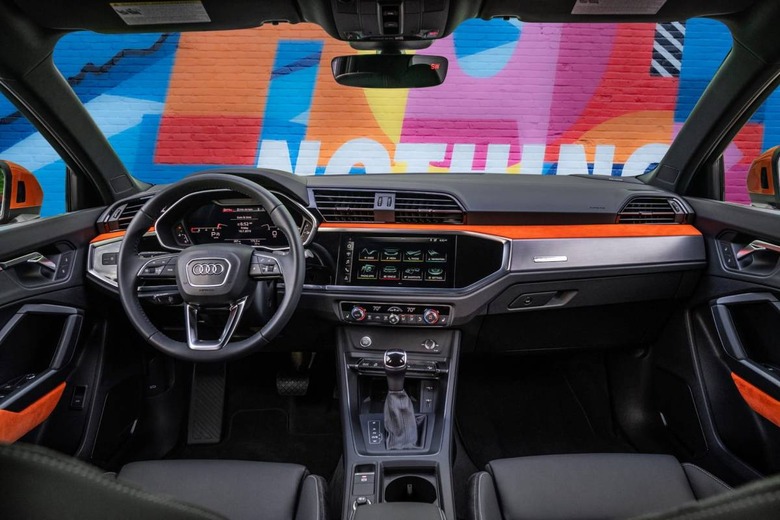 It should be a safer one, too. Audi pre sense front with pedestrian detection is now standard, and the 2019 Q3 can now be had with lane departure warnings, rear cross traffic assistance, adaptive cruise control with stop & go, park steering assist, and the useful top-down camera system.
2019 Audi Q3 Verdict
There's a lot to like about the new Q3. Bigger, better equipped, and more practical, it's both a far more well-rounded car in its segment, and a far more appealing SUV to Audi fans.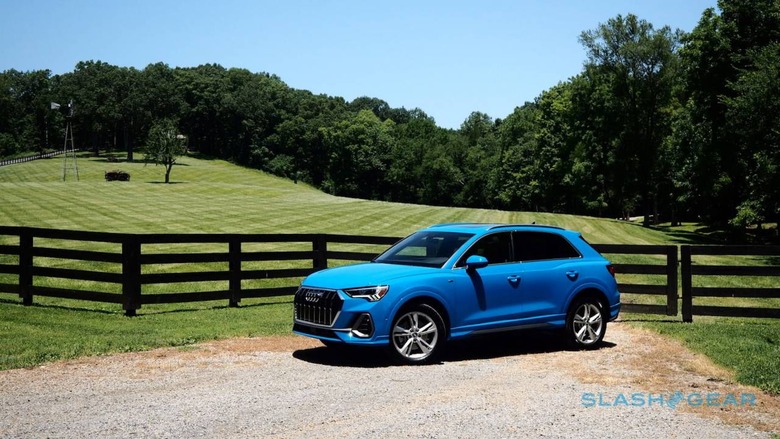 That said, there are a few blind spots. The absence of a hybrid – even a 48V mild hybrid option – seems blinkered, and Audi's decision to not even offer the Sport package, never mind the upcoming RS Q3, is disappointing. A little adaptive suspension love would be all it might take to light this crossover up in the corners.
The majority of the 2019 Audi Q3's audience won't, I suspect, be too upset. As an entry point into the automaker's range, it's competitively priced and checks off plenty of tech and active safety boxes. In a fiendishly competitive category, Audi's laser-focus on getting the Q3 recipe right is almost as bright as its dashboard.