2019 A-Class says "Hey Mercedes" to a new age of car tech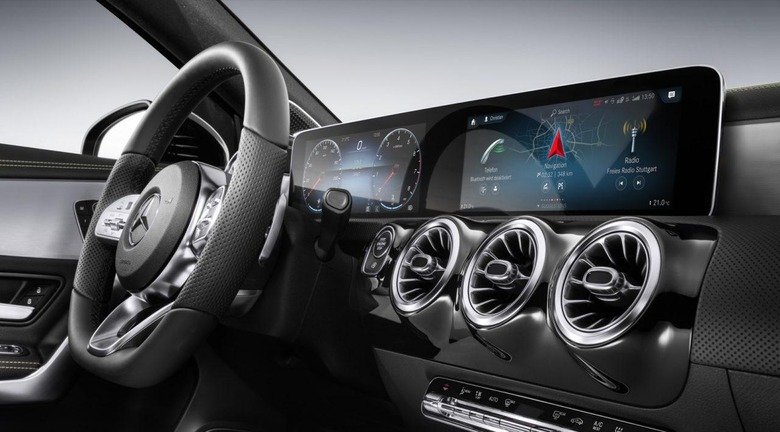 Mercedes-Benz may have actually done the seemingly-impossible, and given the new 2019 A-Class an infotainment system worth using. The new compact car debuts MBUX, or Mercedes-Benz User Experience, the next generation of the automaker's smart dashboard. That features a brand new voice-control system, an AI that quietly learns the whims of the driver, and some advanced features you'd previously have needed to spend six-figures or more on a luxury S-Class to get.
Indeed, you get the feeling that Mercedes has really given the A-Class' technology some thought. USB Type-C is included on even the most basic infotainment package, for example, and the natural voice recognition system uses both local and cloud-based processing simultaneously. That means, even if the car doesn't have an internet connection, it can still understand and respond to spoken instructions.
Mercedes is calling it LINGUATRONIC, and its making its debut on the 2019 A-Class. Part of the top-spec MBUX with extended functions package, it has an Alexa-style "Hey Mercedes" trigger phrase rather than demanding you press a button first, though the option for that is still available. Rather than requiring specific commands be memorized, it promises to figure out what you mean regardless of the phrasing.

So, for example, if you want to adjust the HVAC you could say "Adjust the temperature to 62 degrees" or you could merely mention "Hey Mercedes, I'm hot" and have it adjusted automatically. Along with adjusting the climate control, setting destinations in the navigation, and controlling phone calls, messages, and music selection, it can also deliver weather reports and answer other questions.
Cleverly, Mercedes says MBUX's AI allows it to learn from repeated use. On the one hand, that means that non-native English speakers should find their car understands them better over time. However, it also means that server-side updates will add new buzzwords, slang, and evolving linguistics over time, allowing the car to keep up.
That same AI is used for predictive suggestions. If, for example, you always call a certain contact when you get into the car on a particular day or at a frequent time, that person will be flagged up on the dashboard at that point as a shortcut. If you regularly switch to a certain radio channel for a particular news report, MBUX will offer that proactively.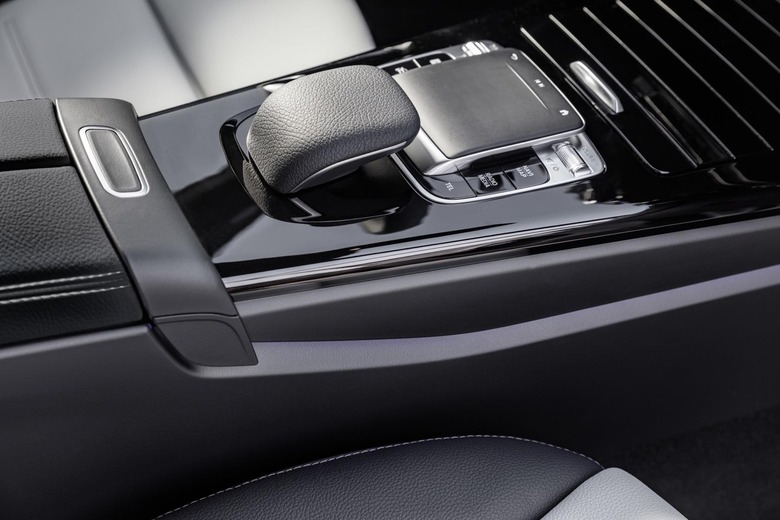 Commonly driven routes will automatically have navigation started for them in the background. While they won't necessarily include spoken directions, it means the A-Class can flag up potential congestion in your typical route. Two driver profiles will allow the AI to keep track of the preferences of different users. Optional Car-to-X communication can collate traffic and accident reports from nearby vehicles, and adjust the route automatically as part of an HD navigation package.
It's not the only high-tech feature, though. Augmented Reality (AR) also makes an appearance, with an optional navigation system using HERE mapping data that can overlay directions over a live camera feed of the roadway ahead. If there's an upcoming turn, for example, arrows can be superimposed on the correct junction; house numbers can float over different buildings, to help identify the final destination.
The S-Class' semi-autonomous driving talents have been distilled down for the new A-Class, too. With the Driving Assistance package, and Active Distance Assist DISTRONIC with Active Steering Assist, the car can control its own speed on all types of road, not just highways, including steering assistance, and automatic lane-changes just by tapping the stalk. Speed sign recognition can adjust the cruise control by itself, while the A-Class can also use mapping data to slow ahead of curves in the road, junctions, and other changing conditions.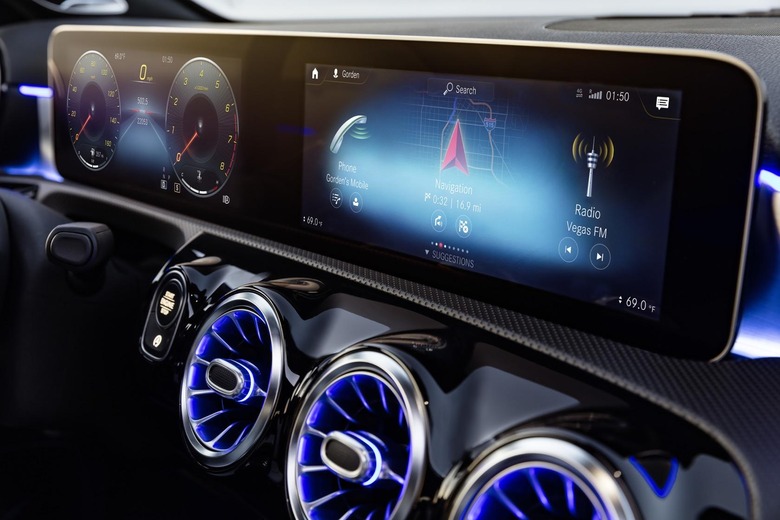 Of course, not all of this will be standard on the entry-level 2019 A-Class. The base-spec will get twin 7-inch displays, along with a touchscreen and touch-controls on the steering wheel. If you want the extended MBUX features, like personalization, predictive AI, and a WiFi hotspot, that'll cost you more. The same goes for the bigger, 10.25-inch displays, a head-up display, and HD navigation.
Still, given usually you'd expect features like these to be the preserve of high-end, ultra-luxury models, the fact that Mercedes-Benz is choosing to debut many of them on what will be one of its most affordable models is notable. Pricing has not been confirmed, either for the 2019 A-Class in general or for the various MBUX and semi-autonomous upgrades, though we'll know more about that come preorders opening in March.