2018 Top brands list puts Android in 5th place, Apple in 1st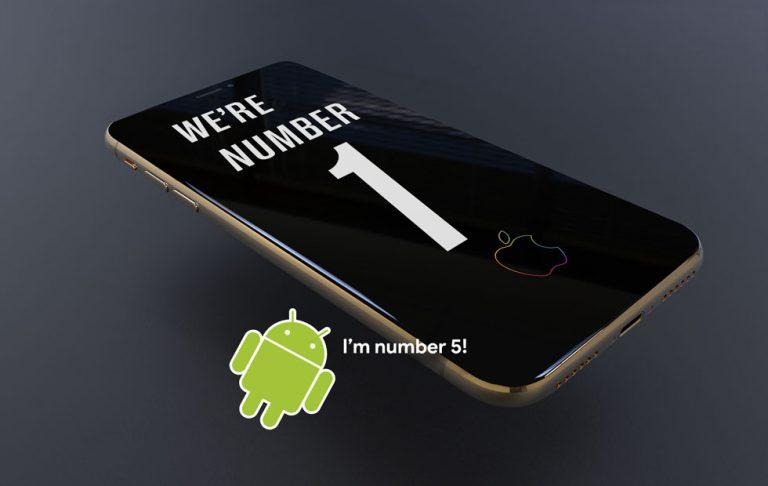 A survey run each year called the Prophet Brand Relevance Index (BRI) shows the role company brands play in people's lives. This year is the fourth in which the Brand Relevance Index was run in the United States, and the analysts at Prophet have some interesting results to share. While we'd expect brands like Google and Samsung to be running up closer to the top of the study's resulting "relevant brands" list, it's Apple that takes the cake this year.
This study started with a survey of 12,694 "U.S. consumer" and included "more than 299 brands across 37 industries." The survey aimed to measure "four brand principles: customer obsession, ruthless pragmatism, pervasive innovation, and distinctive inspiration. According to Prophet, their BRI "most relevant brands" list have outperformed the S&P 500 average by 28% over the last decade. For that statistic, see the Archived page posted on Prophet from the date this article was published.
"This is our fourth Brand Relevance Index in the U.S," said Scott Davis, Chief Growth Officer at Prophet, "and it's clear that the brands that continue to put users at the center of everything they're doing are winning." The index found this year that digital gaming brands and "sharing economy" brands grew, as did "brands that facilitate the discovery of new content" like Pinterest and Spotify.
"The brands that do this well are customer-obsessed, focus on 'surprising and delighting' and do it in a different way than they would have 10 or 20 years ago," said Davis. "They've found a way to break through in an always-on brand environment where living brand experiences are becoming the expectation."
The top ten most relevant brands right now are:
1. Apple
2. Amazon
3. Pinterest
4. Netflix
5. Android
6. Google
7. Samsung
8. KitchenAid
9. Spotify
10. Nike
The next 10 might surprise you even more than the inclusion of "KitchenAid" in the first 10. These brands came up in 11-20th place.
11. LEGO
12. YouTube
13. PlayStation
14. Disney
15. Pixar
16. Fisher-Price
17. BOSE
18. Intel
19. Keurig
20. PayPal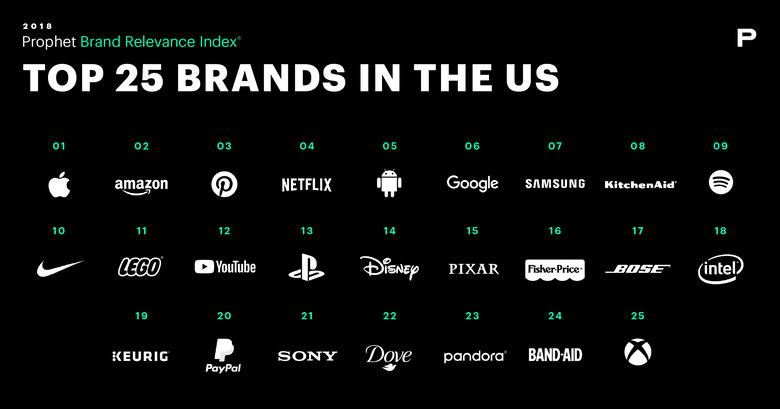 Apple encouraged (and continues to encourage) Apple product users to feel like they're a part of a special community. Apple created an inner-circle of owners of Apple products – if only in the users' minds. Using an Apple product is a social statement, and Apple as a brand is as fresh in user minds as the products the brand represents.
Amazon was in 7th place in the company's inaugural study conducted in 2015 (and revealed in January of 2016.) Microsoft was in 3rd place that year, and Apple was in first. Actually Apple's been in first place for all four studies the company's conducted thus far.
Samsung, Netflix, Amazon
Samsung's placement went like this: 2nd, 5th, 10th, 7th, over the four studies conducted so far. Amazon started at 7th, then went 2nd, 3rd, and 2nd again. Netflix went 4th, 4th, 4th, and 4th, somehow maintaining the 4th-place position for all four studies.
Amazon's gained a foothold with its epitomes online shopping experience as well as Alexa. These studies were conducted well after Amazon's big push for Android-based hardware – though they do still make new Fire tablets. Netflix is similar, in that it's gained a solid foothold in the lives of many consumers, consumers who keep their service as a matter of course.
We can safely assume Samsung's relevance rises and falls due mostly to and with the Galaxy smartphone brand. People own Samsung products in other arenas, but none are quite so dominant in the public eye as the Samsung Galaxy S and Note.
Microsoft
Perhaps the most shocking change came with Microsoft. The brand Microsoft came in 3rd in the first study and was down to 22nd place by the third study. I'm actually more surprised that Microsoft appeared anywhere near the top of the list in the first place, honestly. The brand itself doesn't appear nearly so often as the Windows brand in the news, and I've never once hear of someone describing how happy they were with "their new Microsoft computer."
Google and Android
Google and Android did not appear in the top 10 in the first study (but the brand Sephora ranked 10th. Google then went 5th, 2nd, and 6th. Android appeared in the top 10 for the first time last year in 6th place, then went to 5th.
Could it be that Android is becoming more important to users? I would have expected the opposite, given the relative lack of major change in the operating system over the last several years. But as it is with any study, results can be skewed by public perception of a brand – and we know good and well that when it comes to judging a brand, perception is everything!