2018 Roush F-150 SC gets 650hp for an extra $23,000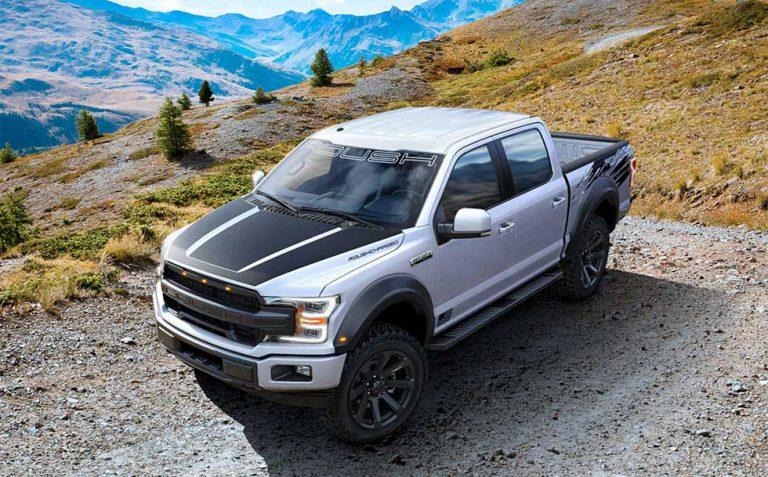 Roush has a long history of modifying Ford vehicles. It started with hopped-up Mustangs years ago and has branched out into hopping up trucks as well. Roush has unveiled the 2018 Roush F-150 SC truck that gets lots of modifications for more performance. The significant change is the addition of a supercharger to the 5.0L V8 the truck comes with.
The Roush TVS R2650 Supercharger gives the truck 650hp and 610 lb-ft of torque. Roush fits the truck with unique Roush/Fox 2.0 Performance Series coilover suspension giving the truck a 2-inch lift up front. Roush says that the standard payload and towing capacity are maintained.
The truck is fitted with special 20-inch Roush wheels that are wrapped in Mickey Thompson Baja ATZ P3 LT305/55R20 hybrid all-terrain tires. The front of the truck gets a new bumper cover that works with adaptive cruise control. Fender flares are added with integrated accent lighting.
The truck can be fitted with an optional custom Active exhaust system that includes dual tips and has four settings to control sound. The settings include quiet stealth mode, wide-open off-road mode, smart sport mode, and a custom mode. A dial on the console allows the driver to select modes.
An app is also available for changing modes. Standard features with the $22,999 package include a new grille, molded floor liners, USA flag graphics, Roush fender badges, Square R hitch cover, and lots more. Options include a Roush Tonneau cover, splatter graphics, console vault, and leather seating; option pricing is unannounced.
SOURCE: Roush