Surprise: Porsche's fastest Panamera is a hybrid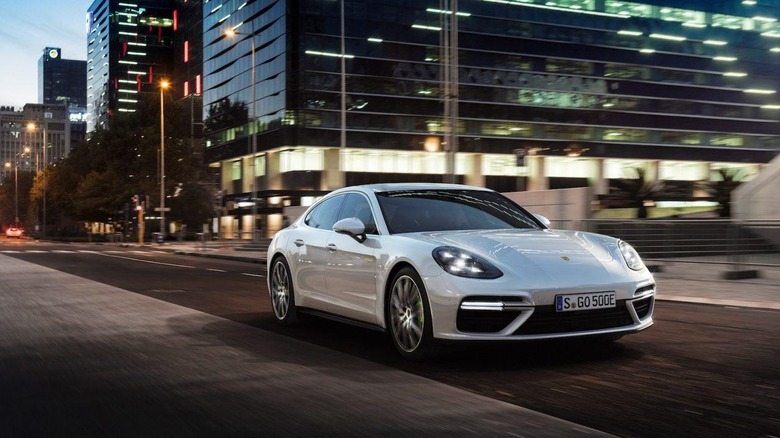 Porsche's four-door Panamera has a new flagship model, and despite what you might expect it's actually a hybrid. Still, the 2018 Panamera Turbo S E-Hybrid is no pious Prius. Instead, it's a 680 horsepower, 192 mph monster with a nod to being green.
Indeed, with its sky-high horsepower and a heady 626 lb-ft. of torque, only the limited-production 918 Spyder was more powerful than this new Panamera. To achieve it, Porsche took its 550 HP 4.0-liter V8 engine – as used in the existing Panamera Turbo – and then combined it with a 136 HP electric motor. An electric clutch actuator sits in-between, with Porsche's eight-speed dual-clutch transmission pushing power to all four of the wheels.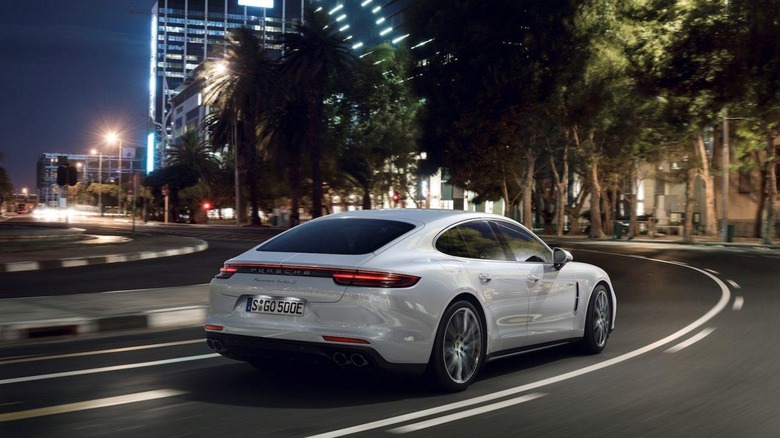 With a 0 to 60 mph time of 3.2 seconds, it's clear the Panamera Turbo S E-Hybrid isn't slow. However, it does have some environmental credentials too. The 14.1 kWh battery can keep the car going for around 31 miles on electric power alone, at least according to the European cycle. Porsche says EPA fuel economy figures and range will come close to the US launch.
Charging takes 12 hours via a 120 V connection, with the standard-fit 3.6 kW onboard charger. A 7.2 kW charger is an option; pair that with a 240 V, 40 amp supply, and it can get the battery full in under three hours. An auxiliary air conditioning system can heat or cool the cabin while on external power.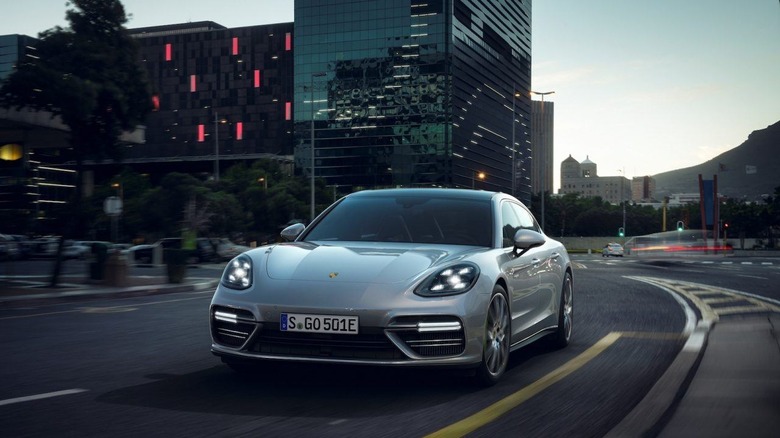 Three drive modes are supported. E-Power keeps the Panamera in electric mode as much as possible. However, push a little harder on the accelerator and the gas engine is roused; then the car switches into Hybrid Auto mode, combining power from both systems. The same happens if the battery's charge gets too low for entirely-electric driving. Of course, there's also a sport mode at which point the maximum power is available.
Inside, there's a 12.3-inch touchscreen in the dashboard, which takes care of navigation, multimedia, Apple CarPlay support, and more. Options will include ceramic composite brakes, dynamic chassis control sport, torque vectoring plus, power steering plus, and the Sport Chrono Package. Air suspension and the active aero kit are standard.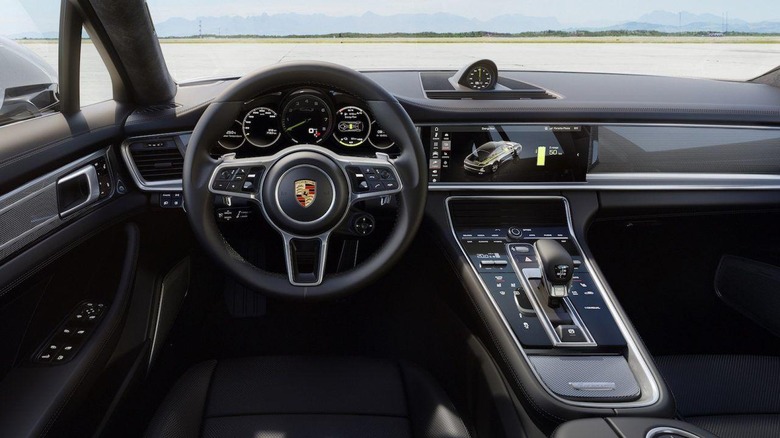 NOW READ: 2017 Porsche Panamera First Drive
As well as the regular car, there's also a 2018 Panamera Turbo S E-Hybrid Executive version, which has a 5.9-inch longer wheelbase for more rear legroom. That will also add 0.1 seconds to the 0-60 mph time, though makes up for it with rear axle steering, 8-way power rear seats with comfort headrests, and quad-zone climate control. Both versions of the car get 21-inch 911 Turbo Design Wheels.
Porsche expects the 2018 Panamera Turbo S E-Hybrid to show up in dealerships in the US by the end of this year. It'll be priced from $184,400 for the regular car, while the Executive version will start at $194,800. Both will have an extra $1,050 destination fee.