2018 Porsche 911 Carrera T first drive: Pure inspiration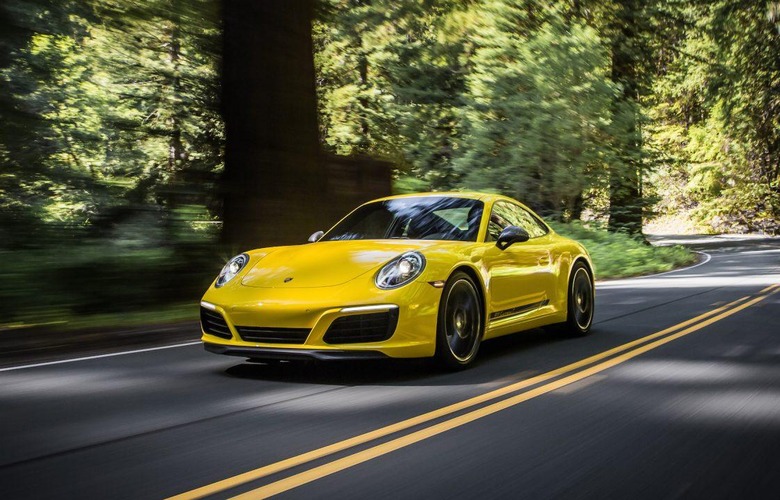 The Porsche 911 has always been inspirational. Over the years, the rear-engined German icon has become the go-to benchmark for would-be sports car contenders, not to mention the motivation for plenty of people to get that bonus or clinch that promotion. Now, with the 2018 Porsche 911 Carrera T, the inspiration is to shed that excess weight around your waist.
For the Carrera T, it's as much about what Porsche has taken away as what it has added. First, it takes a base Carrera, and then it makes a series of carefully-executed tweaks in return for your $102,100.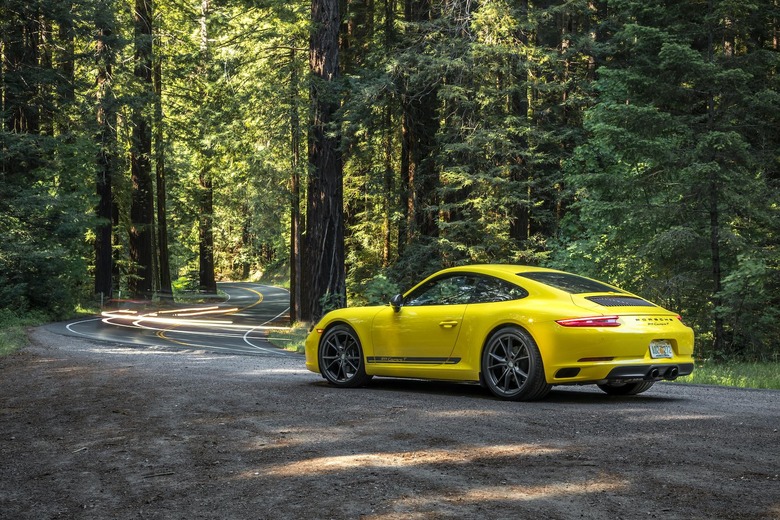 The body stays, as does the twin-turbocharged 3.0-liter flat-six engine. You get 370 horsepower at 6,500 rpm, and 331 lb-ft of torque that's delivered between 1,700 and 5,000 rpm. The redline doesn't arrive until a howling 7,500 rpm.
A seven-speed manual transmission is standard, its ratios closer than those rowed by the regular Carrera's stick, and paired with Porsche Torque Vectoring with a mechanical rear differential lock. A seven-speed PDK double-clutch automatic with paddle-shifters is a $3,730 option. Standard is a 0.8-inch lower ride and a sport exhaust, along with the larger, 20-inch wheels of the Carrera S.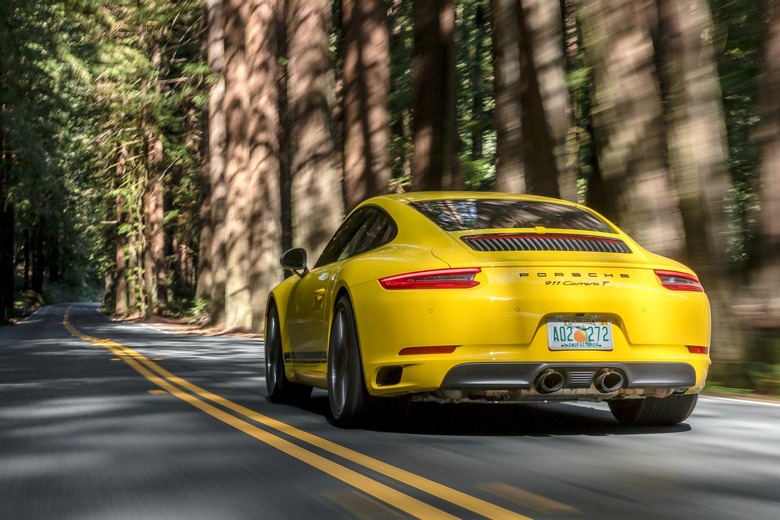 To keep the T on its toes, Porsche then strips out much of the sound absorption material that normally keeps the cabin quiet. The interior door pulls are now fabric loops, and it swaps out the window and rear glass, for thinner versions. Even the heating elements that would normally stripe the rear window are missing.
For all that, the weight loss itself is still fairly minimal. At 3,142 pounds for the manual – or 3,186 pounds for the PDK – we're talking about a cut of around 44 pounds over the regular Carrera. That's where the sacrifice comes in.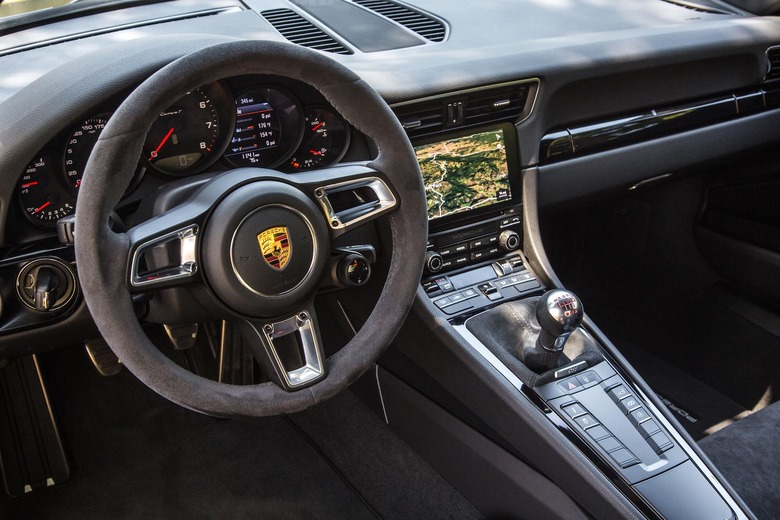 First off, you'll need to do without the rear seats, and Porsche's touchscreen infotainment system. More importantly, as I decided when looking in the mirror at the squidginess that has slowly gathered around my waist over the years, you'll need to commit to the ascetic lifestyle yourself. There's little point in your 911 going on a diet, after all, if you're only going to add weight back in courtesy of your own body mass.
Short of a binge diet and some last-minute liposuction there wasn't much I could do to shed any excess pounds, so instead I slipped the case off my phone, emptied my wallet of all but my driver's license, and skipped breakfast. A bright yellow 911 Carrera T was feast enough, after all.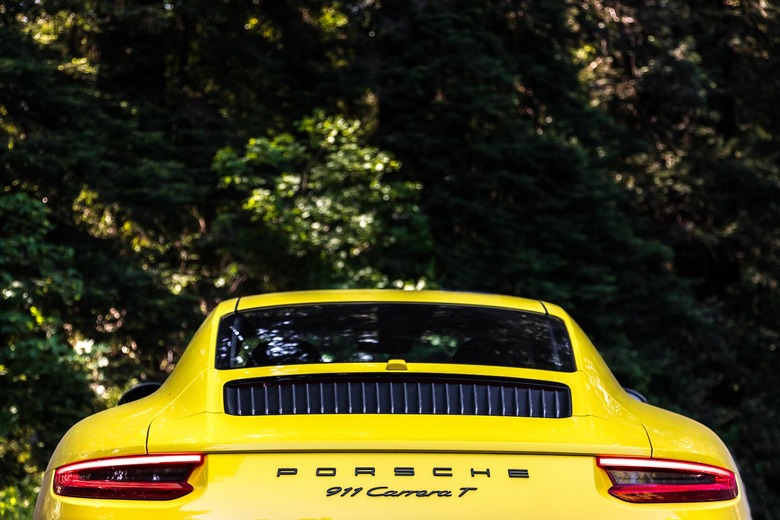 All the senses get to eat, too. With 0-60 mph arriving in 4.3 seconds in the manual, and a top speed of 182 mph, this clearly isn't a slow car. You hear it more clearly, more brashly thanks to that sports exhaust, engine and tailpipes braying. Hit a button on the dashboard and they get even louder, the whole thing sounding endearingly mechanical.
It may not be the fastest 911 you can have, but the sense of engagement on twisting roads is up there with the best. The standard PASM Sport Suspension plays a big part there, leaving the Carrera T stiff but not torturous. It clings to sharp turns with an eagerness that you first come to trust and then to rely on, snapping the beautifully weighted steering – no variable ratios to confuse here – side to side and knowing from your ass upwards that it'll chomp through corner after corner without getting unsettled.
As for the gearbox, it's another masterpiece of weighting balance. With a short throw and those closer gear ratios you're encouraged to stir through it more frequently, snocking the cogs into place with a precision that reminds you why manual transmissions are still so satisfying when fitted to the right car.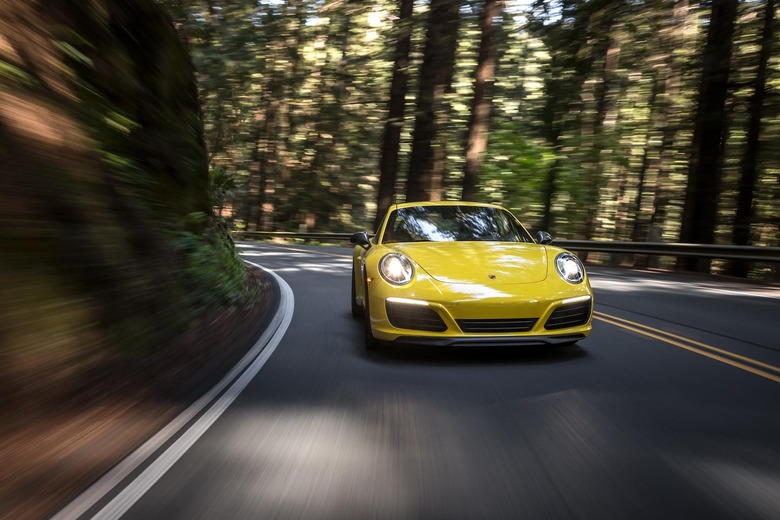 Porsche's latest-generation PDK transmission is great, but you should definitely skip the upgrade this time around. Sure, it trims the 0-60 time to 4.0 seconds dead, but you trade involvement for that mechanical polish. With the "T" officially standing for "Touring," this particular 911 is about engaging with your drive, rather than completing it in as efficient a way as possible.
Spend some of what you save on the $2,090 rear-axel steering, which turns either in the opposite direction to, or in tandem with, the front wheels depending on your speed. The result is swifter turns under around 30 mph, and more stable lane changing at higher speeds.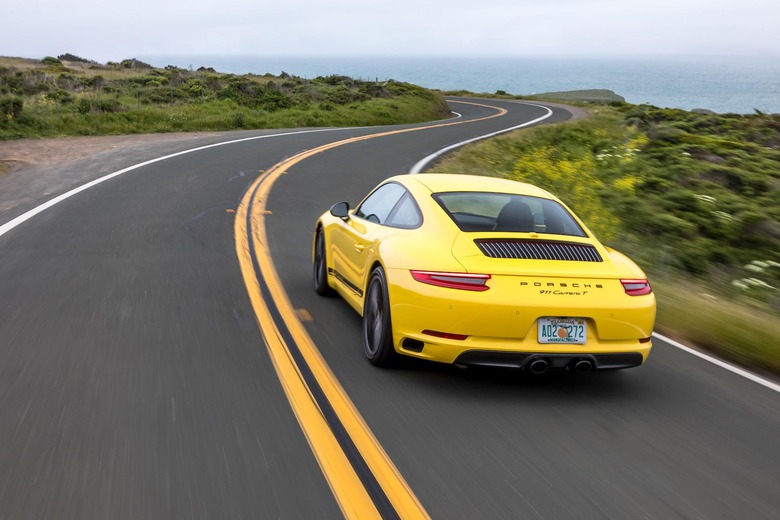 At the other extreme, the 911 Carrera T has no problems stopping. Four pistons front and rear grab onto aluminum mono block fixed-caliper brakes, with 13-inch vented and perforated grey cast iron rotors. You can have a carbon-ceramic set instead, but it would only be for boasting purposes.
As you might be getting by now, boasting isn't what the Carrera T is all about. Instead, the reason for its existence is driver satisfaction in a far more pure way than most performance cars rely upon today. From the sense of connectedness from the wheel through to the road, to the odd sensation of looking through exceptionally clear, uninterrupted rear glass, it's the epitome of the enthusiast's Porsche.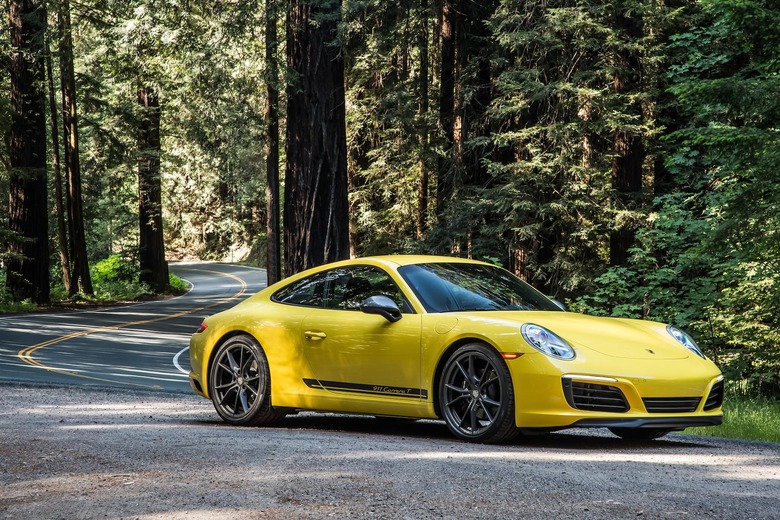 In Porsche terms, it's affordable too. Though you'll need to sacrifice some creature comforts if you're to buy into the 911 Carrera T's overall ethos, keen drivers will undoubtedly consider that a worthwhile exchange. And while you're pounding the treadmill at the gym, doing your part to make sure all Porsche's weight loss efforts weren't in vain, the knowledge that the Carrera T is waiting outside should be motivation enough to keep you going.