2018 Mazda6 Vs 2019 Ford Fusion Vs 2019 Subaru Legacy: Midsize Sedan Showdown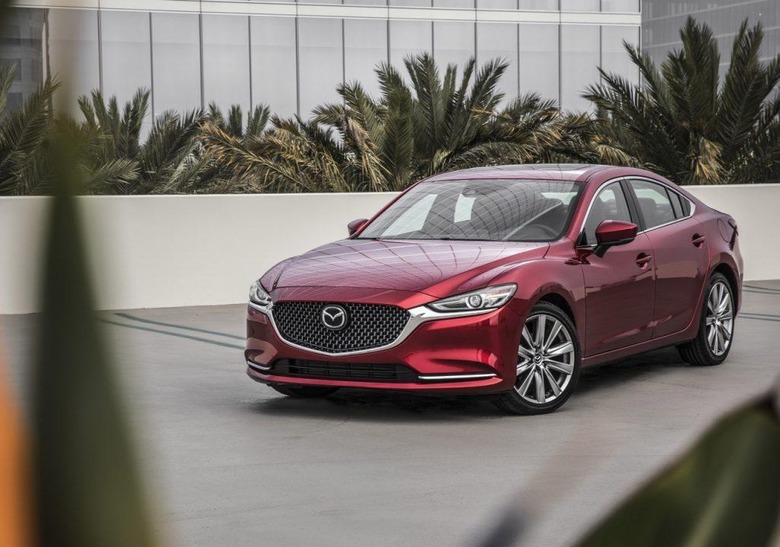 This is going to be an interesting battle. The 2018 Mazda6 is fresh from a major facelift for the current model year. I personally love this car. I think it's the best-looking midsize sedan in the market today, apart from the fact it is gifted with an athletic demeanor. However, I also like the 2019 Ford Fusion. This is not because it still resembles an Aston Martin at first glance, but it remains a true driver's car while still remaining civilized for the daily drive.
On the other hand, I always admired the performance-oriented attitude of the Subaru Legacy. The 2019 Legacy is still a great car to drive and is the only one in this test equipped with standard all-wheel drive. The Ford Fusion can be optioned with a similar drivetrain, but the Mazda6 only comes in front-wheel drive.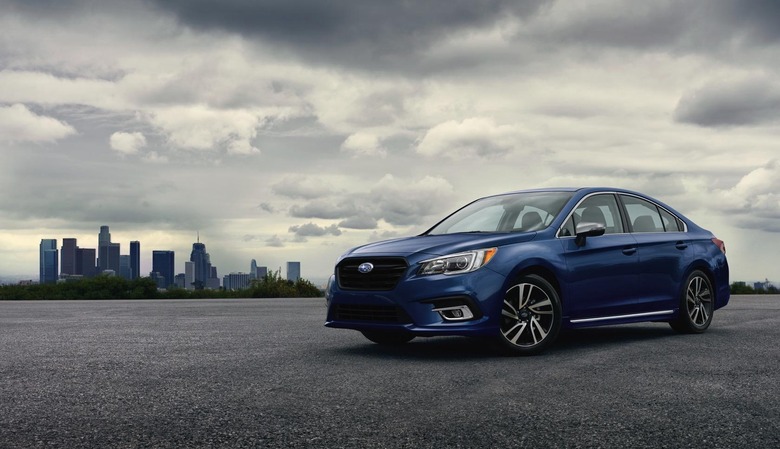 All of our three contenders have a sub-$24k base price. If you are shopping in this category, both the 2018 models of the Honda Accord and Toyota Camry are the top picks. But if both of those cars are too mainstream for your palate, then the 2018 Mazda6, 2019 Ford Fusion, and 2019 Subaru Legacy are certainly worthy of attention.
2018 Mazda6
I'll give it to you outright: the Mazda6 drives like a dream, but only if you're the sporty type of driver. This car has the agility and reflexes of the smaller Mazda3. Even the steering feel is better than in the new Mazda MX-5. I know it's a bold claim, but it's the truth. Live with it.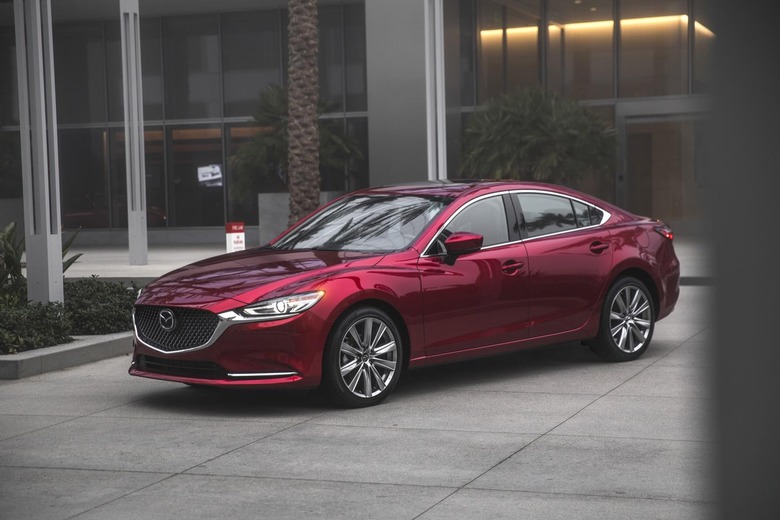 The 2018 Mazda6 can be driven hard and still ask for more. You can thrash this car the entire day without upsetting the magnificent balance of the chassis. It is a sporty midsize sedan and makes no qualms about it. The 2018 refresh gave the fascia a more refined look, but there's no mistaking the aggressive face and the sensuous Kodo-inspired curves and body lines.
The fact is you can drive the Mazda6 like a hooligan, but you won't. It is more than that. Previous models were still relatively comfortable despite the sporting apprehensions, and new 2018 model is no different. There is a firmness to the ride that can only be appreciated by those who have driven a Bentley Continental. The ride is smooth but taut, and that's not a bad thing.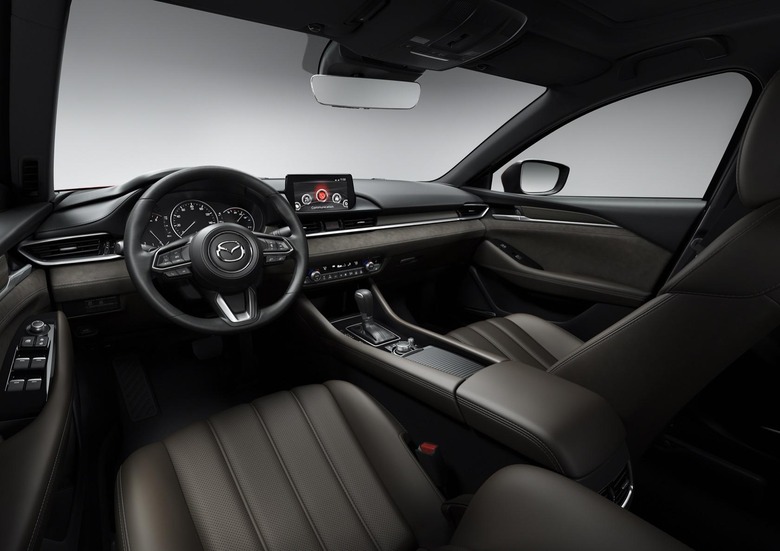 The base Sport trim starts at $23,000 and comes with 17-inch alloys, push-button start, a leather steering wheel, and a six-speed manual transmission. Power comes from a SKYACTIV 2.5-liter four-banger with 187-horsepower and 186 pound-feet of torque. The motor can achieve 26/35 mpg, which is above average given the power output. Also standard is an 8-inch touchscreen infotainment system with Bluetooth connectivity and six speakers. You also get blind-spot monitoring, rear cross-traffic alert, and a rearview camera.
All in all, not bad for a base model, right? But if you don't like rowing the gears yourself, stepping up for the Touring trim is the better option. You get the same engine in base trim but it comes mated to a slick 6-speed automatic. The Touring version starts at around $25k but includes bigger 19-inch alloys, heated front seats, power controls for the driver seat, proximity keyless entry, and automatic high beams. Also standard is the i-Activsense safety package that includes forward collision warning with automatic emergency braking, adaptive cruise control, and lane departure warning with lane keeping assist.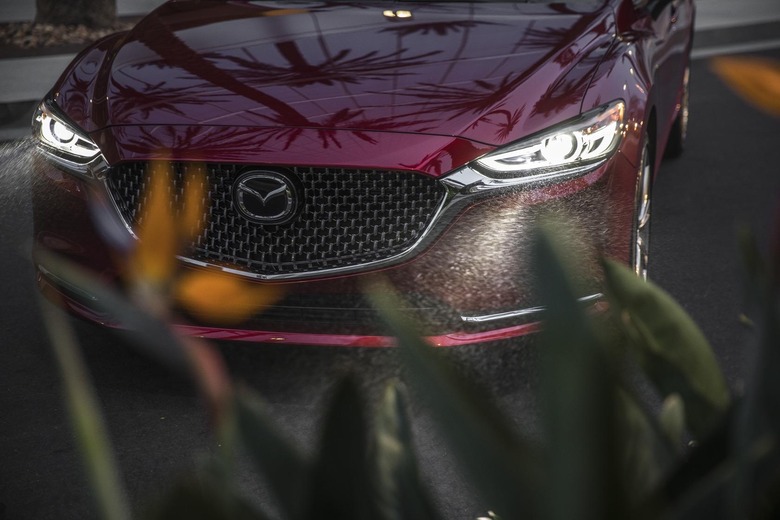 The Mazda6 Grand Touring is my personal bet. You get all the goodies in the Touring trim along with a more powerful turbocharged 2.5-liter motor with 250-horsepower and 310 pound-feet of torque. Despite the added horsepower, the engine can still return an impressive 23/32 mpg. The engine is mated to a six-speed auto and also comes with an 11-speaker audio system with satellite radio and standard navigation. The Grand Touring Reserve and Signature trim will hover around $31k to $34k and will add luxury features such as a heated steering wheel, memory settings for the driver seat, upgraded leather and interior trim, and LED lighting.
Like I said, the Mazda6 is a driver's car, but it's still comfortable and relatively practical. If you need a family sedan that drives like a sporty compact, nothing comes close to the 2018 Mazda6.
2019 Ford Fusion
The 2019 Ford Fusion is a different sort of animal. The driving experience is similar to the Mazda6, but the sportiness is toned down a bit to deliver more refinement. That's not a bad thing to have in a midsize sedan. Older models were touted to be sportier and more responsive, but the new Fusion is still dynamically impressive despite the added refinement.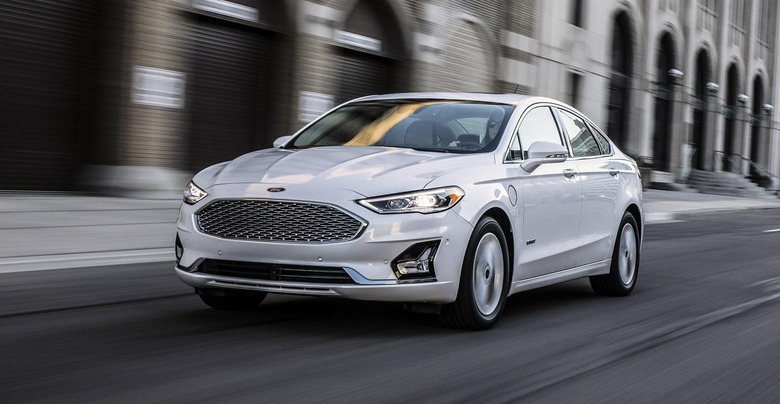 All I can say is this: the Ford Fusion is a better driver's car than the Toyota Camry and Honda Accord. It also comes with a luxurious interior and plenty of space for passengers and cargo. It may be a bit long in the tooth to be quite honest, but Ford managed to keep the Fusion fresh in the eyes of potential buyers.
That's why it's a bit sad that Ford will stop making cars and sedans in favor of crossovers, SUVs, and electric vehicles. It's a shame because the second-generation Fusion (released in 2013) is one of the best-looking and best-handling sedans that Ford churned out in the last 15 years or so. The current-generation Fusion is also sold in hybrid and plug-in models, and they're not bad in the world of eco-conscious vehicles, either.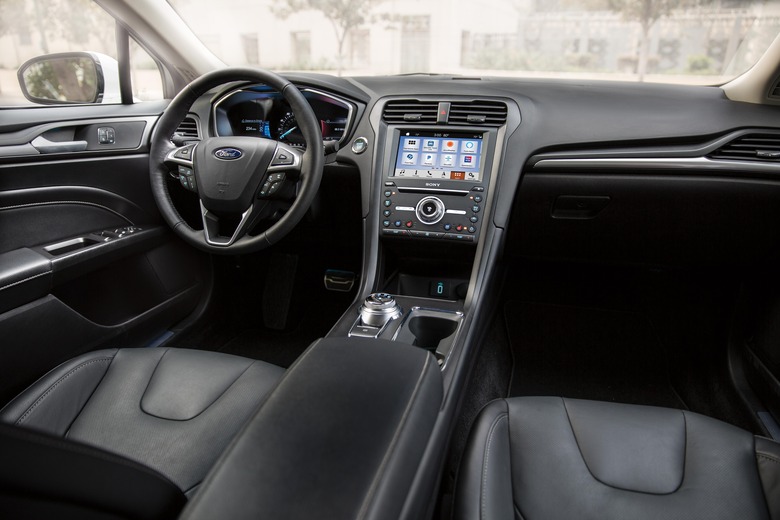 But still, it's glad to know the Fusion is still here. The base S model comes equipped with a 2.5-liter four-banger that churns out 173-horsepower and 174 pound-feet of torque. The motor is a connected to a six-speed automatic. It's important to note the base engine in the Fusion is short on power compared to the Mazda6, and you will feel it in the open road. But still, the base trim comes well-equipped with 16-inch steel wheels (nasty), automatic headlights, a 4.2-inch infotainment screen with four speakers, Bluetooth, and a rearview camera for less than $23k.
Oh and before I forget, Ford's Co-Pilot360 Protect driver assist system is standard on the base S trim and includes blind-spot monitoring, rear cross-traffic alert, lane keeping assist, and forward collision mitigation. Higher trim models get an upgraded Ford Co-Pilot360 Assist system that adds dual-zone climate control, Ford Sync, adaptive cruise control, and a navigation system.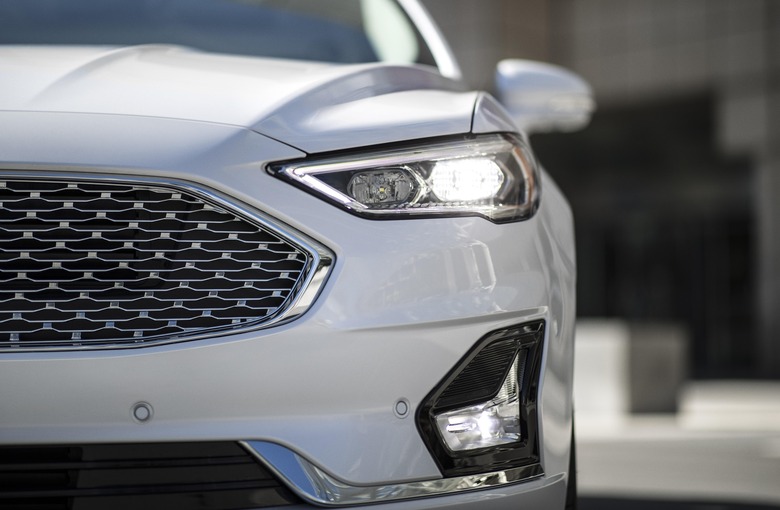 For the money, I would gladly upgrade to the Fusion SE that includes a more powerful turbocharged 1.5-liter four-banger with 181-horsepower and 185 pound-feet of torque. It can still achieve 21/34 mpg which is slightly better than the 21/31 mpg of the base motor. For less than $24k you also get larger 17-inch wheels, power-adjustable front seats, a larger 8-inch touchscreen display with satellite radio and six speakers, and Apple CarPlay with Android Auto. The SE is also available in all-wheel drive. If you choose this option, Ford will throw in a lively 2.0-liter turbocharged engine that is good for 240-horsepower and 270-pound feet of torque.
The SEL and Titanium trim gets the revised 2.0-liter motor along with standard luxury features such as keyless ignition with remote ignition, heated mirrors, a more powerful audio system, larger 19-inch wheels, ambient lighting, and LED fog lights. Ford is also offering the Fusion in V6 Sport trim. You get a turbocharged 2.7-liter motor with 325-horsepower and 350 pound-feet of torque, standard all-wheel drive, adjustable suspension, and a 12-speaker audio system.
But there's a catch. The V6 Sport Trim is hovering dangerously close to $42,000. In my humble opinion, this is too much money for a midsize sedan, and I would rather fork over $28k or $34k for the Fusion SEL and Titanium, respectively. For the money, the Ford Fusion is still one of the best choices in the midsize segment. This is high praise given the presence of the perennial and updated Toyota Camry and magnificent Honda Accord. What the Mazda6 lacks in comfort, the Ford Fusion more than makes up for it.
2019 Subaru Legacy
I have to admit, the 2019 Subaru Legacy caters to a specific niche in the market. It is the only midsize sedan in this comparison that comes standard with all-wheel drive, and it's a good one at that, if not the best in the market. The only thing that bothers me about the Legacy is the conservative and humdrum styling, especially in base and mid-level trim options.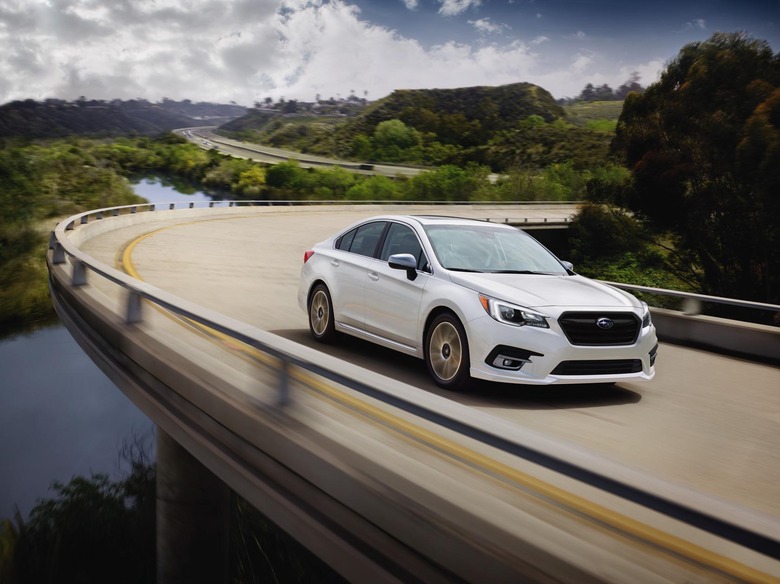 Of course, looks are entirely subjective, but you see where I'm getting at, right? Compared to the sexy Mazda6 and elegant Ford Fusion, the Subaru Legacy sedan is a bit boring. From the side, it even resembles a previous-model Honda Accord. It seems the Subaru Legacy is filling the conservative niche that the new Toyota Camry previously abandoned, and that's not surprising isn't it?
But for a midsize family sedan that hack it over snow, mud, or rough roads, you can do no better than the Subaru Legacy. Like I said, even the base trim comes standard with symmetrical all-wheel drive and Subaru's EyeSight driver assist technology that comes with lane keeping assist and sway warning, adaptive cruise control, pre-collision braking, and pre-collision throttle management.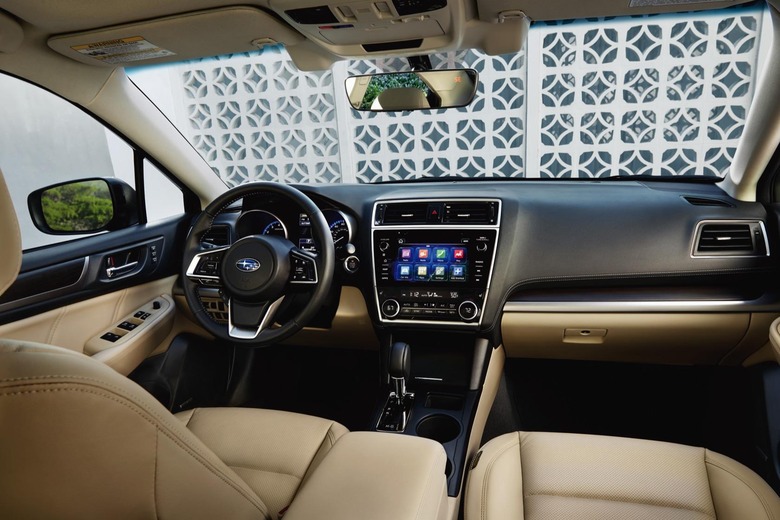 The Legacy in base 2.5i trim comes with 17-inch wheels, a 6.5-inch infotainment touchscreen with four speakers, Bluetooth connectivity, and satellite radio. All trim models of the 2019 Subaru Legacy are also equipped with Apple CarPlay and Android Auto as standard equipment, and that's nice. You get all of this for less than $23k. You also get a 2.5-liter Boxer motor that churns out 175-horsepower and 174 pound-feet of torque, which is mated to a CVT transmission.
All of a sudden, the 2019 Subaru Legacy in base trim is starting to look like excellent value, right? The 2.5i Premium trim adds bigger 17-inch alloys, a 10-way power driver's seat, dual-zone climate control, a leather steering wheel, a larger 8-inch touchscreen interface, and six speakers for less than $25k. The Sport trim starts at less than $27k and adds 18-inch alloys, LED fog lights, and keyless ignition. The Sport model also gets rear cross-traffic alert and blind spot monitoring for added safety.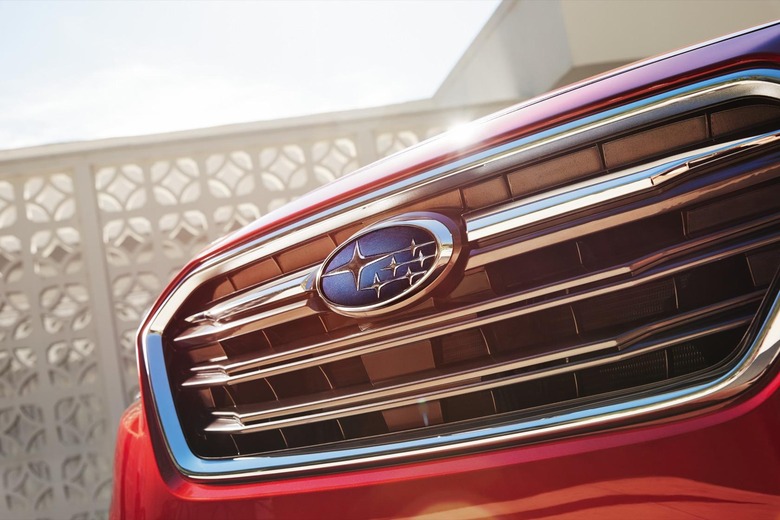 The Limited trim receives an upgraded suspension system along with full leather upholstery and a 12-speaker premium Harman Kardon audio system for less than $30k. Finally, the top-end 3.6R Limited will get you a bigger and throatier six-cylinder Boxer motor with 256-horsepower and 246 pound-feet of torque. With a starting price of around $31,000 the 3.6R Limited also comes with dual exhaust and turn-adapting LED headlights.
The base 2.5-liter Boxer motor may be quiet and smooth, but it feels a bit sluggish compared to the four-cylinder motors in the Mazda6 and Ford Fusion. But it can return 34/25 mpg while the six-cylinder Boxer can achieve 28/20 mpg. The CVT is also tame and slow to respond but it does have simulated shifts to make it feel like you're piloting a proper six-speed auto.
When it comes to value, it is hard to ignore the 2019 Subaru Legacy. You will need to pay more money if you want an all-wheel drive Fusion, while the Mazda6 is only sold in front-wheel drive. The Legacy shines when you need it most, such as when faced with rough or demanding terrain.
Verdict
All of our three midsize sedan contenders are excellent alternatives to the Camry and Accord. The 2018 Mazda6 is the perfect choice for enthusiast drivers. The 2019 Ford Fusion is an excellent family hauler with decent levels of sportiness. The 2019 Subaru Legacy offers the best bang for the buck in this category. All things considered, though, it's the Mazda6's dynamics – and dynamic looks – that push it to the top of our list.