2018 Lexus LC 500 First Drive: Ground-breaking luxury coupe lets Lexus find its soul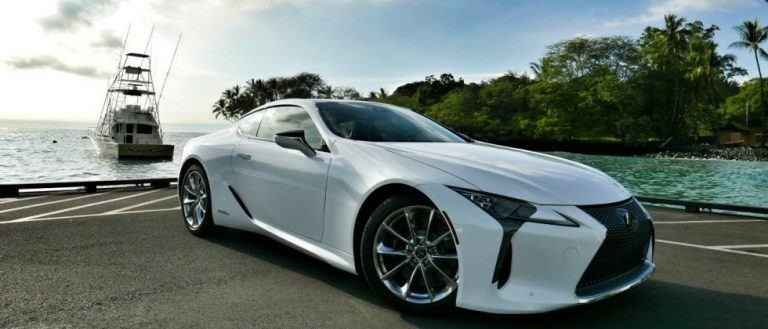 The 2018 Lexus LC is an act of bravery. Not only did Lexus take the unusual and difficult step of birthing a street car that hews almost perfectly to the gorgeous, yet production-challenging lines of the LF-LC concept that preceded it, but it also chose to ignore prevailing winds – or are those forced induction vortices? – that have come to define the drivetrains found in top-tier luxury coupes. That the Lexus LC is a stunning design achievement is obvious to anyone with a pair of eyes. That it also waves a big, five-liter middle finger in the direction of its would-be German rivals is in a way both a more and a less-subtle statement.
Confirmation of the Lexus LC's curb appeal came early and often during my time behind the wheel on Hawaii's Big Island. The largest, and least densely-populated member of the archipelago's natural beauty and laid-back lifestyle was no counter-balance to full-size coupe's attention-grabbing silhouette, regardless of how far inland I pushed through the volcanic landscape that surrounded me. Stares, questions, conversations, and swiveling heads reinforced the notion that Lexus, unfettered by the realities of platform-sharing – the LC is all-new, and begets, rather than is begotten, in the corporate hierarchy – has been able to break free from the more conservative cues found across the large coupe landscape.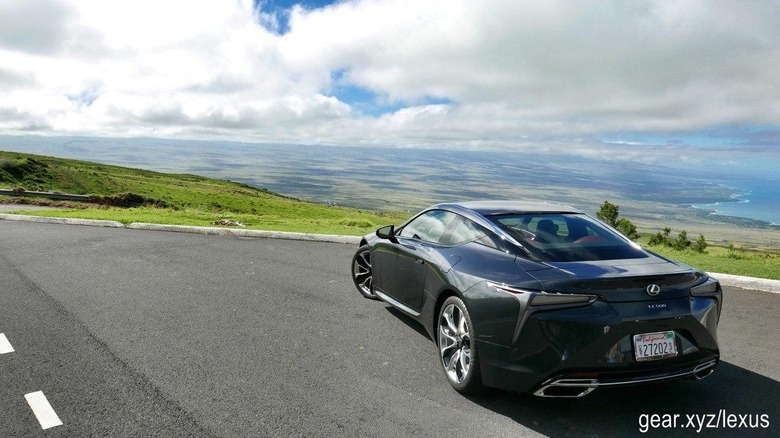 As outstanding as the LC's sheet metal might be, the cabin also represents a tour de force from Lexus' team of craftspeople. With the exception of the dashboard – marred by a company-wide infotainment system so difficult to use that I gave up trying to puzzle out its touchpad controller and endured whatever climate settings had been set as default, and a gauge cluster which can't quite match the TFT majesty of recent Audi efforts – the interior of the car is by far the best-appointed to have ever escaped a Lexus factory. Particularly fetching when ordered in all-tan leather, the door panels, seats, and every single surface that driver or passenger might come into contact with are at a level that feels worthy of the car's $92,000 starting price tag.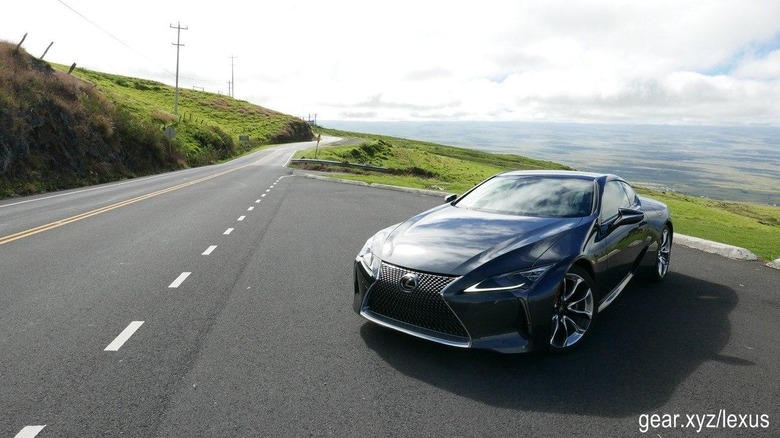 A more substantial part of my appreciation for the Lexus LC, however, comes from how it behaves itself out on the road, and more specifically, the very conscious decisions keeping the coupe from being a mere echo of the competition. It starts with the heart of the LC 500, a 5.0-liter V8 that the automaker predicts will represent 90 percent of total sales. The engine will be familiar to anyone who has window-shopped other high performance variants from Lexus such as the two-door RC F or the GS F sedan, and in the LC 500 it churns out 471 horsepower and 398 lb-ft of torque, numbers that are within a stone's throw of the other models that share its 32-valve lump.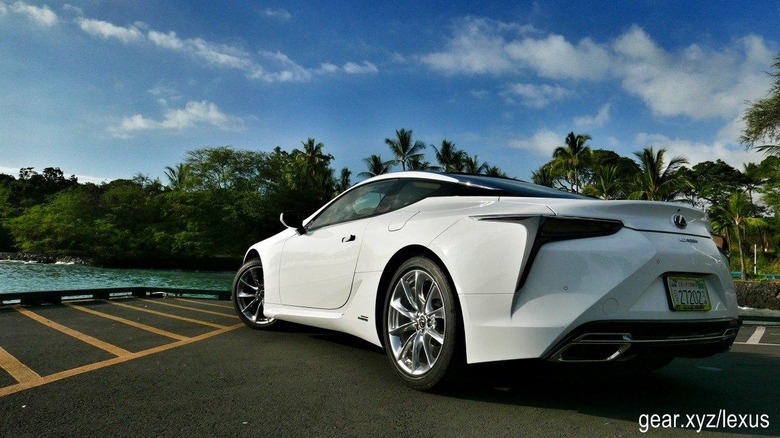 Luxury coupe aficionados might notice that while the horsepower figure is competitive, the Lexus' torque number is distinctly less impressive on paper when compared against similarly-priced options from BMW (the 650i) and Mercedes-Benz (the S-Class Coupe) – by over 100 lb-ft, in the case of the Silver Star-wearing two-door. There's a simple reason for this disparity, and it's found in the LC 500's conspicuous lack of turbochargers, a move that places it outside the mainstream when it comes to generating gobs of power at low RPM for the well-heeled set.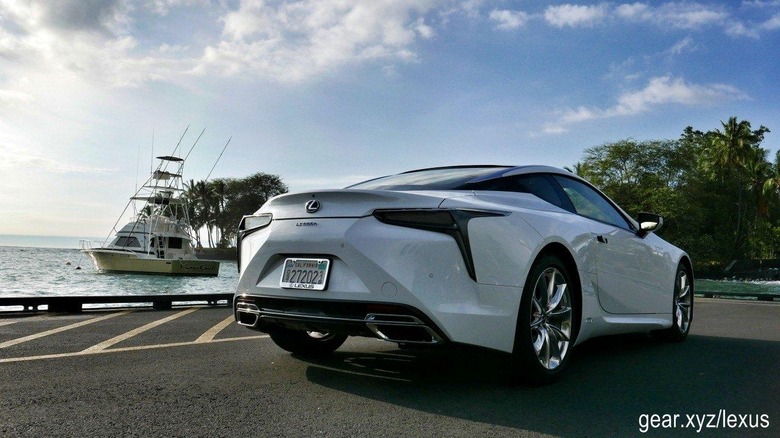 It's an inspired move by Lexus, and one that helps to form the LC 500's unique identity. Rather than feed into the relentless pursuit of high-tech accoutrements that have become part and parcel of the luxury arms race, providing rocket-like acceleration at the expense of any other dynamic concern, Lexus has instead elected to accentuate the immediacy and connected feel of a high-revving eight-cylinder engine anchoring a comfortable, and well-planted grand touring chassis outfitted with an adaptive suspension system. Put another way, the LC 500 makes no attempt to electronically trick you into thinking you are driving a sports car, but rather focuses on the simple pleasures of driving a comfortable and well-balanced automobile (while still delivering a 4.5-second sprint to 60-mph).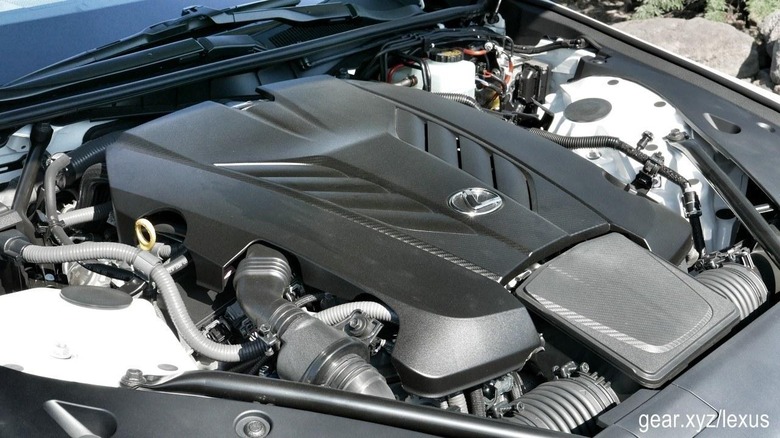 It's a game plan I whole-heartedly support: where its Teutonic antagonists fill their cabins with artificially-sweetened engine notes and blat boost from their muted exhausts, the LC 500 screams towards redline with wild abandon and a soundtrack that quickens the pulse as it pins the speedo needle. There's no launch control promising a quarter mile time that serves no practical purpose, nor is there a feel-sapping all-wheel drive system numbing steering feedback (and there won't ever be one on the gas-only model, either, for the simple reason that it wouldn't physically fit). Instead, the Lexus gracefully pulled hard above 4,000 rpm, turned in with confidence, and remained pleasingly flat through high speed corners as I marveled at the way it kept all four tires locked to the asphalt and comfortably distant from the sharp lava fields on either side of the Kona region's highways. The LC doesn't so much shun the track star label as remind us that anyone with this level of Lexus parked in the garage undoubtedly also possesses a race car or two to play with on the weekends, with no need for the 500 to pull double duty.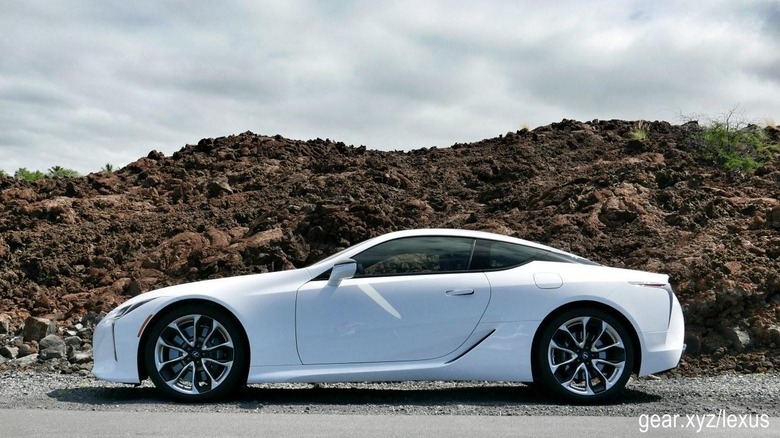 This is Lexus' first attempt at building a grand touring flagship, (with the previous, and high-strung LFA super coupe an entirely different animal), and of course not everything about it is perfect. In particular, the 10-speed automatic transmission that comes standard with the LC 500 – another first for the brand – is at times clunkier than one would expect given the car's smooth performance in all other areas, especially when using the paddle shifters in the vehicle's most-aggressive drive mode. The opposite is true in the LC 500h, which leverages a unique 'multi-stage' transmission to offer a balance between continuously-variable operation and more direct shift action for its 354 total system horsepower V6/electric motor operation. One wonders how the GS F or RC F's eight-speed would perform if tasked with similar duty in the LC.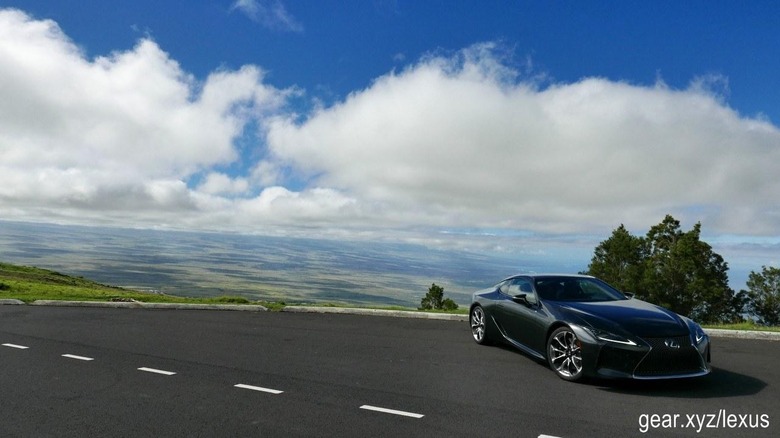 Even so, the Lexus LC 500 is an emotional luxury coupe in the vein that BMW et al have seemingly forgotten how to build. Among similarly-stickered two-door choices, only perennial-outsider Jaguar's F-Type manages to hover on the periphery of what Lexus has been able to achieve with the LC's well-sorted and almost perfectly packaged combination of performance and poise. By turning its back on the spec sheet wars, and placing its designers and engineers on even footing, the LC 500 has allowed Lexus to finally find its soul.