2018 Kia Stinger Starts at $32,795 with 255hp turbo four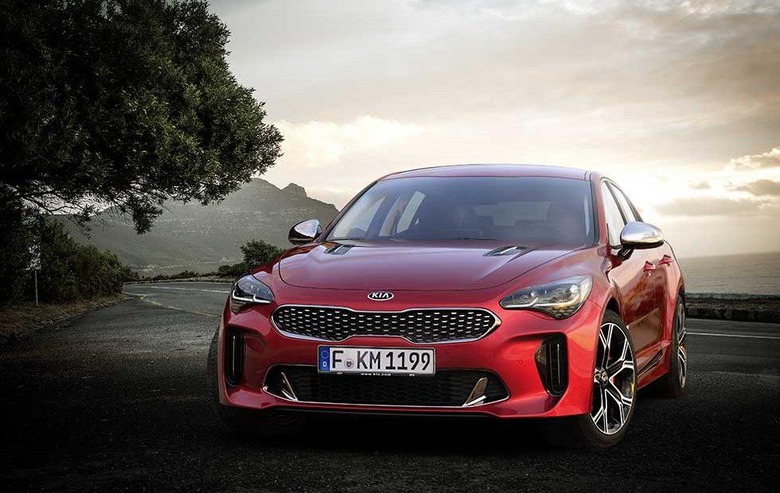 For many car fans the only interesting thing that Kia has rolled out in recent memory has been the Stinger sedan. That car can be had in base four-door Stinger flavor packing in a 255hp turbo four cylinder engine or in Stinger GT form. The Stinger GT is the version interesting to enthusiasts as it packs in a 3.3L twin-turbo V6 engine making 365hp.
Kia has announced the base price and pricing for some options for the Stinger and Stinger GT, and they are higher than you might expect for a Kia. The base Stinger will start at $32,795 with the standard 255hp engine under the hood. You can get optional AWD for another $2,200. Tack on the Stinger premium package adding things like LED lights, sunroof, power seats, nav, and upgraded audio and you are looking at a MSRP a bit under $38,000.
If you want to pass the standard Singer up and go right for the Stinger GT, that will really cost you. The base GT and its 365hp engine will start at $39,895. Add in all the goodies and a Stinger GT2 will run you a cool $50,395. That is a heap of cash for a Kia, a brand known for budget cars.
Kia really wants to compete with Audi, BMW, and Mercedes-Benz in style, performance, and luxury. Clearly it intends to be right in there on price as well. Time will tell how the public responds to the Stinger now that pricing is revealed, it might be a hard sell when you can buy a big name brand for the same money. Many people shopping in this price range are very brand sensitive and Kia lacks the cachet of BMW, Audi or Mercedes-Benz.
The Stinger is set for global availability in Q4 2017, which means in the coming weeks it will hit showrooms. Kia wants the Stinger to be a BMW-beating grand tourer, we have been impressed by the car, but the public might think differently.
SOURCE: AutoBlog